Updated April 20, 2023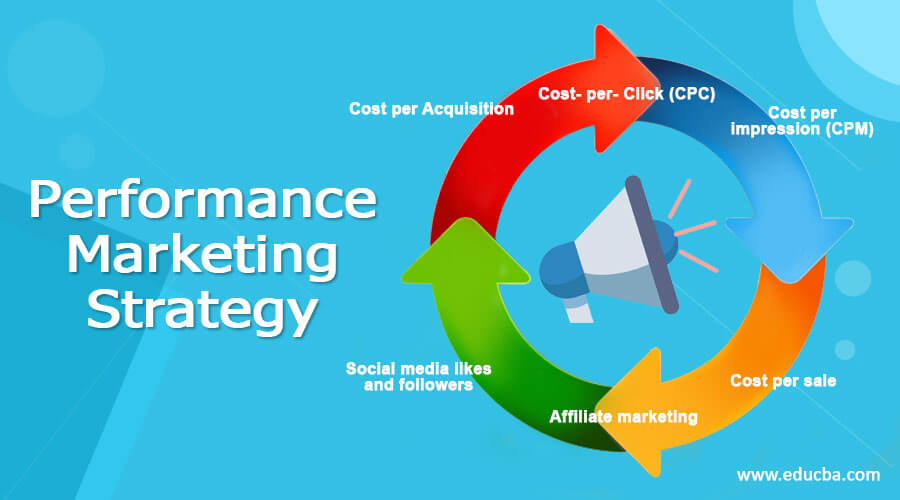 Introduction to Performance Marketing Strategy

In traditional marketing, media planners advise placing your advertisements in newspapers or magazines with the highest circulation or readership. It is your hope that the hard money you spent would bring results.
On websites, the banner ads on home and inside pages allow marketers to reach a large audience. Still, visitors tend to skip them as they will be actively looking for some information or data. Moreover, display ads with more pixels and heavy animation may take time to load
and therefore not quite appealing to the marketer.
With recessionary trends, tough competition, and the need to show results, marketers are now more focused on Performance Marketing Strategy, where they have to pay only on the basis of a result obtained from the Ad and not for displaying it.
Performance Marketing Strategy refers to the form of interactive advertising on the web where the marketer pays not a fixed price for displaying the banner ad or logo on the website or a text link,  pays when the visitor takes action on it – either seeing the page, clicking on the ad, registering for a product or service or buying it. Or it could be based on lead generation.
Some popular channels for Performance Marketing Strategy include Google AdWords, websites, and social media such as Facebook and Twitter. Since Performance Marketing Strategy is the result–oriented that may be the trend for the future when it comes to online marketing or digital marketing.
Adopted a Performance Marketing Strategy
Here are some of the adopted Performance Marketing Strategies:
1. Cost per Acquisition
In this scenario, the marketer need not pay the website or portal any money if no conversion occurs. For example, if it is an invite for an event, the user must sign up or register for the event by paying money upfront. Or it could be signing up for an email newsletter, downloading a pdf file, etc. The marketer is interested in paying only if the consumer's data is captured and a definitive web action occurs. These campaigns ensure that more visitors come to the website, more potential customers are acquired and also enable geographical targeting for the company.
2. Social media likes and followers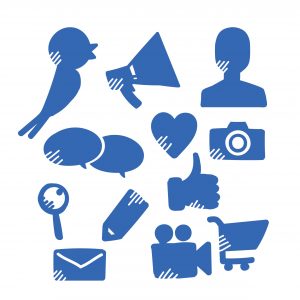 With more people getting hooked to social media, small and medium businesses are increasingly using social media for business promotion. Facebook allows you to get more likes for your page, boost a particular post, or put banner ads that will be shown only to targeted audiences. It's cost-effective; boost campaigns start from about $0.60 per day and guarantee about 700 to 1000 reach, while page likes can be boosted by paying more. FB lists the number of people who like a post and enables the marketer to request them to like your page too. Increasing page likes are useful for branding and getting more engaged with customers. Likewise, you can increase followers on Twitter with paid campaigns.
3. Cost per sale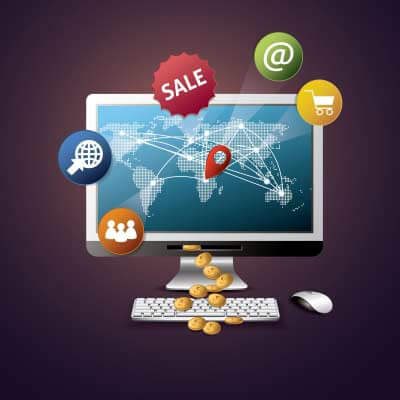 In this strategy, payment happens only when an actual sale is done through the advertisement link. This is ideal for small businesses that can't devote huge budgets to market promotion or branding. Small online businesses, small and medium research houses wanting to sell a survey or research reports, books, etc.
4. Cost per impression (CPM)
Sometimes the objective of advertising on the web could be to have a mix of branding and actual sales conversion. In the CPM strategy, the rate is quoted per thousand impressions. An impression is a unit defined by a user seeing a page on the desktop, laptop, or mobile device and is no assurance of having read it.
On the other hand, a small percentage of those who have browsed the page are likely to click on the banner or text link and be directed to a landing page where they perform a call-to-action which could be registering for a service, accepting the invite for an event or placing an inquiry or about filling a survey form. The CPM rates for sites will be higher if their conversion rates are seen to be higher. CPM strategy is good for branding, whereby a banner or logo becomes visible to all the visitors to a page.
It is possible for marketers to purchase so many impressions for a particular duration, and as soon as that many impressions is generated for your Ad, the campaign stops.
Recommended courses
5. Cost- per- Click (CPC)
CPC is a situation where advertising is nearly a hundred percent result-oriented. The website or the search engine (Google Adwords program) charges only for the clicks that may lead to your website, a landing page, or a call-to-action like a buy or register. The advantage of such a strategy is that if the cost per click is 10 pence, the marketer needs to pay only $10 to generate 100 clicks. You can purchase the number of clicks for a particular duration as in the CPM campaign, which would end as soon as the target clicks are achieved.
CPM and CPC are flexible strategies suitable for small businesses with moderate budgets for market promotion.
The advantage of a Performance Marketing Strategy is that it performs and does not just claim or guesstimate the campaign's impact for the marketer and charge for it. Sometimes, it may not be a sales conversion but a good lead the marketer can pursue.
6. Affiliate marketing
Finance, banking, research houses, stock, and futures trading houses usually adopt a variation of the CPM, CPC strategy called Affiliate Marketing which is also result oriented. Here the publisher's website is paid a commission for each lead generated or sold as per a mutually agreed formula worked out by the advertiser and the publisher.
A forex trader may have a widget in a website that leads the visitor to its own homepage or landing page to register for an account in currency futures or the forex spot market. In this case, simply clicking on the banner, widget, or text may not bring the desired result, as the customer must complete the registration routines and become a subscriber of the service. Small and medium businesses find this hundred percent result-oriented marketing suitable.
How to Make Performance Marketing Careers a Success?
The performance marketing strategy may suit certain kinds of businesses over others. Analysts point out that it is most suitable for online businesses whose offline promotional budgets will be low, and most of the action happens online anyway.
For some reason, the Performance Marketing strategy may be more suitable for service industries than manufacturing industries with dedicated e-commerce sites and online shopping platforms to sell their wares.
As customers take action, payment is made, making Performance Marketing Careers cost-effective. CPM advertising pays based on audience size but doesn't guarantee high sales conversion rates. The CPC option is more result-oriented, but it is quite costly too.
1. Have a good landing page
The effectiveness of both CPC and CPM would depend on the quality of the landing page and how user-friendly and compelling it is for the consumer to register, know more about the company and its products and even find an email id or helpline to connect easily.
In marketing and web development, a programming team with keyword skills should be working to strategize on performance marketing careers. Positioning and targeting of CPC ads are very important. Sometimes, the best place to place a CPC campaign may be a blog discussing an issue relevant to our product or service. In Google Adwords, we can specify a set of keywords; the ad would only appear when visitors search for that set of keywords. Search engines may charge up to $10 per click for popular keywords. The actual rate for Google Adwords arrives through a bidding process.
2. Have an online marketing manager
Online advertising dynamics are much different from offline strategies. It makes eminent sense to hire an online marketing manager who will strategize on the Performance Marketing campaigns for the year and allocate budgets for CPM, CPC, Affiliate marketing, and Cost-per-Action campaigns. They should also handle bidding for keywords in popular search engines, do constant monitoring and research into changing online marketing landscape, and coordinate web development and marketing teams to ensure quality and consistency. They need business acumen and creative foresight to work on the web medium.
Ideal candidates would be MBA's in marketing with additional qualifications or exposure to information technology, web technology – HTML pages, social media marketing, Java, Search Engine Optimisation, etc. They should also use available tools to monitor traffic on the websites they are campaigning on.
3. Web directories don't guarantee results
Many popular web directories cater to different industries, or even general directories cater to almost all major consumer categories or niche industries. Organizers have categorized the listings into various categories: garments, jewelry, laundry services, dance, fitness, health, hospitals, toys, educational books, etc. Most of them have free listing and also paid listing services. Pay upfront for six months or one year to get the top listing in a particular category with a paid listing.
But that is no guarantee for lead generation or conversion to business. Hence they don't strictly fall into Performance Advertising. However, presence in web directories would, in the long run, help your brand, product, or website appear on top in search engine rankings for certain keywords depending on how much users share such links or pages.
4. Is the website mobile-friendly
With the increasing use of mobile phones for browsing the net, the success of any Performance Marketing career would also depend on the mobile-friendliness of the websites; they should be simple and plain, enable vertical scrolling, and be easier to navigate. The number of visitors, page rank, and Alexa rankings may not guarantee a good result in web advertising. It would also depend on how relevant your ad is to that audience. For an equity market broker, banner ads in finance or banking portals may yield more results than in a news portal with much more traffic.
Marketers must possess skills in assessing site traffic, keywords, and bidding strategies while creatively capturing audience attention quickly on the web to succeed in online marketing.
Conclusion
Performance Marketing is highly trackable, measurable, and flexible, allowing marketers to fine-tune their strategies based on campaign results such as impressions and clicks. It can lead to budgetary savings in the future.
It is an innovative, creative, and result-oriented method to reach a wide audience, especially for small and medium enterprises with lower marketing budgets. They can also be highly targeted and enable further consumer engagement through a database created from the campaigns.
For large companies, offline branding campaigns and online performance marketing strategies can be integrated to achieve better results. Online marketing's result-oriented approach is attractive to marketers due to the high budgets needed for advertising in electronic and print media.
Be cautious of companies that guarantee top-page ranking or a certain number of leads, as search engine algorithms change frequently. Properly assess before committing to any budget. As in offline promotion, each penny counts; therefore, it is better for the marketer to do homework and use the funds wisely.
Recommended Articles
This has been a guide to Performance Marketing Strategy. Here we discuss the basic concept with some of the adopted Performance Marketing Strategies: Look for more such articles