Updated May 11, 2023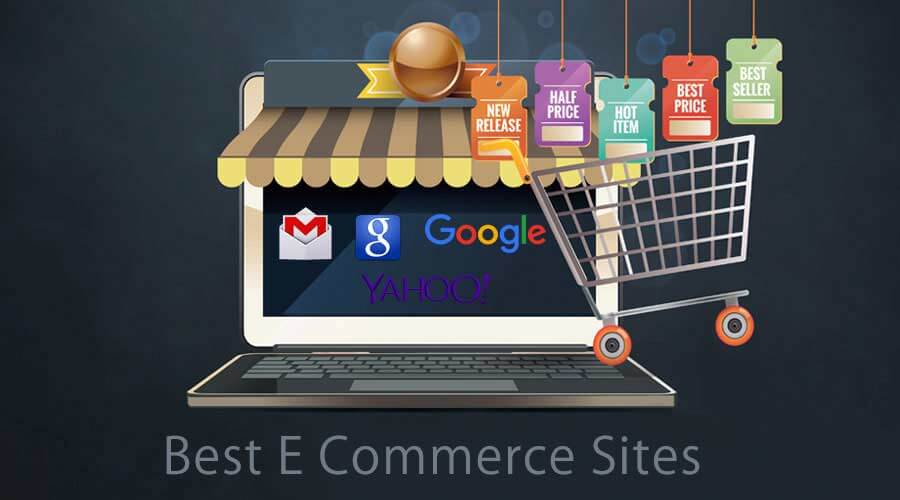 This is All About The Best Ecommerce Sites
Although some may argue that the e-commerce websites list industry is already crowded, the truth is that the industry is right at its sweet spot. It is young enough to have a relatively low barrier of entry still while mature enough to have a wide consumer base and pose less business risk for small enterprises. There is no better time to start an online business with the best eCommerce sites or extend your business to the internet than now.
As a business owner, you also have several options to set up your e-commerce website list operations. Building the best e-commerce site's website is more manageable with many available tools and services. If you want to create one, you can choose between two major types of content management systems or CMS. The first is an open-source, self-hosted CMS, and the second is a managed or hosted e-commerce sites free platform. Your choice depends on your needs and technical involvement. Here is a closer look at each option:
Hosted the Best E-commerce Sites Platforms
Hosted platforms do not require users to have coding e-commerce sites free websites list experience at all. You can start up your best eCommerce site without a development team. Hosting is also shared, lowering server costs. It is a huge plus for those who want a small-scale e-commerce website list to explore the market. Most good platforms offer a strong technical support team to help users with issues, and the backend involved is also user-friendly and designed for those with little to no technical knowledge.
Best Ecommerce Sites CMS
An open-source best e-commerce site CMS is more technical but has several benefits. For one, the community makes several themes, add-ons, and plugins, adding more functionalities that would not be possible with self-hosted platforms.
These systems also offer more freedom in modifying and adding features, a huge plus point for those who want to create a customized brand, theme, and design for their website. The website can be constantly enhanced and improved, which is important to stay relevant to the growing competition.
Hosted best eCommerce sites platforms are also good for larger-scale and more complex websites. There is no limit to the number of categories or products you can offer. Here, we will explore some of the best open-source best e-commerce site platforms that are free or available at reasonable prices, with a good blend of community support, scalability, and customizability that you cannot find in hosted enterprise best eCommerce site solutions.
There are several such platforms, each with advantages and disadvantages. Here is a more detailed look at the top ten:
1. Magento- Community Edition
When most people think of the best eCommerce sites platforms, Magento is one of the first names that pop into mind; the platform has become that ubiquitous in the best eCommerce sites market. Biggies, including Samsung and Nike, use Magento's Enterprise Edition platform. It also comes with a big price tag, mind you. But if you want a piece of that Magento for free, there is the Community Edition.


The Magento Community Edition also has several features unavailable on competing open-source platforms. For instance, you can manage multiple stores and choose, manage, and offer different currencies and languages.
Magento is a hugely popular platform, with many users constantly designing new extensions and plugins. It makes their platform highly scalable and flexible. However, one of this platform's best features is its biggest downside. The community is so large it can be tricky to navigate. You would spend quite some time learning the platform's ins and outs, and you need to have a decent technical knowledge base or hire someone with it to use Magento. Moreover, a lot of extensions and plugins come with a cost. Even though the Community Edition is free, you may spend a lot on the software.
2. PrestaShop
PrestaShop is another popular choice for the best e-commerce site platform, with its biggest USP being its ease of use. Installing and customizing the software is easy and quick, and the well-built interface is intuitive. You can get a self-hosted version for more technical control or download a fully-hosted one. Both are free to download and use, with over 250,000 stores using the platform.
The customizability, however, could be improved. You cannot experiment much with the graphic elements, and you will need to purchase more best e-commerce site templates and themes to jump into the code if you want to get into customization.


3. OpenCart
This platform is rather popular among small businesses needing more programming expertise. OpenCart is also rather simple to use, and it does not have a lot of functions that could confuse you. Of course, operations are also needed if you want to scale up your e-commerce website list at a later stage. Still, there is a lot you can do on this platform if you have enough programming knowledge or have a programmer. There is also a wide range of plugins to add more capabilities to your site.
It is important to note that OpenCart is one of the least-demanding platforms for your server. Because it is so simple, the platform is less likely to drag on your server. Although it gets more demanding with more plugins, OpenCart remains one of the faster platforms in this list. And this reliance on plugins is also one of its biggest flaws. You may have plugin compatibility issues, and you end up relying too much on plugin developers than on OpenCart to keep your site up to date.
Recommended courses
4. osCommerce
osCommerce has been around for over 15 years and has over 7,000 add-ons made by its community, which tells you all you need to know about this platform. You have many options for customizing your website's design and functionality. The platform has over 260,000 developers, service providers, and store owners.
Overall, it is clear that osCommerce has a huge support network and community to help you customize and troubleshoot your website. If you have a website or plugin problem, there will be a few people to help solve them. The downside to osCommerce is that it is 15 years old, the keyword here being 'old'. The platform has fewer capabilities or capacities than newer options. It also needs to be more scalable and needs features that you can find in more contemporary media.
5. Zen Cart
If you have a decent number of products to offer on your top e-commerce sites, then Zen Cart is one of your best options for a leading e-commerce site platform. One of its biggest advantages is its product management system. You can easily manage and control inventory, make specials and sales, and more. But the plan also tends to be slow if you add several new products, so it is not a good option if you have a huge volume of products. Zen Cart is also not the best-looking platform out of the box. You can work on it to make it more presentable with many templates. If you are good at coding, you can do a lot more. But if you want something that looks good immediately, you may be disappointed when you open Zen Cart for the first time.
6. Spree Commerce
This is one of the newer options available, and one of its key benefits is that it is based on Ruby on Rails. The modular platform is easy to upgrade and configure to your liken. Many of today's latest companies, including Nutrisystem and 3D Robotics, use Spree Commerce.


The platform is highly scalable and flexible so that you can customize your website to your heart's content. Spree also supports several of the extensions available, which is a huge plus when you want timely upgrades to your website. Overall, Spree is a good choice for edgy and modern businesses.
7. WooCommerce for WordPress
WooCommerce is considered by many to be the best open-source platform for WordPress. It has a huge, fast-growing community and integrates almost seamlessly with WordPress, making it easy to set up and manage. Many WordPress-based sites choose this platform for their top e-commerce sites ventures. Another big plus for WooCommerce is the fact that it is mobile-friendly right off the bat. If you plan on creating the best e-commerce sites for desktops, tablets, and mobile phones (which you should), this is a good platform to build it on. You can even make a mobile app for your storefront with a simple add-on.
However, WooCommerce only works with WordPress, making it less appealing for those who chose a different CMS or have a self-hosted website. If your website is WordPress-based, though, you will find WooCommerce to be highly scalable. Once again, pain extensions make this platform less appealing, but at this point, you would've guessed that you need to pay extra for extra functionality.
8. Jigoshop for WordPress
This platform is also for WordPress and is a newer alternative to WooCommerce. Jigoshop has been gaining a steady stream of users because of its lightweight. To add more functionality, you can find lots of plugins, themes, and extensions available to buy. Jigoshop, like WooCommerce, is quite easy to use. However, it has a tiny hiccup; you cannot link variations to the software. For instance, if you want to add a T-shirt in black and white and in large and small sizes, you would need to create all four options: black small, black large, white small, and white large. Jigoshop is also rather basic, although you can purchase upgrades.
9. VirtueMart for Joomla
So we've discussed two platforms specifically for WordPress, but where's the love for another huge platform CMS: Joomla? Well, here it is. VirtueMart is a great choice for Joomla users since you can get your storefront running very easily. It has Multilanguage support, too, making it an appealing option if you plan to offer your products or services to non-English language regions. VirtualMart I is highly SEO friendly, which helps you drive more organic traffic to your storefront. It is lightweight, simple, and offers inventory and invoicing management capabilities. It lacks a few features present in competitors, but its Joomla integration makes it a great choice for users.
10. Drupal Commerce for Drupal
Let's conclude the list with another top e-commerce site free sites platform designed to integrate with another popular CMS: Drupal.
Like the above two options, Drupal Commerce is exclusive to Drupal. Drupal Commerce is SEO friendly and highly flexible, and it has an easy administration system. It can also handle some rather complex payment models, like subscription-based payments. It is also very basic o begin with, but you do have a Commerce Kickstart package to add some more add-ons and essential functionalities right out of the box.
You can add more third-party add-ons, making it a viable solution if Drupal is your content management platform. It is very simple and customizable and should be the first choice for Drupal users.
Conclusion
The above list needs to be more exhaustive and authoritative. The options are not listed in any particular order, simply because deciding on one 'best' platform is impossible. The right platform depends on your business needs, strategy, products, and services. If you want a basic eCommerce site, you can choose one that is less customizable or scalable, so go for a simpler eCommerce platform. But if you need more versatility and have developer skills, you can opt for a more scalable, hands-on eCommerce platform. The final choice is yours, but remember that your decision will reflect on your final eCommerce website design. Take your time and decide well, because migrating to another would be a pain.
Recommended Articles
This has been a guide to the best e-commerce site. Here we discussed the list of best eCommerce sites platforms that are good for larger-scale websites. You can also go through some suggested articles to learn more –