Updated April 20, 2023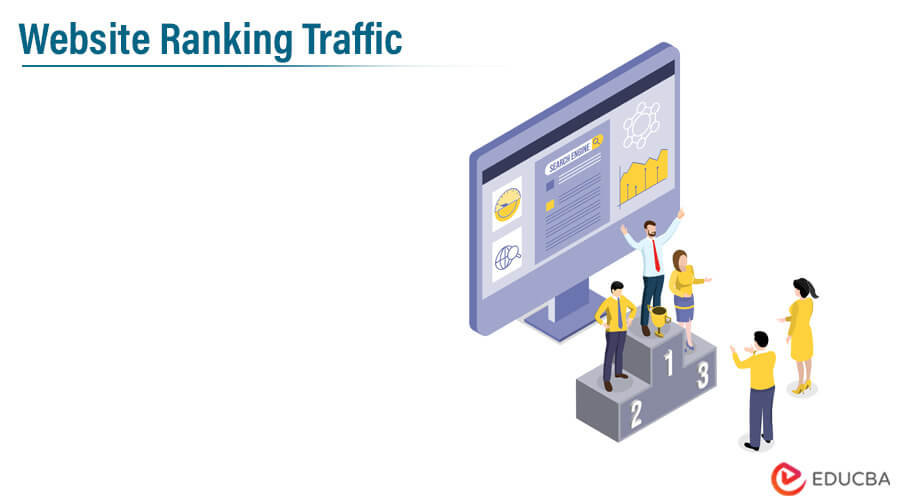 Tips to Develop Website Ranking Traffic
Everyone wants to get a higher website ranking traffic for their site in search engines. They believe that organic search traffic is the main factor that helps in the growth of their business. Technology keeps changing, and if you fail to update yourself on the current marketing trend, your business fails.
If you are worried about getting a higher website ranking traffic, then this article is for you. This article will serve as a guide to help you optimize and improve the website's ranking without getting penalized by search engines.
There are a lot of factors that search engines take into consideration for website ranking traffic. Some of the elements are still trade secrets.
Tips to Develop Website Ranking Traffic
Following are some tips to develop website ranking traffic:
1. Relevant Content
Content is the main factor that helps you get a higher website ranking traffic. There is no substitute for quality content. Keep the users in mind while creating the content. Content should be more attractive to the site visitors, increasing the traffic and improving the site's authority.
Select a keyword for each page of your site and repeat this keyword in every paragraph of that page. But use the keyword sparingly.
Use different formats to highlight the keyword or phrases.
Always remember that the content is for users, not search engines.
Good writing is essential for SEO. Having unique content on a page will improve your website's ranking traffic.
2. Update and de-index your Thin Content
This content is the primary content of your site that is not unique text information.
This content includes the following:
Category Pages
Tags Pages
Duplicate Pages
E-Commerce Listings
Scraped Product Descriptions
Image Galleries
Search engines will index all this thin content and drive traffic to your site. So concentrate more on these pages and de-index these contents or remove your site's delicate contents.
3. Content Marketing
Search engines update their algorithm frequently, and as a result, it gives more importance to fresh and unique content. Investing in content marketing is essential to make your business grow and achieve higher website ranking traffic.
There are a lot of content marketing techniques, and a few are below:
Blogs: Blogs are the best way to acquire links and increase the importance of your site. It will happen only if your connection is shared.
Infographics or other Visual Content: Visual contents attract more customers to your site. Provide information along with statistics represented in a picture format. Keep your description short and simple.
4. Organic click-through Rates
Your site can have a great design with clean code, original content, fast loading time, and others, but still, add it to the first page of the search engine.
Have you ever thought about why this is happening?
They need to get the click-through rates to increase the traffic and website ranking traffic. Increase your organic click-through rates. Search engines rely more on on-site traffic statistics to know the site's relevance.
One can measure site relevance by factors like bounce rate, time on site, and user experience; the critical factor is click-through rate. The Click-through rate is the percentage of people who see your ads and click on them versus those who do not. The more people who click on your site, the more traffic will be.
Here we have listed a few ways to increase your click-through rate (CTR).
Create attractive Title tags and Meta descriptions for your page. It is the best way to increase your CTR. It is the first thing your prospect sees in a search engine.
Make your headline and copy grab attention as you do in Adwords.
Click-through rates not only increase your website ranking traffic but also increases traffic to your site.
Other off-site factors will help you in increasing the website ranking.
5. Metadata
Each web page contains a space between the head tags to insert a short description of the contents of that page. It is called Meta description.
The sections of Metadata are as follows:
Title Metadata: Title Metadata is the page title displayed at the top of the browser window. It is more important on a page.
Description Metadata: This is the short description of a page that the search engine will index on the search result page. This description attracts people to the site, making it more appealing to visitors.
Keyword Metadata: This is the phrase that people use when they want to find your page. List a variety of keyword phrases that are relevant to your site or product. Make a list shorter, as the search engine will ignore the data completely. Select some 4 to 6 phrases containing four words each.
6. Technical Optimization
Search engines like Google, Yahoo, Bing, and others use crawlers to read your website's text and code. If the text and code written on your website could be more technically perfect, the crawler will find it easier to read and understand, thus resulting in lower website ranking traffic in the search engine. It is essential to keep the following things in your website perfect for quickly getting the crawlers' attention.
a. URL Structure
See-through that your URL is at most 100 characters.
Use dashes instead of underscores.
Avoid special characters in your URL.
b. Title Tags
Define a unique title tag.
The title tag should be around 65-75 characters long.
Include your primary keywords in your title tag.
c. Meta Description Tag
Write a unique meta description for every page of your site.
It should be at most 160 characters.
It should contain 1 or 2 sentences that describe the page.
d. Heading Tag
These tags are part of the HTML of a page.
It is visible to visitors.
There are 6 heading tags from H1 to H6.
There should be only one unique H1 tag for each page.
e. Duplicate Content
Content on your website should not appear on any other website or URL.
Your content should be original.
Duplicate content will get a negative reputation for your site.
Remove all the same contents in your area or create redirections to multiple versions.
f. Structured Data
Structured data helps you add unique marks to your content to make the search engine easily understand.
Rich snippets for your page in the search results page are made possible by structured data, which boosts website ranking traffic.
Snippets are a small part of the content of the page, which will be visible on the search results page to the searchers.
You can use the different types of schemas on your site for different types of content.
g. Sitemaps
Search engines use the XML sitemap protocol to check whether your site has it.
After creating sitemaps, you should submit them to search engines like Google web admin tools.
These sitemaps will help the search engine to crawl to your site easily.
It has to be updated and submitted whenever one adds new content to your website.
h. Rich Media
All the images on your site should have an HTML tag to describe the image's content in short.
You can use keywords to describe the image, and the filename can also be a keyword.
If you have added a video to your site, add the transcription text and submit a video sitemap in your area.
7. Usability
The website you are creating should be more pleasing and satisfy your site's visitors. Search engines will provide high-quality website ranking traffic, and users will be more attracted and share. We have provided here a few tips to make your site more attractive.
a. The appearance of the site
Your website should mention the different parts of the site.
It should be easy for the users to find the contact information.
The critical page of the site should also attract users.
b. Navigation
Moving around the site pages should be easy for the users.
People should be able to access the site's pages other than the homepage.
If there is no proper navigation around the site, then the users will not be able to explore more on a site.
Proper Navigation will attract more users and increase traffic to the site. This, in turn, will increase the website ranking traffic of the page.
c. Information Structure
It is the central aspect of a website from which other elements are built.
It starts with designing a form for the visual design of the website.
8. Links to your Website
Linking your page or website is another main factor that improves your website ranking keyword.
Focus on creating relevant links. Always use keywords or phrases as links instead of having "Click Here" links. Click here links have no value in a search engine.
Links with keywords will improve your website ranking keyword.
Provide links for something other than just a search engine. Provide natural links to a source that you can trust completely.
Trusted sources are considered more relevant to the site by search engines. Linking your site to a trusted source puts you in a reliable company.
Listed here are a few basic techniques of link building.
Guest Blogging: This is an important way of creating links. High-quality guest blogging using original content is the best method to get the maximum result.
Giveaways: Conduct a contest or giveaways to attract customers. It will increase the traffic to your site, thus, in turn, increasing the website ranking keyword.
Repair the Broken Links: Find the resource pages related to your business or site. Find the broken links in such resources. Contact the website owner to replace it with a proper link to your website. Linking can boost your website ranking keyword in a few days. It is worth doing.
9. Keyword Research
The first step of an SEO campaign is keyword research. Keyword research will help you find a few words or phrases that people frequently use to discover your or your competitor's business. You can target such terms.
Listed below are a few techniques of keyword research:
Focus on High Volume and Less Competition: Ideal keywords are the ones that have higher search volume and less competition. Such keywords are usually limited.
Long Tail Keywords Target the long tail keywords extending up to 3 to 4. As the competition is low for individual search, it is easy to gain website ranking keywords among the top positions.
Competitive Analysis: Research your competitor's website to find new keywords and target such keywords to attain a high website ranking keyword.
10. Social Media Strategy
Social media also plays a crucial role in the website ranking keyword in search engines. It is a significant part of SEO and influences SEO success to a greater extent.
There are three steps for a successful social media strategy:
Define your Goals: Define goals for your social media, like the number of customers it should attract, the amount of exposure it should gain, and others.
Know your Audience: Understand the target audience and focus on them. Know what makes them more engaged and provide it for them.
Channels: There are different social media channels available. Select an appropriate channel as per your target audience.
Posts: Make Plans about where, when, and how often to post.
Influencers: Establish a connection with people who have a lot of followers. Because they can spread your message quickly to more people.
11. Use alt Tags
Use alt tags or alternative tag descriptions to explain your site's visual and video media. Alt tags will help search engines crawl to your page more easily. People who use text-only browsers will need help to get the attention of search engines.
Recommended Articles
This has been a guide to get a higher website ranking traffic for their site in search engines. Organic traffic is the main factor that helps in the growth of their business. These are the following external link related to website ranking traffic –