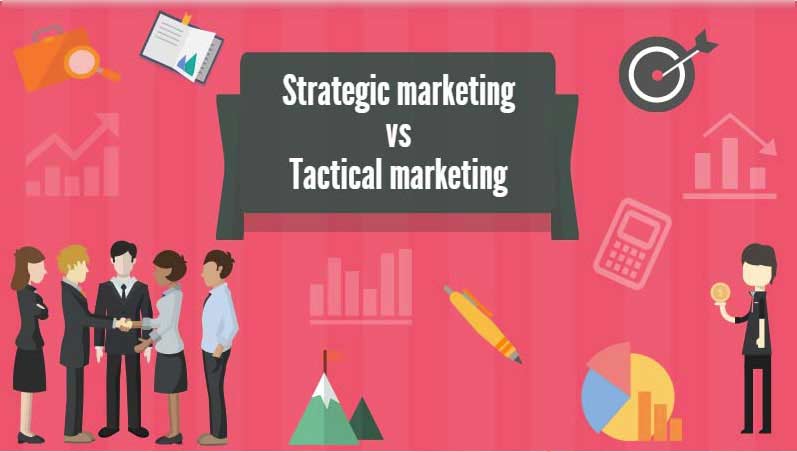 Difference Between Strategic Marketing vs Tactical Marketing
Some words in business and marketing seem to have been borrowed from the military or the armed forces. Even the word strategy has more to do with warfare than daily living. Not to forget guerilla, ambush, frontline, strategic Marketing, tactics….
Many people use the word strategy very commonly, politicians talk about it, religious leaders talk about the strategy to outclass the communal elements in society, Police needs to have a strategy to curb theft, goondaism or burglary in an area.
Another term related to strategy that most people use is tactics. They say politicians use the religious card to get votes of the minorities and so on.
In simple terms, strategy marketing is a plan to achieve a target or a goal – it could be achieving more sales volume in rural areas, it could be getting more women votes in the Assembly election or it could be emerging number one in cosmetics market and so on.
How you execute the plan is called tactic. To gain women votes, politicians may distribute sarees for free in an area, to emerge the leader in cosmetics industry, a company may spend heavily on mass media campaigns and sponsoring beauty pageants.
When strategy and tactics combine, the net result could be an upward shift in demand for the product, more brand awareness, more sales volumes achieved. Or a company may adopt competitive pricing to stay ahead of the others in industry or to achieve maximum sales volume.
The question arises which should come first, tactics or strategy? Obviously, it is strategy or the marketing plan that has to come first, followed the tactics. However, it is not to belittle the tactics part of marketing.
According to Jim Joseph, marketing expert and author, tactics are important in the sense that it connects with the customers and motivates them to buy.
Head To Head Difference Strategic Marketing vs Tactical Marketing (Infographics)
Below are some of the differences given.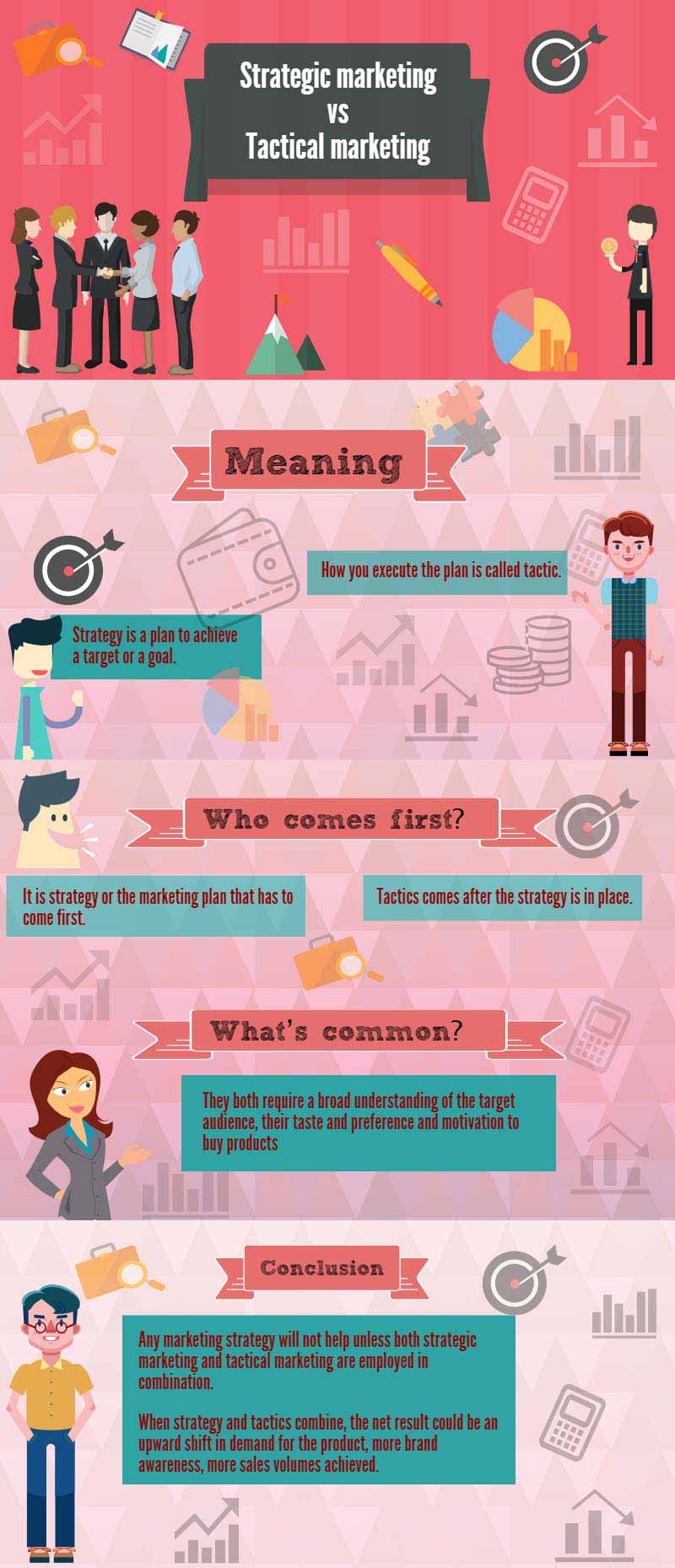 Strategy comes first
Most countries have a Planning Commission just as in India which identify the long term goals of developing infrastructure, resources, housing, raising employment, raising educational levels of poor and rural people.
In a federal system, the states also play a role in identifying projects to be executed and the means to raise resources for it either through union government grants and loans.
For companies, developing a marketing plan or strategy is the first step to getting noticed in the market place. Unlike a business plan, a marketing plan is developed with the intention of winning and retaining customers. It also spells out the tactics and tools to achieve it.
Both strategy and tactics require a broad understanding of the target audience, their taste and preference and motivation to buy products apart from understanding the status of the industry, the company's status and that of the competitors.
1. Market share and strength of the company
How much of the market share you have in the industry and how you fare against the competition is vital for making a marketing plan.
A comprehensive SWOT analysis (Strength, Weaknesses, Opportunities, and Threats ) are required to do a situation analysis.
Market strength refers to the number of your brands in the top five selling category, weakness could be a saturated market or a lack of experienced people in marketing and sales.
Opportunities could include legislative changes, new markets opening up or the disintegration of a market leader.
The product needs to be positioned in the market- entry, mid or premium. It depends on your competition, which all buyers are likely to buy the product and at what price.
2. Identify the target audience
A marketer should be able to clearly identify the target audience for its products and services. It should be defined in terms of demographics age, sex, family, income, lifestyle levels among others.
Are they conservative or traditional, do they have higher disposable incomes and motivated to spend more? Are they business class, salaried and at marginal income levels?
3. Long term marketing goal should be defined
A marketing goal can be attain number one position in geography or with respect to a particular brand or it could be to achieve more sales. But it is very important to specify in quantitative terms, say 10 or 25% increase in sales.
4. Marketing Communication strategy to be developed
Once the product has been developed and the target audience has been defined, the next step is to devise marketing communication strategies to reach the target and persuade them to act.
It could be through mass media advertisements, social media campaigns (Twitter, Facebook, Pinterest, Reddit). Then marcomm strategy outlines the tactics to be undertaken to achieve the objectives and the execution of the tactic brings the desired impact on the product and in the market.
5. Create a marketing budget
At the outset, whether it is a start-up or an established, creating annual marketing budgets is of paramount importance. A mix of newspaper, television, social media, hoardings and banners may be required to develop the brand and achieve more sales.
It is very important to keep the margin on sales as a barometer of how much should be spent on advertising promotion. In industries with thin margins, spending too much on advertising may not be the desired tactic.
On the other in industries such as drinking cola where the production costs are low compared to selling price, companies can afford to raise the marketing budget to get increased market share.
Effort should be taken to keep marketing costs within the budgeted costs or else it may be difficult to get finance approval.
Tactics-Everything revolves around the 4 P's

It was once believed that if you knew the four P's of marketing you knew everything- Product, Pricing, Place and Promotion. However, the market involves much more complexities and not easily understood by the common man.
Strategic marketing involves adjusting the price of your price position, place of marketing and perhaps the product itself. For example, Maruti Suzuki Ltd, the leading seller of passenger cars in India re-launched its premium brands that didn't succeed in the market through design changes and re-positioning the models in a new showroom called Nexa.
And results are to be seen the S-Cross premium cross over brand clocked sales of 50,000 in six months after relaunch, according to Suzuki.
1. Pricing the basic tactic
Pricing is the basic tactic adopted by the companies to attain their objectives. However, it is also the most complex of the tactics to be pursued by marketers.
Too high a price could dissuade buyers away from the product and get attracted to competitive offers while a price that may be perceived as too low may cause buyers to doubt its quality and value.
Contrary to popular perception, price is not calculated on the basis of cost plus a reasonable profit. It is based on the brand image created in the consumer minds and a level the market is willing to bear.
According to experts, pricing as a marketing instrument is difficult to leverage effectively as it involves decision making horizontally and vertically within an organization.
Pricing tactics are usually made on the basis of supply and demand, its elasticity and other parameters. Price elasticity refers to a percentage change in quantity demanded in response to a change in price upward or downward.
Pricing has greater leverage on products that have a high elasticity of demand as it can cause a significant increase or decrease in revenue. There are two types of pricing –strategic Marketing and tactical pricing.
Strategic Marketing pricing takes into account the long-term profit objectives of the organization while tactical pricing is about achieving short term objectives such as festival offer, end-of-season sale at 50% off and so on.
2. Product dynamics
Sometimes the product may have to be altered or abandoned and a new product developed in view of the competition. Musquito repellents in India were initially smoke coils which caused breathing problems for many people and also littered the place with the ash.
Thereafter, companies started to develop liquid repellents that worked on the electric current by slowly discharging the liquid and smell driving away mosquitoes.
3. Place and geographical targeting
Most products are sensitive to geographies and cultural differences. What sells in the rural market may not appeal to the urban market.
Low priced cars may be more suitable for emerging markets than developed markets while places with extreme cold, humidity and hot conditions require different kinds of products specifically for that region.
4. Promotions and the changing technologies
Marketing promotion involves communicating the brand message to the consumer through mass media, email campaigns, social media, hoardings, banners, taking part in events, trade fairs.
Marketing communication activities are part of the marketing strategy to achieve certain long term objectives of branding, achieving more sales, more market share, or related objectives.
The millennials were those born in the US between 1980 and 2000 have a different mindset towards buying, spending and consumption patterns. They comprise 79 million people with a purchasing power of $170 bn a year.
This group is more disposed to online, social media and mobile technologies. Therefore, more effort needs to be taken to address this target group. What sets apart Millennials from boomers and Gen Xers are they tend to share everything with friends online.
Therefore, brands can capitalize on that behavior by giving Millennials positive customer experiences to share a tweet about the company or let others know they have bought your product.
Conclusion
Changing market dynamics requires a change in marketing strategies and tactics. In 1970s Arm & Hammer baking soda suffered a jolt as its demand in households declined.
Its promotes Church & Dwight Inc devised a strategy to make current customer pick up the yellow box at the supermarket and use more baking soda. It was to sell Arm & Hammer as a deodorizer for the fridge-which led the company to develop environment-friendly cleaning products.
The company maintained its yellow box with the red Arm & Hammer logo which is instantly recognizable with a long history since the 1860s.
Sometimes a refusal to change with the changing times can cost a product dear as has happened to Ambassador Car of yesteryears which had near 90% of market share but was totally wiped out by new generation sleekly designed cars.
Dominoes strengthened its market share in pizzas with their 30-minute delivery strategy. Any company finds it tough to compete on product quality so therefore, they could evolve a USP based on delivery and entire tactics then started revolving around that strategy.
Thereafter, many other brands including KFC and MacDonald's seem to have implemented this strategy effectively.
In many ways, the modern markets resemble the war fields although not in the physical sense where there is a battle between brands and the unorganized players. Hence, each company works on a strategy and measures (tactics) required to execute it.
According to Mikal E Belicove, GSOT- goal, strategy. Objective and tactics are the best ways to conceptualize a marketing plan. A goal is a broad primary outcome while strategy is the plan, the objective is the measurable step and tactics are the tools and techniques used to implement the strategy.
Any marketing strategy will not help unless both strategic marketing and tactical marketing are employed in combination.
The pre-requisites for a successful campaign are knowing the status of the company vis-as-vis competition (market share), developing marketing communication and understanding the target audience.
With a proper understanding of all the above factors, any campaign may end up to be a failure not able to achieve the objectives.
Strategic marketing is vital for achieving long term goals of the company and those only adopting tactical marketing on an Adhoc basis risk the possibility of not able to convert potential leads.
Disruptive technologies, recessionary market conditions, new competition from other industry verticals and competition within the industry are all factors that could impact the fortunes of brands and hence marketers need to be constantly on their toes to stay ahead.
No marketer would be wise enough to ignore the inbound marketing strategies now in vogue thanks to rising in internet penetration, websites, blogging and search engine optimization (SEO) techniques.
Recommended Articles
This has been a Guide to Strategic Marketing vs Tactical Marketing. Here we discussed the head to head difference along with infographics. You can also go through our other suggested articles to learn more –