Updated November 28, 2023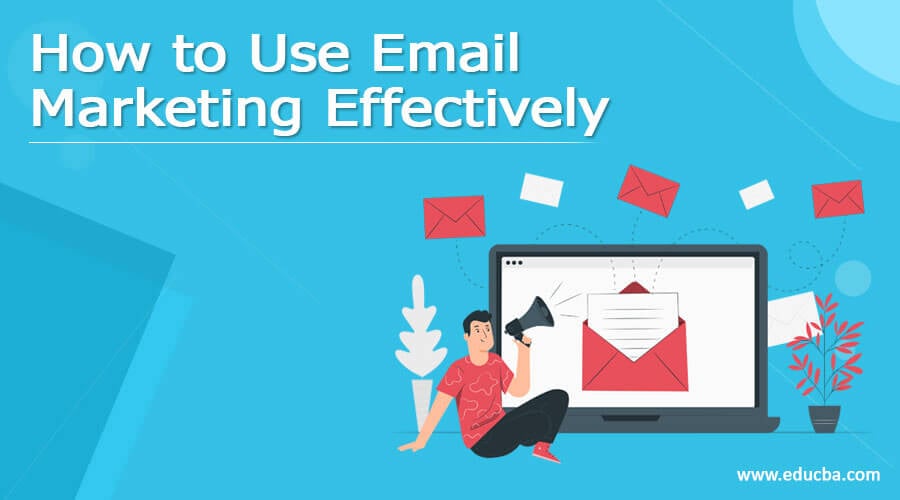 How to Use Email Marketing Effectively?
Long ago, people checked the post box outside their houses to know if the postal service delivered a document or letter.
In rural areas of emerging countries where internet access is unavailable, postal service run by governmental agencies continues to be the most preferred form of interpersonal and business communication after the telephone.
The fortunate living in cities or urban areas with the internet becoming part of their daily lives will likely log into their email accounts to check for new mail.
Still, others with their email on their mobile phones get alerts whenever their data connection is on.
Your inbox is not likely to become saturated by emails from friends and relatives. But business houses eager to popularize their brand or directly sell a product or service will emerge.
Such promotional emails mostly end up in the 'Spam' folder. Sometimes it adds to the 'Promotions' folder and not the primary folder that stores important mail. To enhance email deliverability and avoid being flagged as spam, it's crucial to implement an SPF record checker and implement essential email security measures actively.
The CAN-SPAM Act of 2003 protects consumers from spamming and violators. They fined up to $11,000 for each email address violated and criminal prosecution.
It also dissuades using deceptive headers, subject lines, and reply-to addresses. The email should contain a physical location, and the option for unsubscribing should be valid for 30 days.
Since it is easy to know a marketing message from the subject line of a mail, most people tend to overlook or delete them without opening them.
Therefore, this prompted many people to think that email marketing is dead.
However, there is no need to be disheartened by such statements. According to some surveys, email and mobile marketing still attract people to your brands or products, provided it is done sensibly with the customer in mind.
More importantly, there are ways to integrate email marketing with social media, which is now evolving as a medium of its own rather than an email marketing strategy.
According to data from a survey by Neil Patel from Ascend 2 and Research Partners, 54% of people believe email is the most effective medium. Only 11% feel it is the most difficult, and only 34% feel mobile and short messaging service (SMS) is the most effective strategy.
Research shows that it earns a $39.40 return on every $1 invested, but everything depends on the open rate and click-through rate.
The open rate denotes the number of people who receive and open the mail. Click-through-rate denotes the number of people who click on a 'call-of- action' button such as 'Register', 'Join', ' Download', 'Reply', and the like.
Techniques of Email Marketing
Here are some techniques to get the best results from an email marketing campaign.
Use a recognized email marketing software for sending bulk mail
Unless the mail is official and targeted to an individual or another firm, sending bulk emails through an official email id is not good, as there are limits on the number of email IDs that can be reached in one go. Most of them could end up in spam, also.
It is advisable to use email marketing tools such as Aweber or Mailchimp to send bulk emails. Avoid incorrect email ids or ids with marketing messages, which are blocked by the user.
In many countries, the telecom or internet regulators have a specific number of ids that can be addressed at one go and have a separate platform for sending bulk mail through a recognized service provider.
Pay attention to the subject line of the message
Just as in a headline of an article or news, the article's subject line is the first thing that a reader sees in your mail.
That is one reason job ads request the applicant to specify the specific job title and code in the subject line, making sorting emails easier for the company's Human Resources Department (HRD).
Likewise, a marketing message should entice the reader to open the mail. It could be a great offer of 50% or 75%, as Flipkart or Amazon occasionally does, or an invitation to an event with free registration.
It could be 'Register Free for the most auspicious IT Services Event in City'.
Subject lines can incentivize people to open with a great offer. It can be a surprise, as in saying, 'Don't open this email'. It could be a reminder about the expiry of the subscription or payment.
Likewise, humor can also effectively attract the reader's attention. Groupon:" Best of Groupon: The Deals That Make Us Proud (Unlike Our Nephew, Steve) is an example.
Address in first person by name can boost open rates. Email subject lines with the recipient's first name can lead to a higher click-through rate than emails with generic titles.
For example, it could be like Air Asia -Ram Mohan: Birthday Gift offer, Mr. Abhishek- Happy Wedding Anniversary Gift inside Flipkart'.
The words should be simple, avoid flamboyant words and phrases, and be capable of directing the reader to take action immediately.
No time is auspicious for sending mail
There is a popular view that emails are good and bad times to send emails. However, that is a fallacy. People open emails as and when they get time. It could be early morning, between work at noon, or at night.
However, it is more important that the mail should land in the primary inbox, not the spam folder, which may never be opened.
Moreover, automated email marketing software systems allow the user to time the sending of emails and, therefore, time according to the customer's geographical location and time zone.
Request receivers to add email to the contact list
If the email is being sent to an existing or prospective customer, they can be requested to add your company email id or your id to the contact list so that it doesn't end up in spam.
Pay attention to the design of the mail
The initial user experience is important; that feeling should be carried throughout the mail.
If the email is mobile-optimized and scrolling down type, then the land page or registration form should not be in a better format accessible through desktop or laptop.
For better click-through results for email marketing campaigns, ensure the design is flawless and enables seamless mobile and desktop experiences.
Some of the best calls to action sentences are –'I want you to Register for Webinar, I want you to download the white paper, and 'I want you to continue reading'….
Importance of Call-to-Action
Every email should have a call-to-action that is user-friendly and easy to navigate through. It could be 'Register Free', 'Book Now', 'Join Now', 'Download', Enter Name, Email id, and the like.
It should also have the option to decline your offer, in which case no further emails related to the subject need to be sent again.
The call-to-action can be varied according to the needs and likes of the individuals. A person who has already attended an event by booking online doesn't need persuasive copies the next tie.
A direct invitation can be mailed, which can be decided on the basis of the processing done by your email marketing automation software.
Share community-generated content
There could be large volumes of user-generated content that the company has at its disposal, which can be shared with other users.
However, not every user may love to be in the spotlight. So it's better to develop a good relationship with them before using their content.
It's better to ask the concerned individual whether using the questions, articles, or tweets in the next mail is alright.
A strong call to action with a community member's testimonial adds value to an email marketing campaign, according to Stephan Hovnanian, owner of Shovi Websites, an email marketing and web strategy company in Boston.
Use segmentation tools and resend mails
It is important to realize that a one-size-fits-all approach may backfire when it comes to email marketing.
Each individual's tastes, preferences, income, and social levels differ. Hence, email campaigns targeted at salaried groups may not appeal to the business category of customers.
Automated email marketing software has already been highlighted; hence, segmentation tools can be effectively used to target emails to the right audience.
Mailigen used segmentation tools to increase its email open rates from 20 to 29%. Creating the right distinctions between customers and targeting high-value messages helps in increasing the effectiveness of email marketing.
It is very important to gather user data about groups of people- the content they prefer, how often and when they open emails, and how they respond to them.
Sometimes, an email with a better headline can persuade a reader who didn't open the previous mail to open and read it.
Social integration with email marketing
There are differing views on the effectiveness of social media and email marketing in the rapidly changing dynamics of digital media campaigns.
In a new blog post, Neil Patel has urged corporates to integrate social media into email marketing campaigns.
The Sony Vaio laptop brand launched its new VAIO summer line-up. And included the 'Pin it' buttons in their purchase confirmation email.
This resulted in 3000 new click-throughs as customers were eager to inform others of their new purchase.
These emails had a 70% open rate and an 18% click-through rate. Among the strategies suggested by Neil Patel include collecting email ids of social media followers as email has a higher customer lifetime value (CLV0 than social media platforms. It developed a private Facebook group for privileged subscribers or customers and added social sharing icons inside emails. GetResponse has stated that social sharing boosts email CTR by 158%.
Conclusion

Digital marketing is constantly in flux. No strategies will work all the time and in all scenarios.
There was a view that it was dead, and the growth of social media and mobile devices had diminished its importance.
It is still alive as marketers try new strategies to attract user attention.
However, a report from Campaigner said that 2016 and beyond will be difficult as well as challenging for email marketing, especially with respect to attracting new consumers.
Increasing open rates continue to be the most challenging for marketers. Apart from creating compelling content, earning new subscribers, and maintaining them.
Finding and developing a contact list of subscribers is paramount in email marketing.
We can provide a free email marketing newsletter, free seminar attendance, or discount offers in exchange for contact information. Citi Bank sends mailers to existing cardholders to refer five friends and get paid.
Now efforts are on to make email marketing subscriber driven rather than a one-way brand push of advertising.
Subscriber Voice, a start-up, has devised a seal that. Once installed, the subscribers can provide structured and unstructured data on their experience, representing the overall brand relationship, directly predictive of loyalty, purchase behavior, lifetime value, churn, and the likelihood to recommend.
Email marketing volume has grown by 15% CAGR (Compounded Annual Growth Rate). This is forcing 77% of US consumers to hesitate when providing brands with their email addresses.
In this context, Subscriber Voice has developed a new idea of subscriber-driven email marketing. Emails may sport the Subscriber Voice Seal to show the company cares about engaging with customers and understanding them.
Retailers are now using purchase behavior data to send more relevant emails to consumers. 50% use demographic email marketing data such as gender, age, and location.
It also depends on the quality of the database with the company. If the data also includes email, mobile, and work phone/residential phone, follow-up can be done on the phone through voice call or SMS.
Integration with social media and other communication channels is key to better response and conversion rates for email marketing.
Creativity, research, data analysis, thinking, and conceptualization must go into every email marketing campaign. So that it doesn't end up in spam or trash. Long live email marketing.
Recommended Articles
This has been a guide to How to Use Email Marketing Effectively. Here we briefly overview some techniques to get the best results from an email marketing campaign. You may also look at the following articles to learn more –