Updated October 19, 2023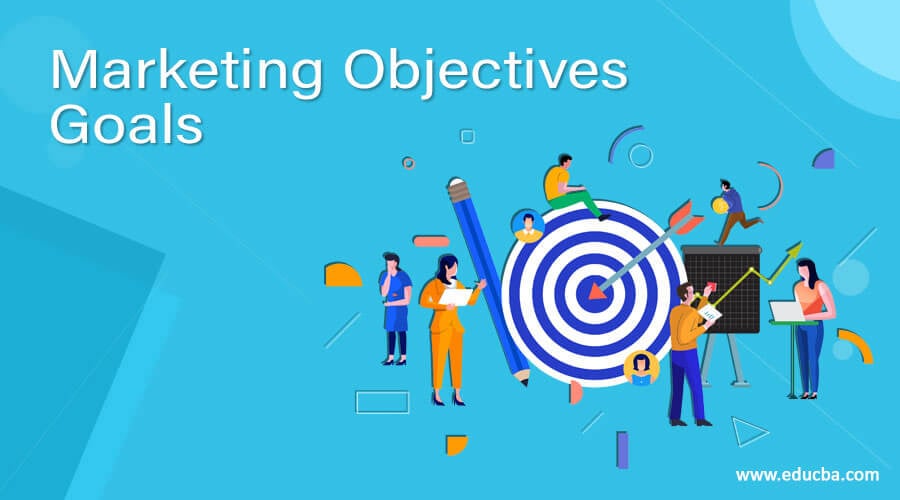 Marketing Objectives
A small business must always be aware of developing specific key marketing objectives covering all aspects of projected marketing efforts. This is vital for the growth and success of the business. For instance, a company needs a target for its market slice and one for the number of customers. If the industry starts to lose market share, it won't get deceived by an upsurge in customers by doing such a thing. It would help to create precise and measurable goals to write down some key marketing objectives for your business. Writing the list of key marketing objectives involves starting with the marketing mix or the "4Ps". Begin by giving outline headings for the product, price, place, and promotion. It would help you to build a more inclusive and thorough set of vital marketing objectives.
Marketing is essential to any business strategy and involves creating awareness about the products, services, and the business as a whole. A well-thought-out marketing objective in a marketing plan is essential for any successful business organization. Regardless of any marketing tactic, you must implement the marketing objectives in a marketing plan as effectively as possible.
Business Considers in Marketing Strategy
Some of the leading marketing objectives that every business considers in its marketing strategy goals are as follows:
1. Increase in Sales
For most for-profit entities, driving business and increasing sales is the primary motive. A solid return on investment is essential in marketing, meaning that the rise in sales revenue must considerably exceed the costs incurred and be precise. We merely state that an increase in percent terms may not be sufficient for sales figures. The more precisely you write, the better it gets. For instance, if you own a fashion brand that caters to luxe women's clothing for all age groups and you aim to boost sales within a specific demographic, like women over forty, clearly state this goal in your marketing objectives.
2. Increase Product Awareness
This objective comprises stimulating people's interest in a product that has been on the market for a long and people have age-old approaches to it. By adopting such a tactic, the interest of the common public can be revived, and hence the product (or service) gets more popular and accepted. For example, the "Got Milk" campaign started in the mid-1990s got a massive uplift after campaigning nationwide.
3. Launching the brand
As several other competitors already exist, launching yourself as a brand effectively in the industry is essential. Customers can easily get distracted by other alternatives. Thus a great deal of care needs to be taken with the launch of a new brand. An example of a marketing objective can take Beans to become one of the top three brands in the industry". For instance, the web hosting service called Godaddy.com launched a vigorous marketing campaign during the Super Bowl and benefitted.
4. Effective Brand Management
Getting a public eye towards your brand requires some effort to be put in. Because of this, there are rands in the world, such as Nike and McDonald's, that age to remind their consumers of the brand and nothing else. Thus, a helpful marketing objective can be" To get our consumers aware of our brand with no further stimuli provided." The company, Starbucks, used a similar strategy when it removed its brand name and relied on its logo to appeal to consumers.
Marketing objectives outline what you wish to achieve via your marketing efforts. There may be a few essential aspects to consider while instituting marketing objectives. While setting goals, your dreams must be considered SMART or specific, measurable, achievable, realistic, and time-specific. The "SMART" approach lets you efficiently manage the marketing actions and, importantly, enables you to determine how successful these have been and if they have provided the particular profits sought.
The "SMART" methodology is typically explained as follows:
Specific- Are the objectives identified by you precise enough as to what you are expecting to achieve?
Measurable- Can you count each objective in terms of quantity, i.e., can you use a unit of measure like market share in percentage or some other to enable a way to know your state of success?
Achievable- Are your objectives rational in achieving them, or are they just beyond your reach?
Realistic- Do you have adequate personnel and resources to realize your established goals and whether they can be achieved?
Time-specific– By when are you expecting to realize your objectives? And, what is going to be your timing plan along with target timing for every specific goal
Steps to Guide you through the Process of Writing some Key Marketing Objectives
The following are the different steps:
Step #1
Split your document into four sections with titles for product, place, price, and promotion. Make subheads that classify your marketing objectives and goals for producing or taming your effect, probing various pricing strategies, analyzing the different promotional decisions you have, and assessing your product circulation options.
Record your sales objectives as aggregate dollars or as the percent increase. If you set your next sales objective as a gross sales figure of $1 million, you can also record it as a specific (25%) rise in sales. You can also include your marketing strategy to reach your objectives in your sales objectives. For example, "ABC Company will upsurge sales 30% by venturing into a new market".
Step #2
Make your product heading by writing a marketplace synopsis that addresses the reasons that impact the demand for your service or product. Embrace the marketing objectives and goals for describing the optimal aimed customer using specific demographics, comprehending how your competition is performing well, surveying the customers regarding their needs, and ascertaining which product features you must take advantage of depending on your marketplace research results. Fix a bottom-line objective of defining whether you need to entirely change, modify or maintain as-is the current product or service functionalities.
Do make sure to keep a goal for market share. And it must be accurate and incremental. This means it couldn't set unachievable targets such as capturing 90 percent market share in just two years. Set goals compatible with your marketing plan and add a percentage figure for a short period. It should sound more like, "We w, ish to escalate our share by 10% in the next bi-year." Such a target would be achieved in reality and motivate your marketing staff much more.
Step #3
Set targets for ascertaining the changes that diverse prices can put on your sales quantities, proceeds, gross profits, unit profit margins, and brand. Create price-testing goals that briefly allow you to sell at diverse price points in different geographic areas. This strategy will give you durable data about the implications of various pricing strategies. Contact sales partners to ascertain whether they presume you can increase your prices without a subsequent quality reduction and decrease in your sales.
It would help to ascertain a specific figure for how many customers and how much market share you aim to capture. It requires a close examination of an average purchase. For example, if your average consumer spends just $50, you would need at least 20 customers to make the estimated $1,000. Luring customers involves investing money, and thus you must allocate a proper budget for it. So, you can write, "We w, would like to draw 300 more customers by publicizing in local newspapers that we haven't utilized till now." An even better thing would be to name those newspapers per ad rate.
Step #4
Do a SWOT analysis of the different distribution channels you must use to promote the sales of your product. This involves writing the strengths, weaknesses, opportunities, and threats linked with each. Include the distributors, retailers, wholesalers, outside sales representatives, inside sales personnel or firms, and online sales. Assess not only the effect each aspect will have on sales quantity but also assess the possible impact on your sales costs, gross profits, margins, and overall image. Set a goal of creating a position list to determine which supply channels work best.
Pick an estimated percentage rise for each customer purchase. For example, if customers usually spend $50 per purchase, choose a nearby percentage you want to add. More precisely, the objective would sound more like, "We w, ish to escalate the average customer consumption by 20 percent through training our sales personnel in up-selling or advising supplementary products after customers have bought the product.
Step #5
Do a SWOT analysis that points out the various advertising, public relations, and promotion choices you own. Ascertain the "per unit cost," or the cost to achieve a thousand probable customers for every option. Plan the price for each option and its potential effect on your sales volume. Ascertain each ROI based on your expected sales volume and the cost of each choice.
Decide upon price targets. The marketing objectives and goals invariably depend on operational prices. Review your prevalent pricing structure to ascertain your current stance in the market. For example, a premium quality wine could explain a high price to lure upper-class enthusiasts. On the other hand, neighboring businesses would dictate the pricing of stuffed toys based on their competition. Set a price objective that yields a reasonable profit margin and keeps you in the market. To reach such a pricing objective, one may have to be persistent and increase prices by 10 percent per quarter.
Step #6
Now, group all your key objectives into a summary paragraph to know if they could work in cohesion or not. If you notice a conflict, then adjust those causing it. For example, if the summary mentions," We wish to increase sales by 35 percent and reduce the prices by 20 percent", then you come to know that these are conflicting statements. Instead, your summary could read more like, "We w, ish to achieve sales of $1 million and a 20 percent market share. We wish to upsurge the number of customers by 25 percent and increase average sales by 22 percent. Furthermore, we wish to increase our prices by 10 percent over the coming three quarters."
Conclude your report with a summary declaring the critical outcomes of your investigation. Avoid repeating detailed support for your inferences, which the reader can already find in the inner sections. And embrace some recommendations toward the end of the summary statement.
Conclusion
A business organization's marketing objectives should be consistent and specify the primary concern of the organization. This involves your goals flowing from your organization's mission statement to the financial goals and finally to the rest of the marketing strategy. Visibly defined objectives also give your staff direction regarding what and how to accomplish and by what time. These also motivate the employees by producing an attainable task they can achieve.
Recommended Articles
Here are some articles that will help you get more details about the Marketing Objectives, so go through the link.