Updated November 25, 2023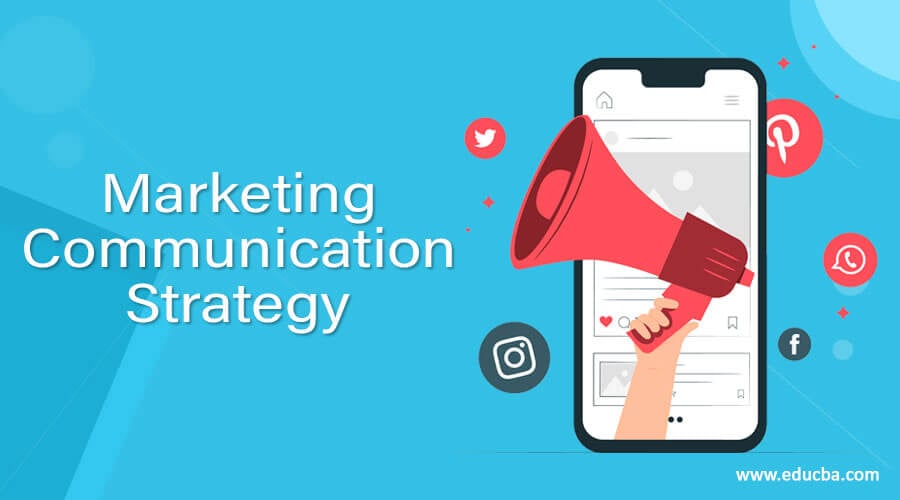 Introduction to Marketing Communication Strategy
Marketing Communication strategy goes without saying; it is an interdisciplinary activity requiring multiple skill sets and coordination between departments. Earlier, marketing, advertising, publicity, and sales were all seen as watertight compartments with functional linkages.
Let us study much more about Marketing Communication strategy
Just as individual markets themselves through language, dress, body language, etiquette, manners, and mannerisms, companies use marketing communication strategies to project an image among the potential customers of their products or services.
There are several ways to reach potential customers. These complex and overlapping functions constitute an organization's vital marketing communication.
It begins with the logo, trademarks, branding, positioning of the product, press releases, advertising, public relations, sales presentations, sponsorships, and corporate social responsibility campaigns, among others.
However, the emergence of marketing communication (MarComm) as a specialty has enabled seamless integration of these functions, which in turn helps the company to project a unified image to its customers.
Have a good brand & brand name
Pay attention and creativity to the logo
Positioning – clarity on entry-level, normal, and premium segments
Advertising-pitch at a suitable level
Write a blog to make people talk about your industry and product.
Sponsor corporate events and social activities, keeping the broader company image in mind
Marketing Communication Strategy
The top 10 marketing communication strategy is as follows:
1. Brand your way to success
In the market, you can either become a commodity or a brand. Being a commodity lowers the risks and allows for larger volumes with thin margins, but the market becomes crowded.
There will not be an identity for your product. Such unbranded products are visible across consumer, industrial, and consumable goods. For example, when choosing paint for the exterior, the consumer can go for a branded product such as Berger or an unbranded commodity.
The difference would be in pricing, texture, finish, and overall satisfaction of customers. Getting standard quality in a commoditized or unbranded product may be possible. Still, a branded product is an assurance of quality as the company has put so many resources and effort into creating the product.
It with the objective of giving enhanced value to the customer in terms of quality, performance, and safety.
Customers easily recall some successful brands like Microsoft, IBM, Coca-Cola, Pepsi, Amazon, Starbucks, Audi, Unilever, Yahoo, Ford, Sony, Warner Bros, and others.
John Williams states that a brand differentiates your products and services, and it derives from who you are, who you want to be, and who people perceive you to be.
The key advantage of branding is that it allows the company to price its products at a premium level that compares to commoditized products. It is important to have a message or tagline that conveys the core feature of the brand.
Some popular taglines are Apple-Think Different, Samsung Galaxy- next is Now, Ford- feel the difference, BMW –sheer driving pleasure, Audi-Vorsprung Durch Technik – Advancement through Technology.
A brand should encompass the company's mission, benefits of products and services, customer perception of the firm, and what qualities associates with the firm.
Understanding it requires some research on customers' needs, habits, and desires. Branding is comprehensive – it covers how you attend phone calls, email signatures, what salespeople wear on-field calls, and website content, photos, and social media.
If the theme of the product is innovation, then the marketing communication should focus on it.
Let's move to the next marketing communication strategy.
2. Logo
Pay attention to creativity. A logo is the most visible and recalled feature of a brand. Even when someone forgets the brand name, he is more likely to recall the logo.
Hence, companies should take care in designing and choosing a logo, and these days, they spend huge amounts of money on logo creation, signifying its importance in branding as it denotes all the company stands for.
It is better not to copy an existing logo or make changes to it but to hire a designer with experience in creating professional logos for companies. Your logo should differentiate you from the competition- do other firms use thin lines and curves, or is it bold and simple?
A logo should be clean and simple for it to be used in a variety of places – hoardings, newspapers, sites, trucks, the web, business cards, and many other places.
The success of a brand depends on making the logo visible in as many places as possible, according to marketing experts. A trendy logo can confuse customers and not deliver the intended benefits.
The purpose of hiring a professional designer is to avoid using stock pictures or images or simply using copied images. So it serves well not to clip art which is universal and available for use by anyone.
The logo should differentiate the product and must pay attention to fonts, images, and colors. It's better to use three colors that reflect the values and goals of the organization. It is better to have single-color, double and multi-color versions for use in different places & situations.
Once you have hired the designer and finalized the logo, it has to be trademark protected. In the US, you can do it through the US Patent and Trademark Office, and it can be done online from their website.
Patent and Trademark authorities have been constituted in other countries to provide such services. Once it is protected, it can be used on websites, letterheads, business cards, and advertisements in newspapers.
Let's move to the next marketing communication strategy.
3. Positioning
Positioning is an often used term in marketing but perhaps not properly understood. Launching a new product or brand must be positioned suitably in the entry-level, regular, or premium segments.
It is a term used both as a verb and a noun and is a process by which the company creates a perception of the product in relation to its competition. Also, answers the vital question of what the company does from the customer's point of view.
The perception is defined by how successful the marketing communication strategy is: it is defined by the product (what it is), the benefit to a customer (what it does), the effect on the consumer (what it means), and the motivation to buy (Why I should care).
Here marketing communication through media, advertisements, emailers, and product reviews helps, but part of the perception is made on the minds of buyers through packaging, pricing, product performance, references, and media recommendations.
The challenge for a company entering a new market is to define the market and your firm's place in it. It involves positioning the company to visionary buyers as a thought leader within an emerging, highly promising market category. The product's benefits are a competitive advantage against existing products and the status quo.
The positioning strategy would be different in an existing market where there should be a clear demonstration to economic buyers and end-users regarding the credibility of the product and whether it is the most suitable for their needs. The marketing communication should clearly articulate such benefits.
Positioning a product is important for a variety of reasons, as it influences a customer's buying decision the most, evaluates a product according to the mental map of the market, exists in customers' minds, and is not easily changed.
It is important for the company to demonstrate a product's relevance using supportable, credible, and factual terms.
Let's move to the next marketing communication strategy.
4. Advertising
The purpose of advertising is to create awareness of your brand or product among consumers and prospective buyers. It creates a desire for the product among consumers through appropriate messages such as health, added convenience, fashion, looks, utility, and a variety of other benefits.
Advertising is an expensive aspect of brand promotion. Proper media planning must be done to get the intended benefits within the budget and time frame set for the campaigns.
Print, outdoor displays, hoardings, radio, television, websites, and social media platforms such as Facebook, Twitter, and Pinterest are all possible mediums to get the message of the product and company to the masses.
Marketing experts point out that the business plan should clearly establish the firm's advertising goals. It could be a certain percentage of growth in sales, more sales inquiries, or build more footfalls in retail stores.
Advertising promotion can be brand-specific or company-specific depending on the requirement at hand, and it's better to hire ad agencies to do the creatives after defining the brand's requirements and the brand's unique selling proposition (USP).
The company hires media planners to book media space after approving the creative. Here proper planning with the agency will ensure that a better return on investment (RoI) is achieved.
The advertisement requirement will vary according to a company's type, size, and scale of operations. For a start-up, the objective would be to establish an identity. It may require a high degree of promotional support to attract the attention of consumers.
For a growing business, the objective is to differentiate from the competition and make convincing messages to lure buyers. An established business's objective is to sustain buying interest and not lose out to the new competition.
The mnemonic AIDA is much more relevant in advertising- it denotes Awareness, Interest, Desire, and Action. The company should focus each campaign on fulfilling these objectives.
Companies use advertising and marketing promotions not only in advertisements and hoardings but also in packaging, colors, fonts, and symbols.
Let's move to the next marketing communication strategy.
5. Blogging
Blogging has emerged as a useful function in marketing communication strategy for an industry that is cost-effective and may pay dividends in the long run. At the same time, the growth may not be explosive.
However, well-known content strategist Neil Patel feels that content marketing can provide steady, measurable growth on a monthly basis.
Care should be taken not to write too much on the product but on new technologies, trends in the market, issues related to the industry, emerging technologies, research and development issues, functionalities of certain new products, and product reviews.
Good topics, quality writing, and high-quality promotional material are crucial.
It would be great if the top influencers or experts in the industry were invited to write blogs, which can make a difference in the search engine rankings of the website and blog.
Expert-written blog articles should have relevant topics to the readers, and the company should take care in their selection.
According to Neil Patel, many marketing blogs preach high-quality content but deliver low-quality. Only a small percentage of blogs are of high quality.
Companies are yet to analyze and use Big Data while link building to their sites, doing search engine optimization (Search Engine Optimisation) so that the content is seen and placed on top while visitors may be using search engines to get key information.
Ensure that you use target keywords in the content and supplement the editorial content with subheadings, photos, and infographics.
Let's move to the next marketing communication strategy.
6. Sponsoring Corporate Events and Corporate Social Responsibility (CSR)
Exhibiting at worldwide industrial, consumer, and trade fairs is a great way to ensure your company or product's presence. Companies show they care for society by sponsoring meals, providing free books, and building schools, parks, and infrastructure. Companies strive to associate with consumers and the government long-term by demonstrating social responsibility and giving back to society through various initiatives.
Recommended Articles
This has been a guide to the marketing communication strategy. Here we discuss 6 important marketing communication strategies. You may also look at the following articles to learn more –