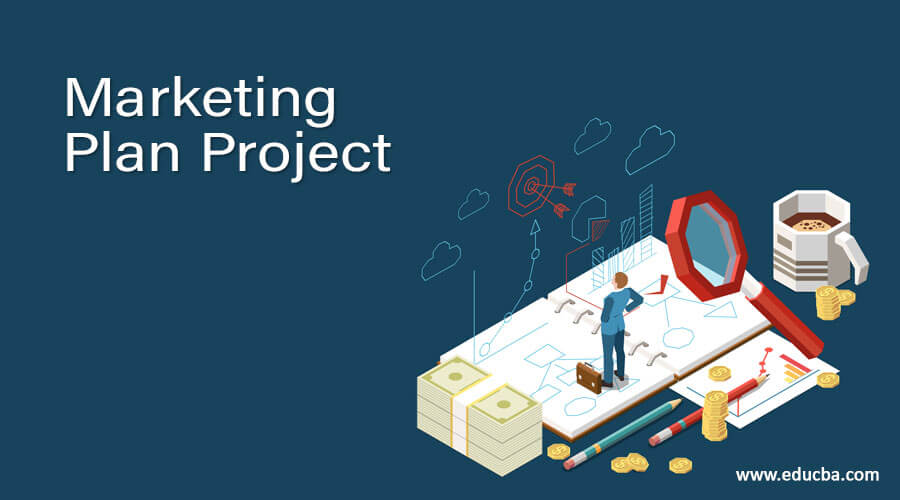 Marketing Plan Project – Introduction
It has been found that most of the new business setups do not pay as much heed to a marketing plan as they should. A Marketing Plan is different from a business plan in that while the latter focuses on the overall objectives of your business, the former helps you to consider important steps required to form a trustworthy association with the customers. In this article will see how to build an marketing plan project – Top 13 Strategies.
"The single most important thing for a small business to include in its marketing plan is a very clear understanding of its customers and its competitors." – Robert Thomas (McDonough School of Business, Georgetown University)
A Marketing Plan strategy can essentially be a formal or an informal one, but must necessarily comprise of who are the customers, sources of their information and different approaches to them? An effective Marketing Plan strategy defines the tools and techniques to be used in order to achieve desired sales objectives. It incorporates a complete marketing plan strategy of action of the business – what exactly am I selling, to whom I want to sell and how to go about selling it?
So, if you have by now, got an idea as to what exactly a Marketing Plan strategy is, it's time to look at what it contains and how to build it?
Marketing Plan Project Strategy that Works
Following are the steps:
Step#1 – Do a Situation Analysis
As the initial step, tell your potential customers about your products and services and the company as a whole. Then, tell them how you are different from the competition and what sets you apart? As an effective marketer in today's highly competitive scenario, you must be aware of your niche market and also of your competitors and rivals. Since the target audience is very specialized and segmented nowadays you have to explain to them how you intend to add value to their purchase. You should make the situation analysis as succinct as possible, embracing upon your strengths, weaknesses, external opportunities and threats.
Step#2 – Describe your Intended Audience
The best way to do this is to create a concise single-paragraph profile about your potential client base. Base your description on demographic factors such as age, sex, annual income, geographic location and family composition and also on lifestyle factors as well. You need to ask yourself questions like – Are my potential customers conservative or innovative? Traditional or modern? Introverted or extroverted? and would they really buy what I have to offer and in what quantities? In case you are a B2B marketer, you would then be asking yourself what is the type of business I want to sell to? What is their job title? Their geographic location? and size of their business? No matter, what category your intended audience falls into, all you need to take care of is to describe them concisely so as to formulate your public relations and media campaign.
Step#3 – Make a Note of your Marketing Goals
After doing the above steps, it is now time to make a list of all those marketing goals that you wish to achieve. For example, do you expect a 25% increase in your sales turnover? In brief, make notes of some achievable and measurable goals.
Step#4 – Devise your Communication Strategy
This is the most important part of your effective marketing plan. In this process, you would outline and ponder upon the different tactics that you would need to reach out to your prospects and achieve the desired goals. An effective Marketing Plan has to address the needs of all types of prospects, whether they are cold or warm prospects.
More precisely, tactics such as various advertising, direct marketing, public relations and the like are most suited for cold prospects. However, for the warm prospects, tactics such as permission-based email, customer appreciation events, and loyalty programs would be more beneficial. It has been observed that interpersonal sales efforts combined with effective marketing usually does the trick when it comes to closing sales.
Recommended courses
Step#5 – Set your Budget
Every business vowing to formulate a working Marketing Plan must necessarily invest a required sum of money for it. Thus, every business needs to beforehand allocate a budget for its Marketing Plan. The business has many ways of procuring the budget amount for its Marketing Plan – newly acquired funding, self-financing or borrowing. The only thing to be kept in consideration is that devising a Marketing Plan is almost inevitable for each business. Experts advise all newly set up businesses to adopt a mixed budget strategy, keeping in view the affordability of those tactics.
Step#6 – Catalog Accelerators
Recognize the assets that can be used to accelerate success and boost marketing campaigns. Accelerators can be of different categories such as status, priority, and type. Some of the ways to classify these accelerators include the following:
Content (ebooks)
Audience lists (customers, subscribers)
Digital Marketing properties (apps, websites)
Sponsorships
Partnerships
A business can manufacture their entire marketing campaign around these accelerators. For example, a business house can use assets like an ebook to augment the emails as part of their main promotional campaign.
Step#7 – Create Milestones
List all the industry and company events that may be relevant to your marketing plan. These may be conferences, industry report releases and company announcements. Also, keep a track of important dates in your marketing plan project calendar. Ask your Marketing Team to formulate milestone-specific promotions with regards to a particular product launch or to enhance an ongoing program.
Step#8 – Devise your Campaign Center
A campaign is a sequence of activities aimed at achieving a specific goal. They have targeted audiences, budgets and timelines. Campaigns are primarily categorized into two – builders and drivers. The Builder campaigns such as social engagement and blogging are aimed at creating and expanding assets on a continuous basis. On the other hand, Drivers are those campaigns that make the full use of existing assets in order to generate short-term income and they usually last for 1-3 months. Many people believe the Drivers to be sprints and the Builders as Marathons. It is vital for every business that during their marketing planning process, their campaigns should align with goals, audiences, accelerators, and marketing milestones.
Step#9 – Improve the Marketing Plan Project Center
Marketing plan project is defined as the collection of those efforts that constitute the campaigns. Marketing plan project has certain goals, tasks and hours or any measure of effort.
An effective marketing plan is one that not just includes the relevant marketing ideas but must also suffice some important tasks that are talked about as below:
Devise a clear and intensive vision as to why a probable customer should go for your business
In essence, this task involves what is going to be the core need that my product or service will fulfill? Does it involve that your customers pass their day more comfortably? Perform their duties more efficiently? Or does it add to them being more respected and appreciated by fellows? Simply put, the offering must be such that is designed to suffice the customer wants in a better way.
Classify your target customers
Any business whether big or small, must initially recognize their potential customers and segment them according to different parameters. Actually, to prosper a small business ought to investigate the market to ascertain the features of its most relevant potential customers. Your description of the target customer should be in detail. In this process, a business also draws a richer picture of the expected revenues and financials from the sales.
Detect competitors who would make an impact on target customers
As a piece of personal advice, remember that a competitor is almost an inevitable aspect of any business and one should also never commit the error of underestimating him. Small businesses, it has been observed seldom try to investigate or follow their competitors extensively. However, as told earlier as an effective marketer, you ought to understand your competitors and their strengths and weaknesses, their main competitive advantage and finally, how could they make an impact on you as a business by means of increased communication, price cuts and the like.
Step#10 – Project Management System
After you have prepared your marketing plan project centers and campaigns and are also ready for activation, you should then shift them into a Project Management System. Sometimes, it may require manual shifting of approved campaign efforts, and other times the ability to import spreadsheets and populate marketing plan project, campaigns, and tasks on their own.
Step#11 – Devise Campaign Tracking
It would be beneficial for your business to establish a process to make the campaign names consistent with analytics, marketing automation, project management and marketing planning systems. This enables a better tracking and reporting of results.
Step#12 – Develop Content
Build a digital marketing team and make some content for your website. In your content, remember to write creative and engaging content. Write short paragraphs and also vary your sentence length. Usage of vernacular is more suitable and grammar doesn't need to perfect. Your tone should be a conversational one and must capture the interest of the audience at all times.
Step#13 – Market your Content
Only writing correct content won't do any good unless it is promoted for a cause. You can take the help of several free online tools such as Google Analytics and Google Adwords to track the traffic to your site and if the content is being able to generate leads or not.
Apart from following these steps, a business organization must also make use of a few of the marketing channels to promote their business effectively. These channels and their utility in an effective marketing plan are as follows:
Social Media Marketing
Social media is now a significant tool of any business's marketing campaign. Those organizations that have not as yet made optimum use of Facebook, Twitter, LinkedIn, Google+ etc. do not even know what they're missing out on. Sometimes, the entire phenomenon of social media marketing can sound a bit challenging especially for small businesses. In reality, they really shouldn't be afraid of it as more and more services and platforms are appearing each new day.
"Figure out where your customers are spending their time and set up shop on those platforms."– Brett Farmiloe
E-Mail Marketing
Although e-mail marketing is not as recent a phenomenon as social media marketing is, it's still a potent method of getting to your customers. Small businesses usually prefer this mode of marketing. Some of the ways adopted to communicate with customers, under this style of marketing are promotional campaigns, newsletters, and transaction statements. Some companies assist the e-mail marketers in reaching out to their customers such as MailChimp and Constant Contact. According to Brett Farmiloe of Markitors, companies that wish to utilize e-mail marketing as an effort must first segment their target market.
"Not all subscribers want to receive the same blast." – Brett Farmiloe
Farmiloe, also pointed out that those email marketers are considered as smart whom segment their market as a first step and further segment them owing to their account activity. The main benefits of segmentation according to Farmiloe, are the reduction in the amount of unsubscribes, enhanced open rates and increase in the number of actions taken from a sent e-mail.
Mobile Marketing
With the advent of smartphones and tablets and their ever-increasing usage, there is now a kind of a revolution in the marketing techniques adopted by companies. Thus, more and more companies are devising ways to effectively market their products/services through mobile phones and tablets. However, mobile marketing must not be considered as an extension of e-mail/online marketing. This is so because customers are likely to see the message much quicker than any other form of online marketing.
"Mobile Marketing is interruptive." – Brett Farmiloe
A mobile marketer must remember to be patient at all times when sending across his messages/campaigns to the customer. He must submit the full authority to his customer whether to see or not the message right away or save it for later. Since the customer is the king, so all authority must lie with him. A mobile marketer must know some basic tricks to send in his message across with the right effect such as being sensitive to his customer's time schedule and knowing when and what for does he use his phone?
Once the marketer has identified his strategies for each channel, he must now constitute the general strategy. This typically involves what amount, are you prepared to invest in each separate channel and what kind of results do you expect from those. The tasks that need to be undertaken in each step of the marketing channel? Here, the key to devising and maintaining an marketing plan project is to create a well-defined list of goals, budgets and action items. And, assigning appropriate personnel to each of these activities would make it easier to do so.
Conclusion
The effective marketing plan is an inseparable part of any effective business strategy and should be sustained on a yearly basis, to say the least. In case of any new launching of a product or service, the effective marketing plan needs re-evaluation and must be revisited in accordance with an original marketing plan or to develop a fresh campaign plan that can be added to your marketing plan project as a supplement.
To conclude in a positive and constructive way, I would say that time spent on devising your marketing plan project is in fact, time well spent since it outlines how you associate with your customers. For me, that's an investment that's truly worth making. And what about you?
Recommended Articles
Guide to a marketing plan project is to create a well-defined list of goals, budgets and action items. Here we also discussed the top 13 strategies of marking plan project. you may also look at the following articles-