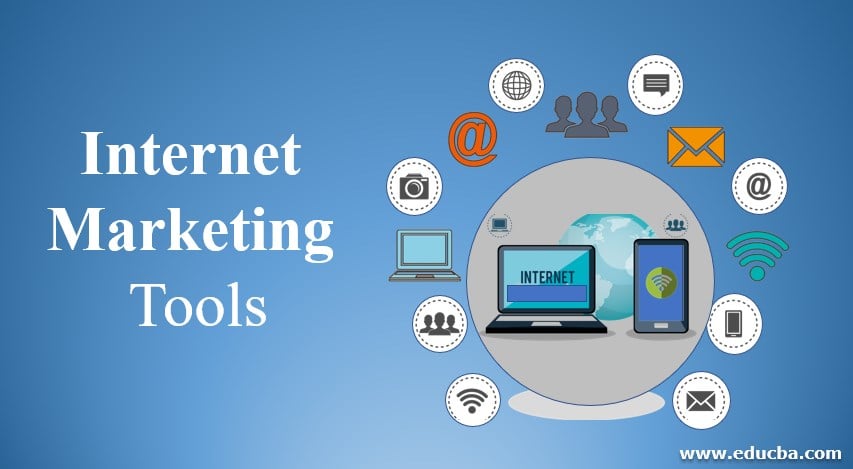 Best Internet Marketing Tool
In this Topic, we are going to learn about Internet Marketing Tools. Internet marketing is a very dynamic business. It is constantly evolving. You can see something new being introduced every day while something old becomes redundant in a matter of minutes. Working in this domain is not easy as there are no fixed rules and theories which you can stick to. You have to learn every day and keep up with the latest trends and techniques.
It is truly a challenge to become a successful online marketer, but herein lies the charm. The internet may seem like a tough turf, but it also helps you through terrific tools.
There are lots of internet marketing tools that you can utilize to implement the different internet marketing strategies such as SEO, SEM, SMM or social media marketing, email marketing, and content marketing.
But if you go searching, you will find yourself in a sea of tools (free, premium, and freemium, i.e. a mix of free and premium). And then it becomes very difficult to select. You will find many businesses that sell such tools, and a fair number among them really offer value. You will also come across free tools that do not cost a single penny but give awesome results.
After seeing so many of them, it all boils down to selecting the right ones. And to help you out, today, we present a round-up of cheap internet marketing tools that will help you in myriad ways as you go about tackling the tough turf.
List of Internet Marketing Tool
Following is a list of internet marketing tools:
SEO Tools
1. Google Suggest
One of the easiest-to-use and valuable SEO tools, Google Suggest, lets you check how your website ranks for different keywords. Using it, you can find out a good deal about keywords trending in the niche that you are dealing with. This autocompletes search functionality of internet marketing Google is a great help in SEO for beginners as well as pros.
Cost: Free
2. Keyword Map 
A premium SEO tool from WordTracker, Keyword Map is a great help in keywords research. You can find popular and relevant keywords for your niche, products or internet marketing services.
Cost: $27/month
3. MozLocal 
A very reliable SEO tool, MozLocal is just awesome for local SEO. All it demands is your location information, and you can get listed consistently across the search engines. A must for small and local businesses, it gives you accurate reports, thereby empowering you to plan your strategies in a better manner. The insights let you see ranking, review and traffic data for different subsets of locations.
Cost: $84/year
4. SEO Spyglass
A backlink checker tool, SEO Spyglass, gives you information about the inbound links being received by your competitor sites. It is, in fact, a set of SEO tools that help you plan your SEO strategy in a more effective manner by offering you valuable insights.
Cost: $124.75 one time
5. Plagiarism Checker
A simple and effective plagiarism checking tool, Plagiarism Checker, can tell you in seconds whether your content is original or duplicate. You just have to paste the content in the given box, and the result will be out in a while.
Cost: Free
6. Semalt
Want to dig out the keywords that are relevant to your business? Go for Semalt. It is very helpful in improving your search engine performance. You can also track social media reputation, real-time competition, and last but not the least, get an idea as to how web properties appreciate over a period of time.
Cost: Starts from $0.99 a month.
7. Similar Page Checker
To rank well in SERPs, you should have original content, but despite earnest efforts, some similarity is bound to creep in, which can lower your chances of a good ranking. Similar Page Checker helps you determine the percentage of similarity in your content.
Cost: Free
8. Alexa Toolbar for Chrome 
A fabulous tool trusted by millions, Alexa Toolbar for Chrome gives you all the vital information about a website. You can find out the site's rank, sites similar to it, the search queries that drive traffic to the site and also its past as in how it used to look. A fine way to evaluate yourself independently as well as in relation to your competitors, this tool is truly a wonder.
Cost: Free
Let's move to the next internet marketing tool.
SEM Tools
1. Google Trends
A very simple, common and powerful SEM tool, Google Trends lets you catch up with the things people are looking for. You can find real-time data, compare volumes about search terms, find how people search for your business and gain deeper insights without paying anything. It helps you plan your PPC strategy with great efficiency.
Cost: Free
2. Google Keyword Planner
Running an AdWords campaign becomes much easier with Google Keyword Planner. It helps you search for keywords and ad group ideas. You can create new keywords and also foresee the performance of a list of keywords. With it, choosing competitive bids and planning budgets for your campaign becomes a cakewalk.
Cost: Free
3. Ubersuggest
Much like Google Suggest, the only difference is that UberSuggest has better outreach. It offers foreign language support, and you can search for desired terms/keywords in more than 40 languages. The search results are based on web search, videos, recipes, images, news, and shopping verticals.
Cost: Free
4. Soovle
A highly customizable and convenient tool, Soovle is like manna from heaven. It gives you data from not just Google but from Wikipedia, Amazon, Yahoo, YouTube, Bing, and Answers.com as well. It is very helpful in not just planning ad campaigns but also the SEO strategy.
Cost: Free
5. Keyword Niche Finder
Offered by WordStream for free, Keyword Niche Finder helps you in finding profitable keywords for PPC as well as SEO. It is great for a small business looking to carve a niche in their specific segment as it completely fits in with niche internet marketing strategies.
Cost: Free
Let's move to the next internet marketing tool
SMM Tools
1. HootSuite
The Big Daddy of social media management tools, HootSuite, is much celebrated among online marketers as it gives them control over 35 social networks. With it, you can share and manage all the updates on different platforms from a single dashboard. A secure tool, it lets you collaborate with team members and also gives you insights into audience behavior.
Cost: Free for limited usage. It starts from $9.99/month.
2. Buffer
A popular freemium SMM tool used by over 2 million marketers, Buffer makes your social sharing a cakewalk. With it, you can share updates and posts on multiple internet marketing platforms like Facebook, Twitter, Linked In and App.net in one go.
You can also customize them as per the platform. With Buffer, you can easily collaborate with team members and contributors. It also helps you with analytics and tells you what the best time to publish is, what is being liked, offers suggestions, and lots more.
Cost: Free for limited usage. It starts from $10/month.
3. TweetDeck
Made for Twitter, TweetDeck is a great tool for managing your tweets. It lets you post tweets from multiple accounts and also monitor them. You can also schedule tweets for future posting.
Cost: Free
4. Followerwonk
Meant for Twitter, it would give great results along with TweetDeck. Offering deeper analytics, Followerwonk gives you insights such as demographic details of the audience, their bios, location, followers, when they are active, and much more.
Cost: Free for limited usage. It starts from $29/month.
5. Post Planner
A great Facebook analytics tool, Post Planner, makes posting super easy. You can schedule posts in bulk. You can also schedule posts as per time zone to target a specific audience. Last but not least, you can find trending content and share it to get more visibility and outreach.
Cost: $5/month
6. Quintly
A great social media analytics tool, Quintly offers formidable support in terms of data and competency evaluation. The easily customizable dashboard allows you to focus better and gives you the freedom to analyze things from a strategic point of view. Quintly is a killer tool with which tracks social media performance becomes a child's play.
Cost: Free for limited usage. It starts from $129/month.
7. IFTTT 
Acronym for If This Then That, IFTTT is a very intelligent and obedient tool that lets you do social media management as per your requirements. You can create tasks known as recipes, which is then implemented by IFTTT. For example, you may create a recipe that all your YouTube videos be shared on Twitter. If this____ then that______; just fill in the blanks with the tasks, and you are good to go.
Cost: Free
Let's move to the next internet marketing tool
Email Marketing Tools
1. MailChimp
A bankable email internet marketing tool, MailChimp is the choice of billions for it makes email campaigning so simple. Secure, solid, and sustainable; it is highly customizable and offers you numerous newsletter templates. You can also share your newsletters on social networks, and with the in-built analytics feature, you can easily track the results.
Cost: Free for 12,000 emails per month. It starts from $20/month.
2. Mad Mimi
A popular email internet marketing tool, MadMimi lets you create email newsletters the way you want. Very easy to use, it focuses on what you need and offers a clean interface to work on. With this tool, you can send, share and evaluate emails with great ease.
Cost: Free for limited usage. It starts from $10/month.
3. Litmus
A well-known email internet marketing tool, Litmus lets you create, send and track emails with the least effort. You can review changes in real-time, analyze subscribers' behavior, and so much more.
Cost: Free for limited usage. It starts from $79/month
Let's move to the next internet marketing tool
Content Marketing Tools
1. HubSpot's Blog Topic Generator
A very popular and comprehensive top internet marketing tool, HubSpot covers all the internet marketing strategies. Its Blog Topic Generator is a tool that helps with content creation by giving you relevant blog post titles. Just type in the keyword, and you will get results in seconds.
Cost: Free
2. Google Alerts
A great internet marketing tool for finding interesting and new content, Google Alerts proves to be a very helpful resource for all internet marketing strategies. It also tells you how your business is performing on the web and what people are saying about you. You can keep yourself up-to-date with news and events through the alerts set on the basis of chosen keywords.
Cost: Free for limited usage. It starts from $19.99/month.
3. Grammarly
A great internet marketing tool for creating flawless content, Grammarly helps you create crisp and meaningful content. It not just eliminates grammatical errors but also corrects contextual spelling errors (not available in Microsoft Word). Its unique vocabulary enhancement feature optimizes your choice of words. Trusted by millions, it is really a must-have.
Cost: Free
4. Feedly
A great content internet marketing tool, Feedly keeps you up-to-date with the content that matters to you. Constantly RSS feeds you with cool stories and articles that you can share on social media platforms and get more recognition. You can also discover content ideas at Feedly.
Cost: Free for personal usage. It starts from $5.41/month.
5. SlideShare
A very well-known and user-friendly tool offered by LinkedIn, SlideShare is the YouTube of Slideshows. It lets you share slides in PowerPoint, PDF, Keynote, or OpenDocument. You can embed the SlideShare link in your site, blog and also share them on different social media platforms.
Cost: Free
6. Pixabay
Here is an awesome tool that gives you access to free photos library. All you have to do is type the keyword, and Pixabay gives you numerous high-quality images as well as videos that are free from copyright. You can use, share, download, and distribute them without any hassle.
Cost: Free
7. Canva
An awesome tool for creating compelling visuals, Canva is a boon for those who do not have proficiency with Photoshop and similar software. With its drag and drop interface, you can design visuals the way you like. You can play with colors, backdrops, fonts, and much more.
Cost: Free for limited usage. It starts from $ 12.95/month
Let's move to the next internet marketing tool
Others
1. Google Analytics
A very powerful internet marketing tool, Google Analytics helps you in myriad ways. Along with Google AdWords, it lets you track advertising campaigns, and there is a lot of usage of internet advertising tools too. Its Cohort Analysis feature gives you behavioral data about customers/users based on their common characteristics.
You can find out about your website traffic, the browsing habits of the audience, and more important insights. E-commerce businesses can track their sales activity and products performance. It gives you a real-time analytics report.
Cost: Free for limited usage. $ 1,50,000 a year.
2. Google Page Speed
Speed is an important factor in getting more traffic, sales, and better ranking. And Google Page Speed lets you check your speed in a jiffy. It also gives suggestions as to how can you make your site load faster.
Cost: Free
3. CrazyEgg
A super cool internet marketing tool for analytics, CrazyEgg gives you data-driven details of customers' behavior. You can figure out their browsing habits, spending time, pages they have stayed on, and much more.
Cost: Starts from $9/month.
4. MixPanel
A well-known internet marketing tool for web and analytics, MixPanel tells you how your apps are behaving. It lets you work with large datasets without touching the MYSQL code. A trailblazer in the analytics domain, MixPanel is certainly worth a try.
Cost: Free for limited usage, starts from $150/month.
So, these are the different internet marketing tool list known for their competence and efficiency. Just take care to implement them carefully. You will always find yourself at the top of the internet marketing domain.
Recommended Articles
This has been a guide to the best internet marketing tool. Here we also discuss the other internet marketing tool like SEO Tools, SEM Tools, SMM Tools, Email Marketing Tools, Content Marketing Tools. You may also have a look at the following articles to learn more –