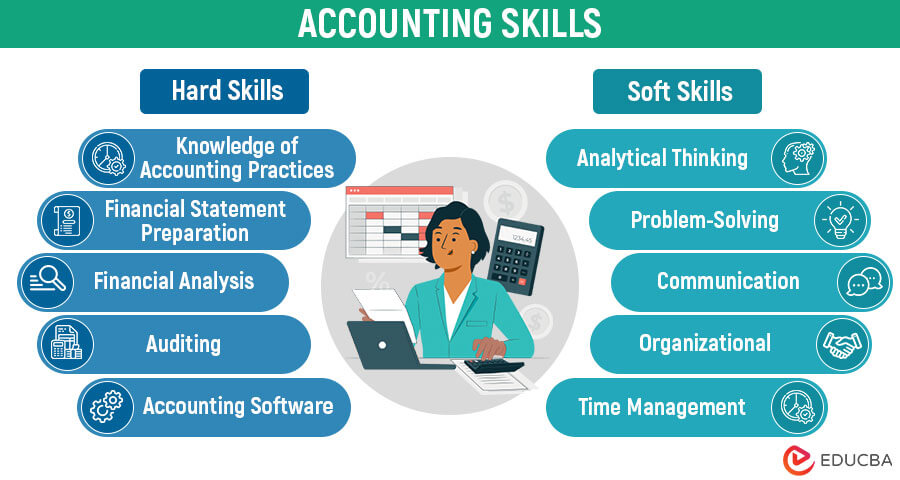 What are Accounting Skills?
Accounting skills are abilities and knowledge that help professionals in the finance field to easily and accurately manage any financial matters. Acquiring these skills is necessary for individuals to succeed in their accounting careers.
Professionals working in the field of accounting and finance require a range of these skills. These key accounting skills are necessary for financial reporting, budgeting, auditing, taxation, business valuation, forecasting, and more.
These skills are of two types:
Technical or, commonly known as hard accounting skills
Basic or widely known as soft accounting skills
Technical/Hard Accounting Skills
These accounting skills refer to the technical skills needed for accounting assistants or professionals.
#1. Knowledge of Accounting Practices
Companies use US GAAP or IFRS to maintain consistency and accuracy in financial reports. Therefore, accountants must understand these principles, regulatory standards, and accounting rules so they can report finances accurately.
Example: Accountants must understand how to handle inventory according to ASC 330 in US GAAP. If someone asks you to calculate the ending inventory and cost of goods sold (COGS), you should be able to do it as follows: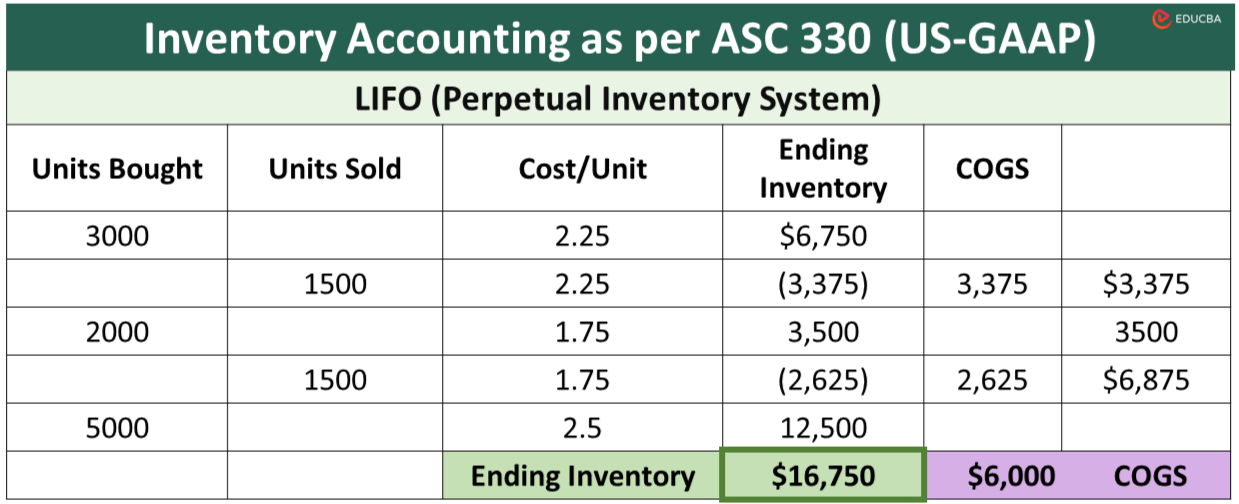 How will this skill help in your career growth?
It helps you to classify and record financial transactions correctly in balance sheets, financial statements, and other financial reports. Maintaining accuracy in financial reports is crucial for career advancement.
It also helps you to manage an organization's financial health, make strategic decisions, and enable proper allocation of financial resources. These capabilities will keep you at the top position in the company.
It is one of the highly demanded accounting skills in job roles like staff accountant, management accountant, finance controller, etc., which provides job security and stability in your career.
#2. Financial Statement Preparation
Financial statement preparation includes bookkeeping and creating reports such as balance sheets, income statements, cash flow statements, and annual reports. These reports are important in presenting an organization's financial information in an organized and meaningful way.
Example: An accountant must be able to create an income statement that summarizes an organization's revenues, expenses, and net income over a specific period. To help you gain a better understanding of this, we have shown an image below that displays Tesla's income statement from 2020 to 2022.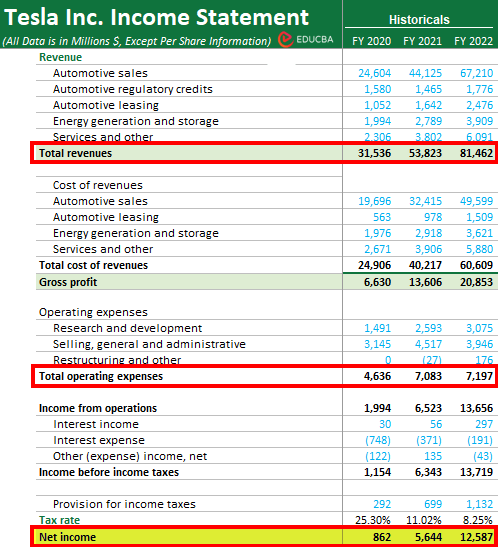 (Image Source: EduCBA's Financial Modeling and Valuation Course)
How will this skill help in your career growth?
Proficiency in financial statement preparation is highly valuable in job roles like an accountant, financial analyst, auditor, or similar.
This skill will help you to present the data clearly for budgeting and business development.
Understanding financial statements lets you gain insights into a company's business activities. It is essential for informed decision-making and strategic planning, contributing to your career advancement.
#3. Financial Analysis
Financial analysis is an essential skill for accountants to understand a company's financial health and performance. This skill allows accountants to interpret the data from financial statements, etc., for making informed forecasts and decisions.
Example: When presented with the income statement data of DCG Ltd., as shown below,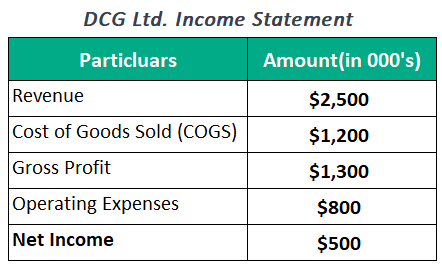 You should be proficient in interpreting the financial data as follows:
How will this skill help in your career growth?
It helps you to identify trends and recognize the organization's strengths and weaknesses. It is crucial for the strategic financial planning of a company.
This skill allows you to do financial analysis and risk assessment. These responsibilities will broaden your career prospects in various roles.
It also helps in identifying areas for improvement. This proficiency is crucial for job roles like valuation analyst, treasury analyst, forensic accountant, and more.
#4. Auditing
Auditing means carefully examining financial records, transactions, and the company's internal systems. It aims to ensure the company's compliance with standards, rules, guidelines, and regulations and that their reports are correct.
Example: Here is an audit report of Infosys Ltd., done by the auditing firm Deloitte Haskins & Sells. As we can see in the report, the auditor provided a clear opinion on the financial reporting of the company for the 4th quarter of 2023. It also lists a detailed analysis of the company's financials, specifically the consolidated financial statements.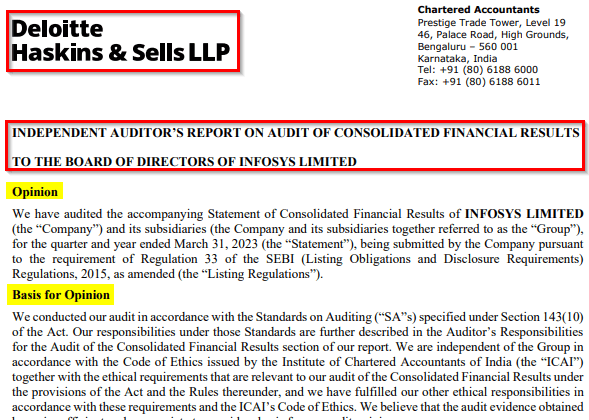 (Image Source: Infosys Audit Report)
How will this skill help in your career growth?
With auditing skills, you are responsible for identifying errors and discrepancies to lower financial risks for organizations. Thus, you will be an invaluable asset in risk assessment.
It also helps to understand financial systems, enabling you to provide valuable insights for improving how a company can manage its money. This knowledge will enhance career growth and promotion as a financial expert.
Showing proficiency in auditing accounting skills on resume leads to valuable job roles like tax auditor, financial controller, internal auditor, external auditor, and more.
#5. Accounting Software
Today, companies rely on technology and accounting software to manage their financial data efficiently. Standard accounting software includes enterprise resource planning (ERP) software, QuickBooks, Microsoft Dynamics, Oracle Netsuite, etc. Basic computer skills like using Excel and PowerPoint are also important for accountants.
Example: You can use Quickbooks to create an Income and Expense report, as shown below. It will showcase your abilities to manage financial data and generate valuable insights into company performance.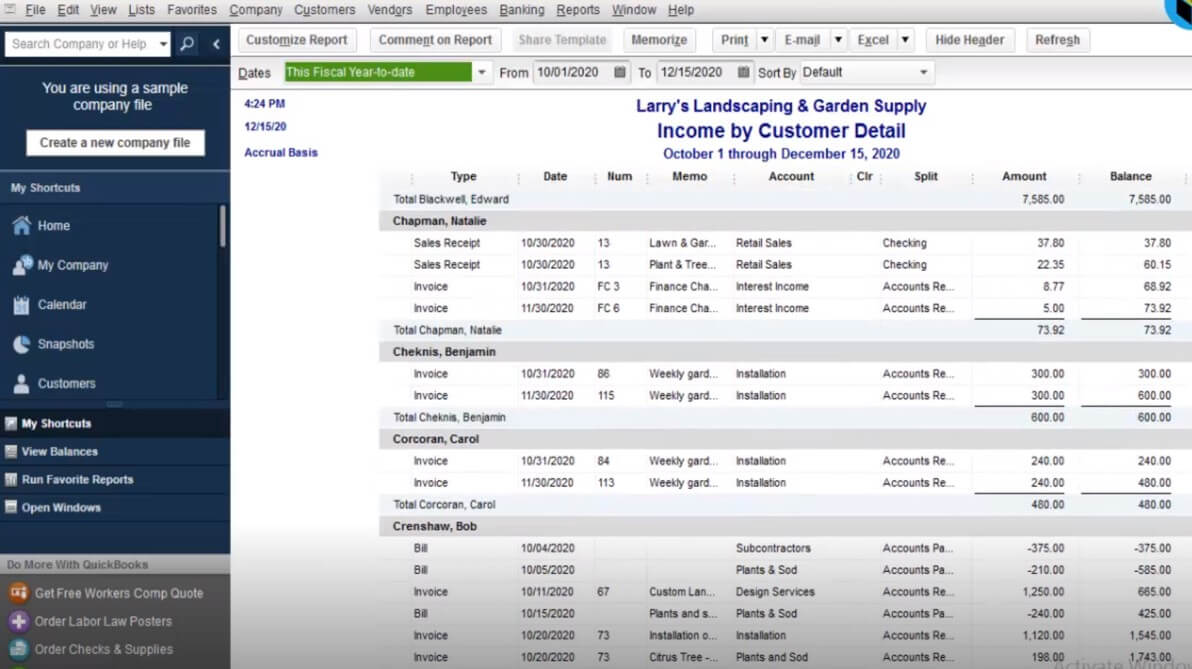 (Image Source: EDUCBA's Quickbooks Training)
How will this skill help in your career growth?
These tools help you to automate multiple tasks, reducing manual errors and saving time. It will increase your productivity and reputation.
The tools also offer secure data storage, ensuring that financial information remains confidential and protected. If you can maintain data integrity, you are trusted with more responsibilities, boosting your career prospects.
Proficiency in accounting software opens a wider range of job opportunities, including tax specialist, ERP consultant, financial planning and analysis (FP&A) manager, etc.
#6. Business Knowledge
Business knowledge means having a comprehensive understanding of the core principles, ideas, practices, and techniques that support the financial aspects of an organization.
Example: A senior accountant with deep business knowledge can guide a company in its expansion into new markets. They can also provide key financial analysis, market dynamics, and financial implications for the company's growth and success.
How will this skill help in your career growth?
It helps you understand how finances work within an organization to provide specific strategic decisions for business growth.
If you are well-versed in regulations, industry-specific standards, financial law, and industry norms, you are an invaluable asset to organizations, especially in roles such as financial auditors.
Proficiency in business knowledge is highly valuable in job roles like financial manager, accounting consultant, financial analyst, auditor, or similar.
Basic/Soft Accounting Skills
These accounting skills refer to the non-technical or interpersonal skills that are essential in accounting.
#1. Analytical Thinking
In accounting, analytical thinking refers to systematically examining and assessing financial data, records, or financial situations.
Example: An accountant proficient in analytical thinking will analyze a company's financial statements. If they spot a significant increase in expenses, then they could suggest some cost control measures to implement. By providing this insight, the accountant can contribute to the company's financial efficiency.
How will this skill help in your career growth?
This skill helps you to analyze financial information, make data-driven decisions, like where to invest money, evaluate a company's financials, or conduct financial audits.
Accounting roles that require strong analytical thinking skills are budget analyst, financial planner, credit analyst, cost accountant, and more.
#2. Organizational
Organizational skills involve arranging and managing financial documents and systems in an orderly manner. It also involves keeping proper physical and digital records and arranging files neatly to avoid data loss or other issues for the business.
Example: A tax accountant with organizational skills will efficiently organize clients' tax documents so that all necessary forms and records are in place. This facilitates the timely filing of tax returns and also improves the accountant's reputation, which will help in career growth.
How will this skill help in your career growth?
Possessing this skill will help you to manage multiple tasks efficiently, ensuring that you meet deadlines consistently.
You can properly manage financial data, reducing errors and improving overall efficiency in your work. This proficiency is essential for maintaining data accuracy, which is critical in accounting roles.
Keeping financial records organized will help you during audits. This skill is crucial for job roles like payroll administrator, bookkeeper, quality assurance auditor, and more.
#3. Adaptability
Adaptability skill refers to the ability to adapt and be flexible to changes in accounting standards, regulations, software, and industry practices. It involves the capacity to adjust and Excel in evolving technological change, AI business tools, and other financial environments.
Example: A financial auditor who is aware and adapts to changes in audit regulations and technologies can provide valuable insights to clients, contributing to their career growth and expanding their role within the organization.
How will this skill help in your career growth?
Staying updated with current industry trends and changing accounting rules will help you stay ahead in your job and career growth.
You will be able to effectively address new challenges, making you a valuable asset in the organization and increasing the chance of promotion.
This skill opens doors to diverse roles for career advancement, like mergers and acquisitions (M&A) analyst, investor relations specialist, risk analyst, etc.
#4. Problem-Solving
Problem-solving is the ability to address and resolve issues or challenges effectively. Accountants face various financial challenges in their work, so they must have strong attention to detail to prevent financial crises or risks.
Example: Suppose an accountant discovers a recurring discrepancy in the financial records of a company. They investigate the problem, identify its source, and implement corrective measures to rectify it. After thorough analysis, it is revealed that the discrepancy resulted from incorrect data entry. To prevent this from happening again, the accountant develops new procedures to ensure accuracy in the future.
How will this skill help in your career growth?
This skill will help identify the source of financial issues and develop strategies to rectify them to improve the organization's success.
It will also prevent similar problems from happening in the future. Showing your ability to safeguard the organization's finances will enhance your value and lead to more responsibilities and recognition.
It will help reduce potential risks and financial losses, enhancing your value in the organization.
#5. Communication
These skills include both written and verbal communication. It includes presenting complex financial details in a clear, concise, and understandable manner, both within and outside the organization.
Example: A corporate accountant with strong communication skills can present financial reports to non-financial team members in an understandable way. It allows the team to make informed decisions and contribute to the company's advancement.
How will this skill help in your career growth?
Proficient communication helps accountants create reports and presentations that are easy to understand for individuals without a financial background.
It will also help communicate complex financial concepts clearly and seamlessly collaborate with professionals from other departments, building teamwork and cooperation.
Strong communication skills establish trust, leading to more opportunities and career advancement.
#6. Time Management
Time management skill is the ability to allocate and utilize time effectively to meet financial reporting deadlines, complete various tasks efficiently, and prioritize tasks accordingly. It also involves planning and organizing work to maximize productivity.
Example: A financial analyst with strong time management skills can efficiently prepare quarterly financial reports, meet regulatory deadlines, and enhance the company's financial performance. Similarly, an accountant can manage their time effectively to balance multiple clients, ensuring that all financial tasks, such as bookkeeping and tax calculation, are completed on time.
How will this skill help in your career growth?
This skill will help you to complete the financial reports in time, which is crucial in accounting roles. Meeting deadlines will enhance your career prospects and reputation.
It will improve productivity, allowing you to handle more tasks and responsibilities.
Building this skill will reduce stress and workload, allowing you to focus on making informed financial decisions.
Final Thoughts
Accounting skills are a combination of hard and soft accounting skills. These hard accounting skills are the foundation for creating accurate financial reports with regulatory standards. Meanwhile, soft accounting skills help accountants make informed decisions, resolve financial challenges, and communicate financial data clearly and efficiently. However, developing these skills requires proper education, accounting training, and practical experience.
Frequently Asked Questions (FAQs)
Q1. How can you improve your accounting skills?
Answer: Improving your accounting skills requires dedication and a structured approach. Here are some steps to help you improve your accounting skills on your resume:
You can enroll in accounting courses or pursue a degree in accounting or finance. It provides you with a solid foundation in accounting principles.
You can learn accounting software like QuickBooks, Excel, or other software used in the industry. Proficiency in these tools can be a valuable skill.
You can gain real-world experience by joining as an intern for organizations that need accounting assistance.
Keep up with changes in accounting regulations and standards to stay current.
Q2. Can I become an accountant without formal education?
Answer: Yes, it is possible to work in some accounting roles without formal education, such as bookkeeping or clerical positions. However, becoming a certified accountant requires relevant degrees and professional certifications like certified public accountant (CPA) or chartered accountant (CA).
Q3. What accounting software should I learn?
Answer: Learning accounting software depends on your career goals and industry. For instance, if you are interested in working with small businesses and startups, it's good to learn Xero. QuickBooks is ideal for small to medium-sized companies, and SAP is for larger firms. Moreover, employers usually mention the software they use in job postings, so it's a good idea to learn that software. Additionally, proficiency in multiple software platforms will keep you ahead in the accounting profession.
Q4. Are accounting skills in demand?
Answer: Yes, accounting skills are in high demand across various industries and sectors. Companies depend on accountants to provide precise financial reports, carry out comprehensive financial analysis, prepare tax returns, and ensure adherence to regulations. Therefore, keeping up with industry-specific knowledge and obtaining certifications can improve your job prospects in the accounting field.
Recommended Articles
We hope this article provided comprehensive details of accounting skills and was informative. For further guidance on related topics, we recommend the following articles: