$99$29965% Off TAKE THIS BUNDLE
QuickBooks Training
3 Online Courses
7+ Hours
Verifiable Certificate of Completion
Lifetime Access
QuickBooks Pro (Module #1) – Getting Started with QuickBooks Pro

5h 24m

QuickBooks Pro (Module #2) – Journal Entry and Reconciliation using QuickBooks Pro

0h 23m

QuickBooks Pro (Module #3) – Accounting using QuickBooks Pro

2h 22m
Offer ends in:
$99
$29965% Off
TAKE THIS BUNDLE
Skills you will master
Quickbooks
Customer Tab
Vendor Tab
Employees Tab
Employees Tab
Banking Tab
Profit and Loss Format
Balance Sheet Reports
Cash Flow Reports and Service
customer center
income bar
invoice creation
receive payment
credit memo
purchase order full transaction
inventory management
banking multi-currency option
QuickBooks sales receipts
QuickBooks vendor center
Online QuickBooks Training
This QuickBooks Training Certification includes 3 comprehensive QuickBooks Courses with 7+ hours of video tutorials and Lifetime Access. You get to learn how to do various accounting tasks using QuickBooks from scratch. We understand the key financial statements, creating journal entries, sales reports, invoice creation, sales receipt, etc.
If you're running a small business or studying accounting, it would be handy if you learn how to use QuickBooks. QuickBooks helps you manage your accounting transactions and at the same assist you in tracking your daily expenses.
You can use QuickBooks in the following way –
You can create an invoice and send it to your customer
You would be able to pay your bills
You would be able to articulate your plans and generate reports
You can also use QuickBooks for filing tax
And since QuickBooks is so handy, we came up with course that would help you master it under a very short period of time. It's not only useful for small business owners but also for those who have been studying accounting in graduation or pursuing masters.
About QuickBooks Training
---
| | | |
| --- | --- | --- |
| Course Name | | Online QuickBooks Training Certification |
| Deal | | You get access to all 3 courses bundle. You do not need to purchase each course separately. |
| Hours | | 7+ Video Hours |
| Core Coverage | | Learn how to do various accounting tasks using QuickBooks from scratch |
| Course Validity | | Lifetime Access |
| Eligibility | | Anyone who is serious about learning QuickBooks and wants to make a career in this Field |
| Pre-Requisites | | Basic knowledge about Accounting would be preferable |
| What do you get? | | Certificate of Completion for each of the 3 courses |
| Certification Type | | Course Completion Certificates |
| Verifiable Certificates? | | Yes, you get verifiable certificates for each course with a unique link. These link can be included in your Resume/Linkedin profile to showcase your enhanced skills |
| Type of Training | | Video Course – Self Paced Learning |
| Software Required | | None |
| System Requirement | | 1 GB RAM or higher |
| Other Requirement | | Speaker / Headphone |
QuickBooks Training Curriculum
---
In this section, each module of the QuickBooks Certification Course is explained.
| | | | |
| --- | --- | --- | --- |
| Serial No. | Course Name | No. of Hours | Course Description |
| 1 | QuickBooks Pro (Module #1) – Getting Started with QuickBooks Pro | 5 | This is the first module of this QuickBooks Training Certification. First, we will start with an introduction of the QuickBooks and then talk about four sections in detail. First, we will teach you the customer tab and how you can create invoice, batch invoice, and receive payment. In the next section, we will talk about the vendor tab and how you can create a vendor center & vendor management, how to manage full purchase order, and how to maintain inventory physical list. Next, you will learn about the employee tab where we will teach you how to manage employee details and how to create banking multi-currency option. Finally, we will talk about the employee tab and banking tab where we will learn the nitty-gritty of everything. You need to watch 41 videos in total to cover the module. |
| 2 | QuickBooks Pro (Module #2) – Journal Entry and Reconciliation using QuickBooks Pro | 30 Min | This is a very short module in QuickBooks Training Certification which will help you understand the journal entry and the reconciliation using QuickBooks Pro. We will start this module with a brief introduction. In the next section called 'journal entry and reconciliation', you will learn how to create journal entries and how to open a balance sheet. You need to watch 4 videos in total to cover the module. |
| 3 | QuickBooks Pro (Module #3) – Accounting using QuickBooks Pro | 2 | We will start this module (which is the last module of the course) with a brief introduction of QuickBooks. Then, we will go to the 'Profit & Loss Format' in detail where we will learn P&L Standard Format, additional features for P&L Account, P&L Unclassified, P&L for Product Company, Income & Expense Report for Service, and Income by Customer Summary. In the next section called 'Balance Sheet Reports', you will learn the balance sheet standard, the balance sheet details, etc. In the final section of the QuickBooks Training module, we will talk about cash flow reports and service where you will learn cash flow reports, statement of cash flow, sales reports, vendor reports, etc. You need to watch 23 videos in total to cover the entire module. |
| 4 | Total No of Hours | 7+ Hours | |
---
QuickBooks Course – Certificate of Completion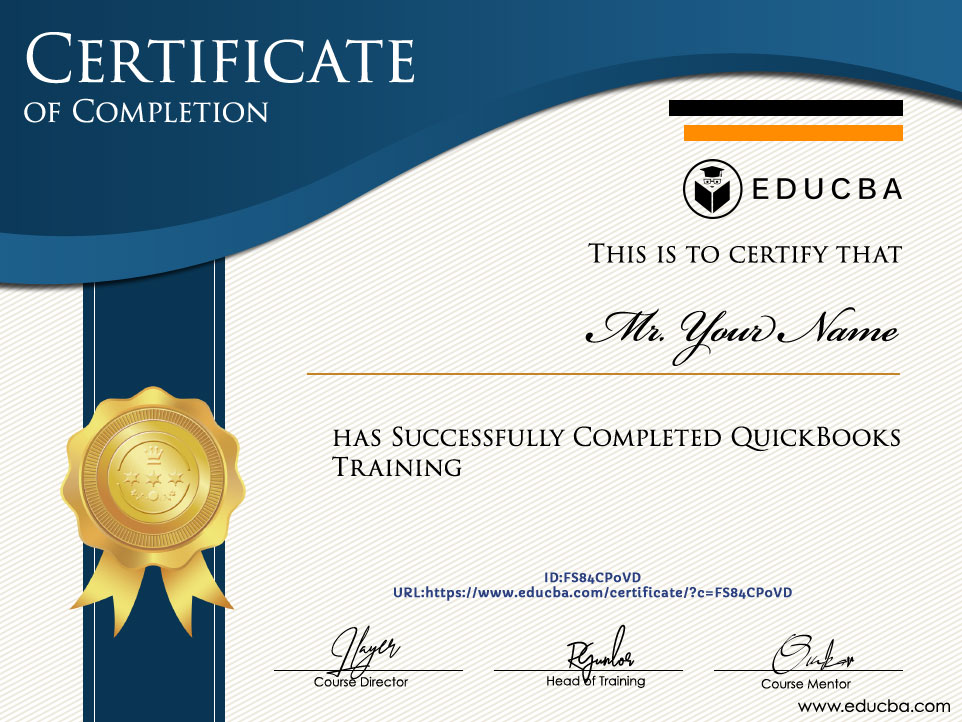 ---
What tangible skills you will learn in this Course?
As you can see, you would be able to learn many micro skills from this QuickBooks Training Certification. Here are the most important ones –
QuickBooks for managing the accounting: This is the most important skill you will master in this QuickBooks Training. You will learn how to format profit and loss, how to create balance sheet reports, how to generate the cash flow reports etc.
Managing the purchase orders: You would be able to learn the skills of managing the purchase and the sales and the daily transaction. This will help you keep your daily transactions in order and as a result, maintaining your accounts would also be quite easy.
Generating reports: By using QuickBooks, you would also be able to create reports that can be shared in the clients' meetings or in front of the top management for taking a critical decision about the future of the organization.
You will also learn many micro skills like inventory management, creating credit memos, generating QuickBooks sales receipts, etc.
Prerequisites
---
Willingness to learn the course: Not everyone would need this course. But if you're someone who feels that you need to learn this course and you're committed to learning this short course, then that's the only thing you would need to get the best value.
A basic sense of accounting: It's not mandatory, but if you have a little knowledge of accounting, it will definitely help and you would be able to relate the course material with the accounting concepts.
Target Audience
---
Students of Accounting: If you're pursuing graduation or masters in accounting, this is the perfect course for you. Doing this QuickBooks Training Certification will help you do better in interviews and also your chances of getting employed would increase.
Small business owners: You can do this course yourself or train your employees. This course would be helping you taking control of your accounting & daily transactions of your business.
QuickBooks Training – FAQs
---
Why should I do this QuickBooks training course?
This QuickBooks Training Certification is short, comprehensive, and will teach you a valuable skill that you need to master your business accounting and also assist you to take charge of your business.
I'm not from accounting domain. Can I do this QuickBooks Training course?
You can certainly do the course. But at the same time, you need to think about relevance and then go ahead and do the course.
Career Benefits
---
Be doing better than your peers: In terms of managing the accounting, this QuickBooks Training Certification would be a life-saver. And doing this course will save you a lot of time and effort of figuring out things yourself. As a result, you would manage accounts within a short period of time and would be way ahead than your peers.
You would generate more revenue: It's given. If everything is in the right order (which this course will help you achieve in your business), you will be able to focus on the right KPIs and as a result, you would be able to generate more revenue.
Reviews
---
Extremely Helpful
The course was extremely informative and provided a better understanding of how the software works best for your company. Before I started the training, I did not have any knowledge of Quick Books. Once I completed the training, I am more confident that I will be able to utilize the training I have received in real world scenarios. I would definitely recommend this training.
Linked
Victoria E Guerra
Excellent
A great guide to get you excited about Accounting. Super excited to learn more. The lectures are great. Thanks for this awesome course. got a chance to understand more about Accounting. And I believe and have faith it's gonna add more to me. The course was loaded with content and it was expertly presented.
Osama Rasuka
Really Good
The course was great and taught me a lot of information I've never been introduced to before! Being in the financial industry, I've been introduced to income sheet analysis before, but this QuickBooks Training Certification built upon that knowledge and helped me further understand different components that I will be able to apply in the future
Jeffrey Guzzi