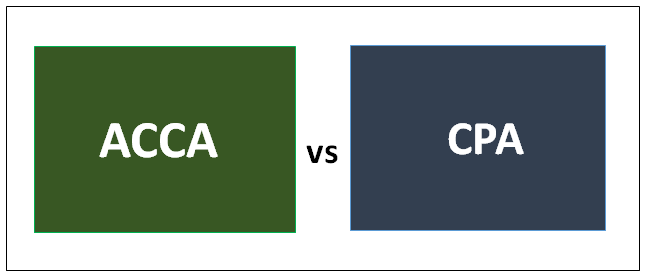 Difference Between ACCA vs CPA
ACCA stands for Association of Certified Chartered Accountant is a Chartered Accountant degree which is given by Association of Chartered Accountant with headquarters situated at London. The role of Work is related to inspection to accounting services to the public, private entities CPA stands for Certified Public Accountant and the degree is provided by the American Institute of Certified Public Accountants (AICPA).  The field of work is related to license to accounting services to the public. To maintain the law and procedure these specialized degree holders are required to guide individuals, Small and mid-size firms and MNCs
CPA
CPA can also choose any stream in Finance Field starting from Management Accounting, Financial Analyst, Auditing, Taxation, Finance Controlling, etc. The course itself includes Uniform Certified Public Accountant Examination organized by AICPA and after the exam is passed there are certain procedures which include certain ethics and the candidates have to abide by the regulatory framework guided by the respective governing body. The professionals are entitled to Audit for Federal and State levels and can act as consultants who could guide several business houses and can act as consultants of several small and mid-size firms; for tax and audit purposes also.
ACCA
ACCA has more or less same kinds of opportunities and the term charter in ACCA stands for the Royal Charter which is referred to as the Royal Charter granted in 1974. The degree was given with the intention to give protection. ACCA Exam consists of 14 papers and emphasis is given on the core values of integrity, accountability, diversity, and innovations, etc. The degree is accepted globally across 180 countries. The Degree has its own reputation of one hundred years and the professionals have provided services to more than 7500 employers across a different field. The 3 important steps of ACCA are applied knowledge (Diploma), Applied Skills (Advance Diploma) and essentials. Both ACCA vs CPA these are highly qualified Accounting courses designed for professionals who are interested in making a career in Accounting, Taxation, Auditing, and Finance.
ACCA vs CPA Infographics
Below is the top 5 difference between ACCA and CPA

Key Differences ACCA vs CPA
Both ACCA vs CPA are popular choices in the market; let us discuss some of the major Difference Between ACCA and CPA:
ACCA is an international degree and is valid across the globe. CPA, on the other hand, stands for Certified Management Accountants. CPA works for the Regulator of a business whereas ACCA is the Advance module of Finance.
The work experience required for ACCA is 1-2 years whereas CPA requires 3 years. Both ACCA vs CPA degrees require a minimum qualification of graduation.
ACCA is a 100 years old course whereas CPA was established in 1974 and the professionals who have passed the course have served more than 75000 organizations to date.
ACCA vs CPA – Comparison Table
Let's have a look at the Comparison between ACCA vs CPA:
| | | |
| --- | --- | --- |
| The basis Of Comparison Between ACCA vs CPA | CPA | ACCA |
| Related to | The degree CPA represents for Certified Public Accountant and the course is granted by American Institute of Certified Public Accountants (AICPA). The candidates passing this course are entitled to Auditing, taxation, Management Accounting, Handling accounts, etc. | ACCA stands for Association of Certified Chartered Accountant, which is granted by Royal Charter and the Degree is awarded Association of Chartered Accountant. The roles which can be chosen by ACCA are Accounting, taxation, Auditing, and Finance. |
| Field of Work | The field of work is related to license to accounting services to the public. To maintain the law and procedure these specialized degree holders are required to guide individuals, Small and mid-size firms and MNCs, etc. Other than Auditing, taxation, etc a CPA can indulge themselves with other Field of finance like Finance Controlling, Accounting, Financial Analysis, etc. | The role of Work is related to inspection to accounting services to the public, private entities, etc. They need to pass the certifications before the inspection. Other than Auditing; taxation etc. ACCA can mark their presence globally across the Field of finance like Finance Controlling, Accounting, and Financial Analysis, etc. They deal with International Accounting Standards. |
| Tenure | The tenure of the course for 18 months. | The tenure of the course is 2-3 years. |
| Position | They are entitled to the rules and regulations of a company and compile with the Auditing and Taxation part. CPA also looks at the ethical part of the organization. | They are primarily delegated to implementing ethics in the workplace. The policies are framed by them on behalf of the management. |
| Experience required | Work experience is 1-2 years of licensed CPA along with a Graduation degree and 40 Hours of Continuing Education Degree. | Minimum criteria required are a Graduation degree with Works Experience of 3 years and has to complete three stages. |
Conclusion –ACCA vs CPA
In every form of business, Rules and regulations are required along with Finance and Accounts, taxations, Auditing. Thus to maintain Chartered Accountants are very high in demand keeping in mind of the role each Business house implements. The rules and regulations vary from country to country. Again the Accounting standards, Labor policies, Regulatory framework are different from each country. ACCA includes all the latest modules which are internationally required and the candidates passing ACCA are capable of doing each and every bit of work. The pulse business is ever-changing and with the implementation of technology, things are implementing faster, swifter and in a flexible way. Finance is the backbone and the blood of a business and any sort of the change in strategy gets reflected through Finance only. Thus to make sure the business runs smoothly ACCAvs CPA courses come in the picture for better visibility of businesses.
Recommended Articles
This has been a guide to the top difference between ACCA vs CPA. Here we also discuss the ACCA vs CPA key differences with infographics and comparison table. You may also have a look at the following articles to learn more