What is ERP?
Enterprise Resource Planning (ERP) is software that integrates different business processes and information flows into one central system. It is designed to help organizations manage their resources, including finances, human resources, supply chains, customer relationship management, and other essential aspects of their business.
Enterprise resource planning (ERP) systems are essential to modern businesses, and these systems are developed to streamline the day-to-day processes and improve the efficiency of these operations. However, while ERP systems can offer numerous benefits to businesses, they also have drawbacks.
In this article, we will explore the advantages and disadvantages of ERP to help you better understand its impact on your organization. So let's get started without any further delay!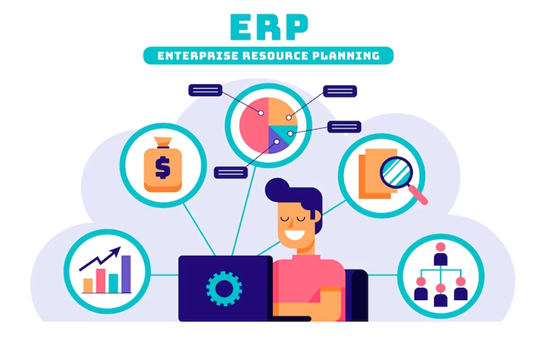 Top 5 Advantages of ERP
Let's first look at some benefits that enterprise resource planning, or ERP, offers.
#1 Improved Efficiency
Improved efficiency is one of the main benefits of installing an ERP system. Organizations may reduce duplication, increase the precision and speed of their data processing, and minimize errors by integrating all business operations into a single system. This may reduce the time and resources needed to run corporate functions.
#2 Better Data Management
ERP systems centralize data from several departments into one system. As a result, all business processes have a single source of truth, which enhances the accuracy and consistency of data throughout the company. As a result, businesses are better educated to make decisions and are less likely to make mistakes or inconsistent judgments.
#3 Improved Collaboration
ERP systems may enhance departmental communication within a firm. Departments can collaborate more successfully and effectively if they have access to the same information and procedures. This might promote improved teamwork and communication while breaking down organizational silos.
#4 Enhanced Visibility
ERP systems give companies real-time insight into company activities, enabling them to monitor and keep track of important KPIs and performance indicators. This can aid in streamlining corporate procedures and identifying opportunities for improvement. This can assist businesses in making data-driven decisions and maintaining an edge over rivals.
#5 Increased Agility
ERP systems are created to be adaptive and responsive to shifting corporate needs. This indicates that firms can maintain their current procedures to swiftly and readily react to market changes or company operations. As a result, businesses may be better able to keep ahead of the competition and seize new possibilities.
Top 5 Disadvantages of ERP
As mentioned earlier, there are advantages and disadvantages of enterprise resource planning (ERP); let's have a look at the penalties of ERP.
#1 High Implementation Costs
The high cost of deployment is one of the main drawbacks of using an ERP system. Hardware, software, and implementation services can be expensive, and it could take a while before they pay for themselves. For smaller businesses with tighter finances, this might be a challenge.
#2 Long Implementation Time
The ERP implementation process can drag on for months or even years, affecting daily corporate operations. During the implementation period, productivity and income may suffer during the implementation period. Furthermore, staff may find it challenging to accept the complicated implementation procedure.
#3 Complex Customization
ERP systems provide a great deal of customization, which may be helpful. However, complexity and time-consuming modifications might raise the overall cost of implementation. Changes may also make switching to new software versions complex, which may be a barrier to emerging trends and technology.
#4 Employee Resistance
Employee resistance may be seen during implementation since it may be a considerable shift for them. Employees may hesitate to change and need much assistance and training to adapt to the new system. As a result, during the implementation period, productivity and profit may suffer during the implementation period.
#5 Maintenance and Support
To keep ERP systems functioning properly, regular maintenance and support are necessary. The management and upkeep of the system can be expensive and time-consuming. The complexity and time required for updates and upgrades can also raise the overall cost of ownership.
Conclusion
In conclusion, enterprise resource planning systems can significantly benefit organizations of all sizes. These benefits include increased efficiency, improved accuracy, and better decision-making. However, the implementation process can be complex and costly, and there is a risk of disrupting existing business processes.
Planning is essential to make the most of an ERP system, and you must ensure that all stakeholders are on board. Moreover, you should consider the advantages and disadvantages of ERP to make an informed decision that helps your business achieve its goals and thrive in today's competitive marketplace.
Recommended Articles
We hope that this EDUCBA information on "Advantages and Disadvantages of ERP" was beneficial to you. You can view EDUCBA's recommended articles for more information,