Microsoft has developed an electronic spreadsheet application called Microsoft Excel to automate the various functions and management of data. With Excel, you can collect large amounts of data that you can put in rows and columns. We can enter the data through alphabets, numbers, graphs, charts, and pictures.
With the Excel application, you can even add, delete, modify, link, and relocate the data. In Excel, you can have 256 columns and 65,536 rows per worksheet. With this tremendous data storage functionality, you can search, sort, and filter the data as per your requirement.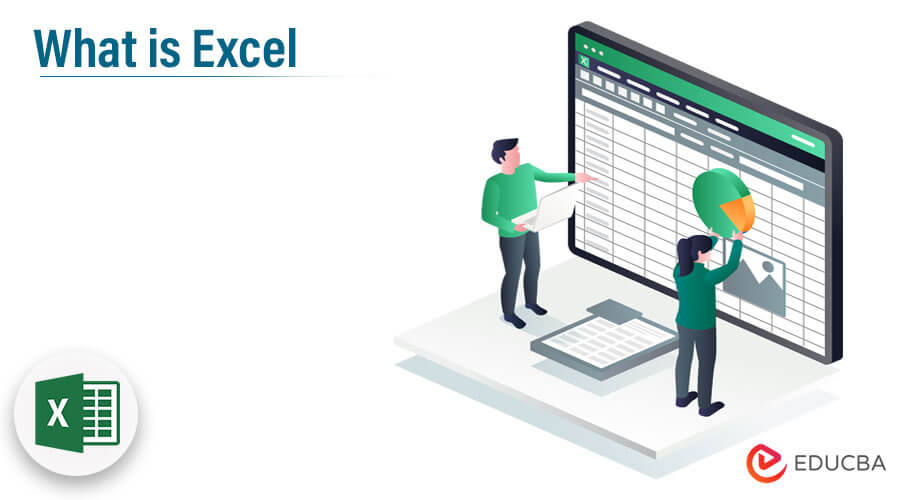 What is Excel used for?
Excel is a powerful tool that is used for a variety of purposes. It is primarily used for creating spreadsheets, which are essentially tables that can be used to organize and manipulate data. It allows users to perform complex calculations, create charts and graphs, and analyze large amounts of data quickly and efficiently.
One of the most common uses for Excel is in business settings. Companies use Excel to track sales figures, manage budgets, and analyze financial data. It is also commonly used in scientific research, where it can be used to organize and analyze experimental data.
It is also popular among individuals who need to manage personal finances or keep track of household expenses. It can be used to create budgets, track spending habits, and plan for future expenses.
Key Components:
When it comes to using Excel, there are several vital components that you should be familiar with. First and foremost, understanding the basic structure of a spreadsheet is essential. A spreadsheet is essentially a grid made up of rows and columns where data can be entered and manipulated. Each cell within the grid can contain text, numbers, or formulas that perform calculations based on the data in other cells.
Another critical component of Excel is its vast array of functions and formulas. These tools allow you to perform complex calculations and analyses with ease. From simple arithmetic operations like addition and subtraction to more advanced statistical functions like regression analysis, Excel has something for everyone.
Lastly, mastering the art of formatting your spreadsheets can help make your data more visually appealing and easier to understand. This includes things like adjusting column widths, changing font styles and sizes, adding borders or shading to cells, and much more. By understanding these critical components of Excel, you'll be well on your way to becoming proficient in this powerful tool.
How to learn Excel
If you're interested in learning Excel, various resources are available to help you get started. One of the best ways to learn is by practicing with sample data and experimenting with different features and functions. You can also find online tutorials and courses that provide step-by-step instructions for using Excel.
Another great way to learn Excel is by attending workshops or classes offered by your local community college or adult education center. These courses are often taught by experienced instructors who can provide personalized guidance and feedback as you learn.
Finally, don't be afraid to ask for help from colleagues or friends who are proficient in Excel. They may be able to offer tips and tricks that can help you become more comfortable with the software.
Overall, learning Excel takes time and practice, but with dedication and persistence, anyone can become proficient in this powerful tool.
What is Excel in Computer?
Excel is a software program developed by Microsoft that is used for creating spreadsheets. It is an essential tool for businesses, students, and individuals who need to organize and analyze data. It allows users to input numerical data into cells and perform calculations on that data using formulas and functions.
Excel has become a standard in the business world because it can be used to create budgets, track expenses, and analyze financial data. It is also commonly used in academic settings for analyzing research data or organizing class schedules. In addition, it can be used for personal finance management, such as tracking household expenses or creating a budget.
Overall, Excel is a powerful tool that can help users save time and increase productivity by automating repetitive tasks and providing valuable insights into their data whether a beginner or an advanced user, learning Excel can significantly benefit your professional and personal life.
Security Features
It offers several security features that you can use to protect your data and files. Here are some of the critical security features in Excel:
Password Protection: Excel allows you to password-protect your file so that only authorized users can access it. You can set a password for both opening the file and modifying the contents.
Workbook Protection: It also protects individual sheets or the entire workbook. This feature can prevent users from deleting or modifying the data in a separate sheet.
Cell Protection: You can also protect individual cells or ranges of cells within a sheet. This feature can be helpful when you want to restrict users from modifying specific cells in a worksheet.
Encryption: Excel supports the encryption of files to secure them from unauthorized access. You can use the Advanced Encryption Standard (AES) to encrypt your file and protect it from malicious attacks.
Digital Signatures: You can add a digital signature to an Excel file to ensure that the file has not been tampered with. This feature uses a critical public infrastructure (PKI) to verify the file's authenticity.
Trusted Documents: It allows you to mark specific files as trusted documents. These documents will not be subject to certain security checks and warnings, making working with them more accessible.
Macro Security: It allows you to set the security level for macros in your file. You can enable or disable macros or prompt the user to decide whether to allow them to.
Using these security features, you can protect your data and files from unauthorized access and ensure they remain safe and secure.
Limitations
It has a maximum limit of 1,048,576 rows and 16,384 columns in a worksheet. This means that if you have a large dataset, you may need to split it across multiple worksheets.
While Excel offers a wide range of functions, it may not be able to perform complex calculations or statistical analyses. In such cases, you may need to use more specialized software.
Excel does not offer a built-in version control system, making it difficult to keep track of changes made to a file over time.
It can be prone to errors, mainly when working with large datasets or complex formulas. Even a tiny mistake can have a significant impact on your calculations.
Why should one know Microsoft Excel?
Earlier data management and calculative work were done manually. But with Excel, everything became automated. If we see all the business fields, including finance, statistics, marketing, engineering, and human resources, especially the businesses which deal with large amounts of data (numbers, statistics) use Excel
Some essential features of Excel
Hyperlink: With this, we can link one file to another file.
Pivot Tables: Pivot Tables are used for creating and maintaining records like employee records and product databases.
Clip art: Even we can add images, audio, and video clips in Excel.
Charts: with Charts, we can put numerical data in the pictorial format, which is much easier to compare.
Macros: We can record an event used to perform repeated tasks with Macros.
Sorting: The data can be sorted as and when needed in any direction
Filters: With this, we can filter the required data from a vast data set.
Page layout: with the page layout option, we can set up the page as per our comfort level
Arithmetic and Logical Functions: It provides various mathematical functions like ADD, SUBTRACT, Multiply, division, etc. It also provides logical functions like AND Function, OR Function, IF Function, etc.
Visual Basic for Applications (VBA) is used for designing user-friendly interfaces.
Application of Excel
Database Management
Recording of Financial statements
Performing calculations
Inventory Management
Analysis of data
Creating user-friendly interfaces
Professionals and the use of Microsoft Excel
As said above, wherever you work, you will find every workplace has a priority for MS Excel. Ease of use and efficiency are the features that make MS Excel popular.
Investment Banking Analyst
Analysts are required to perform financial modeling, so Excel is essential. They use it for calculating ratios, drawing graphs, and comparison purposes.
Financial Analysts
These are the other set of people who breathe with Excel.
Management Consultant
These people are required to perform complex regression analysis and segment indications for that purpose, and Excel is the tool that they use.
Accountant
These are the people for whom Excel is the brain. The majority of work is dependent on calculation, whether it is in terms of calculation or analysis.
Marketing Professional
These people use Excel to conduct market surveys and analyze the market's results. The tools mostly use charts, graphs, clip images, etc.
Business Analyst
As these people analyze the business as a whole, their decisions are turned into actions.
Apart from this, people in the Human resources department use it for employee database management, salary calculation, etc. Operations and logistics departments use it for keeping product records.
How do businesses use Excel?
Scheduling
Business creates employee and resource schedules which are coded and updated whenever there is any change.
In Accounting, information is recorded, calculations are performed, and this information can be changed as and when required.
Even businesses use it for tracking product sales daily, weekly, monthly, or quarterly.
Finding Return on Investment
For writing financial statements and calculating Return on Investment and other ratios by creating various financial statements in Excel.
Customer Data
For managing huge customer databases, businesses use Excel.
Note:
Become an MS Excel Expert
Learn how to organize, format, and calculate data smoothly. Develop skills to master Excel tools, formulae, and functions. Analyze data from different perspectives.
Who should be Proficient in Excel?
All the students as their future demand it.
Charted Accountant (CA), CFA's, Finance students
Working professionals.
For people who dream of working as Finance Analysts, Market Analysts, Research Analysts, or Investment bankers, Excel is the language they should speak.
For those who are freshers and want to enter the job market then, Excel is the landing point for them.
Pre-requisites
There is no pre-requisite for learning Excel. People from any background or at any stage should learn Excel.
Advantages
Excel file is portable and can be sent through email
Passwords can protect Excel files so that only the intended users can see them.
Excel can be directly connected to OLAP databases.
As Excel is a part of Microsoft Office, buying it separately is unnecessary.
All financial functions are inbuilt; therefore, additional programs are unnecessary.
People can get training for learning Excel.
Disadvantages
If we use one file for massive data, it may execute slowly.
You may be unaware of the viruses attached through macros with Excel files.
For ease of use, we may need to use different sheets where there are chances of data loss.
Also, there is a limitation on the number of columns and rows we can use per sheet.
Some users find it challenging to use
Useful 20 Keyboard shortcuts to speed up your work in Excel.
Excel shortcuts for both Windows and Mac, side-by-side use.
Some Important keyboard Short cuts
| | | |
| --- | --- | --- |
| 1 | [Ctrl]O | Open a workbook |
| | | |
| 2 | [Ctrl]N | Create a new workbook |
| | | |
| 3 | [Ctrl]S | Save a workbook |
| | | |
| 4 | [Ctrl]P | Print a workbook |
| | | |
| 5 | [Ctrl]W | Close a workbook |
| | | |
| 6 | [Shift][F11] | Insert a new worksheet |
| | | |
| 7 | [Ctrl]9 | Hide selected rows |
| | | |
| 8 | [Ctrl][Shift]9 |  Display hidden rows in the selection |
| | | |
| 9 | [Ctrl]0 | Hide selected columns |
| | | |
| 10 | [Ctrl][Shift]0 | Display hidden columns in the selection |
| | | |
| 11 | [Ctrl][Page Down] | Move to the next worksheet in a workbook |
| | | |
| 12 | [Ctrl][Page Up] | Move to the previous worksheet in a workbook |
| | | |
| 13 | Arrow keys | Move one cell up, down, left, or right |
| | | |
| 14 | [Ctrl] and an arrow key | Move to the edge of the data region |
| | | |
| 15 | [Home] | Move to the beginning of a row |
| | | |
| 16 | [Ctrl][Home] | Move to the beginning of a worksheet |
| | | |
| 17 | [Ctrl][End] | Move to the end of the used portion of a worksheet |
| | | |
| 18 | [Enter] | Move down a cell in a selected range |
| | | |
| 19 | [Shift][Enter] | Move up a cell in a selected range |
| | | |
| 20 | [Shift][Tab] | Move one cell to the left in a selected range |
Programming
Microsoft Excel also provides Visual Basic for Applications (VBA), which deals with the programming aspects of VB. VBA allows spreadsheet manipulation, which is impossible to perform manually. We can even design attractive user interfaces through any tasks that can be performed easily. And for this, we need to write event-driven code.
With MS, accounting and financial tasks can be performed very quickly.
Consider a small example where a bank wants to calculate interest for its 10000 customers; in such case, if one does it manually, it is miserable, but with VBA macro, once the coding is done, it is performed quickly.
The functions of VBA are:
Built-in functions provided by VBA
Excel's own functions
Custom functions that one may develop for use
Conclusion
In conclusion, it is an indispensable tool for businesses and individuals, revolutionizing how we work with data. Its ability to organize and analyze large amounts of information efficiently makes it an essential software for creating budgets, and financial reports, tracking inventory, and analyzing sales data. Although mastering Excel may seem daunting, with practice and dedication, anyone can become proficient in this valuable software, enhancing their productivity and success.