Updated June 12, 2023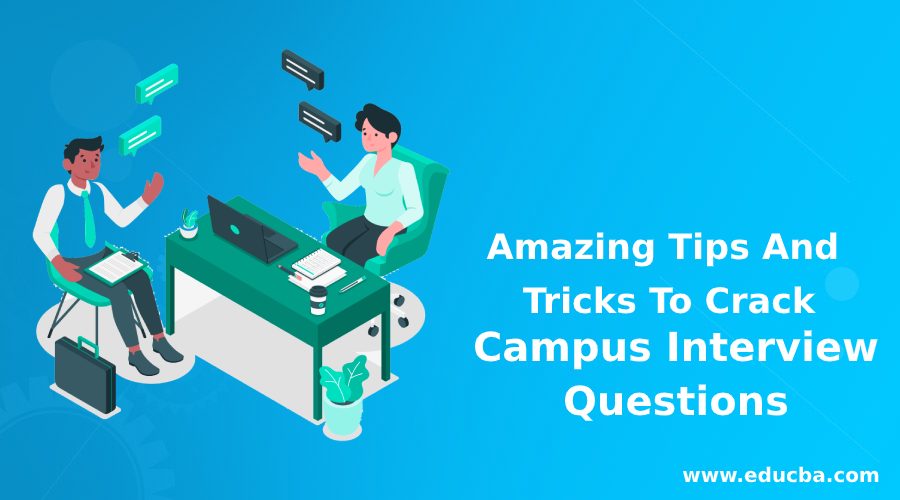 Campus Interview Questions
Campus interview questions refer to what recruiters generally ask during their visits to college or university campuses to perform job interviews with graduating students. These questions evaluate the candidate's academic knowledge, skills, and potential for the job role they are interviewing for. Some common campus interview questions include:
Tell me about yourself.
What do you know about our company?
What are your strengths and weaknesses?
Why did you choose your field of study?
What are your ultimate career goals?
How do you handle stressful situations?
Have you had any leadership experience?
How would you handle a challenging team member?
Tell me about a project you completed and your role in it.
What do you think sets you apart from other candidates?
The exact questions may differ depending on the company and the job position, but these are some examples of questions commonly asked during campus interviews.
Introduction To Campus Interview Questions
What if you do the same things all the students in your batch do? Will you get hired or stand out or make your mark? The answer is a clear no. Why?
Because only 2-5% of students who appear for the interviews on campus get selected by the best companies and fetch the best salaries.
What sets them apart? Skills, communication, knowledge? Maybe! But more than these, what ensures success is how you approach your campus interview questions altogether.
Time has changed. Thus, emphasizing the same traditional inputs will not help you how to impress your job interviewer. Yes, spending time on the resume to make it look attractive, preparing for campus interview questions, and dressing formally will help. But they will not be able to fetch you the job you deserve to get.
Why?
Firstly, these traditional inputs would go through an assessment by everybody (read the crowd!)
Secondly, the interviewers are looking for something other than these things; if they think about resume, style of answering good interview questions, and power-dressing, they give them secondary importance to what they want to know, rather, whether selecting you will improve their return on investment (ROI) ratio or not. If not, even after having great communication, an amazing resume, and a magnificent presence, you will fail to make a dent in the world of campus interviews.
What will tick them in this ever-dynamic mechanism of the business world?
Following job interview tips for success will help you ensure your position among the top 1%, even with average grades and mediocre knowledge.
These tips are new and time-sensitive. Don't just read them. Act on them before it's too late. If you defer you may finish off among the last 99% of the crowd.
Do you want it?
I bet you don't.
Campus Interview Questions For Freshers:
1. Think like a businessman/woman
You have heard the expression – "putting in others' shoes" or "empathetically speaking". The interviewers who would be sitting in front of you are expecting you to act like that. They want you to think and perceive their businesses well. If you can do that, you can understand the problems they want you to understand and can offer solutions. If not, sorry, you better get going for the next opportunity.
The question is how to understand their business well.
Simply by studying their business!
If you are planning to sit for an HR position in a manufacturing sector, then the role of HR is much more dynamic than an HR in an IT sector. Why? Because the key variables of each industry are different from the other!
In the case of the manufacturing sector, the work of an HR is to manage the less-skilled and less-educated workforce most of the time to ensure higher productivity. In the IT sector, most of the workforce is already educated and skilled enough. Thus the responsibility of an HR is limited to operations and ensuring a proper flow of activities.
Aim to crack HR interview questions for freshers in the manufacturing sector. Your understanding of the manufacturing sector should be so much that you can solve problems like lock-out, strikes, and collisions between the workforce and management.
If you want to go into IT, your approach should understand how information flows, types of communication, and how to make the employees work under pressure.
The interviewers are the protectors of the companies' interests and the faces representing the company. Their job is to help the company find better candidates who can join in and give them an edge over others. If not, they will look for better alternatives.
2. Make a list of propaganda
What most candidates forget is that campus interview questions are the stage to advertise their talents, skills, and work they have previously done. Being meek in the campus interview questions for freshers is not a sign of humility. Because interviewing is not a win-lose agreement, it's a win-win situation where a candidate has to prove their worth to be a winner.
Thus, start making a propaganda list if you have not done yet.
First of all, it's not a resume. Go beyond that. Arrange all the projects that you have done in a similar industry. Projects include all your quality presentations, analysis, written work, articles you have written (even unpublished), and the official comments made by your professors.
The interviewers love to think practically. When one thinks about the practical aspects of a thing, it's always wise to give evidence. Either you can provide them with proof that you are capable and worthy of the job by showing them your propaganda list, or you can back off and turn off your laurels.
Even if you are the worst student of your batch (according to you, though you're not, it's just an assumption), you can still attempt to present evidence in print forms.
Buyers, who buy, love to buy when they touch the product. It's the first principle of selling. To sell yourself, you need to help them connect the printouts of your propaganda list. Their jaws will drop by looking at and bordering your accomplishments.
3. Be well-researched and a scholarly interviewee
It's easy to be a scholar in this age of the internet. It's a two-step formula you need to follow.
1. Know about your subject and the area of the industry you would like to go in.
Go to Google. Do some research! Take out each subject of your specialization and spend a day or two summarizing a 2-5 page summary. If you still need clarification about any portion of the issue, go directly to your professor and confirm which questions to ask at the campus interview questions. It's always possible to know better. But if you realize it after the campus's famous interviews, then it's late enough. Better that you get started at least 2-3 months before the interview/s.
You can add some flavor to the research of your targeted industry. Go to Google. Find out some local companies in the same industry. Call HR and ask whether you can visit them as a student for some of your project work. If they say no, go directly and talk in the reception. They may allow you to get in and have some information. Often a letter from your college will help you get in and capture valuable data from the company. Once you have the data, sort it out in a presentation. Add a pie chart or a histogram. Talk about the company. Then add some of your inputs. Make it a .pdf and take a printout. You can also show your research to the interviewers sitting there for evidence.
2. Know about your interviewers and the company.
You would probably know which company is coming to your campus beforehand. Go to the company's website and see the list of authority figures who would decide your fate in the interview. Then find out in Linked-In about them. The following information would be enough – what they care about most, what they despise, what their birthdates are, and what they are experts in. Once you know about them, read a little about all of them. Once you know enough about them, go to the company and look for their mission, vision, values, and what they are looking to do soon. This information will help you think like a businessman/businesswoman and give you a better perspective on presenting evidence of your worthiness before them.
4. Start a blog
No interviewees may have received this advice.
If you are sincere about cracking the campus interview questions, start blogging.
Go to Blogger or WordPress and create a blog and start to write about the industry/subject/area of your job. You don't need a domain to launch a website. They don't need to be magnificent articles. But they should be presentable. Take the help of anyone keen to help to edit your articles. Publish at least one article per week, and if you start at least three months before the interview, you can write at least ten articles on the topic.
Share these articles with your friends via all social networking sites.
Go to similar blogs (similar areas) and read and comment on the articles written by experts in the field.
This simple act can popularize you and your articles in Google Search. When anyone (interviewer/s) from the company searches your name (if you clear the first/second round), then Google will show your blog and articles at the top of the search, and your chances of getting selected will be higher.
5. Enhance your communication skill
While talking about communication, most people talk about improving it, but no one exactly says what to do. Here it is. Enhancing your communication means you need to improve your accent. If you have native-language influence, the best way to reduce that is to tune your communication into a neutral accent.
If you have a professor in your college, take help from them or search on YouTube and can get access to various relevant accent training courses, which will help you enhance your communication. While training yourself to improve your communication, pay special heed to the sound of vowels and how the emphasis on one word can drastically change the entire meaning of a sentence. Dig more. Explore more. You will soon discover pronunciation errors in your English speaking and can improve them by practicing.
After you are good enough at verbal communication:
Concentrate on non-verbal cues.
Pick up a book on Body Language Skills.
Read and apply.
It will help you sharpen your communication skills basics, giving you an edge over others.
6. Learn a course on business etiquette
At first, it may seem irrelevant. But once you put yourself in the mold of a businessman, it would be easier to understand why learning business etiquette is necessary.
Harvard Professor and Body Language expert Amy Cuddy speak about "Faking it until you become it," and it works.
Once you begin to practice business etiquette, it may seem false. You may not get the feeling of integrity. But keep on practicing and watch other business experts do it. After a month of practice, you would see that hand-shaking, smiling, putting your hands on the table, drinking water in front of the interviewers, and asking them questions for an interview would become much easier.
7. Polish your aptitude
No matter where you go for an interview, the first round would be a round of aptitude. If you have a knack for practicing aptitude one hour a day, you don't need to prepare separately for the big event. It is to check your mental capacity.
Just take any area. It may be verbal reasoning, logical reasoning, arithmetic, algebra, geometry, or any riddle or puzzle. Practice it for an hour. Sit back and relax. Remember to set a time limit. Improve from there.
After preparing so much for the interview skills, you wouldn't want to get rejected for failure in aptitude. Be ready. You can use Indiabix.com to start right away. If you use a smartphone, there is a great app called SmartThink which you can use for your aptitude practice. Update yourself about general campus interview questions and current know-how.
If you are thorough with all the above seven steps, current affairs will seem easier.
Read a good newspaper daily, and you can jot down the day's highlights in a notebook. Once you do it for a week, go over to the notebook and review what you have written. If you do this, you wouldn't need to do anything more to update about current affairs. It just needs a half-hour devotion to a good newspaper.
In the campus interview questions, interviewers can connect upon the hot topics of politics/sports/business. If you know, you can think through and understand how to answer interview questions. It may be a weakness in the interview if you don't know.
You don't need to panic. Simply do the above steps. You will be able to answer the campus interview questions related to current affairs.
9. Go for interviews & group discussions
Don't let your campus interview and group discussion be the first interview and GD you ever face. Make it the hundredth one. Maybe more! It's always better to go to any company and sit for a real interview to see where you are. If that's not possible, talk to your peers, form a group, and arrange for mock interview techniques and GD every week.
Facing mock/local interviews will help you build strength to meet the campus interview questions and group discussion.
Conclusion
The preparation may never end. You can do more. The question is whether you are willing to give that extra effort required to stand out in the crowd. If you are, you know what steps to take to begin with the campus interview questions.
Recommended Articles
Here are some articles that will help you get more details about the campus interview questions, so go through the links.