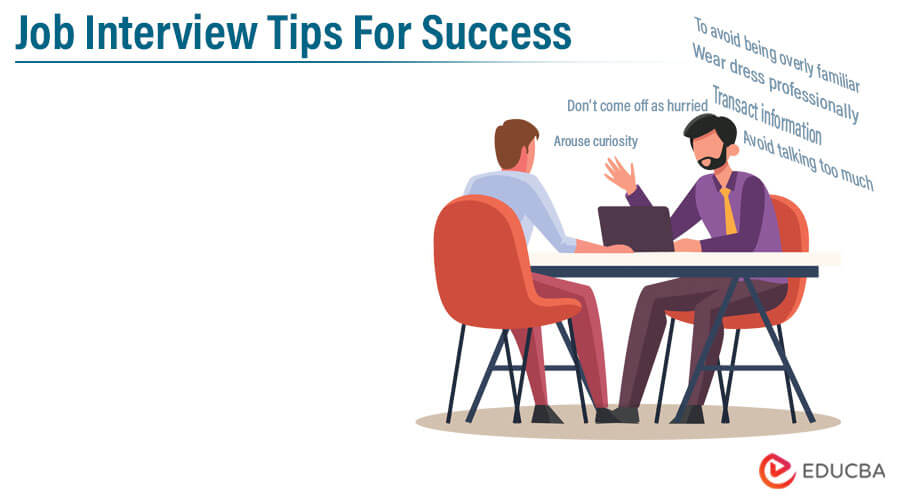 Introduction to Job Interview Tips for Success
The initial instinct is that could be more look at the employment openings on various websites that related to the jobs either Technically and Non-Technically for scheduling the job plan will hunt more smoothly, weekly and other daily schedule efforts for to get the job moreover already or yet to learn some new technology courses based on the current trending markets is more useful for to place the high paid jobs.
Top 15 Job Interview Tips for Success/Answers
There are various ways for passing the interviews with successful ways.
Some of them are as follows:
Non-Verbal communication should must be practiced.
Wear dress professionally.
Avoid talking too much.
Listen carefully with interviewer or other persons who are to be in Interview Panel.
To avoid being overly familiar.
Use appropriate communication language.
Don't be arrogant.
Pay attention to the question's and answers.
Pose inquiries.
Don't come off as hurried.
Arouse curiosity.
Observe their non-verbal cues.
Keep an eye on your own body language.
Keep unconscious bias at bay.
Transact information.
1. Non-verbal communication should be practiced
It is more important way to provide the project confidence to interviewer. To stand up straight, making eye contact and shaking hands together firmly. Then the interview can get off to be a wonderful start journey and brisk end.
2. Wear dress professionally
Basically, in interview they are not permitted to dress like they do when you interview due to today's casual dress requirements. It is very crucial background and well-groomed to know what to dress to an interview. It depends on the company culture and the position which we are applying to may choose dress more formally or less. If possible before interview whereas contact to inquire about the company's dress code.
3. Avoid talking too much
Giving the interviewer with more information than its necessary that could be deadly error. Without prior information, we could ramble when responding to the interview questions and perhaps talking about the job. Reading the job description carefully to compare the talents before user requirements and focusing entirely on interview information.
4. Listen carefully with interviewer or other persons who are to be in interview panel
It is one of the most important interview tricks and its more advisable to listen Interviewer and others words. Because they are providing more information either directly or indirectly and it is more significant chance to not heard it. It's the key component for effective communication for able to listen more knowledge and what has been expressed. Its also shown interviewer's manner and pace by paying attention to them.
5. To avoid being overly familiar
The interview is a formal meeting where as business is yet to be discussed not the goal of this to make new friends. Familiarity level should reflect the interviewer's attitude and its more necessary to be enthusiastic and upbeat during the interview for asking n number of questions. The acting is too casually and amiably for sometimes in a way that does not respect with others that is not a relative or close friend. A competent boss should be able to be approachable without being overly so.
6. Use appropriate communication language
Avoid using jargon and slang will stay away from delicate topics. Private and intimate topics should not be discussed at the work place, also forbidden to discuss politics, finances, religion and political ideas, speak professionally during the interview. To watch any offensive terminology or allusions to the age, color, religion, politics or other sexual orientation subjects is get out of the conversations.
7. Don't be arrogant
The interview success is more significantly influenced by person attitude to check the confidence, professionalism and modesty must all be balanced. Lack of overconfidence is more dangerous as being overly reserved even if we are putting on a show off the skills. If we are facing uncomfortable, unfriendly manner to work with or no amount of interview advise will help.
8. Pay attention to the questions and answers
Interviewers will ask for the example of that time whether the person did something are trying to learn about the behaviour of interview questions. We can't give the concrete example not only respond to the question because it's a chance to demonstrate the competence and skill abilities.
9. Pose inquiries
Most of the candidates will respond to No because they feel whether and questions which is the incorrect response. Being prepared to ask questions that will show an interest in the operations firm has crucial component of knowledge knowing to interview. We can determine whether it's the perfect place for asking questions came from paying attention to asked and seeking more details.
10. Don't come off as hurried
In Interview time we came out as desperate with less confident that can be said as please, please hire me that attitude is not good. To demonstrate these types of activities to be cool, silence and calm that time and to be confident.
11. Arouse curiosity
To arouse someone's interest or curiosity with interest and attractive positions. When the subject will interest to retain what we learned out the curiosity for material learning with particularly intriguing or more significant.
12. Observe their non-verbal cues
We can focus on nonverbal cues for to make ensure whether the professional will control over the message that attempting to convey the same to others. It also measuring the eye contact of the person, regulating facial expressions and professional demeanor importance.
13. Keep an eye on your own body language
It's an important one that will pay more attentions to the Interviewer with other indicators such as context. We should frequently consider more number of signals rather than the other groups for concentrating single action. Its one of the communication that explains more areas including facial expressions etc.
14. Keep unconscious bias at bay
To combat more unconscious biases will try to fact the other feelings for second perspectives to obtain all the datas before taking any necessary actions. Because everyone has unintended biases for working towards them that tackle either successful or failure in their workplace depends on the person.
15. Transact information
The people or other entities will convey more number of information from one person or source to another person or destination. This information might be carried out electronically or using the specific system. Because in interview the two-way exchange of information its more applicant for to get the chance of learning about the company and the positions.
Conclusion
Instead of describing the specific viewpoints or experiences its main focus on clearly stating what was discussed in the interview. Because the paraphrasing is what was really stated during the interview session the summary should more serve as a roadmap and also chance to get for what we learned on that time. Throughout the interview experience the conversation may be revealed for each applicant it may vary upon role and experience etc.
Recommended Articles
This is a guide to Job Interview Tips For Success. Here we discuss the introduction and top 15 job interview tips for success/answers. You can also look at the following articles to learn more –