Leadership
The act of taking command of a group, team, or organization is the essence of what it means to be a leader. Our minds conjure up various pictures whenever we hear "leadership." A political leader, the leader of a team, the leader of a company, the leader of a school, etc., are all examples of leaders. Leaders ensure their teams or organizations work in an orderly and systematic manner. Essay on Leadership explains that Leadership is all about cooperating with others to achieve success. Leaders can determine the direction of their teams and guide them to the desired outcome using their management skills.
Characteristics of an Effective Leader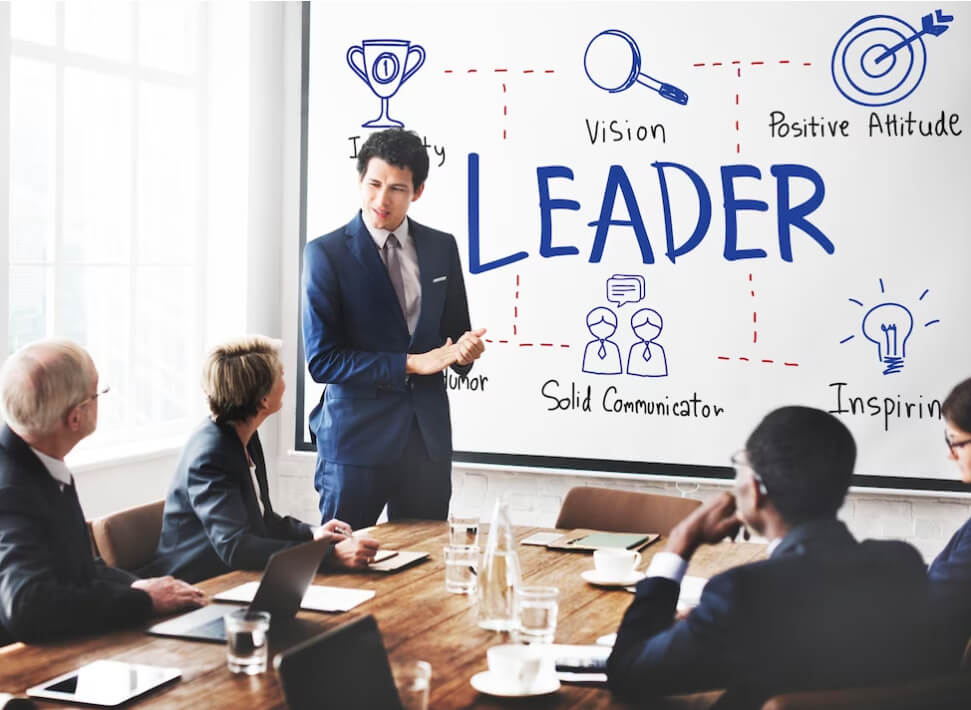 1. Vision
A crucial skill possessed by a leader is vision, which pertains to the capability of comprehending the broader perspective of the company or team's objectives, potential, and necessary strategies to achieve success.
2. Inspiration
It is just as important to communicate that vision to others and motivate them to become excited about it as it is to have a crystal-clear picture of where you want to go. In this context, "maintaining a positive but real-world presence in the organization" refers to keeping team members motivated and excited and reminding them of the cause they are working towards.
3. Integrity
The best way to lead is to lead by example. One of the most important characteristics of a good leader is honesty. Therefore, if you want your team to look up to you, have faith in your values, and follow fair means in the work you give them, you must be honest with yourself. If you want your team to look up to you, they will. One who is dishonest may successfully lure others to their side by deception, but in the long run, people will discover the truth and the individual will lose all credibility.
4. Patience
Patience is one of the most important qualities a good leader must have to succeed. A person's ability to learn from the errors of others and assist them in maturing is contingent on their capacity for patience. An impatient individual is likely to lose their anger, which means they can never cut to be a successful leader.
5. Creativity and openness of mind
A leader is willing to consider new concepts, points of view, and opportunities. To be a leader, you must be willing to adapt to changing situations and offer new points of view. Listening, watching, and maintaining an open mind are important leadership skills. Leaders should also be able to change direction when necessary. Creativity is another important skill because it lets people develop new ways to solve problems. Creativity lets you look at a problem from different angles and come up with solutions that fit those new angles. A sense of being "stuck in a loop" might result from continually using the same route since it can bring on feelings of monotony.
Advantages of Having a Leadership Role
Let us begin by examining the advantages of holding a leadership role, which includes the following:
1. Respect
People turn to you as a source of motivation and encouragement. They come to regard you with a sense of awe and reverence. They look to you for guidance and may come to you with questions or requests for help about different things.
2. Fosters a deeper sense of self-awareness
Because many people look up to you as a role model, you constantly evaluate your strengths and weaknesses to become a better person. This contributes to an increase in self-awareness.
3. Improves your mental capacity
To coax the best performance out of his team members, a competent leader will first endeavor to understand the individuals' capabilities and the circumstances they find themselves in. This not only benefits the people around him but also assists him in expanding the scope of his worldview.
4. Ability in making decisions
As a leader, you must make decisions for yourself and your team. Over time, your decision-making skills will improve.
5. Nurture dreams
Those who look up to you as a leader receive direction from you, which enables you to foster the development of their aspirations. Strong leadership also plays a significant role in attributing the success of an enterprise or company.
Conclusion – Essay on Leadership
Essay on Leadership explains that the most basic prerequisite of every group or organization is leadership. Being a leader does not happen overnight. One must have experience to become a prominent leader. Along with expertise, one should have the traits of a good leader. It is hard to manage leadership without the characteristics of a good leader.