Updated June 15, 2023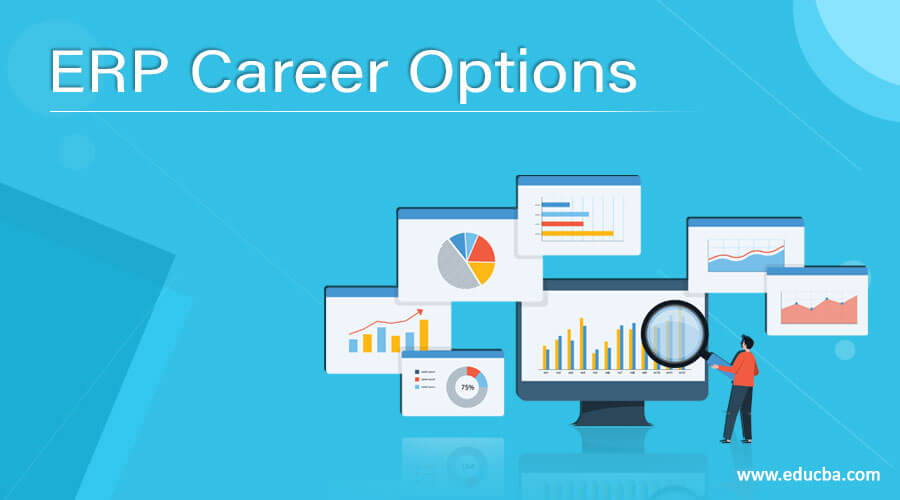 Introduction to ERP Career Options
Enterprise Resource Planning (ERP)  is multi-layered software that integrates all the different functions within an organization.  Once deployed only in large firms and establishments with mainframe servers, ERP solutions have become commonplace as special packages have been developed for small and medium enterprises (SMB).
According to recent reports, the ERP market is expected to witness sales growth of 7.2% between 2014 and 2020, with estimated sales in 2020 at $41.69 bn. It is now widely used across industries – production, manufacturing, logistics, airline, shipping, retailing, medical, tourism, hospitality, transportation and banking services.
No wonder the opportunities for professional strained in ERP are witnessing rapid growth. It often doesn't require complex technical or computer knowledge to be certified as an ERP professional. This is because its implementation is more of understanding a business process rather than software-hardware implementation and managing databases.
With a large number of small and medium enterprises embracing ERP, vendors like SAP and Oracle have targeted this segment.  On average, ERP consultant jobs have a salary range of Rs 8,00,000 to Rs 12,00,000 per annum, but experienced professionals earn much more either as independent consultants or on payroll, according to Glassdoor.
Here are three broad areas to build a career in ERP
The top 3 areas to build a career in ERP are as follows:
1. Functional consultants
It is about integrating the activities of various departments in an organization, and it involves every employee in the organization right from data entry operators, sales executives, clerks, accounts executives, human resources and management cadres.  For entry-level or end-users, online training programs are provided by SAP (Learning Hub) and Oracle (Oracle University) that gives a basic awareness and skills required to work in an ERP environment.
While lower-level employees may be end-users in the system just keying data or verifying information entered, professionals, will be involved in more advanced level – helping the ERP solution providers understand the organisation's operations and come up with appropriate solutions.
Functional consultants are a key link in the ERP chain- they are drawn from various specialities such as Human Resources, Sales and Marketing, Finance, Accounting, material management and inventory.
Human Resources (HR) consultants usually have an MBA background in HR and undergo a course in the Human Capital Management (HCM) module of SAP or Oracle, which are provided online or from their authorized learning centers. HR in any organization is responsible for the maintenance of payroll, recruitment, compensation, training and administration. These topics are covered in HCM packages, and managers have the freedom to which area to specialize in the case of Oracle training.
Once a student completes an average of 200 hours of training, they may be eligible for appearing in the global certification. Sometimes, SAP, Oracle insist on domain knowledge and experience ranging from six months to two years to appear for global certification. Global certification enables an HR consultant to be employed full time in a company or work as independent consultants or trainers.  HR ERP consultants are responsible for defining the structure, data requirements, configuration, processes and operations in the HR module that is implemented as part of ERP.
Those with MBA in Finance or having a bachelors/masters degree in commerce can opt for Financial Accounting (FI) module, CO –Controlling (Management Accounting). There are two components in finance- one is maintaining accounts, and the second is controlling costs. The Finance Department is responsible for cash management, maintaining ledgers, bank accounts, taxation, asset management, balance sheets, profit and loss (PL), and related tasks. The CO module is more attuned to the manufacturing department, where they have to control costs, assess the costs and work with marketing teams to improve profitability in regions where performance is lower.
Other modules in finance are investment management (IM), Treasure (TR) and Enterprise Control (EC) in SAP.
There is the sales and distribution (SD) module for marketing and sales professionals in logistics. This is an important function in an organization that involves sending quotations, creating sales orders, billing, and integration with inventory, finance and other departments. They are more closely integrated with Materials Management and Production Planning (PP).  Some of the functional features in SD are pricing, taxation, credit management, product availability, output determination, etc. The module is suited for MBA marketing professionals, sales executives and related professionals.
Related logistics modules are: Materials Management, Production Planning and Control, Product Data Management (PDM), Quality Management, Plant Maintenance and Project System (PS) but are more suited for the engineering stream.
Customer Relationship Management (CRM) modules are meant for solution providers. They need to have a basic understanding of order fulfilment, sale and business processing. SAP provides a solution-based course developed for its CRM 7.0 EHPR release. The content convers sales, marketing, web channel, field applications, analytics, customer interaction, etc.
Some common facts about functional consultants:
Functional consultants can be employed full time in a company that has an ERP implementation or work as functional consultants in consulting firms such as Infosys, Capgemini, Accenture, where they begin as Trainee, Associate Consultant, Consultant, Senior Consultant, Team Leader and Project Manager. They will be working for different clients throughout their career.
Functional consultancy is not about having a basic degree in marketing, finance or HR or accounting, global certification but having domain knowledge, a good understanding of business processes, good configuration skills, team player and communication skills.
One of the functional consultant's key roles is the configuration of the module, which involves mapping the existing business process requirements and aligning them to SAP standards. Therefore, a functional consultant's key requirement is domain knowledge and understanding of the business processes within the organization and how functional modules work in ERP systems.
SAP, Oracle, Baan, Peoplesoft, and other leading companies are provided SAP products, but SAP has over 60% of the market share, having all modules followed by Oracle. A certification by the vendor as proof of the capability of the consultant – SAP Consultant, Oracle Consultant and so on.
There is also a requirement of trainers in SAP trainers in functional domains.
There is a choice of instructor driven, e-learning and on-campus training provided by SAP, Oracle and other leading vendors of ERP.
These vendors or their certified partners are offering courses that can be done along with regular MBA, BBA MCom, BCom programs that enable students to be certified by the time they pass out of college. Global certification is awarded after appearing for an examination paying the requisite fees.
Many of the applications have now moved to the cloud as on-site implementations are costly. To cater to trained personnel's requirements on cloud applications, both Oracle and SAP are providing training in cloud modules related to various functionalities.
2. Technical Consultants
If Functional-consultants define the business process, requirements and do the configuration part with the SAP/Oracle system or other vendors, it is the technical consultants who do the programming part of the job. There are three layers in an ERP system- the Application Layer, Presentation Layer and Database Layer. The Presentation Layer is the Graphical User Interface (GUI) through which end users input data, see the reports and output. The application layer is where all the programming is being done, and the database layer is where all the data is stored for access in real-time.
The programming part of it is done in Java, BASIS experts do ABAP (Advanced Business Application Programming) and the networking part.
ABAP is meant for engineering graduates, MCA's (Master of Computer Applications) but doesn't require assembly-level coding as it is a fourth-generation language, although language and syntax has to be learnt. ABAP is procedural, and each new version is adding more object-oriented features. ABAP programmers help in the creation of reports, interfaces, forms, data conversions. In most organisations, those who handle ABAP are developers or programmers. ABAP runs on SAP ABAP Application Server.
Versions:
ABAP is available in two versions –
1) Full ABAP Stack and
2) Dual ABAP/JAVA stack
The Full ABAP stack could get outdated as they were in versions price to ECC 6.00, although many companies run these systems worldwide. The Dual ABAP/JAVA Stack is shipped with the newer versions and has XI/PI, Portal and Solution Manager. Therefore, skills related to it may be in high demand, according to experts.
The system administrators in SAP are called BASIS people.  They are responsible for ensuring that networking is running smoothly; all the application and application servers are installed and working perfectly. They have the added responsibility of ensuring that the Operating System (OS) and database on which SAP runs are working fine.
In simple terms, BASIS acts as an interface between the database and the operating system (OS). Their nature of job and operations are vast compared to ABAP.
BASIS function is a versatile, multi-tasking job in SAP requiring the professional to change roles according to the environment.  They perform the role of system architects, transport administrator, batch administrator, security specialist, ABAP specialist, DDIC manager managing the SAP data dictionary, database administrator, interface analyst and solutions specialist. Java programmers are in good demand in the ERP market as most of the coding is still being done on Java which has the advantage of being open-source and platform-independent. It is structured and ideal for huge projects with respect to security, reliability and scalability. Java programmers will also find ABAP programming easier to learn.
3. Techno-Functional Consultants
So far, we found two watertight compartments in ERP- technical and functional consultants. But there is a third category of professionals who are called techno-functional consultants in ERP who perform both technical and functional roles in an organization. Technical consultants working on various modules such as HR, MM, FI, CO gradually understand the business processes involved, and this helps them map the scenarios apart from doing the programming part, which they are already skilled at.
According to analysts, with changing technologies, including cloud and in-memory processing (as in SAP HANA), consultants in those specific skills both in techno-functional areas, are in huge demand. Techno functional consultants are usually related to one module where they need to have functional, Basis and ABAP skills. Most techno-functional consultants sought are in SD, CRM, MM, PP etc.  According to Payscale.com, skills commanding high salaries are PeopleSoft HRMS, PeopleSoft Technical, Oracle Applications 11i, Oracle E-Business Suite HRM and PeopleSoft Financials.
Conclusion
It is about the understanding of business processes and how it integrates with various solutions developed by vendors. Understanding the business processes and their requirements is paramount to ERP implementation's success and hence the demand for good quality functional consultants. On the other hand, much of the technology side work is done by BASIS people who handle a variety of tasks and responsibilities.
Programming skills required ERP is limited to Java, ABAP programming and hence engineering graduates may not have great opportunities unless they combine functional skill as well. ERP is a specialised area and requires domain knowledge rather than a mere degree or certification to grow up in the career. New Cloud-based applications and open-source platforms enable quicker and inexpensive implementation of ERP, which could throw up more specialised job opportunities or consulting prospects for professionals in the near future.
Existing professionals in various functional roles can enter the ERP stream through various online courses and certifications, thus not in any way disturbing their existing work and salaries. However, the market is still evolving with new solutions and platforms. Hence, professionals need to quickly update their skills or move onto new territories to stay afloat. There is a latent demand for good quality trainers, and hence many consultants are also being hired for training by consulting companies. Trainers are in demand in both technical and functional modules with the rise in the number of certified training centres by major vendors. Part-time and freelance opportunities are also being advertised across India and various emerging nations.
SAP has modules for every possible application, but in some applications such as HR and Financials, there are other vendors who are strong contenders to the market leader. Hence, the choice of the module and its leading vendor could also help consultants land in better assignments.
Recommended Articles
This has been a guide to ERP Career Options. Here we have discussed the bass ic concept, three broad areas to build a career in ERP respectively. You may look at the following articles to learn more –