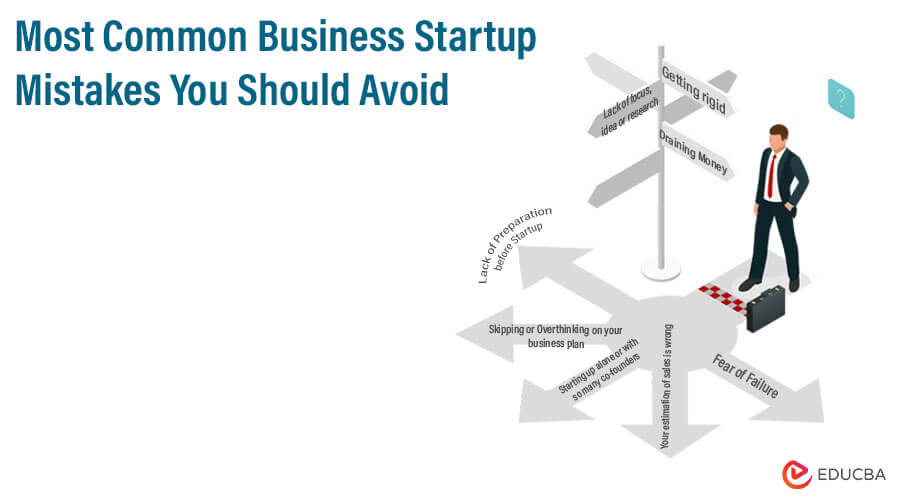 Business Startup Mistakes – Many business startups start with enthusiasm and flair, but they fail each year for not so many reasons. Almost all companies studied have common reasons for their failure even before beginning to pick up. They fall into the trap repeatedly, but if they could avoid these business startup mistakes, their chances would significantly improve.
Business Startup Mistakes You Should Avoid
Here we will find out these business startup mistakes and how entrepreneurs can avoid the same:
Lack of Preparation before Startup
Whether it is a Marathon or competition or the start of the new beginning, if you have no training and warm-up, you will not get success. You need to warm up with some prelaunch training. You should have the requisite skills and knowledge of the work you intend to start. Before starting out, take some good rest, have nutritious food and make sure you have prepared and everything is organised and in place. Any business startup requires hard work, focus, dedication, and concentration, and so no personal hiccups or professional turmoil's may trouble you in your mission.
Skipping or Overthinking on your business plan
You have thought about the idea or a plan for your business once and you are sure it would work. But somewhere down the line, you cannot decide about the resources you need to add or other things to incorporate. You are thinking over and over again on things you wanted to add or leave. Your lack of decision might leave a gap between what you have been actually thinking and in the final execution of the plan. Calculate all the pros and cons of the things you have made your mind to add. Your estimated plan would help you in making the quick and right decision.
Starting up alone or with so many co-founders
If you are going to start up your company alone or with many partners depends on many factors like the nature of the business, how much big it is, the amount of investment required, resources or infrastructure required and many more things. If you wanted it to be a one-person show, start your company from scratch with little investment and grow as you move on. But keep on taking advice from like-minded people. Many startups have failed as they have made huge investments with limited resources, either through the loans from the banks or through the investor's money. But what they have ignored is other factors like unpredictability, risk factors, seasonal changes, the government changed regulations or sudden change in global trends. When companies cannot meet up with these sudden changes, their efforts can go to the drain, and they can face bankruptcy or even closure.
Lack of focus, idea or research
You are starting your company or a new business, but you do not know what you want; you do not know what you want to achieve and where you want to reach. No work can be successful without any plan or idea. Before starting any businesses, do your homework well, research thoroughly about each aspect of the business you want to do. Study the market, talk to the people who are already doing the same business and make out the complete plan of your vision, mission, objectives, aim, profitable goals or expected failures and any risks associated with it. Milestones have to be created to help you decide your business journey. Set a milestone of the year and a two and with the help of experts and accountant, calculate expected production, sales and profit you can achieve and anticipated loss. Never lose focus but be flexible with the changes in the industry, market or conditions prevailing.
Recommended courses
Advertising and Promotions Certification Course
Email Marketing Training Course
Getting rigid
Many entrepreneurs remain stick to their conventional agenda, which creates a problem for the whole company as they are unwilling to accept the change. Many companies have been ruined because they have not adhered themselves to the change. Even if they have made a plan, they will not modify or change it with the change of time. However, it is highly suggested that those fine entrepreneurs show flexibility in their approach and work, do not remain stick to whatever you have been doing, and create another plan and start working on that. Even if that isn't working, prepare a third plan, fourth plan…. And soon, you would know which plan will ultimately work for you. But you should also have one more plan when you can decide to exit if there is an emergency, and this plan should be so strong that it would not make you helpless. Being flexible is today's success mantra as today's globalization demands constant change, and we have to move with that change to get success.
They do not understand financial needs and do not care about time.
The new companies generally fail as their finance needs exceed than what they have anticipated. Make correct estimates of your financial needs by considering all the variables. Hire an accountant and calculate expected costs that might be required in investment on inventories, raw materials requirements, investment on distribution, sales and marketing and miscellaneous expenses etc. and set up the time frame for each task. Try to operate as per the plan.
You never thought of seeking help or Delegate the work.
Some entrepreneurs are so very optimistic or overconfident that they would not take help from anybody, whatever be the situation they might fall into. It is a common problem among managers. Instead of trusting others and delegating the workload, they wanted to do everything on their own. But managers should delegate the workload to increase their productivity. Prepare a plan or draw a guide plan of the work process, divide the work, and see the work being done as required. This would also ease your work pressure and help you to concentrate on the other important tasks.
You have trusted experts instead of your own guts.
It is good that you have trusted the experts and experienced people, but make sure that your intuition and your gut is your better judge. Many people often fall into the trap of others advice and do what they say without analyzing its pros and cons. However, the advice is to listen to the experts but do what your intuition says. It is true if you have fallen into a perplexing situation, where it is becoming difficult for you to make the right decision, think it carefully about what is best for you in the current situation and act on it. Nobody could understand the situation better as you could.
You are spending time on product development but not on sales.
Maybe as a business startup, you are doing everything on your own, from production to marketing and sales. In everyday hassle, you find yourself concentrating more on product development but not on sales or marketing, and by the end of the year, you find yourself standing at the same spot from where you have started. This is because you have not concentrated on your promotional activities and neither on sales. Along with the production, it is equally important to plan for marketing and sales of your products and try to achieve the marketing target.
You have failed to find the gap between sales and profits.
Suppose you are successful in marketing efforts and selling the products more than expected but are you sure that you are earning the profit that you have expected. Keep a constant check on the gap between sales and profit with your accountant and market advisor's help. This would help you make a better marketing decision.
Draining Money
Just remember, if you are running your business, you should start from scratch and try to scale up slowly. Do not try to jump. Generally, entrepreneurs generate too much money but start spending on the wrong things, but by the time they realize that what they are spending is actually wasting, it's too late for them. They are actually doing is draining their money on things that are not immediately required, like spending money on decorating the office, organizing dinner parties for clients or stakeholders, buying a lavish car or involving in such activities that are not generating direct profits. You may not realize it, but such spending at this stage may take you towards bankruptcy before even you realize it.
You are following the wrong marketing idea.
Your idea might be very great, but sometimes you are pushing up the wrong wall, which you cannot scale. These business startup mistakes are committed by most of the entrepreneurs and people who are making their first-time entry into the industry. Before starting the project, find out whether your product is the best meeting the market, how much investment will be required to reach the potential customers, or whether the small tweaks can make the cost go up or down; for consumers, there are five or six successfully tried ways to reach the customers and if you are trying these ways for few months but nothing works out, this might be an indication that there is something wrong and you have to either change your ways or modify your functioning.
You are assuming that money can solve all your problems.
Many budding entrepreneurs think that it is the money that can solve and ease all their problems or issues. But money does not work like that though it can solve the main issue. You should have the best business model, fix any issues or problems first, and then raise funds for a business. But if you seek money first and then resolve the problems, it might land you in difficulty.
Your estimation of sales is wrong.
Marketing and sales do take time. Many starting companies even think that they can sign a deal with big entrepreneurs in no time, but these deals take time, and some can even extend for a year. And if your business plan is not working accordingly, you are sure to get into trouble.
Fear of Failure
There is always a fear, anxiety and tension whenever you start any new work, and cases have come to light that many entrepreneurs, due to fear of failure, do not venture to take risks. But if you want to become a successful businessman, you have to take calculated risks and be ready for failure as success and failure are part of a business. Entrepreneurs have to see failures if they want to move on a road to success.
Above are the fifteen most common business startup mistakes that are made by any start-up entrepreneurs, which can cause their business to fail. Still, with few tidbits and strategic moves, they can see their business successfully running. It is said that hard work pays but hard work also require smart work in business and as Sir Thomas Watson says, "To be successful, you have to have your heart in your business, and your business in your heart". – Sr. Thomas Watson and with the heart, you ought to have the decision to try without getting the fear of being failed.
Recommended Articles
Here are some articles that will help you to get more detail about the Business   Startup Mistakes, so just go through the link.