Updated May 3, 2023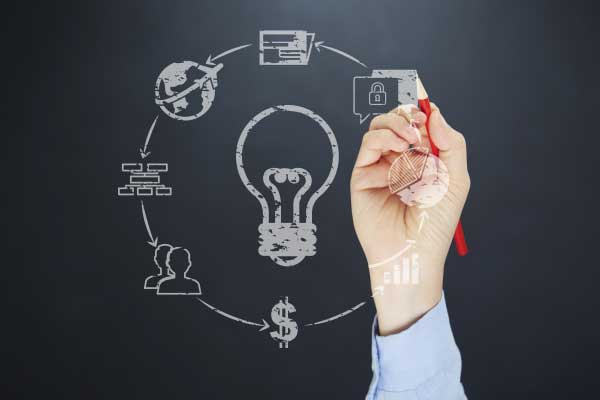 ERP (Enterprise Resource Planning) – Based on functions, any organization, big or small, is divided into several departments. Some departments include administration, finance, marketing, sales, customer service, public relations, inventory, logistics, production, HR, and exports. In the conventional business process, each department functioned as watertight compartments with little interaction between them on a real-time basis. Each information or data must be fetched from the relevant department through phone, email, or messaging. Besides being time-consuming and cumbersome, it will also lead to data duplication.
With the introduction of Enterprise Resource Planning (ERP), business processes became easier, enabling the integration of various functions within the organization and the availability of data on a real-time basis helping in quick decision-making.
Enterprise Resource Planning is not simple but a massive software architecture that integrates all the organization's departments and helps them communicate.
How Will it Help Your Business ERP (Enterprise Resource Planning)
Here are the features of ERP that help companies improve their productivity:
The systems are centralized, not decentralized
In government administration and planning, decentralization may be good in certain situations where there should be intelligence about the needs and requirements at the local panchayat level. In business, the decision-makers will have no idea of the whole picture at any point if the information flow is decentralized. There will be a time lag –in fetching information by email, letters, or phone. It can impact the firm's growth prospects in a competitive industry as it can't respond fast to changing market conditions and consumer demand.
Let's see what happens in a decentralized system: When the sales department gets a large customer order, it checks with inventory department for the availability of the product. If it is not available, they have to approach the production department to produce more. The production team has to get in touch with inventory to know the stock of semi-finished goods and store for raw materials. They may have to order a fresh batch of raw materials. And if they haven't consulted the Finance Department before placing the order, payments to vendors may be delayed. By this time, the consumer may have left and gone to the competitor.  This leads to a huge loss of business, market share and brand value.
They share a central database
There are several types of data in an organisation: consumer data, employee data, production data, inventory data, and financial data. All companies use databases to create, store and manage data. Advanced ERP systems such as SAP can work any database, any platform and with any operating system. Some databases are inter-related- for, e.g., employee data is shared by HR, Finance and administration, but in ERP systems, each division doesn't maintain a list of employees but fetches it from the HR Department. Therefore, duplication of data is avoided. Likewise, the consumer database is shared by finance, sales and distribution, marketing and public relations. But there is no duplicaton of data as all departments fetch the data from the central server or database. A central database enables economizing on database maintenance costs.
Recommended courses
Professional PMP Course
Online Certification Course in Software Project Management
It is user-friendly and involves the entire stakeholders
Enterprise Resource Planning is not a sophisticated system only for programmers, managers, decision-maker or techien. The system recognizes the importance of the most junior employee, and they have a role as end users. They are the people who input data- for, e.g. in the sales department, the sales clerk inputs customer data such as name, email id, age, address, mobile number and purchase details to create a sales order and subsequently the invoice. The company also needs the help of functional consultants who understands the various business processes with an organization – such as Finance, HR, Accounting, Inventory …..and help in the development of modules. They define the requirements, parameters and what all types of data, type of permissions required. The coding and backend configuration is done by technical consultants who are experts in BASIS, ABAP, and HANA.
Enterprise Resource Planning is customizable and adaptable.
ERP system is not a software solution that makes the organization adapt its business processes to confirm to its system, but an ERP system can be customized to the requirements of the company irrespective of the operating systems, database systems being used. ERP solutions are not for large organizations alone. It is now available for small and medium businesses too. Morever, ERP systems can be implemented in a modular fashion which means huge upfront costs need not be incurred by an organization if it has financial constraints.
Implementation is at the core of ERP solutions. This lies in understanding the the business processes of functional consultants, either available in-house or outsourced. When the firm's requirements, software, servers integration doesn't match, it is said that there are gaps in implementation that are addressed by the technical consultants specialized in BASIS or ABAP.
ERP takes advantage of the cloud and mobility
Many companies find implementation of ERP on site to be expensive, taking more space and integration with in the organization. Luckily, cloud service providers enable full or partial storage of data, software, and the platform to run it. This enables companies with critical datas to be secure to be held in their own servers while getting more generic work done in the cloud platform. ERP systems are also deployable on the mobile so that salesmen, marketing executives can update information in real time, enabling quicker response from the decision makers in the corporate headquarters.
With cloud has emerged Software-as-a –Service (SaaS), Platform–as–a–service (PaaS) and several pay-per-use packages, which have drastically reduced implementation time required in the traditional on-site models and drastically cut costs of ERP implementation.
All stakeholders feel the difference with ERP
The use of ERP systems benefits not only the employees and the organization but also the consumers.  These days, organisations value customer loyalty. Most often, they just need to tell their mobile number to get a loyalty bonus, get billed quicker at the retail store, and stay informed about discounts and offers of the company.
It is a win-win situation for both the customer and the company. Those not requiring a printed bill are delivered an e-bill in real time thanks to ERP systems. A bank customer gets money any time of the day or is able to deposit money at cash deposit machines (CDMs) 24/7, thanks to ERP. In an ERP led hospital, you need not carry your previous records with you every time as they are all saved in the patient database.
When they go for a follow-up visit, all that is required is the ID card or the hospital number. The case sheet opens up in the doctor's terminal just before you enter the consulting room, and subsequent x-rays or blood reports are also updated soon on the patient database. Once the diagnosis is over, the patient just needs to move to a pharmacy and tell the hospital number again to get the medicines prescribed.
Integration with Customer Relationship Management
The distinct organizational advantage of ERP lies in complete understanding of the customer right from the time he/she is a prospect to the customer, after sales, feedback, buying habits, repeat buying. If CRM and ERP are integrated, a customer who calls the call center to track order will get the desired information at their fingertips. They will have access to the inventory, shipping details and likely delivery date.
Note:
Become an Expert CRM Consultant
learn more about how people act and behave. Know how to cater to the customer needs. Earn between $30,000 and $80,000.
ERP Improves efficiency across departments
As ERP integrates each department into a central database, finance, marketing, manufacturing and inventory control improves. Data comes from sales, finance, and various business units with different sets of numbers, ERP integrates them giving a snapshot for the CEO to assess. Reporting formats and procedures can be custom made for each organization enabling collaboration and discussion between departments. Manufacturing processes can be streamlined using automation features of ER. Inventory control is better through the centralized system. The customer is taken care of in the product's entire life-cycle – whether it is five years or seven years.
It benefits both start-ups and traditional businesses
Many large companies that were running legacy systems and databases unable to communicate with each other slowly started moving to ERP platform in the 1990's and 2000, the process still continues.  Since the advanced ERP systems are all platform, OS and database neutral even the database of legacy systems can be integrated in to the ERP.
For start-ups, they have the advantage of starting with smaller ERP implementations that can be scaled up as the organization grows.
ERP is known to give positive ROI in a year
The implementation of ERP may take one to three years in a conventional scenario, but with Cloud based computing the time frame has come down. According to surveys, companies which were focused on return on investment (ROI) at the beginning of the ERP implementation could see significant results happening after a year. It could be in the form of cost reductions, quality improvements, customer satisfaction, reduced employee count, redeployment, and improved market share.
Apart from proprietary ERP systems such as SAP, Oracle and Microsoft, a few open source platforms have emerged making it cheaper and easier for solution providers to work on. Odoo, ERP Next, Dolibarr, and Opentaps are the popular open source pacakges. These are web applications that can be downloaded, installed and used by corporates. They do most of the activities of a conventional ERP including billing, inventory, accounting, manufacturing, purchase and project management functions.
Conclusion
According to analysts, according to analysts, some companies, such as Nestle, had a bad experience in the implementing SAP ERP software, but that does not diminish the value of ERP in the industry. The problem with Nestle implementation centred around a change over from a highly decentralized system to a centralized ERP with the stakeholders not properly briefed and involved in the procedures.
Moreover, there was a rush to complete the process before the Y2K deadline and this caused problems with the integration of modules.  Just as there are advantages in ERP implementation, a flawed ERP system can lead to sunk costs, disruption of existing business functions and loss of employee confidence.
However, ERP systems are secure, ensuring the confidentiality of data, preventing unauthorized use or sharing of data within the company and outside. It is capable of being integrated with the e-commerce division of the company. Even pure-play e-commerce companies need to have robust ERP systems in the back end to provide good customer service and optimize production, marketing and delivery of goods.
Unless employees are properly briefed and trained on working with ERP systems, implementation processes may not be smooth.
Many ERP implemented companies are looking for people skilled in ERP software at the entry level, but not many are available. According to analysts, the knowledge gap is being bridged with the introduction of e-learning programs such as SAP, which helps students and industry people learn and acquire ERP skills. According to analysts, running to analysts, running costs may be reduced by high initial costs could dampen ERP implementations. The system is robust to face any internal threats but most systems are vulnerable to external attack compromising the data of customers.
Yet advantages overweigh disadvantages, especially in a competitive, multi-location operation most companies are into. It is also suitable to take care of tax and reporting compliance of various regulators. It can handle multiple currencies, symbols and offline, online payment systems.
The global ERP software market is expected to grow at a compounded annual growth rate of 7.2% from 2014-2020, with a market size to expand to $41.69 bn. ERP has entered almost every industry vertical, with more activity happening in aerospace and defence. On premises ERP implementations would continue to have more market share compared to cloud based applications. The industry has become flexible with vendors providing SaaS and on-premise implementations as per industry requireents or demands. Moreover, ERP vendors are attuning themselves to the demand for larger integration with social media platforms and making suitable changes in the interfaces.
Recommended Articles
Here are some articles that will help you to get more detail about the ERP, so just go through the link.