Updated May 8, 2023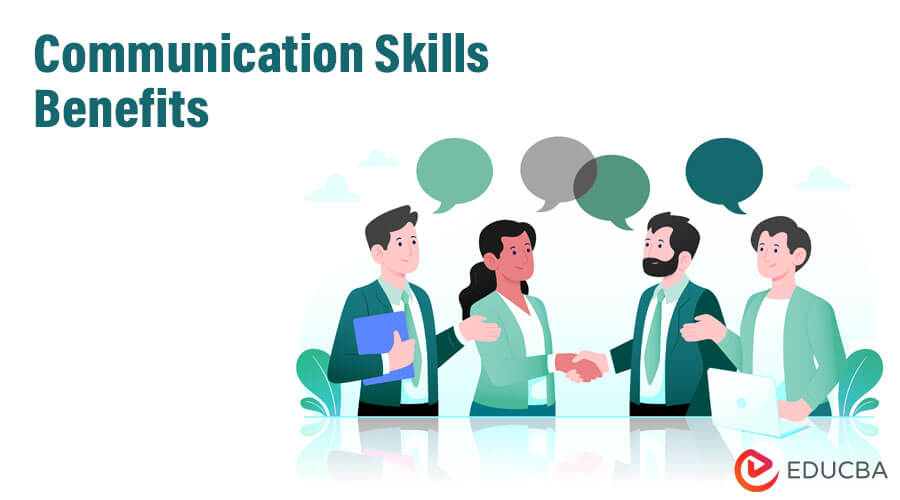 All About Communication Skills Benefits
The benefits of communication skills refer to the advantages gained from effectively conveying and receiving information with others. This includes improved relationships, increased understanding, and tremendous success in personal and professional aspects of life.
Communication skills are essential in today's world for success at work and in personal relationships both. The majority of our problems stem from a lack of proper communication. Communication skills facilitate interpersonal understanding and help minimize discord. One of the benefits of communication skills is that they boost your confidence. They reflect your competency in addressing issues and assure people of your abilities.
Key Points
The following are some key points that can help you acquire the benefits of communication skills successfully.
Eye contact
Being a keen listener
Proper body language or non-verbal communication
Increase your knowledge by reading
Practice makes a man perfect
Share anecdotes to keep the conversation alive and interesting
1. Eye contact
Eye contact is an essential factor in effective communication. It reflects your confidence and complete understanding of the ideas you are conveying. Eye contact can help convince the audience of your message and even overshadow some of your weaknesses. If you are fearful from within, pretending confidence through eye contact can still effectively deliver your ideas.
Looking into the eyes does not imply you stick your gaze at a specific point; instead, a compelling speaker looks in all directions. When he looks into people's eyes, he nods at them to elicit their approval. It helps you gauge their level of interest in your speech and informs you if you need to make it more interesting.
2. Being a keen listener
An essential part of being an effective speaker is being a good listener. To maximize the benefits of communication skills, carefully listen to what others say. Do not pass judgment unless you have listened to them thoroughly. Do not listen with only the intent to respond; listen to understand. You can respond to them as you know when you have heard and understood them completely.
Good listening skills can help you gather knowledge from people's experiences that you can never get from books. Every person has some personal experience that you can benefit from. Do not be so impressed by your knowledge that you pay no heed to what others have to say. You will acquire a lot of novel information through your listening skills.
3. Right body language or non-verbal communication
Non-verbal communication skills are essential for effective communication. Your body language, like gestures, gives out signals that often communicate far more than what you say. To maximize the benefits of communication skills, gestures should be appropriate and used in the proper quantity. Excessive hand movements while speaking are inappropriate and can hinder the audience from taking you seriously. Likewise, extreme audience scanning can be counterproductive to delivering the point. Always maintain balance in your body language.
4. Increase your knowledge by reading
Reading habits can enhance your communication skills. You learn better words and can express yourself more effectively. Reading books helps you accumulate much information you can apply in your life. An extensive vocabulary can help you convey information concisely and uniquely.
5. Practice makes a man perfect
Practice is crucial. People with excellent communication skills are not born with them; instead, they have put aside their fears and practice constantly. Stage fright is a common phenomenon; facing it is the only way to overcome it. Do not shy away from speaking in public. You will make mistakes and blunders, but that is the only way to learn and perfect your skills. Exercise private practice—perhaps in front of a mirror—until you are confident that you can speak in public. If your last attempt was a blooper, do not give up yet. Your perseverance will eventually bear fruit.
6. Share anecdotes to keep the conversation alive and interesting
Sharing anecdotes and sprinkling some humor interests the audience. Sharing life experiences can help the audience connect with you and become more involved in your message. Since speech is essentially a monologue, you must incorporate some attention-grabbing elements therein. From the audience's perspective, it is easy to become bored after a while. Humor can often keep the audience engaged. However, absurd humor can cause the audience not to take you seriously. It should be like the salt sprinkled in food, not the meal itself.
Ask the audience questions so that they feel a part of the whole process. It makes them pay more attention to what you are saying. This way, the monologue becomes a dialogue, creating more curiosity in the audience.
Communication Skills for Success
Communicating effectively is an essential means of succeeding in life. We are all always selling something at some point in our lives. In a job, you sell an idea or product, while during the interview, you sell yourself. Communication skills are vital here. Expanding your vocabulary and linguistic skills and delivering your message clearly and without ambiguity is crucial. The benefits of communication skills can only be attained with great practice. Listening carefully to people, using appropriate body language and eye contact, reading and expanding your vocabulary, appearing confident in front of an audience, and engaging with them can all help you improve your communication skills.
Communication is an art and can be mastered with time. All it requires is patience and perseverance.
Recommended Courses:
Here are some courses related to communication skills. Please click on the below links to explore them.