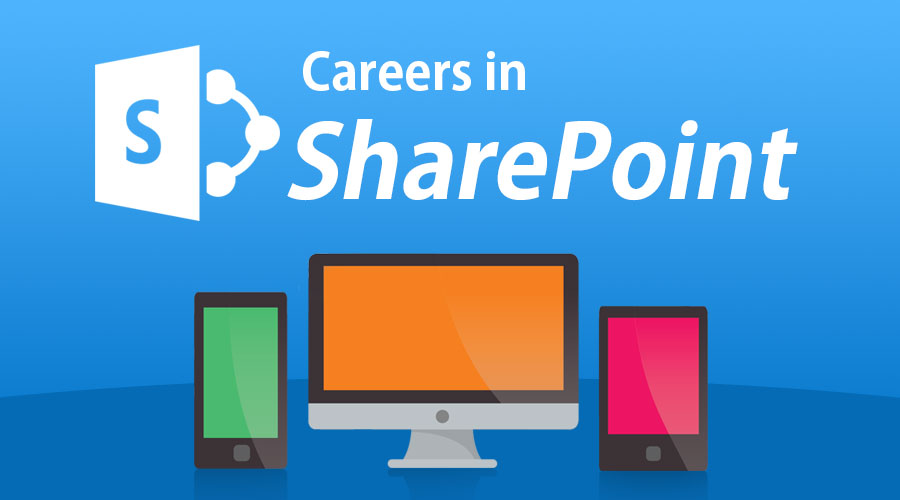 Introduction to Careers in SharePoint
SharePoint is a proprietary licensed product developed by Microsoft Corporation. SharePoint can be integrated with Microsoft Office and is being used by millions of users across different organizations. In SharePoint, there are a lot of career opportunities in the USA for the candidates. SharePoint is primarily required for many small or larger businesses in the form of document management and storage system.  This enables the users to manage the different important documents easily across the large users over a common server accessible to every user. This will reduce the usage of shared paths or confusion among the huge users and manages concurrent access also. SharePoint was initially released 17 years ago. SharePoint is a type of Content Management System, and this product is available in many countries in the world.
Education
SharePoint plays a key role in the education sector, as well. Most of the education sectors run on the basis of the requirement of large documents and content management. Large universities, colleges, and schools are digitalized now, and most of the examination systems have been digitalized in developed countries and adopted in developing countries.
In the education sector, the content management system plays a major role and requires large documents to be stored and shared across large users such as Professors, Teachers, Students, and Office management staff to organize the day to day activities in the educational organizations to run the system successfully without any hassles and errors.
There will be different features in SharePoint management products apart from storage and content management, such as email alerts and approval request systems for different utilities.
Career Path in Sharepoint
There are a lot of requirements for SharePoint professionals in the area of the Information Technology Industry across the world, especially in the USA. SharePoint provides multiple features causing it to be the most sought-after technology in most of utilities. The careers in SharePoint initially starts as a SharePoint Designer, who will be doing configurations, Site Columns, Lists, manages libraries, and views on SharePoint. A SharePoint Designer also manages content types and SharePoint workflows.
A SharePoint Designer also manages InfoPath, branding, search centres etc., in SharePoint.
The next level of careers in SharePoint comes as Developer and Admin.
The SharePoint developer tasks include the SharePoint applications development on Visual Studio Development environment and the development of client applications.
The SharePoint Admin roles and responsibilities include the central administration on the SharePoint server, user profile management, installations and migrations of different applications and searching on the SharePoint server.
The next level of careers in SharePoint is Architect, who will be a SharePoint Architect who can manage all the types of development or administration and understands the complete end to end flows.
Job Positions or Application Areas
In the area of SharePoint, there are different roles to take up such as SharePoint Administrator / Engineer, SharePoint Developer, SharePoint Full Stack Developer, SharePoint Engineer, SharePoint Specialist, SharePoint Consultant, SharePoint Business Analyst, SharePoint Project or Program Manager, SharePoint Power User, SharePoint Architect (Solution or Infrastructure Architect), Stack Talent SharePoint Administrator, Cipher Staff SharePoint Administrator.
In addition to this, there will be designers and trainers too. The SharePoint architects also possess some known technologies such as Microsoft .NET knowledge and Microsoft SQL Server Database Administration.
The SharePoint developer or administrator requires skills such as strong experience with MS Office administration as it can be integrated with this and works in synchronization as per the requirement for different applications.
SharePoint Developer or Admin also requires support style ticket services for the user or client support systems.
A SharePoint is also responsible for transforming complex customer business requirements into efficient and effective enterprise solutions that should be easily adaptable for maintenance and future changes.
Salary
The average salary pay of the SharePoint Developer in the United States is $80,136 per year as per the top American website that provides salary and compensation information about different companies, Payscale.com. The average median salaries for the different SharePoint and career paths in SharePoint are as:
SharePoint Admin: (US$24000 – US$30000)
SharePoint Developer: (US$18000 – US$24000)
Business Analyst BA or Project Manager PM: (US$24000 – US$30000).
SharePoint Architect: (US$30000 – US$36000) and with
Expert with multiple stacks in SharePoint usually gets: (US$30000 – US$42000).
The most famous website Indeed.com also mentions that the average salary for a career in the area of SharePoint is $95,819 per year. This salary estimate is based on more than 9000 employees' salaries submitted online in the United States. The national average salary, as mentioned in another top salary information website Glassdoor.com is $95,000 in the United States. From the above statistics, we can clearly come to the conclusion that the average salary is in the bracket of around USD 95,000 in the United States.
Career Outlook
As there are different and multiples career paths in SharePoint and also the average salaries themselves are a lot in the SharePoint career path. This clearly reveals that there is a bright future for one who is looking into enters in the area of SharePoint. There are huge numbers of requirements for the persons with skills set in the area of SharePoint. There are multiple careers in SharePoint to move after entering into the SharePoint career as well.
The person with good communication skills and a strong technical skillset can reach some top ladder-like Senior Architects or Senior Subject Matter Experts, in the short span of ten to fifteen years of their career if they start as a fresher.
The requirements for the role in the area of SharePoint in the USA are increasing numerously day by day.
Because of day to day increase in the customer, needs or customer business handling responsibilities needs some Software application or product to handle and manage their large customer content data securely, the SharePoint is one among the best products available in the market to provide highly complex business solutions easily in a short time without hassles.
Also, due to an increase in the customer base and daily requirements or customer data handling related activities, SharePoint has been an ideal solution for many of the businesses in the latest arena of the digital world with a lot of innovations and technological breakthroughs for highly complex needs.
Recommended Article
This has been a guide to careers in SharePoint.Here we have discussed the introduction to SharePoint, Education, Career Path in Sharepoint, Job Positions, Salary and Career Outlook. you may also look at the following article to learn more –