Updated March 3, 2023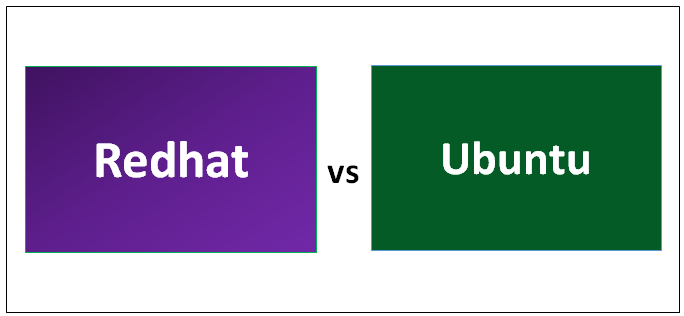 Difference Between Redhat vs Ubuntu
An operating system is a software program that operates and controls all the other programs installed on top of it. OS is also responsible for efficiently utilizing the memory of the system. Several key components of an OS are listed below.
Kernel
User Interface
Application programming interface
Several popular and widely used  OS in the market is Windows, Linux, Redhat, Mac, Ios, Ubuntu, Unix etc.
What is Linux?
Linux is a community-oriented OS that runs across numerous computers in the market. It stands alike Unix. There are multiple distributors who bring this OS to the systems. The below listed Ubuntu vs Redhat are superiors among them.
Red Hat Linux
Linux is one among the famous OS revolving in the market, and several distributors serve this OS to the customer's table; a Red hat is one among them. They Named their initial releases as Red Hat Commercial Linux. Red Hat Enterprise Linux is among the later and more famous products of Red hat releases. RHEL is released in multiple server and desktop versions. It supports almost all type of loads, irrespective of being a cloud system, virtual or a physical system.
Initial releases of RHEL were open-source, whereas in the future Red hat joined hands with the fedora organisation and maintained two different versions of Linux red hat OS systems. one is RHEL which stays stable with lesser version releases, and another one is FEDORA with more frequent version releases. The common utilities of an RHEL are firefox, CUPS, MYSQL, OpenOffice, Python etc. Redhat introduced a graphical installer called Anaconda.
Ubuntu Linux
Ubuntu means 'humanity to others, and this efficient software is built, keeping this in all its layers of a build. Ubuntu is another open-source OS and a Linux distribution; Ubuntu supports business, education, and personal home use. Ubuntu is based on Debian OS. Holding approximate of 20 million users in its belt.
GUI based operating system and contains the below features,
The look and feel of the system
Developed towards usability and ease of use
The organization of the desktop
How the user navigates the desktop
Windows software like Firefox, Chrome, etc., is supported by default in Ubuntu desktop versions.
Fast Boot and fully-functional
Keyboard language selector
High customization
Community-based OS
Head to Head Comparison Between Redhat and Ubuntu
Below is the top 7 difference between Redhat and Ubuntu:

Key Differences Between Redhat and Ubuntu
The key differences between Redhat and Ubuntu are explained in the below-mentioned points:
Platform Focus: Ubuntu focuses on Desktop users elaborating its user-friendly looks and access; red hat targets the Server platform as the foremost.
Foundation of the System: Ubuntu is built with Debian as its foundation, all properties and features are referred from this existing professional OS Debian, in such cases, Redhat doesn't follow on any sources, and it is an independently built OS system.
Package Manager: Package manager is similar to a device or program manager .package manager allows to install, remove, upgrade programs in the system. The extension of this package manager in Ubuntu is .deb referring to Debian and .rpm referring to Redhat Package manager in Redhat.
Software Availability: There is extensive software available for Ubuntu, But as far Red hat is concerned tiny repositories, and limited software support makes it less personalized.
Cloud Intro: Both the companies hold recognized commercial support, and when pushing these systems to the cloud, Ubuntu remains fully functional with excellent support.
Integration with Docker: Docker is a software platform that allows managing virtualized applications containers. So both Ubuntu vs Redhat provides integration of Docker. But Red hat keeps ahead by certifying Docker applications.
Support Factor: Ubuntu is fairly simplified and provides extensive support for its OS; Redhat opts for stability and performance of the system over support factors. To maintain this, it ships with older packages into the market, which ensures a lot for its solidity and stability but to stay on a fact, the period of support for red hat stays over a long time as up to 10 years mark.
Security: Red hat releases rapid security updates and holds a built-in recovery solution by installing the concept of clustering.
Ease for beginners: Redhat is difficult for beginners usage since it is more of a CLI based system and doesn't; comparatively, Ubuntu is easy to use for beginners. Also, Ubuntu has a big community that readily helps its users; also, Ubuntu server will be a lot easier with prior exposure to Ubuntu Desktop.
In order to maintain package compatibility across applications, Red hat updates all the bugs hinted in the older versions and release an optimal error-free distribution in each release. When comparing with Ubuntu, the red hat is definitely more error less and every successive releases.
Redhat and Ubuntu Comparison Table
Below are the lists of points, describe the comparison between Redhat and Ubuntu:
| | | |
| --- | --- | --- |
| Basis of Comparison Between Redhat vs Ubuntu | RedHat | Ubuntu |
| Kernel Type | Linux | Linux |
| Available Languages | Multilingual | Multilingual |
| Availability | Open Source | Open Source |
| Based On | Redhat | Debian |
| Updates | Less frequently updated | Frequently Updated |
| Release Schedule | It varies for around 5 years | It varies for around 10 years |
| Default desktop | GNOME | GNOME |
 Conclusion
The OS opted depends on the need of the user; if the user expects stable, high performing server-based requisites, then the Red Hat is the best option to move for. In case the user sticks with a frequently updated, user-friendly GUI system, then comparatively, Ubuntu stands well. So clearly, the need of the user affects the choice of OS.
Recommended Articles
This has been a guide to the top differences between Redhat vs Ubuntu. Here we also discuss the Redhat vs Ubuntu key differences with infographics and comparison table. You may also have a look at the following articles –