Updated September 14, 2023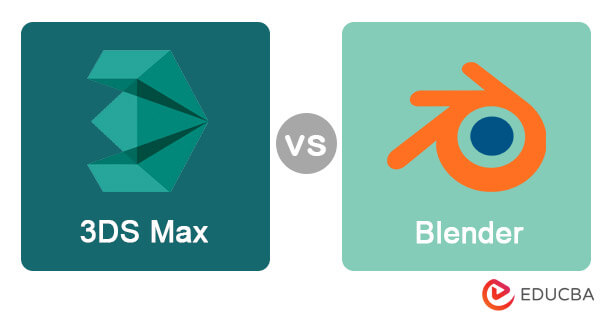 Differences Between  3DS Max and Blender
If you are working on a 3D game, you can choose from various Graphic Design Software. Picking the right software which nicely suits your needs is a challenging task to do, though. You would need this software to create the 3D assets that fill your gaming world. It can include everything from creatures to characters to objects such as fences, buildings, and even trash cans. A game with no assets is no less than empty placeholders lying around which are not being put to any good use. Here, in this 3DS Max vs Blender article, we are going to provide you with a comparison among the two most popular tools, 3DS Max vs Blender, based on features, available plans, pricing conditions, user satisfaction level as well as the scores and ratings given to each of them. Before deep diving into comparisons, let's first have a basic idea about the 3DS Max vs Blender.
Autodesk 3D Max, primarily known as 3D Studio Max, is a professional and popular 3D graphics program for creating models, animations, images, and games. It is a product of AutoDesk Media and Entertainment, with a flexible plugin-based architecture and modeling capabilities for Windows-based OS use. The main customers to use this software include game developers, architectural visualization studios, and TV commercial studios. Movie pre-visualization and effects are some other characteristics possessed by this tool.
Blender, on the other hand, is an open-source, professional tool used for 3D computer graphics. This software creates animated films, art, 3D prints based models, visual effects, interactive 3D applications, and video games.
3D max's features include shaders (those related to ambient occlusion and scattering), particle systems, dynamic simulation, radiosity, rendering, regular map creation, global illumination, customizable new icons, user interface, and its scripting language.
Features of blenders include rigging, UV unwrapping, 3D modeling, texturing, skinning, raster graphics editing, fluid, and smoke-based simulation, soft body simulation, particle simulation, animating, sculpting, match moving, animating, rendering, camera tracking, video editing, motion graphics, and compositing and game engine.
Head to Head Comparison Between AutoDesk 3DS Max vs Blender
Below Is The Top 12 Comparison Between 3DS Max vs Blender

Key Differences Between 3DS Max and Blender
Below is the list of points that describes the difference:
By using 3ds max, users can create various animations with a set of robust tools that helps them in managing and edit their energies. The users will be able to build computer animations and effects to be applied to films, broadcasts, computer games, forensic presentations, and medical illustrations, whereas, in the case of Blender, there is a render engine that is ray traced, known as Cycles that is a set of codes used to control the usage of lightning and materials and how the rendered image appears in 3D scenes. It provides more realistic lighting as it traces the path of light in the form of pixels of an image and thus stimulates its effects on other objects.
3D max has a Material editor dialog tool where users can create and edit materials and maps in the scenes. They are used to apply creative textures, simulative reflections, refractions, and other effects needed to assign materials to objects. In contrast, Blender has VFX software features, including a compositor wherein users can access multiple nodes to create camera effects, color grading, and vignettes. OpenEXR files can also be rendered, a high-definition image format used in movies like MIB and Harry Potter.
Autodesk software uses multiple animation controllers. The software stores the animation's fundamental values and procedural animation settings. It works in linking all of the objects together, whereas, in the case of a blender, cycles are used to provide rendering performance that makes use of the graphics card.
Not the CPU (known as GPU rendering), thereby speeding up the process to allow multiple number-crunching at once, which is again another way of performing 3D calculations for developing video games and rich 3D-based heavy applications.
Comparison Table Between 3DS Max vs Blender
Following is the Comparison:
The Basis of Comparison 
Blender
Autodesk 3ds MAX
Overview
An open-source tool for 3D creation and a complete suit for professional artists and small teams and enables them to build arts, visual effects, animated movies, 3D printed models, video games, and 3D applications
A 3D modeling and rendering software for animation and game designing, game development, designing visualization, thereby providing its users with the choice of creating and editing animations, environment, and visual effects
Price
Free
$185
Client Experience
98%
98%
Features

Production Path Tracer
Rendering
GPU Rendering
Animation Toolset
Game Creation
Visual Effects
Fast rigging
Masking
Camera Motion Tracking
Object Motion tracking
Compositing
Video editing
Modeling
Simulation
It can be integrated with pipelined tools
Customizable User Interface

3D animation and dynamics
Character Animation tools
Rigging tools
Particle flow effects
Motion Paths
3ds max fluids
Simulation data import
Graph creation controllers
Voxel and Heatmap skinning
Active Shade rendering
3D rendering
Arnold
Raytracer Renderer
Workflow, UI, and pipeline
Asset library
Scene converter
Customizable workspaces
Asset Packaging
Spline Workflows
MAX to LMV
Mesh and surface modeling
Hair- fur and data channel modifier
Texture assignment
Blended box map

Customer types
Freelancers, small to medium enterprises
Small, medium, large enterprises and freelancers
Languages it supports
English
English, German, Chinese, Indian, Japanese, Spanish, French, Russian, Italian, Dutch, Polish, Portuguese, Swedish, Turkish
OS supported
Mac, Windows, Linux, Web-based
Windows, Mac, web-based
Pricing type
Free, Monthly payment and annual subscription
Monthly payment and annual subscription
Support Types
Live support, support ticket, training
Live Support, Phone, Training, Ticket
Support email address

[email protected]

[email protected]

Client division
Division LLC, Fusion VFX Academy, Dwarf Animation Studio
Tata interactive systems, Riva Animation, VFX, and Digital Art Pvt. Ltd.
Alternatives to this tool

Adobe Illustrator CC
Inkscape
Autodesk SketchBook
Fatpaint
Snappa

Inkscape
DrawPad
SVG-edit
Fotor
PaintTool
Conclusion
Each enterprise has its own features and a unique set of characteristics. It's not always that the enterprise tool will be a better choice than its free counterpart, but vice versa is also not true. Analyze the requirement and the, need and feasibility, giving you a fairer idea of what your organization needs the most. I hope you liked this Blender vs 3DS MAX article. Stay tuned to our blog for more articles like these.
Recommended Article
We hope that this EDUCBA information on "3DS MAX vs Blender" was beneficial to you. You can view EDUCBA's recommended articles for more information.