Updated June 26, 2023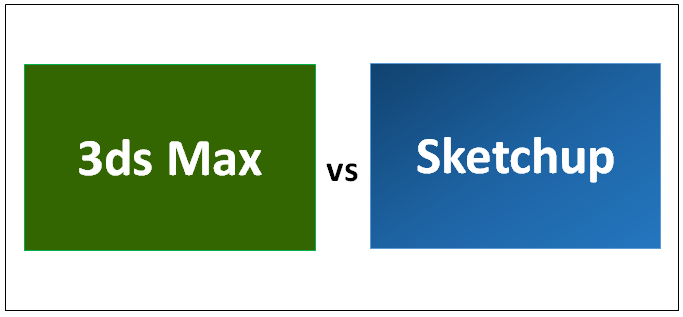 Difference Between 3ds Max and Sketchup
In the market, there are loads of software for graphics designing. Autodesk is the big name in the market for making Autocad and Inventor. 3dsmax software is used for graphic designing, which gives good performance and is mostly liked by many users. Another software Trimble developed named "Sketchup" or formerly "Google Sketchup" compares. These two are the big software in the market that has acquired an equal name as their ratings are also nearly identical. If we check the reviews of these two, they got an equal response and equal likes. It seems they are popular, and how people are used to this software. Some of the Big digital content creation applications, like 3dsmax vs Sketchup, which we will discuss here.
Head to Head Comparison between 3ds max and Sketchup (Infographics)
Below is the top 10 difference between 3ds Max vs Sketchup

Key Differences between 3ds Max and Sketchup
Both are popular choices in the market; let us discuss some of the major Differences:
Considering both ( 3ds Max vs Sketchup ), if we take a client's satisfaction result, we know that Sketchup gets 97% and 3ds Max gets 98%. 1% doesn't make much difference here; both seem equally popular among users.
Both ( 3ds Max vs Sketchup ) and this software are available on Windows and Mac, but 3ds Max is also available in some web-based programs.
Well, let us discuss the features of these two Applications.
Sketchup Features
It got options for 3d models and 2d models.
Other tools as Layer Manager.
Some tools like texture, lighting effects, and Animation.
Autodesk 3ds Max features
It has general animation tools and motion paths
Its particle flow effects are very good.
Marvelous features like 3d rendering, a Scene converter, an Asset library, a Hair and Fur modifier, and high DPI Display support.
It has mesh and surface modeling, allowing us to focus on the surface area of an object.
It has spline workflows in it, a blended box map, and a Physical camera as well.
Sketchup comes with two more software's namely "Simlab" and "Trimble". While 3ds Max comes with the products from Autodesk, namely "Unity", "Unreal", "Fusion 360", "Stingray".
Sketchup, a 3d UI software, is easy to use and handle compared to 3ds Max. The customers' review users like the UI of Sketchup and don't need don't for the startup.
If we encounter any errors or issues, Sketchup provides Live support online; it doesn't have many customer care centers, and its team does the job. In the case of 3ds Max, if the user comes up with an error or any issue, they provide live support, customer care support, email, contact support, and further live training.
In small-scale industries, these two products capture an equal amount of the market, but if we consider the enterprise or big-level industries, 3ds max is ahead.
Because of the black background of 3ds max, the objects we create are likely to look black and white, which means we can fill the color, but it doesn't look natural. In the case of Sketchup, everything looks natural. Whatever color we fill, and the way it looks is amazing.
3ds Max vs Sketchup Comparison Table
Below is the topmost Comparison between 3ds Max vs Sketchup :
| | | |
| --- | --- | --- |
| The basis Of Comparison  | 3ds Max | Sketchup |
| 1. | This software is designed and developed by the Auto desk. | Trimble is developing this software but formerly called Google Sketchup. |
| 2. | This software was launched in the year 2005. | This software was launched in the year 2000. |
| 3 | This software is cheaper than Sketchup; it costs nearly $185. | This software is expensive and costs nearly $695. |
| 4. | It allows users to create and edit visual effects, animations, and environments. | It allows the user to create and edit 2d and 3d concepts. |
| 5. |  It is also used in industries by business people and some freelancers. | It is used in industries by business people. |
| 6. | The languages available in this software are English, China, Germany, Indian, Japanese, Spain, France, Russia, Italy, Dutch, Portugal, Polish, Turkish, and Swedish. | Languages incorporated in this software are English and Swedish. |
| 7. | 3ds Max is available in different plans and offers based on the package of Autodesk. Its type depends on the money how much we pay. | Sketchup is available in three different versions, i.e. Sketchup Free, Sketchup for school, and Sketchup Pro. |
| 8. | This software is very large and has many features, giving users loads of editing options. | This application has bit fewer features than 3ds max, but the UI is still good. |
| 9. | If we consider the UI, then we get a black window here and all the editing tools. One can say that the 3d effect is good for editing. | Here the UI is like an actual 3d view. We feel like watching a video gives a good appearance for editing. |
| 10. | This is a bit harder to learn as you have to impart yourself with training by watching videos or joining any class nearby. | Learning this software is not a big deal; it's very easy software, and one can learn it within a day without going to classes or watching videos. |
Conclusion
After a long discussion and a great comparison of 3ds Max vs Sketchup, we conclude that If a user is interested in photorealistic renderings and animations, he/she should opt for 3ds Max. Even he can get a job in the entertainment industry as well.
On the other hand, if the user is interested in modeling, designing, and making new things, then he should go for Sketchup because he or she doesn't have to go for training or spend a lot of time learning.
The reality of today's world is that you shouldn't restrict yourself to a single software. It's you and your job; you must explore yourself with multiple software as much as possible.
Recommended Articles
This has guided the top difference between 3ds Max vs Sketchup. Here we also discuss the differences between infographics and comparison tables. You may also have a look at the following articles to learn more.