Updated May 8, 2023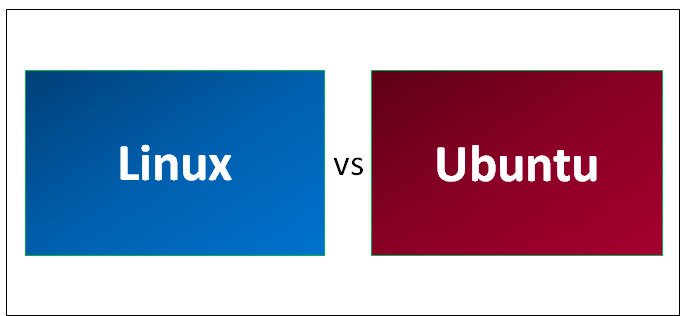 Differences Between Linux vs Ubuntu
Linux is an open-source and free software operating system built around the Linux kernel and was first released by Linux Torvalds on September 17, 1991. A family of operating systems uses 'Linux' to emphasize that many Linux distributions share the Linux kernel. Ubuntu is an open-source and freely available operating system, one of the Linux distributions. There are several flavors of Ubuntu in the markets, like Ubuntu desktop for personal computing, Ubuntu Server for servers, and Ubuntu core for a network of physical devices popularly known as the Internet of Things (IoT). Linux usage is very high among servers; the majority of web servers across the world run on a Linux-based operating system. Even though Windows and MAC-like operating systems are more popular than Linux for personal computing, Linux is still gaining popularity among the masses.
Ubuntu is based on the Linux kernel, one of the Linux distributions, a project started by South African Mark Shuttle Worth. Ubuntu is the most used type of Linux-based operating system in desktop installations. Ubuntu provides a friendly operating system and is stable enough to target the average computer user. It is easy to install, and simplicity is one of its key features. Linux kernel is the operating system's core, equivalent to an engine. Linux operating system is based on this kernel which Linus Torvalds crafted. With its default installation, Ubuntu has a variety of software available, like Firefox and several light games like chess and Sudoku.
Linux distributions include Fedora, Debian, and so on. The most popular of all, when it comes to desktop installation, is Ubuntu. Linux gained some height during the 1990s because of hobbyist developers. Although not user-friendly like Windows and MAC, it rarely crashes and is reliable.
Ubuntu, like all Linux-based operating systems, has very few virus problems and, most of the time, can be run without anti-virus software. Ubuntu requires specific privileges to install files, thus making it difficult for a virus to be loaded. This is the primary advantage provided by Ubuntu. Some of the versions of Linux, like Ubuntu, deactivate the file from the internet, which again helps block infections. Since an operating system like Ubuntu is an up-and-comer, writers with vile intentions are not yet spending enough time targeting Ubuntu users.
Linux is open-source; thus, most users can modify it, thus marking its range from phones to computers. User-friendly desktop environments, web browsers, and games helped increase Linux's popularity and make it more suitable and comfortable for home desktops. Another attractive feature of Linux is flexibility. If I don't like how something behaves, I can change it by replacing the software compatible with my needs.
Head-to-Head Comparison Between Linux vs Ubuntu (Infographics)
Below are the top 8 comparisons between Linux vs Ubuntu:

Key Differences Between Linux vs Ubuntu
Below is the list of points that explain the key difference between Linux vs Ubuntu:
Linux is a kernel that serves as the foundation for various operating system distributions, while Ubuntu is a specific distribution based on the Linux kernel.
Linux started its journey in 1991, whereas Ubuntu took off in 2004.
Linux was initially predominant among servers, making it hardly user-friendly among home and office users. With the advent of Ubuntu, which was available on desktop computers, it is now becoming more receptive and friendly to home and office users.
Several Linux distributions are available, like Fedora, Suse, Debian, and so on, whereas Ubuntu is one such desktop-based distribution based on the Linux kernel.
Linux is based on the Linux kernel, whereas Ubuntu is based on the Linux system and is one project or distribution.
Linux is secure, and most Linux distributions do not need an anti-virus to install, whereas Ubuntu, a desktop-based operating system, is super-secure among Linux distributions.
Some Linux distributions are not desktop-based and dominant among servers, whereas Ubuntu is desktop-based and more user-friendly than others.
Linux commands follow the rules and procedure that most Linux-based operating system follows, whereas Ubuntu does the same but has its style and list of features.
Navigation among Linux distributions can be challenging for home and office users, whereas Ubuntu is easy and intuitive for the end user.
Installing a free server-based Linux distribution can be intimidating for an end-user, whereas Ubuntu is being carried out with easier follow-up guidelines than server-based distributions.
We do not recommend a Linux-based operating system like Debian for beginners, but we suggest that Ubuntu is better suited for them.
Recommended Courses
Linux vs Ubuntu Comparison Table
Following is the comparison table of Linux vs Ubuntu:
| | | |
| --- | --- | --- |
| Basis For Comparison | Linux | Ubuntu |
| Distribution | Have several distributions based on the Linux kernel. | One of the distributions is based on the Linux kernel. |
| Ease of Use | Command-line is challenging for a home user. | Desktop-based Linux distribution, more user-friendly. |
| Variation | Server, embedded-based varieties are available. | Sever, core, and desktop-based varieties are available. |
| Robust | Unix-like architecture, which provides more robustness. | One of the fault-tolerant hardly crashes when any component misbehaves, making it robust. |
| Security | Outshine every other competitor when it comes to security. | One of the most secure operating systems. |
| Flexibility | Components are easily replaceable. | Being based on the Linux kernel makes it more flexible. |
| Reliability | Highly reliable make it more sale-worthy among business. | It won't bog down after months of usage, making it highly reliable |
| Forum Support | Linux forum support is receptive | Forum support still needs to be improved as compared to other Linux distributions. |
Conclusion
Linux kernel is the heart of Ubuntu. It has Linux-like architecture to interact with the computer's hardware. Ubuntu commands also follow the same standard that standard Linux distribution follows, but at the same time, Ubuntu has its own set of standards and a list of features. Ubuntu is a graphical user interface (GUI) based operating system, making it the strongest competitor with the Windows and Mac operating system. On top of the GUI, a security feature of Ubuntu is at par with other Linux distributions like Fedora, Debian, etc. Increasing awareness about Linux-based operating systems is mainly due to Ubuntu.
Linux had already existed for some time when Ubuntu was declared in 2004. Other Linux-based distributions were predominantly server-based and were not as user-friendly as Ubuntu, although sharing the same kernel. It was the first release of Ubuntu, making Linux reach far and wide among home and office users. You can install Linux systems on various types of hardware, such as computers, smartphones, laptops, etc. Its usage is prevalent in servers. Although it may not match MAC and Windows's popularity in the desktop market, it's still gaining popularity in this region, thanks to Ubuntu-like Linux distribution.
Recommended Articles
This has been a guide to Linux vs Ubuntu. Here we have discussed Linux vs Ubuntu head-to-head comparison, key differences, infographics, and comparison table. You may also look at the following article to learn more –