Updated March 3, 2023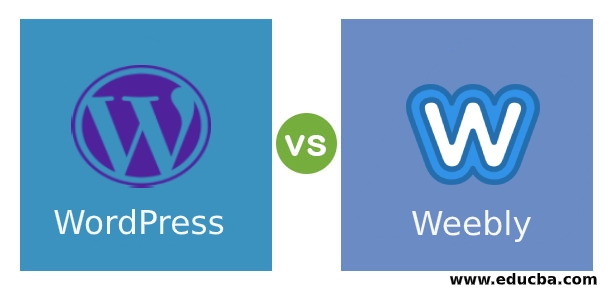 Differences Between WordPress vs Weebly
WordPress is an open-source content framework software. It is also referred to as the Blog software and content management system. It is used to exchange information through portals and for writing blogs. It was developed or created by the WordPress Foundation, and its founders are Matt Mullenweg and Mike Little. The first version of this was released in the year 2003, and the latest released version is 4.9 of WordPress. It was written in PHP and MySQL, also used for developing WordPress.
WordPress is free and can be easily used for writing blogs or developing compact websites. WordPress is using the template system for developing or creating websites and blogs. This template system is software that accommodates the different templates with a data model to give the output documents as expected, known as Template Processor. WordPress uses this processor in its web templating system, which helps in developing custom web pages for the user very easily.
WordPress architecture is based on a software design pattern named a Front Controller. This helps in navigating the web pages from one request to another when requested by the user or events that occurred on the website. WordPress has supported the operating systems Unix-like and windows.
WordPress has some features like themes, Plugins; Mobile supported applications. Themes can be customized in WordPress as per the requirement of the client or individual. It gives a different look to the content and folders. There are a lot of free themes available for WordPress. Plugins help WordPress to be used widely in terms of functionality and features. WordPress is used to develop native applications like for any platform for android as well as IOS.
Weebly is an online website, provides the platform to build applications or websites creatively. It is used for developing e-commerce applications, websites for small business programs. It was developed by three developers David Rusenko, Dan Veltri, Chris Fannin. The first version of this was released in the year 2006. It has been mostly written in PHP and JavaScript.
The students also use Weebly for creating websites, projects, and other portfolios. Weebly has many features for developing like simple drag and drop, multimedia features, blogging features, free and included hosting, and impactful designs.
Weebly is free and easy to use. Its drag and drop feature simply adds the videos, pictures, text by just dragging them to the location of your website. Many defined designs or themes have provided Weebly to select and develop; even customize themes can be used as per the requirement. Weebly also provides hosting, which makes life easier to get the website hosted by Weebly only and free of cost. You can choose your domain and set it to work.
Head to Head Comparison Between WordPress and Weebly (Infographics)
Below is the top 8 Difference between WordPress and Weebly:

Key Differences Between WordPress and Weebly
Let us discuss some of the major differences between WordPress and Weebly:
WordPress is more SEO friendly because of the availability of plugins on a large scale. Weebly, referred to as the website builder, is less SEO friendly as compared to WordPress.
In WordPress, updating the content means adding, deleting or editing is more complex as compared to Weebly. In Weebly, simply drag and drop will add and update the content and is far easier than WordPress.
In WordPress, it takes more time for developing and updating the website. In Weebly, it takes less time for creating a website.
WordPress has more features and functionalities. Drupal has fewer features and functionalities as compared to WordPress.
WordPress provides native mobile apps; mostly, they are not having any issues. Weebly is not used for developing native apps.
WordPress cannot provide good security because of the usage of many plugins, and plugins can expose a website to security-related issues. Weebly does not have any issues as it is a closed system, and only limited tools can work.
WordPress is costlier while purchasing the themes and plugins for a website. Weebly is less costly as compared to WordPress.
WordPress has great online forums and communities for providing support, and developers are more in number, whereas Weebly is behind in same compared to WordPress.
WordPress has more learning curves. Weebly required less time to learn about developing a website as compared to WordPress.
WordPress user interface is less user-friendly as compared to Weebly. Weebly's user interface is friendly.
WordPress and Weebly Comparison Table
Below are the lists of points, describe the comparisons between WordPress and Weebly.
| | | |
| --- | --- | --- |
| The Basis Of Comparison  | WordPress | Weebly |
| Open Source | WordPress is an open-source website builder. | Weebly is not an open-source website builder. |
| Architecture | WordPress has front controller architecture. | Weebly is not based on any architecture. |
| Programmed | WordPress was written in PHP and based on MySQL as well. | Weebly was written in PHP and JavaScript. |
| Extensive | WordPress is more extensive as compared to Weebly | Weebly is not extensive. |
| Complex | WordPress is Complex as compared to Weebly | Weebly is very simple. |
| Applications | WordPress has been used for good, scaled websites or applications. | Weebly is ideal for small business applications. |
| Customization | WordPress themes and plugins really help in better customization | Weebly provides fewer features for customization. |
| Website | WordPress.org | Weebly.com |
Conclusion
WordPress vs Weebly both are used as Website builders for developing websites. WordPress is also used for writing blogs. WordPress is most popular among developers as it is easy to use, understand, and, most importantly, easy to learn. WordPress is mainly used for developing websites to handle a good amount of data.
Weebly is mainly used for developing the website quickly and easily. As WordPress required a longer time to learn as compared to Weebly, Weebly is a good option to start with. Weebly is less costly and does not need to spend money on hosting as well as Weebly provides free hosting. If our requirement or fine with the simple and elegant website, we can use Weebly to create a website. The biggest plus point is that students can use it as it is easy to learn and use.
The above is the difference between WordPress vs Weebly that helps you to know about their basic things. Both WordPress vs Weebly has their own advantages and disadvantages. As per your requirements, you have to select and start developing the website.
Recommended Articles
This has been a guide to Differences Between WordPress vs Weebly. We have discussed WordPress vs Weebly head-to-head comparison, key differences, and infographics, and comparison table. You may also look at the following articles to learn more –