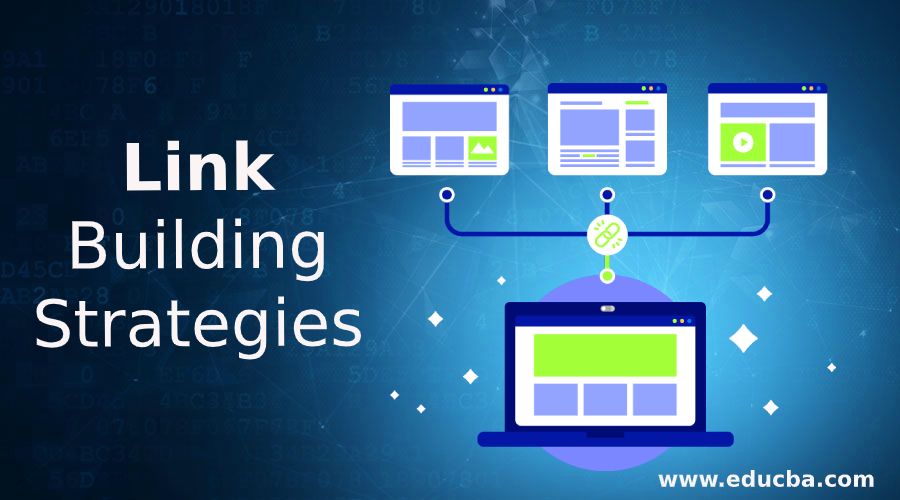 Introduction to Link Building Strategies
In academic and non-fictional books, you will find footnotes at the end of the page or references at the end of each chapter which gives a list of books, articles, or research papers the reader can further explore to get more information on a specific topic.
The more popular a book and its author, the more likely it is to be quoted by other writers in their books. In the pre-web era, a writer could get more popularity by references made by other writers apart from the publisher's initiative to promote the book.
The web is a large resource for publishing and sharing information and data. However, each website or portal may be focused on a set of topics or a single theme.  They cannot possibly be comprehensive in all respects, so to avoid plagiarism as well as provide as much information as possible, they give links to other websites or HTML pages which the reader can further explore to get more information.
Link building is part of search engine optimization (SEO) techniques used by marketers and webmasters to gain more traffic and visibility for the site.  However, it had gone into disrepute as several websites tried to get backlinks from irrelevant sites to score higher in Google page ranking. Until Google and other search engines made major changes in algorithms, mass link-building strategies worked well for most sites.
Although search engines now penalize sites for doing link-building strategies for SEO, it is still an effective strategy to build traffic provided it is done in the right manner.
Link Building Strategies for Websites
Here are six effective ways to make link-building boost your website's popularity and rankings.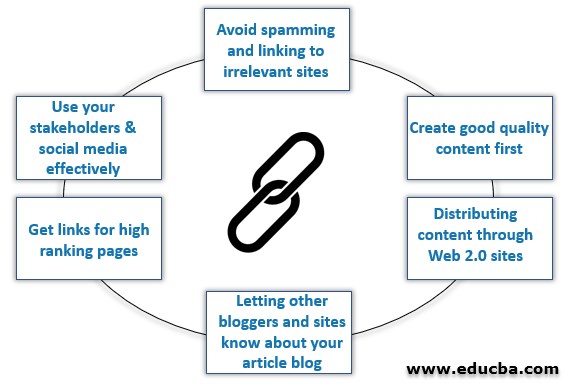 1. Avoid spamming and linking to irrelevant sites
Once, it was thought to have popular keywords and getting a backlink from as many sites as possible was sufficient to increase traffic to your page and boost your page rankings. Now markets and web administrators are dissuaded from getting as many link backs as possible from sites not related to your topic or theme.
Many sites may request you to put their link in your site in exchange for other sites, but it is better to check out the quality and trustworthiness of the site before entering into any such arrangement. They must also be related to the keywords or domains that you are operating in. For, eg., a football site may have nothing in common with a stockbroking firm's site but more in common with a famous footballer's fan page.  If your site gets backlinked from too many untrustworthy sites, that could lead to penalization by search engines and be indexed lower in page rankings.
Instead of a large number of untrustworthy sites or spammy sites, if the website gets the backlink from a few good quality sites, that will help in going higher in search engine rankings.
2. Create good quality content first
The most important prerequisite for getting quality backlinks is the quality of content on the website. As far as possible, the content should be original, and if at all there is a reference to another article or site, it should be supplemented with a hyperlink to the source. Avoid rewriting of content from other sites or blogs and passing it off as yours. The objective of net users is to find the best quality content on a particular topic, and hence search engines also try to provide the best service by displaying the most relevant, important content in the first few pages of web search. Content includes web articles, photographs, blogs images, videos, and infographics. Unless the content quality is good enough, not many people may be willing to consider linking to your site or article.
When it comes to content, what matters is relevance, timeliness, brevity, accuracy in data and analysis and a bit of humor. Of course, good language, simple sentences, and creative use of words can help the content go viral. All aspects –headlines, subheads, and body text should be so designed so as to appeal to an average reader.
Some marketers use the technique of Linkbait- which can be described as developing viral content that is aimed at attracting links from websites capable of providing link-back to your site.
According to experts, websites should devote 90% to developing good quality content and only 10% effort to link building strategies efforts. That underscores the importance of quality in driving traffic and search engine rankings. Don't be under the impression that mediocre content can be boosted with SEO strategies anymore.
As with any marketing initiative, before content is conceptualized, a buyer or consumer persona has to be formed in discussion with stakeholders- it should be a fictional set of characters with demographics, qualities, tastes, buying patterns, political and cultural attitudes. Once this framework is ready, the marketing communication content can be so conceptualized to attract their utmost interest based on their desires, needs and above all, an awareness of their pain points.
3. Distributing content through Web 2.0 sites
The simplest way to get more backlinks is by distributing your content by submitting them to Web 2.0 sites or PR Web 2.0 sites.  There are two methods by which web 2.0 sites distribute content- one is by creating RSS feeds that other sites can embed, or some have directory type listings that enable users to search the relevant site to see.
Some people comment on other blogs, web pages and place links to their website, but this is normally not possible in the comments section as URL postings are disabled.
Some websites have the facility to create links by way of guestbook signings, blog comments, forum signatures, and user profiles. It is better to avoid such back-linking as they are not seen in high esteem by search engines. They may penalize such links and dub them as spam.
4. Letting other bloggers and sites know about your article blog
The best method suggested by SEO experts to get across to a wider audience is by first contacting bloggers and websites which carry similar topics.  Here you introduce your blog or website, or article to a particular blogger/expert or website editor and draw his attention to your content.
Your message should be gentle or polite and doesn't sound very authoritative or strong. The message shouldn't be worded in such a way that your sole purpose is to get a backlink. According to Neil Patel of QuickSprout and an authority on content marketing, the success rate for email outreach can be up to 20% (i.e. 20 backlinks for 100 emails sent) provided the emails are sent in a polite and gentle way.
Most people include the link of the story in the first email itself, but it is better to not include the link. If their reply is positive and they indeed would like to use your link, then it is an opportunity to send the link and request them to be used on the site.
The objective of sending the mail should be to create a long-term relationship rather than just putting a link on their site.  The emails should not be lengthy ones describing the article or blog but just a few lines drawing the interest of the blogger or the website to your content. The ideal length of the email should be less than 200 words. Every day, we are prone to receive hundreds of different emails, so it is better to keep the emails short and very relevant.
If the content is an infographic, you can offer an embed code, or if it is a widget, the code can be offered to the blogger. It might help in better conversion if you can suggest which section or page on their site your link can be included. A brief description of the article may help them in placing them in the correct context in their story.
Make sure you target the right people for sending emails.  If the article is on marketing communications, ensure that it goes to people who handle this domain and not pure-play marketers or content creators, in which case your email may land in the trash.
5. Get links for high ranking pages
Your website gets a boost in page rankings depending upon the quality of backlinks. The quality can be gauged by the MozRank; the more popular the page, the higher the MozRank. When Google crawls websites, it looks for quality backlinks to your site in deciding your page rank. The best method to know the high ranking pages is to use the keywords most frequently used by you or relevant to your business and see which sites are ranking on top for such keywords in search engines. If you can get backlinks from such sites, it will improve the blog or site ranking tremendously.
There are some safeguards to be followed while developing links: Don't have links to a site which is already having a lot of links on a particular page.  If your links appear on a no-follow links page, search engines will not be able to follow them and get any benefit from SEO, but still, traffic to the site will improve. Google doesn't waste its resources in trying to index pages that have no-follow links. Some comments sections come with no-follow tags, and therefore any links posted there will be tracked by search engines.
It is useful to assess the domain authority of the sites that you want your links to be published, which can be done with Mozbar.
Google is against any sort of manipulative link building strategies for SEO gains or going up higher in PageRank.
6. Use your stakeholders & social media effectively
There are still differing arguments about whether link building strategies or social media promotion is more effective in getting more traffic. The power of Twitter, Facebook, Google + are visible across the world. Hence it makes sense when keyword optimization, quality content, link building method is supplemented with social media shares which will enhance rankings on search engines.  Google+ sharing helps a lot in improving rankings as it is owned by Google itself.
A website or blog which has lower traffic but more social media shares could end up coming on top in search pages as the social media has the power of multiplication.
Your own customers and clients are the most influencer community when it comes to sharing your content. Stakeholders in your venture can be given partnership badges that they can put on their site, which will link back to your site.
Conclusion – Link Building Strategies
Link building was originally thought to bring a large volume of visitors to the site and hence was done haphazardly or in a manipulated way, just as Search Engine Optimisation (SEO) meant the excessive use of keywords with importance given to its relevance in the article. For a while, it lost its relevance as search engines became more focussed on sifting good content with the link back from popular sites. However, the importance of link building method hasn't diminished yet and it can help in brand visibility, promotion, and reputation, according to SEO analysts.
Link building is an inexpensive way of boosting quality traffic to your site and unlike a banner ad or Google Adwords promotion which are time-bound, a link established on other websites are permanent continuously bringing new traffic to your site. With Google Analytics it is easier to verify the new traffic and how much of it gets converted into regular visitors.
Experts also suggest that branded keywords and anchor texts would be useful for promoting your brand and content as well. For eg. Apple Computing, Motorola Mobile Assist.  It is very important to assess the results of link-building strategies from time to time as it involves time, effort and money.
When done with proper care and planning, link building strategies can bring lasting benefits for the company and brand and increase your footprint on the web.
Recommended Articles
This has been a guide to discuss 6 six effective ways to make link-building strategies boost your website popularity and rankings. These are the following external link related to link-building strategies.