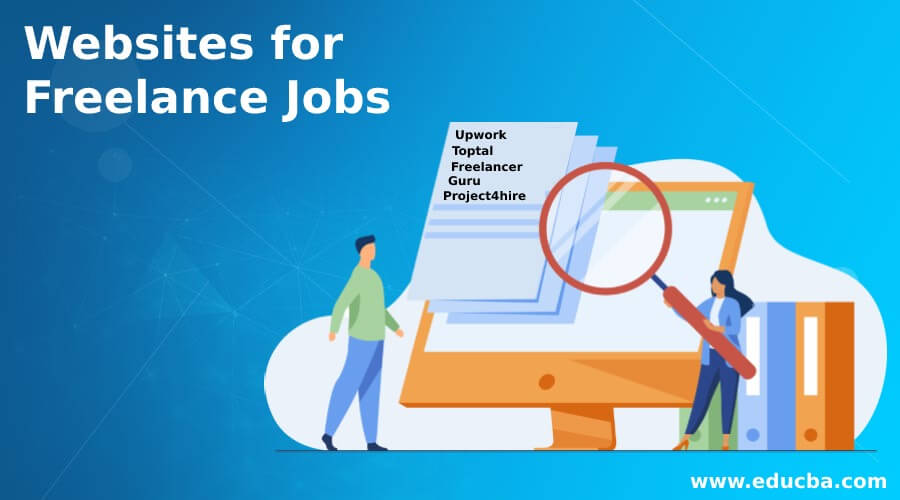 Introduction to Websites for Freelance Jobs
Let alone the world knows the tenacity you have in building the fortune for yourself and that too in your own nomadic way and style. You are a freebie with unlimited potentialities that could make all your dreams come true, yes! I am talking about the online freelance world where the people who would like to garnish their professional life with the additional income can see the unlimited potentialities. They are leasing the power of the online world to craft their professional career and see themselves growing.
Focus and determination are the key for these freelancers but more than that the facilities in a form of websites or platforms have made these professional freebies get their share of their pies. There are many professionally ordained websites that provide work opportunities, where freelancers are not only signing or registering but setting up their business base and their portfolio to display their skills and talent.
5 Most Popular Freelancing Websites
Some of these websites for freelance jobs are mentioned below:
1. Upwork
With more than 1.5 million users, Upwork has something everybody it allows the short term and long term projects, hourly, per-project work, for the experts and also for new entrants. Started as oDesk it is going on day by day, and after renamed as Upwork with the look, it has become a premium company for the corporate entities for finding the best talent from the world.
In Upwork the process is very easy, register yourself on the site, browse the respective categories and the projects on which you would like to work, and place the bid as instructed. The structured payment system is very secure, as Upwork takes advanced payment from the client and escrow it. Once the project is submitted as per the conditions and/or set milestones and approved by the client, which does not take so long, the payment is immediately deposited in your account after ten percent deduction as the fees. There are two types of escrow services, hourly and fixed, depending on the assignment criteria. You can also create your profile and display it. It is one of the most popular websites in which people are using it to get loads of work and get profited.
On February 18th this year, Upwork started its two new paid services
Upwork Pro
Upwork Enterprise
Upwork Pro services facilitated the companies to tap into the Upwork highly skilled and qualified workers. In this process, companies instead of scrolling through profiles of thousands of freelancers can select through prescreened workers. While Upwork enterprise makes the companies give access to developers, designers, writers, translators, lead generation specialists, etc at an annual subscription fee that can be customized to their needs. This tool allows us to generate own talent pool at scale and help the companies remain in compliance with the contractor classification laws.
2. Toptal
If you are a seasoned and talented freelancer, you can rely on Toptal which has a different approach and a way to get clients. You will be passed through the screening process that would give you instant access to the best clients' projects, with each providing fair rates. The best part is that it provides you a platform to meetups and technology events. As a freelancer, you will get an unlimited opportunity.
The toptal was started by a group of passionate engineers who are now working with top tech talents and companies from all over the world. It is one of the companies that Silicon Valley would never want to talk about much as it is not generating piles of money, but it does not require to generate that stuff. With such a demand, Toptal's is garnering 80 million dollar business and it started only in 2010.
Toptal way is different. It searches for highly talented and quality engineers who for whatever reason do not want to work that old conventional 9 to 5 job. They screen them to ensure there are highly talented and set a rate for their services. Meanwhile, they contact the companies and the job requirements, negotiate with them on the payments and make sure both are legitimate, they match them. This process reduces the time and hassle of the company and so of the freelancer. Toptal sends only 1.7 freelancers to choose before a contract is signed between the contractor and a client.
Toptal now works with thousands of engineers and 2000 of clients making the whole process risk free, fast and conducive for both hirer and hired. The first two weeks for clients are a trial period where the client can choose not to pay, but if toptal workers are not worthy, there is no way they can have grown so fast. Reference.
3. Freelancer
When you start looking for a job, the first name that would strike your mind is Freelancer. The company has gained immense popularity in terms of the potentialities it has generated for the freelancers. The company would allow you to compete with other freelancers to prove their skills. If you are confident and competitive you can display your skills, talents or capabilities to lure the clients and get more work.
The freelance.com was set up in 1996 and since then has been a major platform for both the employers and freelancers to generate their business and establish strong business relations. It is also a secure platform where the employees do not need to worry about the billing part as it is handled by the Freelancer. Its clients have only one commercial and contractual point of contact. It has a large base of consultants covering approximately 230,000 profiles. To reduce the administrative costs and improve the performance employers are constantly outsourcing administrative and billing support to the management of the service providers.
In 2015, Freelancer has also launched a marketplace for local workers like cleaners, cookers, plumbers, cooks or couriers who could provide their services as per the requirements and demand in their operational geographical area. To this provision, Freelancer.com's CEP Matt Barrie calls as the new local service business as Uber for Local Jobs; A locator can find his desired service provider through the location category which is geographically maintained. The business has seen an increase of 15 million registered users that covers 73,000 cities along with two billion people who have been bidding on jobs at a particular point in time.
The setup also facilitates the workers to populate the business offline, for instance, a photographer or a designer will be facilitated to shoot an event or a copywriter can also attend an office of a client and do the requisite task sitting in his/her office. This is yet another way for filling the extra hours and earning revenue, while others look at this opportunity to expand their horizons in local services. As far as payment is concerned, it follows a commission system with the local services. Ten percent of the transaction goes as fees to the freelancer.com, which had helped the company to upsurge in the growth potentials and currently has a market cap of 400 million dollars with post-sales of 26.7 million dollars.
4. Guru
Guru allows you to display your skills, and experience and provides many features that could help you in matching the requisite jobs. It also has a workroom area to facilitate your functional area and help you manage your work. Guru has a vast network of freelancers and companies who offer their services that match the needs, around 1.5 million freelancers who are always lookout for more and more projects.
Guru was started in 1998 and one of the first online freelance marketplace spearheading in generating business and freelancers from across the world. Any aspirant freelancer can sign up his/her account in Guru as an individual or a team and start bidding, on the projects that meet your criteria. If you are selected you can start working. You can provide an overview, highlight your portfolio, promote feedback and focus your attention on skills. It is a safe way to get the work as Guru creates agreements and requisite documents on behalf of the clients. However, Guru takes its commission for its services. Its fees depend on the type of membership chosen that range from 4.95 percent to 8.95 percent. For the free membership, it charges an 8.95 percent fee while a paid membership takes a lesser percentage. Some committed members can make a thousand of dollars per week. Freelancer at Guru can advertise his skills and talents directly to clients.
Clients post the jobs which freelancers search and apply. The projects can be of an hourly or flat fee basis. Clients in return provide evaluation reports and feedbacks. And as the payment of the project in which you are working on is escrow, you are assured of its release as soon you have successfully completed the project.
References: https://www.moneycrashers.com/
5. Project4hire
It has hundreds of project categories to make it easy for you to find the jobs that can suit your skills, without you having to scan through hundreds of posts. Project4hire is a great place for consultations, designers, coders, writers, and other professionals to get the requisite work and earn. This open freelance platform provides opportunities and a venue for you to seek freelancers to complete their projects. In a platform, companies looking for the right workers can scan the registered list of freelancers including their profile and other details.
In a profile, an employee can state about his area of expertise, hourly rate, the statistics of the total bids he has one or any other respective details. But no personal contact information is provided to ensure privacy and professionalism. No fees are charged by the clients for posting the projects, in fact, the company charges five percent commission, on the bid won by the freelancer, and this commission has to be paid before the client can provide the contact information. The client can also pay the fees on behalf of the freelancer, but he is not obliged. The company also provides provision for a client to post a permanent employment ad, where he would fix a salary which he is willing to pay. The client can choose the work from the freelancer's list. Bidding is not allowed in this system but only 10 dollar fee is charged for posting a permanent employment ad.
The list of websites for freelance jobs are though many, but these are among the most popular sites that can be recommended for the serious freelance worker. You have to go through these websites, register yourself and get going. But this does not mean you do not need to put effort. As a freelancer, you have to create your profile, follow the rules of and keep on applying as per the conditions laid down by the site. Many of the sites generate a report of all your work records and statistic of the work done by you which is publicly displayed so while working you also have to retain your image, display professionalism, and integrity in work. Complete the projects as desired by the clients and see your income soaring.