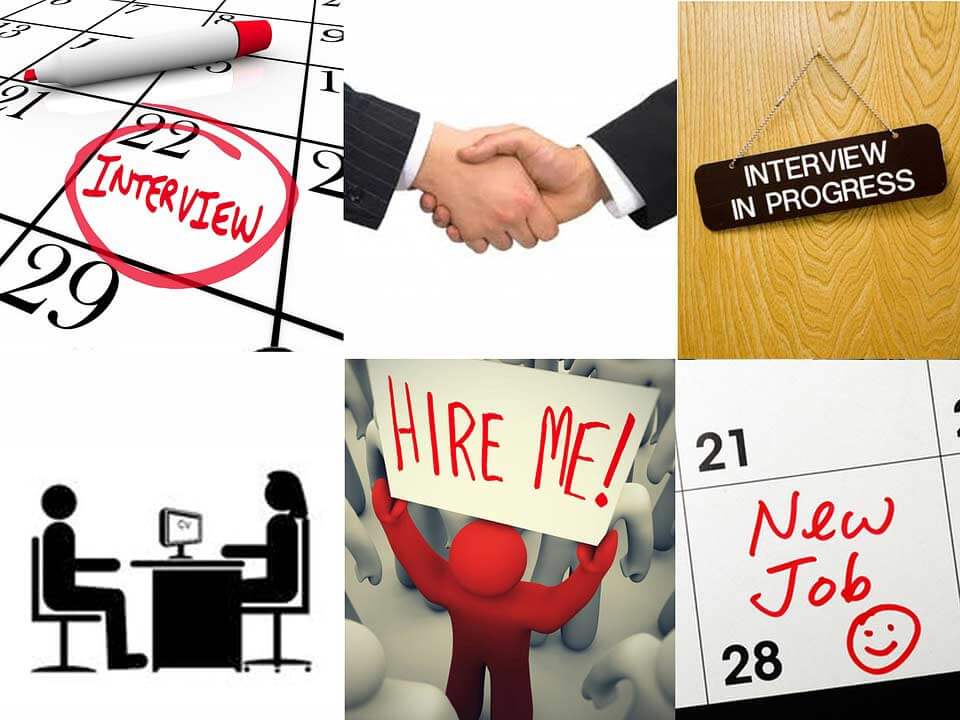 Image source: pixabay.com
Introduction to Job Interview Preparation
The following article provides an outline for Job Interview Preparation. An interview is a crucial process for every company that is in need to hire employees. It is an interactive process where both parties connect with each other's personalities. It is a two-way communication process where the employer asks questions from the candidate, not necessarily to get an answer but to judge their decisive power, speaking skills, personality, and attitude. Other traits like 'body language' speak a lot-even when the candidate tries to hide some of his habits, in order to get selected. Hence it becomes crucial for the candidate not to hide these traits and habits, but to reshape and transform your personality and attitude in a positive way. Similarly, the interview tries to connect with his interviewer positively and tries to ask him relevant questions about work.
An interview is necessary as an employer would never want to hire a candidate who is not deserving enough for that position. The interviewer properly judges the academic qualifications, skills, and experiences, and personality of the candidate and thereafter announces the result. Hence, it is necessary for the interviewee to thoroughly prepare for his job interview preparation tips. Nowadays there has been a lot of competition in terms of employment, which further makes the selection and hiring process more difficult. So in order to get selected for your dream job you have to work hard right from the start to the end. You have to work hard not only on your physical appearance, but your spoken skills, your attitude, and personality.
It is not easy for everyone to crack their dream job interviews easily. Sometimes even the most proficient people are rejected due to one reason or the other. This failure may reduce your confidence and positivity. You may feel incapable of achieving what you want. In this case, you have to work on your weaknesses and build them strong, instead of criticizing yourself.
Essential Tips for Job Interview Preparation
Below are the essential tips for Job Interview Preparation:
1. Do thorough research about the company's goals and missions
Do in depths research about the company using the internet. When you are going for an interview, it is necessary to know about the company and their missions. Get thorough information about the company, their mission statement, goals, annual report, published articles, blogs, challenges, products, and services etc. through the company's website. It is necessary to know about the company before attending an interview because you never know when the employer asks you some question related to their company, and you may not be able to speak proficiently about it and the interviewer may judge you as an uninterested person. It also helps you form some questions beforehand which you may ask your employer during the interview.
2. Organize your dress and footwear beforehand
Decide a simple and formal dress to be worn during the interview. For men, it is advised to wear a light colored shirt along with a dark-colored suit, shoes, and tie. Girls should wear a simple knee-length skirt suit with formal shoes. Avoid wearing heavy makeup. Use nude shades of makeup and nude lipstick. Don't wear perfume as it may deflect the attention of the interviewer. Flashy clothes, bright colors, jewelry, and accessories should be avoided as it does not reflect professionalism. Arrange your clothes and shoes at the night itself so as to save time in the morning and avoiding any haste. Iron your clothes efficiently and ensure they are lint and wrinkle-free. Cut your nails cleanly and girls may use a light shade of nail paint on nails.
3. Prepare your conversation skills
Practice how will you answer, questions and speak with your interviewer in front of the mirror or with a friend. See in the mirror itself whether you find your voice, accent, hand actions, and expressions appropriate. You can also record your voice and check for any faults in your spoken skills. While practicing with a friend tell them to ask you unexpected questions during the interview, just like an interviewer. After the job interview preparation tips practice, take feedback from your friend, ask about your flaws and qualities and work on your flaws accordingly.
4. Work on your stammering
If you have a habit of stumbling and stammering, it is essential to work on them beforehand. Prepare your vocal skills and practice 'speaking in a flow' regularly. You can also take personality development classes if self-practice is not benefiting you. Remember, the tone, deepness, accent, and attitude of voice have a big role to play during an interview. Hence, preparing for it is a must if you think you are a beginner in terms of speaking skills.
5. Work on your body language
Remember your actions speak a lot about your personality. Learn body language etiquettes like how to walk, sit, and move hands during an interview. Always receive your interviewer with a firm handshake and a smile on your face. Sit with a straight posture, keep your chest broadened and feet planted to the ground. Nod your head while listening but make sure not to do it excessively. Use your hand movements while explaining anything. Avoid sitting like a dummy as it reflects your nervousness. Always make eye contact with the interviewer while speaking which reflects your confidence. Ensure that you don't get too frank or too serious during the interview. Don't move your arms and legs too much during the interview. Avoid tacking your hair at the back of the ear, again and again, rubbing your nose, etc. Ensure that you leave the room in the same way you entered-say thank you, shake hands with your interviewer, gather your documents peacefully and leave at a moderate speed.
6. Learn new skills and attend workshops
Be aware of the competition that is prevailing in the market. In this competitive era, it is crucial that you possess something that others don't. Polish yourself, your personality, your speaking skills, your academic qualifications, and job skills. Attend various workshops on personality development, soft skills, cracking interviews, etc. Pursue courses which are popular nowadays like courses related to information technology and language courses. These things will enhance your experience and skills, and enhance your chances of getting selected for the job.
7. Spend time in reorganizing your CV and important documents
Reorganize your CV according to the job profile. Avoid including achievements that are too old. For example- don't include certificates of class 10th-12th co-curricular activities unless necessary. Ensure that you have the certification of every experience, skill or talent that you pen down on your CV. Arrange them appropriately in the file. It would be nice if you carry some extra copies of your CV, as it will help if there is a need for extra one. Don't forget to carry relevant and important documents. Enlist all the references proficiently with the name, designation, contact number, address, email, and other important details.
8. Ask important details of the interview from your caller
When you get a call for the interview, remember to show your enthusiasm regarding the opportunity. Talk with your interviewer in a positive tone with full confidence. Pen down all the important details like the name, title and department of the person whom you are meeting with; date and time of the interview; transportation available to the place etc. Ask if there is anything the interviewer wants you to bring to the meeting. Thank the caller for closing and confirm the date and time of the interview.
9. Prepare to answer the questions of your interviewer
Don't just go to an interview without preparing a strategy regarding how to explain and showcase your strengths and abilities in front of your interviewer. Remember you cannot impress your interviewer with random thoughts. Stories are easy to retain by the brain and interactive too. Prepare a story that covers all your abilities and skills. job interview preparation practice answering those questions which are most frequently asked during an interview for example-what are your strengths and weaknesses, how can you prove to be an asset for the company, what are your expectation from the company, etc. Show your interviewer your passion and commitment towards the job and convince them about your dedication.
It is important to explain your abilities and skills with confidence, but don't do it to an extreme. Avoid boasting off your skills and displaying your arrogance.
10. Develop questions to ask your interviewer
Prepare some questions that you'll ask your interviewer. If you don't ask any questions it may reflect that you are confused or uninterested to know about your job. Ask job interview preparation tips questions like what you will get to learn out of your job, what are the company's expectations from you, and what is the company's mission and future goals. Don't fear to ask questions from your interviewer. An interview is just an interactive session between the interviewer and interviewee, hence ask whatever you may think is crucial to know.
Other Important Things
Below are the other important things to do before the job Interview Preparation:
1. Search for the proper location of the company
While it is necessary to thoroughly search for the company and your job profile, it is also essential to keep a note of the location and modes of transport before the interview day. Search for the location on Google maps and search for all the modes of transport available. Select the most appropriate means of commuting. Keep a note of all the landmarks, ensure that you leave your home 30 minutes before the interview, so as to manage any time lag in reaching the venue.
2. Alter your social media accounts
Nowadays many companies also take into account the social networking profiles of the employees-especially for positions like social media marketing. Make sure to clear any obscene or inappropriate comments, pictures, blogs, videos that may not be liked by your employer or other superiors.
3. Improve your general knowledge
Go through the current affairs and general news and articles trending presently. Your interviewer may ask you something regarding present issues, news, etc. to know how active you are reading these issues. Also, if you are applying for a financial position, you must be aware of the financial issues persisting at present.
4. Have the right attitude
One should enhance the right attitude in their personality. Remember sometimes it is your attitude only-which makes you stand unique from the pool of candidates. There are some cases when the interviewer gets impressed with the attitude of the candidate and selects him/her only on the basis of it and sometimes the candidate may be rejected only because of the possession of the wrong attitude.
5. Keep your body healthy and take proper rest
Take proper sleep at night before the interview day, so that you wake up fresh and full of energy and enthusiasm. Have a nutritious breakfast in the morning which makes you attentive and energized. Never skip breakfast on the interview day as it will hamper your performance. Try exercising a little bit before leaving your home, as it increases the blood flow and boosts your potential to perform.
6. Be positive
Have positive thinking. Don't stress yourself unnecessarily. Negative thoughts affect the brain's confidence and strength. Hence be confident about whatever you do, whatever you say, and whatever the result you get. Remember every failure of yours teach you something new. some interview preparation tips Learn from the mistakes committed during the interview and work harder on them for the next time. Keep in mind that an interview is not a huge problem but only part of the selection process. Worrying unnecessarily about it will only hamper your performance and reduce your confidence.
These changes do not come at once but require some time and a lot of attention. It is not that you only need to impress your worker during the interview, but also in the later stages (after getting selected). Even if you clear the interview, there may be chances that you may be fired just because 'you displayed what you weren't'. Hence don't perform temporary changes in your personality, but something that remains with you forever, and influences people around you.
Recommended Articles
This is a guide to Job Interview Preparation. Here we discuss the introduction and essential tips for job interview preparation. You may also look at the following articles to learn more –