Updated April 21, 2023
"Effective Communication is 20 what you know and 80 how you feel about what you know." – Jim Rohn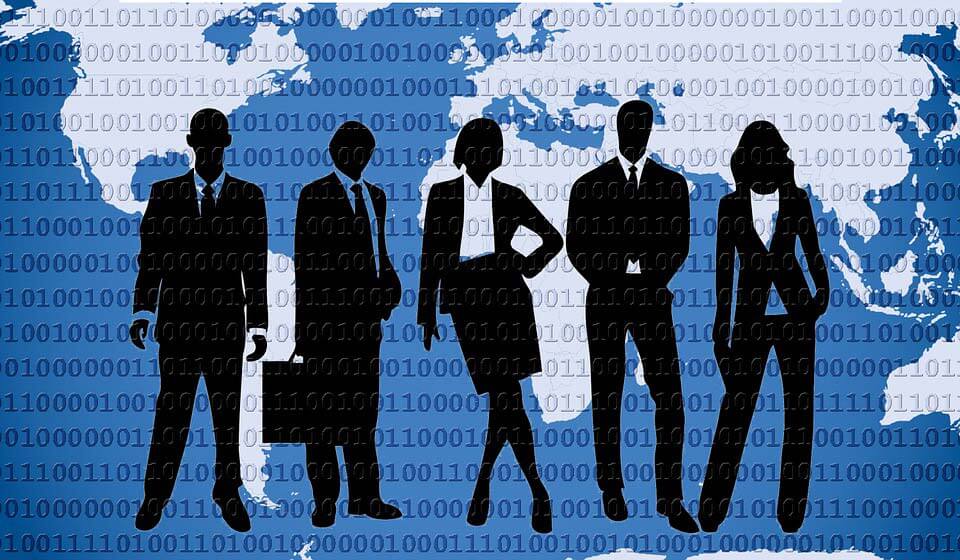 Business Communication Techniques – With the rise in technology and globalization of business, even the means of effective business communication are changing. With the growth and height of your business, you will certainly require practical as well as informative modes of business communication in your workplace.
Even the research indicates that the business organizations' way of handling employee communication is changing vitally to make business communication effective in the workplace.
Towers Watson's research in 2012 found that companies, which promote effective business communication strategies, frequently utilize one-on-one discussions and interactive media to stay connected with their team.
Effective business communication has been found to make such organizations 2.5 times more likely to be higher-performing firms. Considering the importance of effective business communication, we have developed the best ten ideas that promote it. Let's check them out:
Effective Business Communication:
1st Idea: Important Business Communications can be visualized
Let's find out which works best- telling or showing someone how things must be done.
Indeed the answer will show that visual learning is a very beneficial mode of business communication. In case when companies want to transfer lots of information, some of it will be lost once the business communication process is over.
To create the "sticky effect" on the receiver's mind, whether for customer demographics or sales cycles, the team will not use all the information in text pages. On the other hand, visuals will help in making sense of everything the team needs to imbibe.
Create infographics, which are a simple yet very attractive tool for presenting information pleasantly and pleasantly. You can easily create these using tools such as visuals and Infogram.
Infographics are a very proficient style for making facts and figures easily digestible and easy to refer back to.
For example, Warby Parker uses infographics as visuals to recap the entire year for their team. Warby Parker, a specialist in glass frame designs, makes its annual report using visual content, depicting important milestones of the year.
2nd Idea : Give and Take Constant Feedbacks
Feedback's not always negative; positive feedback focuses on improving and helps develop trust and cooperation. Employees and employers can improve their way of operating by using constructive feedback.
By being open to feedback, the company portrays an image of being open to constructive criticism, while welcoming input from everyone in the company.
This certainly helps in enhancing workplace efficiency as everyone will be doing their work in a better way. What is the best way to get feedback?
A survey is the simplest way to collect input or feedback from the staff on everything from work culture to employee new hiring process or job satisfaction.
Some well-known survey tools are SurveyMonkey (which helps send surveys) and 15 Five need 15 minutes from the employees to answer a few questions quickly.
In order to make the responses more honest and to get critical answers, the team members should be allowed to respond without disclosing their identities.
Example: ING Direct Canada empowers its employees by providing them with no job titles or offices.
Thus, leaders always try to remove barriers by welcoming any feedback or input from their team, allowing anyone to talk with anyone.
There is no policing of employees regarding the collaborative environment in which they operate, and they are free to provide positive or negative feedback.
3rd Idea: Stay Attentive
Many of us need clarification on listening and paying attention. Thus most employees overlook this easy and simple tip for effective business communication.
While speaking or interacting with someone, don't just listen to whatever they are saying- rather, be attentive and make mental notes.
If you get an email regarding any issue in the team, do not ignore it. Try searching for the case of the major details hidden in the message sent.
If one of the team members is airing some grievance, lend an ear, and make sure you pay attention to the issue.
4th Idea: Be Clear and Confident
"If you can't explain it simply, you don't understand it well enough."

-Albert Einstein
Clarity is the most important part of effective business communication. While writing or speaking, one should be clear about what one wants to convey. Since most meetings are short and time-bound, you should develop clarity about what you want to say and explain.
Confidence is another important element that needs to be clubbed with clarity. Most effective public speakers portray conviction through their style of speaking.
This is the best way of keeping people engaged in the conversation. This engaging technique requires self confidence along with better business communication skills.
You should demonstrate a willingness to share expertise as well as knowledge with the team members; this will certainly promote clarity and confidence within the work culture.
5th Idea: Create a Positive Culture
Culture is the people whom the organization hires and how the people are managed in the organization or how the team members communicate.
Therefore any organization that promotes healthy culture will actively share the culture with the team. Reinforcing a positive and supportive culture will develop a clear understanding between employees.
Culture is very tricky to define because it develops over time. With cultural diversity rising among organizations, managing culturally diverse employees is becoming a prerequisite for every organization.
By framing the practices and organizational values in written form, the firm can easily promote the culture within teams. This way, the team will effectively follow its leaders while implementing these practices.
One of the very effective ways of communicating a company's culture is by taking the help of a culture deck. Culture Decks are visuals created by organizations that employees can consult later on.
The creative aspect of culture decks makes them very easy to read as well as quite enjoyable stuff.
Some of the great features a culture deck should include are:
The mission of the organization
Type of people recruited and hired in an organization
Company values in detail
Challenges faced by the company
Managing styles and expectations of employees
For example, Netflix uses culture decks that were an instant hit in the business sector as they were entertaining, authentic, simple, clear, and forward-thinking.
The transparency shown in the culture decks helped strengthen the organization's credibility and portrayed Netflix as a great workplace.
6th Idea: Keep Announcements and News Posted Regularly
The larger the organization's size, the more difficult it is to convey the message to every employee of the organization. Effective methods or modes need to be developed to tackle this issue of business communication within organizations.
The staff should read the emails regularly; most of the team completely ignores the intranet messages. It is just the kitchen chatters that travel fast and reaches everyone in the company.
A very effective way of communicating with the entire team within the stipulated time is to post the news or updates regularly on the office displays. With technology by your side, you can put television screens to the best use by sharing updates that are related to:
Company's homepage or blog
Upcoming events or meetings
Favourite News feeds
Photos of the products, along with the team pictures
Sales Metrics and KPIs
New Job openings
New Recruitments or promotions in the organization
Promotional campaigns or videos
Rewards and Recognitions
Like ESPN, the Wall Street Journal, etc., keep informing the employees about the latest related stories of the industry or popular outlets. It will certainly keep the team updated about the latest news that is relevant to them.
7th Idea: Make Updated Company Announcements
What is the new product on the block, and when is the launch date? How much will the new product cost? What is the target date to do the rebranding launch for the product?
It hardly matters what is being sold by the company; what is important is that all the employees and managers should be on the same page concerning the organization's latest development.
In this case, informing all the company's team members or employees about the current position project or product roadmap is the best tool.
A roadmap, just like infographics, is a very handy visual tool that helps the employees to know in detail what is still required of them before anything new is to be launched.
Some of the distinguishing features of a roadmap include the following:
The product vision
Detailed product features
Metrics and KPIs
Timelines and Milestones
A roadmap is a very effective tool that contextually depicts every team member's role and end goal. It also develops a framework that helps every team member plan for a successful future for their product.
You can use a very effective and useful tool that assists in making roadmaps and that is called Aha! It is a very useful tool that can also update along with the progress made by the company.
8th Idea: Encourage Self-Reporting
The same theory applies in the case of organizations also. Everyone wants to be a leader and dislikes being controlled or managed. So stop micromanaging by giving the teams freedom and making them accountable for their work.
Every employee wants that their work is complete. Being a good manager, you should stop keeping a tab on the employee time and again. Rather give them the liberty to check in at the end of either every day or by the end of the week.
This is simple to accomplish through daily/weekly updates emails, short, rapid-fire meetings, or regular slacks. Self-reporting will make them responsible for their work without having the feeling of being controlled.
This will help promote effective business communications, as done by Shopify, which uses iDoneThis, for sending regular reminders in the form of emails to the teams.
<9th Idea: Adopt the H.O.T Approach
H.O.T. approach can be elaborated as follows:
H- Honest
O- Open
T- Two-way
This is a highly effective approach for promoting effective and positive business communication in organizations. Most successful organizations today implement a H.O.T. strategy to maintain higher business communication standards and achieve desirable results.
 Some of the fundamentals of this strategy are:
Always follow the path of truth-telling false information or divulging the facts will lead to worst situations if found out.
Maintaining transparency will encourage transparency among the team members.
Always adopt two-way communication by being receptive to the viewpoint of others to establish better business communication while providing others also to speak.
10th Idea: Handle the Conflicts Diplomatically
Creating a conflict is simple: just put a few people in a common room for seven hours every day, five days a week. It is for sure that after a week or so, the conflict would be created even in a very intellectual and compatible team. Before the disputes spoil the group communication, try to nip it in the bud.
Just tell the employees that the room door is always open, promote transparency, and ask them to contact the manager whenever any conflict or issue arises.
Create an open and comfortable environment around you where they feel comfortable coming to you and voicing their real concerns. The manager must resolve and find the solution to the issues with an open mind and without adopting a critical approach.
Communicating the company goals to the employees and asking them the right questions and attentively listening to their responses will help resolve disputes effectively.
First Image source: pixabay.com