Updated May 12, 2023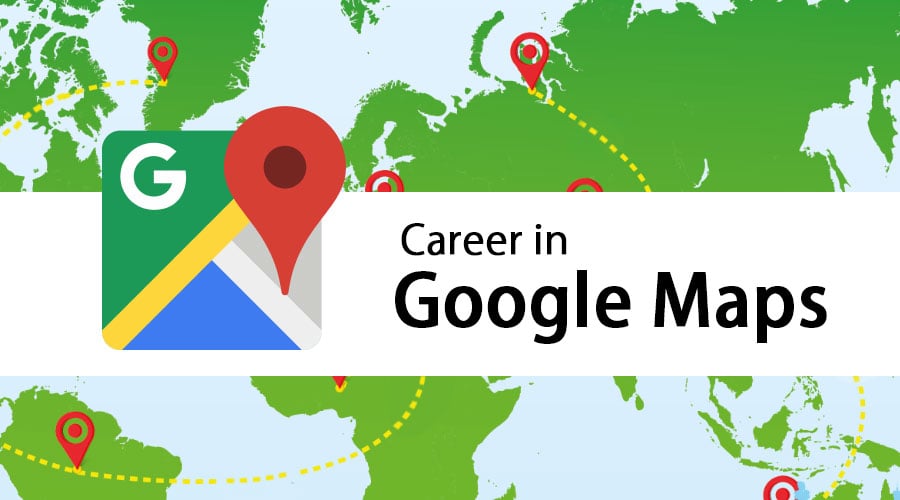 Introduction to Career in Google Maps
In this topic, we will learn about Career in Google Maps as Google Maps is one of the key inventions of Google where web mapping can be done very smartly, avoiding wrong tracking anytime. It can able to perform the imaginary position of a satellite, displaying a proper mapping view of the street, varieties angular opinions of almost 360 degrees of any street, provide details conditional view of real-time traffic, any planning of street for traveling through feet, car, bike, etc., and given one transparent view of public transportation.
Education Required for Career in Google Maps
Learning Google Maps, primarily designed for web mapping applications worldwide, can be challenging and requires dedicated effort. The candidate should have powerful knowledge, specifically in Geography and Mathematics. The candidate came from a general background with strong knowledge of Geography and is always in a strong position to get Google Maps knowledge. Ordinary engineering background people, especially those with software development experience, are also automatically preferable for gaining knowledge in Google Maps. As it provides critical information on the position of vehicles, streets, or satellites, people must be smarter and fully interested in that specific GPRS caching methodology.
Career Path in Google Maps
Google Maps knowledge is always preferable for starting your career, specifically in the GPRS zone, especially in industries requiring this information to maintain their current product. Suppose car manufacturing industries, satellite management, or any small Android or IOS app mainly designed to track the root for any reason. Choosing a career in Google Maps will always give you one of the key openings in the current industry. It will also help with getting a quick job with rapid learning on the same. There are varieties of extensions or customization available in Goole Maps; examples are given below:
Expert individuals can redesign Google Maps and develop specific features or APIs using JavaScript and XML, as these are the primary languages in which it is designed.
Open API for the Web: Google Maps is given one of the big utilities to the end-user by opening their API to the entire world. Now one developer can able to use Google API easily. If they have enough expertise in javascript and XML, they can implement Google API quickly in their application with the client's customization. Now Google is planning to move those APIs to the cloud and introduce some cost for the same, but adding some standard ads will make it free to access.
Open API for Android and IOS: It is one of the key requirements for providing this mapping information on the web and any smartphone which holds the Android app or IOS app. Google Maps has opened some APIs for Android and IOS in both environments.
Job Positions or Application Areas for Career in Google Maps
Various jobs are available for anyone experienced in Google Maps design and implementation for any web or mobile application. Google MAPS API is supported with all physical devices, and integration can be editable based on client requirements. Still, knowledge of some specific technology sometimes requires the same. Jobs are mainly in particular industries where people plan to develop or already develop their tracking system using Google Maps. So experience candidate in Google Maps is highly valuable.
Some key job roles are looks like below:
Web or Mobile app design for street view through Google Maps: It is one of its key features, where Google Maps can provide an almost 360-degree view of any specific street address. The candidate should have the expertise for integrating that API and introducing the same web or better to use in the mobile app.
Latitude identification using Mobile App: It is again one of Google Maps exciting features. They have introduced targeting latitude of any specific person using their mobile. The candidate should understand how latitude and longitude can be defined in Mathematics and integrate with Google Maps for this latitude feature.
Salary
Expertise in Google Maps offers an appealing opportunity to work directly with Google, given its close association with the company. In that case, salary has no bindings, as the Google salary package is always beautiful. It can vary from $50000 to $200000 annually based on varieties experiences. But all the expert candidates in Google Maps will not be able to crack Google directly, but a talented person will never be jobless. They will quickly get a job in those industries where tracking technology is one of their product's key features. Mobile app developers have numerous apps available in the market that integrate with Google Maps, offering exceptional products specifically designed for Android and iOS platforms. Their salary depends on the candidate's industry or company standard and experience. It could not have any definition yet.
Career Outlook in Google Maps
Google Maps is one of the most attractive things to learn for your career at any time; it can give you a proper job position in the current competitive market and a well as give you some absolute job satisfaction which is usually unavailable in this critical job environment. Candidates can move to Google MAPS with some additional knowledge of web page development, or Mobile app development will be added advantage for them always.
Conclusion
Google Maps is updating its features day by day very fast. Genuinely interested candidates should strive to gain knowledge daily by staying updated with the latest information if they want to build their career in the Google Maps field. Recently, Google Maps has introduced two key features, indoor Maps, where people can quickly identify themselves inside any shopping mall or museum kind of big hall. Distributing such new features to everyone interested in learning about them is crucial.
Recommended Articles
This has been a guide to Career in Google Maps. Here we have discussed the basic concept, education required, career path, job position, salary, and career outlook. You may also look at the following articles to learn more –