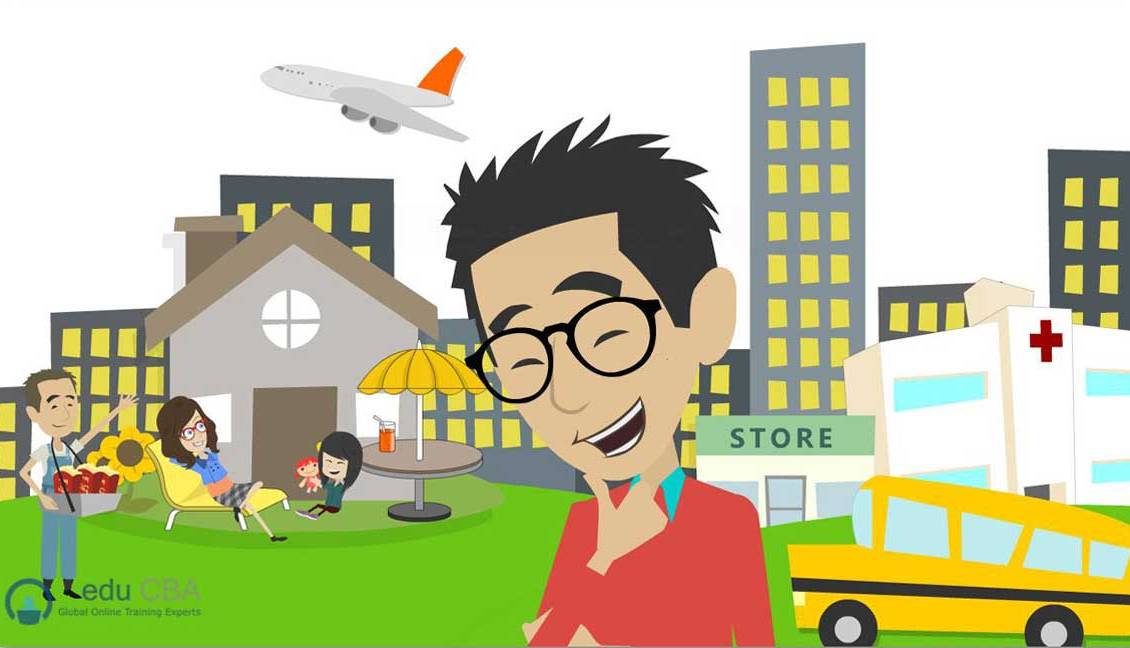 Industry Analysis In A Business Plan –
There are some decisions which require a lot of thinking. You cannot just adopt "Rocks, scissors and Paper" to come to a decision in such cases. Lot of thinking, analysis, debates are behind such important decisions. Same has been the situation of Luke and his wife Daisy. They have made this big decision of buying a new home. They have analyzed various areas and bungalows and buildings and flats. Finally, they have shortlisted a small home and are about to do the paperwork. Luke has analyzed all the positives of that area and the amenities that are nearby. Daisy, on the other hand, is having a hard time. Since it is the biggest decision for her after her marriage, she has been going nuts. She is having nightmares of all the possible things that can go wrong with the house and the new place.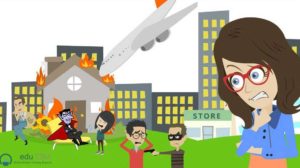 But nothing went wrong in their case and they are living happily in the new home. Luke, being an intelligent person had done some proper analysis and predictions. He made calculations of the possibilities and future prospects of that area and came with a positive outlook. Impressive right? But do you want to know a little secret?
Luke has some amazing analytical skills. So the question is that from where did he get such skills? Is it hereditary? Or has he developed it over time?
The answer is that Luke is a big fan of Warren Buffet. He has been investing in the stock market for a long time and has been doing pretty good as well. How do you think was he able to buy such a magnificent new home? Before investing in any company, he has done some good analysis of that sector and industry. He came up with his own industry analysis report and then decided on whether to invest in that sector or the company. So let's make use of Luke's analytical skills and get insights into what is industry analysis in a business plan and how to perform the same. So let's learn the basics of Industry analysis.
What is Industry Analysis In A Business Plan?
Before starting with the actual meaning of the industry analysis in a business plan, first, let's understand what an Industry is?
The industry is a collection of Competitors producing a similar product or offering similar services to their customers.
So the next question is, why are we studying that industry?
To make sure that if it is the best industry or the worst industry to enter into or invest into.
Industry analysis in a business plan is a tool which enables a company to understand its position relative to other companies that produce similar products or services like it. While taking into account the strategic planning process, a company has to specifically understand the forces at work in the overall industry. Thus the processes of Industry analysis in a business plan enables businesses to identify the threats and opportunities facing them. It helps them to focus their resources on developing unique capabilities which can help them to gain a competitive advantage.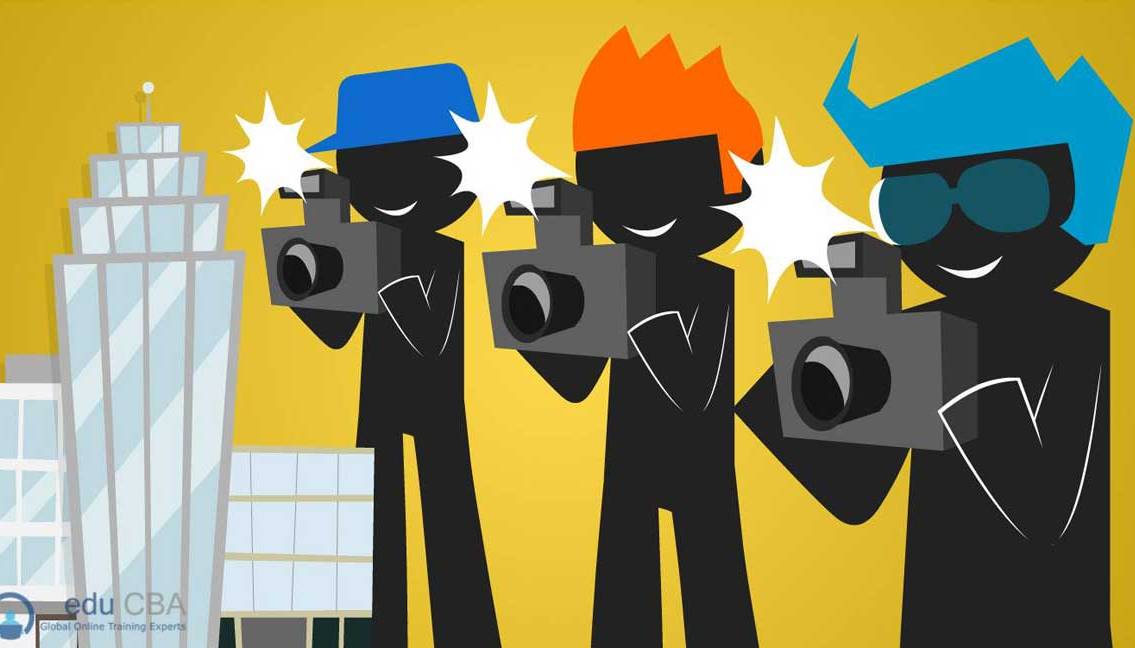 Understanding the industry and forecasting its future industry analysis trends and directions give the companies know they need to react and control their portion in the industry.
Major elements of Industry analysis in a Business plan
1. Understanding the underlying forces at work
Competition intensifying
Changing customers' needs and taste
Technological innovation
Globalization
Entry of major competitors
Sudden regulation or deregulation
2. Understanding the attractiveness of the industry
Whether it is feasible to enter or invest in that industry.
3. Understanding the critical industry analysis factors that determine success within the industry.
Importance of industry analysis in a business plan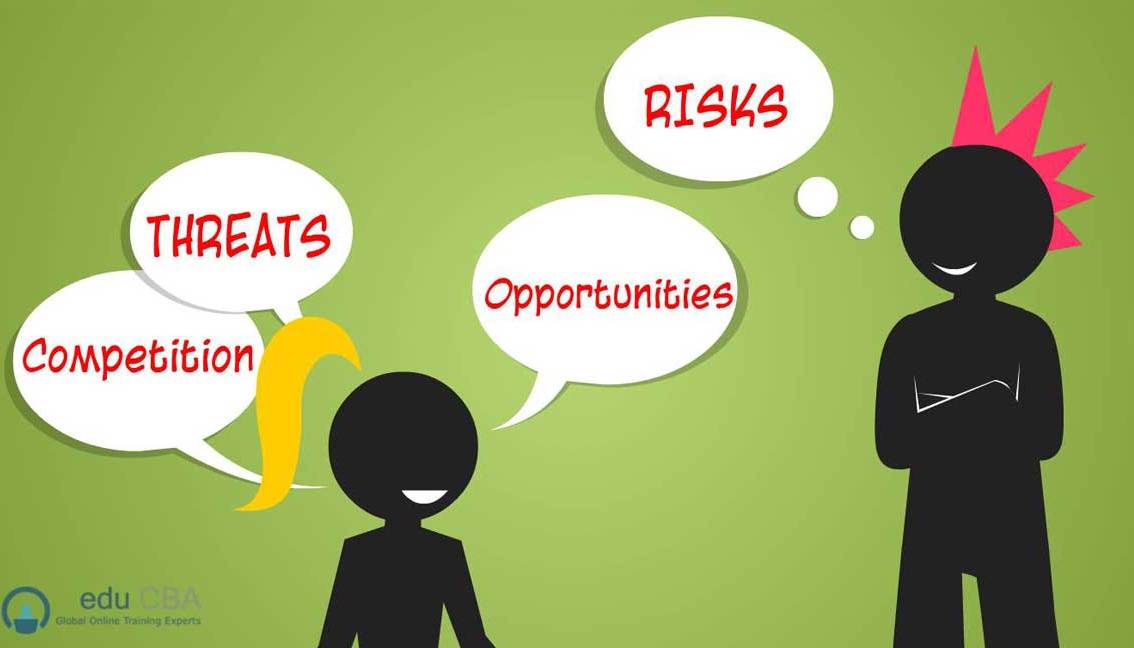 It is an important element of any investment that one wants to make.
In order to succeed in a specific industry, it is important for the business owners to analyze that industry.
Important for positioning the company in the niche market
Aids the companies to identify the potential opportunities.
Helps in analyzing the threats
Helps to analyze the fit between internal management preferences and the business environment.
Helps in mitigating the risk of entering an extremely competitive business.
Ways to perform Industry Analysis in a business plan
One way to perform the industry analysis in a business plan is to do the ratio analysis and comparisons. Ratios are calculated by dividing one business variable by another. By comparing the company ratio with that of the industry, a business owner can understand where his business stands in relation to the industry average.
Another important model for analyzing the industry was developed by Michael E. Porter, in his classic book Competitive Strategy: Techniques for Analyzing Industries and Competitors (1980). His model shows that rivalry among the firms in industry depends upon the following five forces: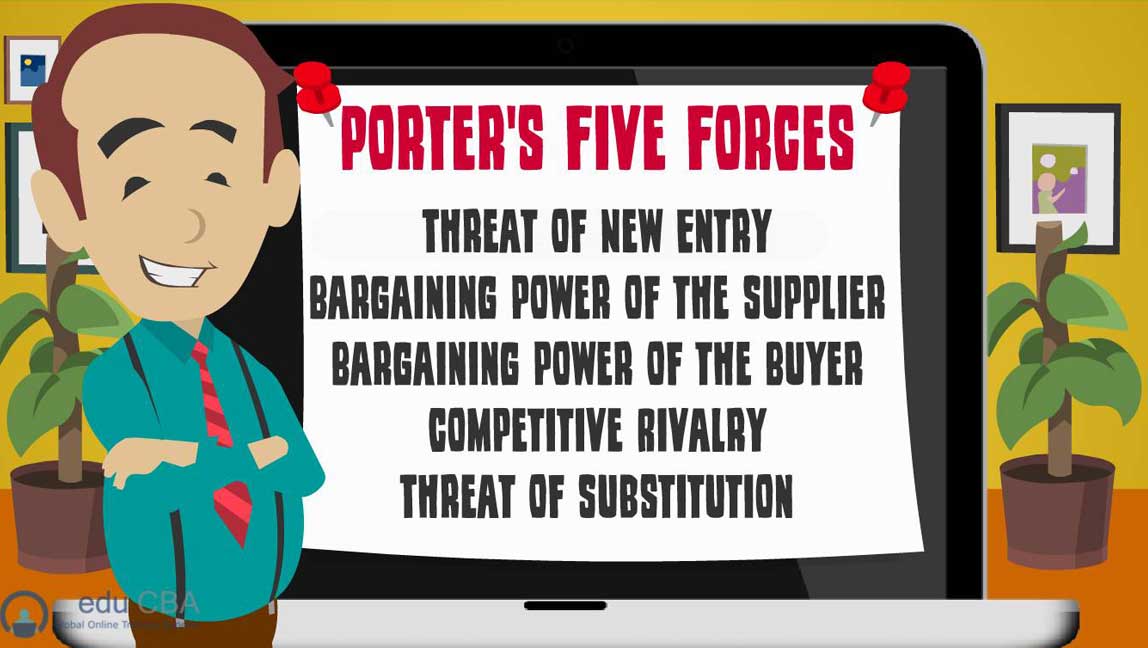 The threat of New Entry
The threat of new entrants refers to the threat that the new competitors pose to existing market players in the industry. Naturally, a profitable industry will attract more competitors who are looking to achieve profits. If the entry barriers in the industry are low, it may pose a great threat to the firms who are already competing in that market.
Bargaining power of the Supplier
Supplier power refers to the pressure that the suppliers can exert on businesses by raising prices or lowering quality or reducing product availability. Strong suppliers can pressurize the buyers by raising product prices or lowering product quality or reducing product availability. All of these things directly costs to the buyer.
Bargaining power of the Buyer
It refers to the pressure that the buyers can exert on businesses to provide them with higher quality products, better customer service, and at lower prices. Strong buyers can make the industry more competitive, thus decreasing the profit for the seller.
Competitive Rivalry
It is the extent to which the competitive firms within an industry can pressurize each other's, thus decreasing the profits. Fierce competition may lead to stealing of profits and market share within the competitors
Threat of Substitution
It is the availability of a substitute product which the buyers can find instead of a core selling product.
Industry Analysis in a Business plan in 3 Steps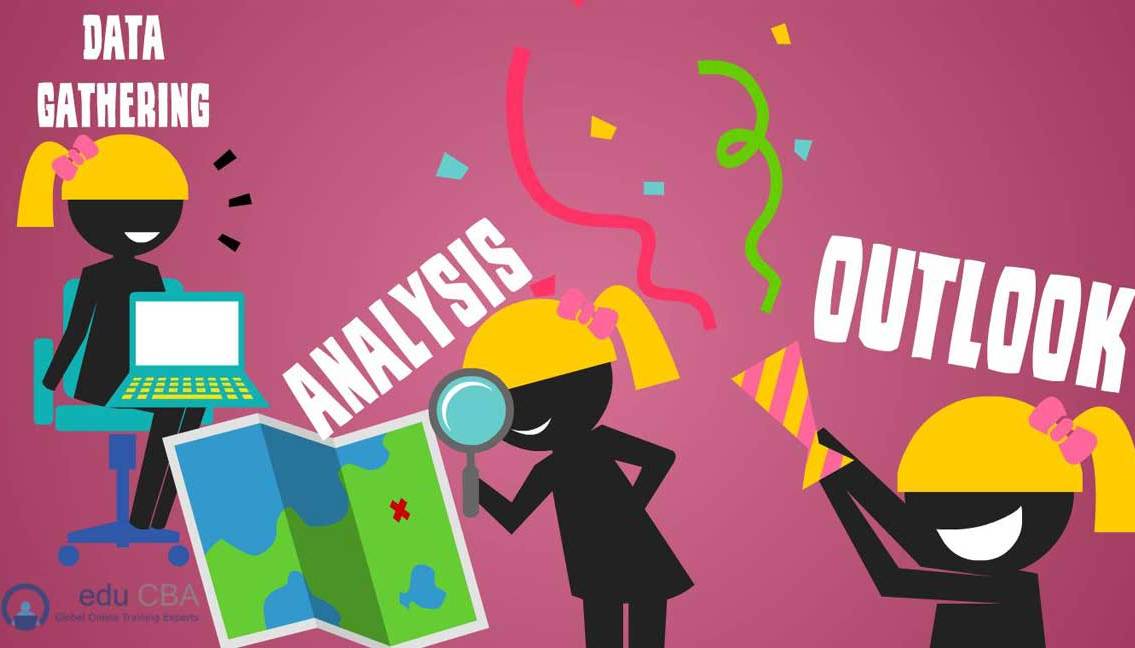 # Gathering the Data
The scope of the Research
Define the industry on which you would like to perform industry analysis research activities. It can be a broad industry or a niche industry.
Information sources that will help you conduct your industry analysis in a business plan are different for every business. For example, you might need local information which you can get from your local chamber of commerce. Or you might be able to find your industry analysis information at government websites. You can also find out government statistics, or other commercial statistics. You may have to conduct some internet searches to track down the information.
If the information is difficult to obtain at one particular site, you'll have to extrapolate information from different sources to get the information you're seeking. Start finding the data from government websites or any other websites where proper data is available. Check academic databases for any published information on your area of interest.
Compile relevant data using the sources above.
Start making notes of annual revenues, number of involved companies and workforce statistics of the desired industry. Find statistics about the size of the customer base and buying trends.
Note:
Become an Industry and Sector Analyst
Master financial analysis techniques. Analyze industry data effectively to forecast financials. Perform market research to assess market trends.
# Analysis
Description of the Industry
Start your industry analysis report with a general description of the industry. Include one or two paragraphs about the industry's size, products, and geographic concentration.
Include information about the company that you may want to research. Fill in all the general and relevant information about the company.
Understand the competitors and mention some statistical information about their revenues, profit etc. Describe their product range if possible. Mention about their strategies and forthcoming products.
Porters five forces analysis and PESTLE analysis for the industry and SWOT analysis of the company.
# Outlook
GDP and Inflation effects
Mention about how much the sector has been contributing to the GDP and how it has been affected by the rising inflation. Give a future outlook on the same.
Try to understand the answers for the following industry analysis questions.
What are the industry's foremost economic characteristics?
To answer this question, you can acquire data about the industry from governmental census data, or sites such as Yahoo.com, or other data-intensive web locations.
What kinds of competitive forces are industry members facing?
Understand the interrelationships among companies in the industry and their suppliers and buyers. Also, understand the ease of entry and exit from the industry.
What is the Change driving factors and their impacts?
Understand the industry analysis characteristics of industry unlike changing social trends, demographics, regulatory issues, etc
What do market positions rivals occupy?
Analyze who is strongly positioned and who is not? Many industry analysis websites list down the company's key competitors, and information about them. It can serve as a starting point for this question.
Finally, you should get a positive response to the following question.
Points to stress upon in Industry Analysis in a Business plan
1. Industry attractiveness and industry success factors
Industry attractiveness is the presence or absence of threats which is exhibited by the industry forces. Thus greater the threat posed by any of the industry force, less the attractiveness of the industry
Success factors are the elements which play a major role in determining whether a company will succeed or fail in the given industry. Some industry analysis examples of success factors are- quick response to market changes, product line, proper and fair prices, product quality, sales support, a good record for deliveries, financial position and a management team.
2. Analyzing the future of the industry or the Sector
One of the important factors in industry analysis in a business plan is analyzing the future of the sector. Here one can see how has the industry performed historically. Looking at the historical trends, one may analyze how the industry is expected to perform in the future.
However, the future of the sector is also affected by the major changes or regulations related to that industry. Hence it is important to analyze these factors for the same.
3. Demand and Supply Analysis
Demand and supply Analysis also plays a major role here. The following factors of demand and supply may affect the industry-
If demand increases and supply remains unchanged, it leads to a shortage of goods, thus prices increase.
If demand decreases and supply remains unchanged, it leads to surplus goods and decreases in price
Thus analyzing how the supply-demand trend of that industry is an important factor
4. Effect of inflation on the Industry
Inflation has affected major economies of the world over the past years. Hence analyzing the effect of inflation on a particular sector becomes extremely important in the industry analysis in a business plan process.
Savings, as well as investments, are affected by the high rate of inflation. Hence most of the companies are affected adversely due to lesser demand for their products and services.
5. Other important factors that can be considered for Industry Analysis in a business plan are
Size of the industry
What sectors does it include?
major players in this industry
Markets and customers
Estimated sales for the industry (This year? Last year? The year before?)
National/economic trends affecting the industry?
National/economic trends that might affect it in the future
Long-term outlook
Competitor analysis
The competitive advantage of the business
Target Market analysis
Market growth rate
Market profitability
Industry cost structure
Distribution channels
Success factors
Success Details
Considerations for Industry analysis in a business plan
While carrying out an industry analysis in a business plan, one should consider which of the forces poses the greatest threat to the business.
Companies may then undertake careful strategic planning to mitigate these threats.
Managers also should consider their own preferences and internal capabilities before undertaking a strategy developed from an industry analysis.
Business Cycle Analysis
Try to classify the industries according to their growth cycle, it may form an important part of your analysis.
The earnings in such industries are expected to be significantly above the average of all industries. –Growth stocks suffer less during a recession.
Such industries are least affected by recessions and economic adversity.
Such industries are most affected by recessions and economic adversity
Benefits of Industry Analysis in a Business plan
The benefits of completing an industry analysis in a business plan are that company managers gain a better understanding of their business in the industry.
This can allow companies to position themselves carefully in their industry.
Helps companies to better respond to any changes in the industry.
Example of Industry Analysis In A Business Plan (FMCG Sector)
So having known the importance of industry analysis in a business plan and ways to carry out industry analysis in a business plan, let us now analyze the Indian FMCG sector.
Industry overview
At present, the FMCG sector is the fourth largest sector in India with a market size of USD 13 Billion.
It is projected to grow to a USD 33 Billion industry by 2015 & USD 100 Billion industry by the year 2025.
Major Segments in the FMCG sector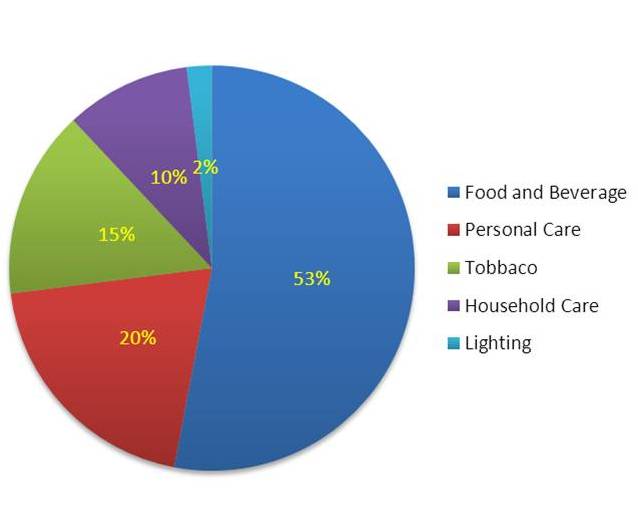 Major Players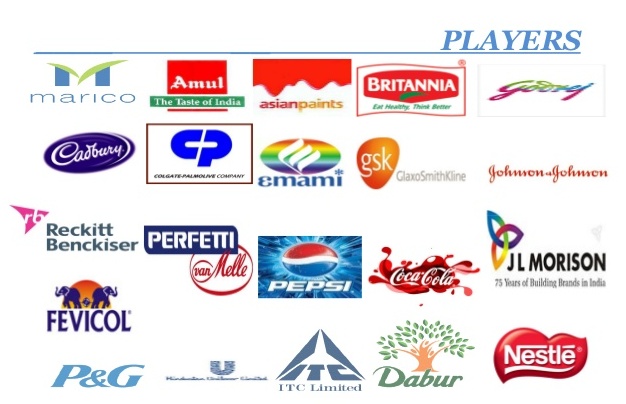 SWOT Analysis of FMCG Sector
1. Low operational costs
2. Established distribution networks in both urban and rural areas
3. Presence of well-known brands in the FMCG sector
1. The lower scope of investing in technology and achieving economies of scale, especially in small sectors
2. Low exports levels
3. Copy products narrow the scope of FMCG products in the rural and semi-urban market.
1. Rural market is mostly Untapped
2. The increased purchasing power of consumers
3. Large domestic market- a population of over one billion.
4. Export potential
1. Removal of import restrictions resulting in replacing of domestic brands
2. Tax and regulatory structure.
Porters five forces model for FMCG Sector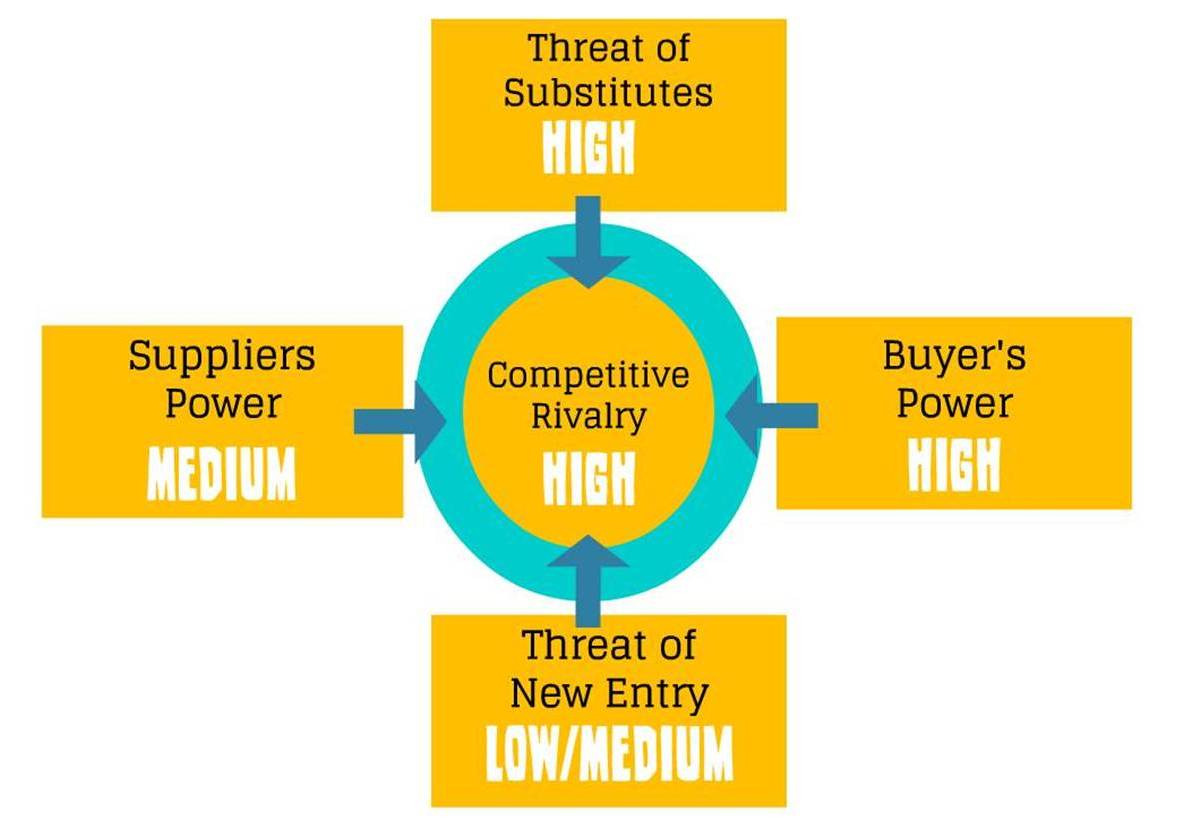 Key Challenges
Consolidation
Product innovation
Lifestyle products
Backward integration
Third party manufacturing
 Increased hiring from Tier 1 & 2 cities
Reducing carbon footprint
Opportunities in the Industry
Investment of up to 100 % foreign equity for NRI & overseas corporate bodies has been approved by the government.
India has allowed 51 % FDI in multi-brand retail
Relaxation of license rules
The above industry analysis of the Indian FMCG sector is extremely brief, just to give a gist of what industry analysis in a business plan should include. The actual industry analysis report may be quite exhaustive detailing all the important factors.
Hope that the above article has added some value to your learning. Share this with your friends and you may also comment on anything I may have missed including in this Industry Analysis in a business plan Article.
Related Articles:-
Here are some articles that will help you to get more detail about the Industry Analysis in a business plan so just go through the link.
Industry Analysis In a Business Plan Infographics
Learn the juice of this article in a minute through Industry Analysis Infographics