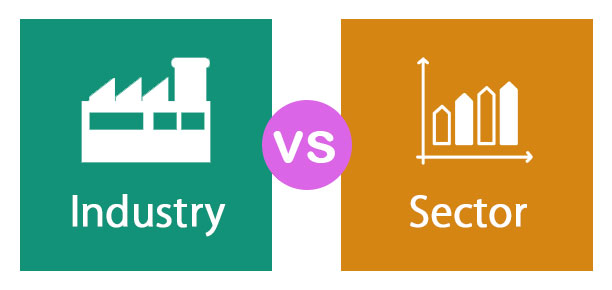 Difference Between Industry vs Sector
A sector is a broader term. Every economy of a country is divided into Sectors. A sector is a group of business or Industry which share the similar characteristics of business activities. In other words, a group of the industry that shares a similar classification of business activities is defined as Sector. The sector can be called as a subset of the Economy. The industry is a narrower term. A sector can be broken down into Industry. Let's first understand what Industry is? An answer to this is "Industry means a group of companies which are into the same/similar business or production of a same/similar product or providing same/similar kind of service". In simple words, Industry is formed by a group of companies or firms that perform similar business operations.
Sector
Broadly, a sector is broken down into 4 parts, which are described below:
Primary Sector: This sector includes all the activities which are linked to the earth, environment. For example, all the industries related to Agriculture, Forestry, quarrying, mining will come under the Primary Sector.
Secondary Sector: This sector comprised of manufacturing activity. All the activities which produce the product will come under this sector. For example, cotton is used for making clothes; steel is used for making a car, etc.
Territory Sector: This sector is the service sector. Industries that provide services will be covered under this sector, such as courier service, food delivery service, tax consultancy, medical services, etc.
Quaternary Sector: All the other activities like education, research, intellectual activities are grouped under this Sector.
Hence, it can be said that Sector gives you a bird's eye view of the economy. It is more general in nature. If a person wants to discuss more particular about the economy, then he/she should move to the next hierarchy that is INDUSTRY.
Industry
The industry is a more specific term. It gives you more specific results or analyses of the economy or market. There are many industries in the economy, and there is no such standard classification of Industry sectors. Examples of Industries are the Automotive Industry, Software Industry, Education Industry, Defense Industry, Leather Industry, Healthcare Industry, etc. When we are talking about the software industry, we are talking about the companies that are providing services related to software, like designing software, servicing software, etc. The industry is a subset of the Sector. Hence, the industry further breaks down the sector and provides a detailed grouping of the Economy.
Head to Head Comparison between Industry vs Sector (Infographics)
Below is the top 7 difference between Industry vs Sector:

Key Differences between Industry vs Sector
Let us discuss some of the major differences:
The sector is the industry group that shares common characteristics of business activities, whereas the Industry is a group of companies that are into similar business or products.
While analyzing, Sector gives the view on how the business activities in a sector are performing. With regards to Industry, it gives the view of how companies in a particular industry are performing.
The sector gives a very Broad view of the Economy whereas Industry gives a Narrow view of the Economy.
A sector is more general in nature, whereas an Industry is more specific in nature.
A sector is broken into four parts, i.e. Primary, Secondary, Territory, Quaternary, whereas Industry has no specific classification, a similar product or business of companies forms Industry.
An economy is a breakdown into Sectors and Sectors are further breakdown into Industry. Hence, the sector will come after the Economy and Industry come after Sector.
Industry vs Sector Comparison Table
Let's look at the top 7 Comparisons between Industry vs Sector.
| | | |
| --- | --- | --- |
| Basis of Comparison  | Sector | Industry |
| Meaning | A sector is the group of the industry that share common characteristics of business activities. | The industry is a group of companies which are into similar business or products. |
| Scope | Broader View | Narrower View |
| Classification | Four Classification | No such Classification |
| Hierarchy | Ranks second after Economy | Ranks after Sector |
| Analysis View | Generalized View | Specific View |
| Grouping | Group of Industry | Group of Companies |
| Example | Primary Sector includes all the business activities linked to the environment or earth, such as agriculture, fishery, mining, and energy. | Healthcare Industry, software industry, defense industry, construction industry, finance industry, |
Conclusion
Hence, it can be concluded from the above that there is a huge difference between the Industry vs Sector. Both are different with regards to the scope. The sector has a larger scope, whereas the industry has a restricted scope. The analyst uses both Industry vs Sector terms to analyze the Stock Market and economics of the country. Industry and Sector are two terms that are commonly used in the Economy. The Sectors and Industries can analyze the economy of any country. Many people think that Industry vs Sector is synonyms of each other. But this is not true. These terms cannot be used interchangeably. There is a huge difference in both terms.
Recommended Articles
This has been a guide to the top difference between Industry vs Sector. Here we also discuss the Industry vs Sector key differences with infographics and comparison table. You may also have a look at the following articles to learn more.