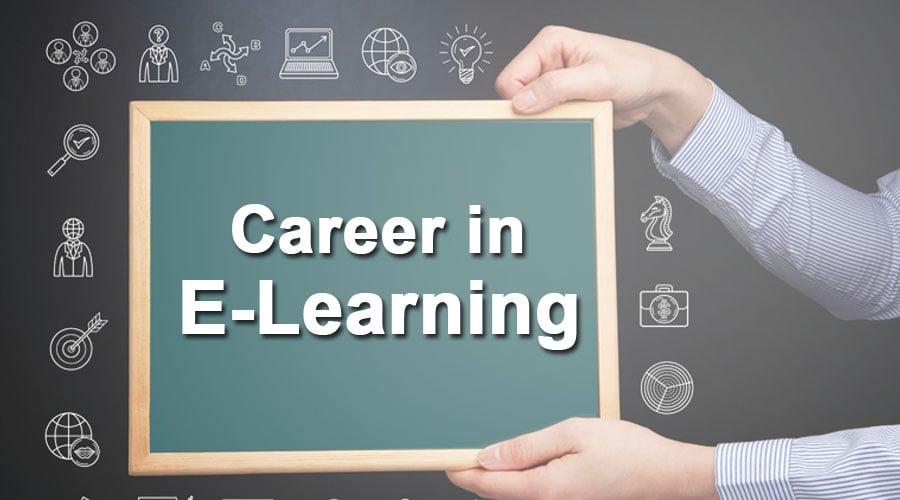 Career In E-Learning
In this 21st Century or Technology World, everything is available in one click thanks to the internet. One can order food, Cloths and even other commodities without much effort. So we can say that the internet makes our life easy. Apart from these benefits of the internet the major benefit rest with the students who rely on the internet for their study which we usually called E-learning.
It is really helpful for the students to understand the concepts of different subjects very easily through E-learning because many educators are available to teach the concept by different approaches. So we can say that E-learning also provides employment to the people.
E-learning provides the platform to the people who find their interest in teaching and want to pursue their career in e-learning.
Education Required For Career in E-Learning:
E-learning is the growing industry and Provide high employment. Any Person who has skills in any field can pursue this career. Education requirement is as follows:
A graduate or Post graduate degree is required in any field.
Good communication and Interaction skills.
Depth knowledge of a particular subject.
Computer knowledge is essential.
Career Path in E-Learning:
Teaching is a lifetime career, whether it is regular teaching or through the mode of internet. E-learning Provide a good career because it simply relies on the principle of "more experience more Benefits (perks)". So as far as the career path is concerned the experience and knowledge matter a lot in this field. Below are some points supported the above lines:
Students are now going dependent on the online platforms for the study instead of study from books.
Lots of online platforms are available at this time like Youtube, and other private Channels, tutoring platforms etc. for providing E-learning.
Aspirants of Government service examinations are increasing day by day and also other examinations like JEE, NEET, etc. are providing force to E-learning.
Job Positions or Application Areas For Career in E-Learning:
Here are some positions with respect to the experience in the industry.
| | |
| --- | --- |
| Experience | Position |
| 0-2 | Junior faculty |
| 2-4 | Assistant faculty |
| 4-6 | Senior faculty |
| 6-10 | Subject expert(Higher grade) |
Note: Above positions are subject to vary in different organizations.
So, one who wants to go in this particular field has many options because in this market there are many firms or companies who are providing employment in E-learning, some options for different application areas:
E-learning educator for competitive exams like UPSC, SSC and other central level examinations.
E-learning educator for examinations like JEE, NEET and other senior Secondary levels.
Online tutor for different subjects like Science, math, history, geography, etc. also comes under that.
Salary:
Teaching is a prestigious career with respect and dignity. And one who has an interest in teaching and feels teaching someone gives him internal happiness, I bet salary is not the issue for him because no one in this world pays for that happiness. By the way philosophy apart, salary is not the issue in the E-learning industry because much you have the experience much you will earn. So here are some details regarding the salary in different positions:
| | |
| --- | --- |
| Positions | Salary |
| Junior faculty | 15K to 20K |
| Assistant faculty | 25K to 30K |
| Senior faculty | 35K to 45K |
| Subject expert level | Above 50K |
Note: salary per month
Some organizations and firms provide salary as per lecture basis so it also leads salary approx. as above mention in a table.
Career outlook in E-learning:
E-learning is an emerging industry and scope is quite high in this particular field. Different surveys conducted by the government and other agencies also predict that online education platforms provide the flourishing market for different types of jobs. India which has the 2nd highest population in the world with internet access provides a strong base to the online education market.
There are many other parameters also which provide a boost to the E-learning market like government education policies for ex. OPEN LEARNING which is the latest development in the education field and provides education out of the walls of school and colleges and provides the base to E-learning.
India is no more an agrarian economy it is now a service sector economy due to high investment in Information and technology sector. E-learning is also a part of IT. So the future of E-learning is so bright ahead with no major up and downs.
Conclusion – Career In E-Learning
The progress of a country fully depends upon the population of that country and more the literate population high is the Progress. So the education sector in every country plays a very significant role because imparting knowledge or education is the process of nation-building. E-learning also Indirectly contributing to the nation building. So those who are the part of the E-learning industry and those who are thinking to be part of this industry are the welfare agents of the country. E-learning is producing IAS, IPS officers for the country, it also generating engineers, teachers, scientists who take our nation to Zenith.
So one should not think too much before coming in this field because no one knows the hidden talent in any person, and no any doubt is there regarding the scope of the field because the teacher is always regarded wherever he goes. E-learning is like a blessing for the students who have no money to spend on the school or colleges, they can easily empower themselves while sitting at home with a nominal charge of the internet. So be a cause of someone's empowerment and do join the E-learning as a career, if you feel that you have skills and knowledge, go ahead and make our nation literate and developed. Because your one initiative or step toward the betterment of education makes someone life and provide the track to the fluctuating education sector of our country. Your skills sure do the magic and we see the result in upcoming years because: Where there is will, there is a way.
Recommended Articles
This has been a guide to Career in E-Learning. Here we have discussed the Education, Career Path in E-Learning, Job Position, Salary and Career Outlook in E-Learning. You may also look at the following articles to learn more-