Updated July 4, 2023
What is a Global Recession?
A global recession is a prolonged period of economic downswing that affects countries worldwide and is typically marked by a sustained decline in employment, economic activity, trade, and investment in many nations.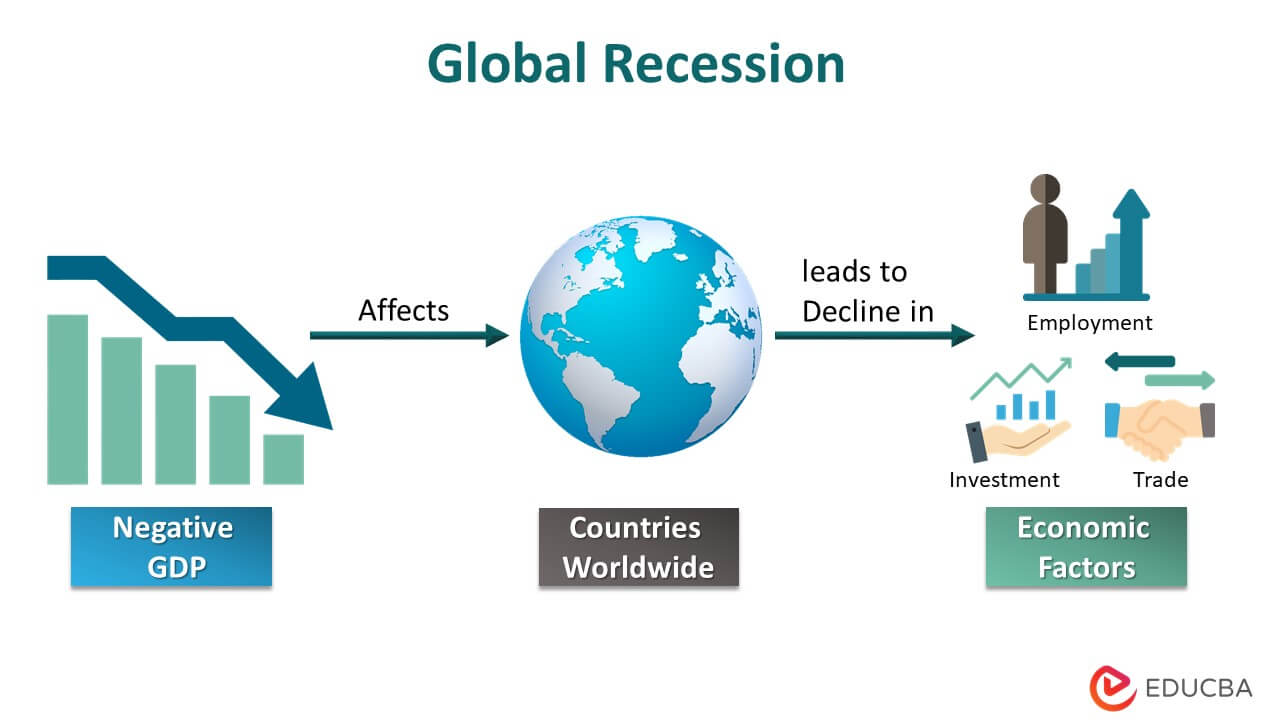 For example, The Great Recession was one of the most impactful recessions in the 21st century. The unemployment rate in the US rose to 10%. The real estate sector declined by 17.3%. It resulted in the decline of GDP, a decrease in wages, declined consumer spending, etc., across national economies throughout the world.
It is generally not considered that recessions have any positive utility, as they are associated with adverse economic outcomes. These include high unemployment, reduced business activity, and declining household wealth. However, some economists argue that recessions can serve a useful purpose by correcting imbalances in the economy, such as excessive debt or inflated asset prices. It also helps to set the stage for a more sustainable economic expansion in the future.
Key Highlights
A global recession is a period of economic downturn that affects multiple countries worldwide.
It happens when a large economy connected to other economies through trade relations goes through an economic recession, eventually affecting other countries.
It causes economic turmoil around the globe, affects countries' GDP, causes unemployment, leads to reduced consumer demand, and decreases the purchasing power of consumers.
The effect of recession may vary from country to country depending on the degree of trade relations in large economies.
Several macroeconomic indicators like fall in GDP, PPP (Purchasing Power Parity), capital flow, industrial flow, and per-capita consumption are kept in mind to analyze a global recession's impact.
Effects of Global Recession
Unemployment:
It forces business enterprises and government agencies to curtail their expenses.
It results in reduced wages and worker layoffs.
Low Consumer Spending:
Low wages and a high unemployment rate lead to low consumer spending.
It further slows down the economy and reduces cash flow in the market, causing a recession.
Drop in Output and Business Closure:
Due to the consumer's low spending power, the economy's output declines significantly.
It also leads to the closure of small businesses like MSEs.
Bankruptcy:
During a global recession, investors try to hold their money and withdraw their existing investments, which leads to a decline in the value of risky assets.
The declining value of risk-worthy assets results in loan defaults in massive amounts, which causes bankruptcies.
Examples of Global Recession
#1 Russo-Ukraine War
The Russo-Ukraine war has led the leading economies worldwide to slide into an energy crisis. It has resulted in high inflation rates too. It is projected that Italy, Germany and the UK's dependency on costly fuel will plunge them into a long period of recession.
#2 Covid-19 Pandemic
The covid-19 pandemic caused a global recession. During this time the world came to a standstill. The pandemic caused one year of economic slowdown, slowing the market's growth and consumer activity. The pandemic-induced recession resulted in an unstable market and the collapse of every financial sector.
History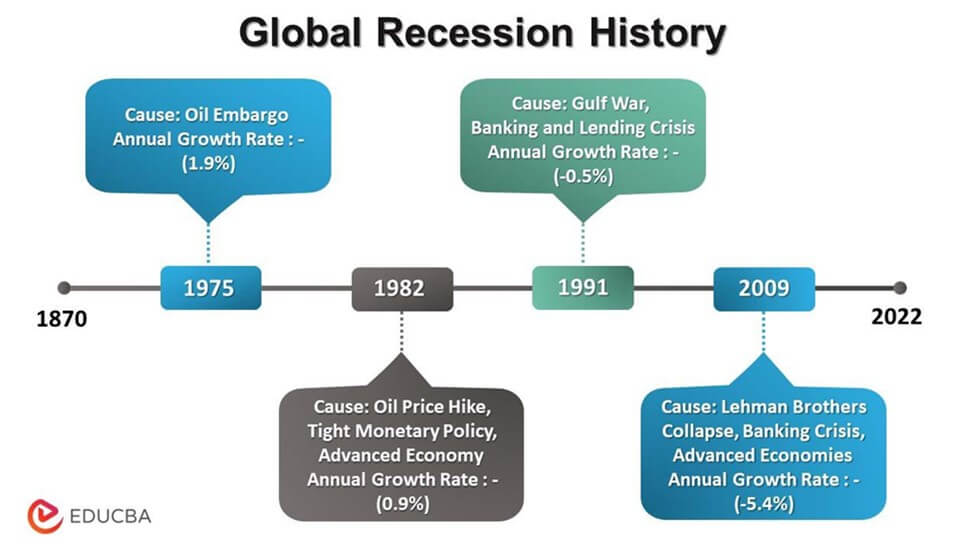 The global Recession of 1975 resulted from the oil crisis. The price of oil rose sharply, leading to an increased cost of living and a decreased purchasing power. It led to a reduction in demand for goods and services and a decrease in production.
Several factors, including the Persian Gulf War, high oil prices, and a weak U.S. dollar, caused the 1991 global recession. These factors led to a decrease in demand for goods and services and a decrease in production. The recession lasted for two years, from 1991 to 1993.
The 2009 global recession happened because of the financial crisis that began in 2007. This crisis led to a decrease in demand for goods and services and a reduction in production. The Recession lasted for two years, from 2009 to 2011.
Causes of Global Recession
Loss of Confidence in Investments:
The loss of confidence in consumers to buy and invest leads to less spending in the economy.
This disrupts the cash flow and results in a recession.
Housing Crisis:
The decline in house prices can result in the reduced value of the houses. House owners cannot pay their loan EMIs or take a further mortgage on their homes.
It results in foreclosure. Money spent in the real estate sector by the banks gets eventually lost. Failure of the housing market was one of the prime reasons for the Great Recession of 2007-2009.
Deflation:
Deflation reduces the prices of the commodities and services in the market.
This encourages consumers to wait longer for further decreases. Hence, it is bad for a nation's economy.
Post-war Slowdown:
War disrupts economic activities across the country, which causes a recession in the economy.
For example, World War II caused the 1945 recession, and the Korean War of 1953 slowed down the U.S. economy. Presently Russia-Ukraine war is causing economic disruption globally.
Advantages of Global Recession
Increased Efficiency
During a recession, businesses cut costs to survive. It can lead to streamlining operations and implementing more efficient processes. It can help improve the economy's overall productivity and competitiveness in the long run.
Economic slowdown allows businesses to cut off their expenses and excess inventory and remain effective during hard times.
Balanced Costs
It can help to balance costs across the economy. During economic growth, specific sectors or industries may become overheated, leading to inflated costs and prices.
A recession can bring these costs back down to more realistic levels, helping to create a more balanced and sustainable economic environment.
Changed Mindset
It changes the mindset of people toward savings and investment.
People in the economy prepare themselves by evaluating their investment strategy.
Final Thoughts
Global recession affects every nation's economy. Saving money during a recession does not help. Instead, investing for the long term can help any individual overcome the effects of a recession. Every crisis comes with the opportunity for future betterment. The global downturn also offers significant economic corrections, providing future financial robustness. The key to being safe during the recession is diversifying investments in different sectors.
Frequently Asked Questions (FAQs)
Q1. How long can a global recession last?
Answer: Since World War II, the typical length of a recession can be 10- 15 months. The 2007-09 recession lasted 18 months, whereas covid-19 induced Recession lasted 4-5 months.
Q2. Is the 2023 recession coming?
Answer: There is no definitive answer to whether or not a recession is coming in 2023. However, several factors suggest that a recession may occur. These factors include the end of the Fed's quantitative easing program, rising interest rates, and slowing economic growth. While there is no guarantee that a recession will occur, it is essential to prepare for the possibility.
Q3. What happens during a global recession?
Answer: During a global recession, the economy experiences a prolonged and widespread decline in economic activity. It can manifest in various ways. As businesses struggle and cut back on their operations, they may lay off workers or go bankrupt, leading to increased unemployment. As people lose their jobs or face economic uncertainty, they may cut back on their spending, leading to a decline in consumer demand.
A global recession can also lead to a decline in international trade as countries experience economic downturns and may be less willing or able to import and export goods and services. The negative impacts of a global recession can be far-reaching and can take years to recover from, affecting businesses, workers, and society as a whole.
Q4. What not to do during a recession?
Answer: You must not panic. While it's natural to feel worried during a recession, remember to stay calm and focused because recessions don't last long. You must avoid making rash decisions that you may regret later. Take the time to carefully consider your options and make a plan before taking any significant financial actions. If you have outstanding debts, it's essential to keep up with your payments as much as possible. Failing to do so can have serious negative consequences for your credit score and financial well-being. Try to continue saving for retirement and other important financial milestones to meet your long-term financial goals.
Q5. How to prepare for the next Global Recession?
Answer: You should consider building up your emergency fund. Having at least three to six months' worth of living expenses saved in a liquid and easily accessible account can help you weather a global recession. A recession can impact different sectors and industries differently, so spreading out your risk can help protect your portfolio. Consider a mix of stocks, bonds, and other assets to create a more balanced portfolio. It's also a good idea to pay off any outstanding debts before a recession. You may need to pivot to a new industry or job during a recession. Therefore, make sure you continuously learn and update your skills to be competitive in the job market.
Q6. When was the last global recession?
Answer: The last global recession happened due to the covid-19 pandemic (that started in February 2020). The pandemic caused lockdowns in significant countries, which caused significant disruptions in the economy. It affected the economic productivity of almost every country.
Q7. Is cash good in a recession?
Answer: While it's true that cash is king during a recession, that doesn't necessarily mean that it's always the best option. Before hunkering down with a pile of cash in your hands, there are a few things to consider. For one, cash can lose value during a recession if inflation is high. Your purchasing power decreases over time, which can be frustrating if you try to save up for something big.
Recommended Articles
The main objective of this article was to discuss different aspects of the global Recession and its impact on the world's economy. Some of the recommended articles on this topic are.