Updated July 27, 2023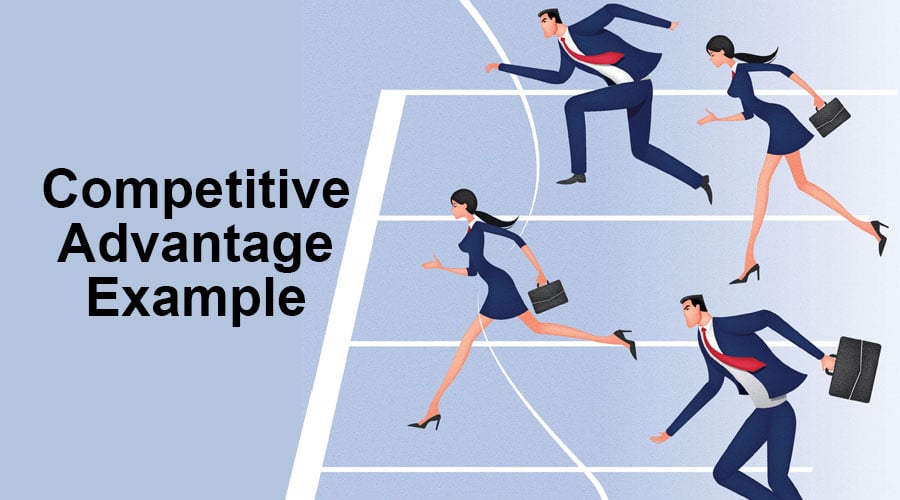 Definition of Competitive Advantage Example
Competitive advantage is the organization's superior performance compared to other organizations in the same industry or superior performance relative to the sector average. It also explains the specific actions or strategies an organization executes better than its competitors, setting it apart in the market.
Superior performance is a higher return on investment (ROI), return on equity (ROE), profit margins, loyalty brand, goodwill, and reputation.
Examples of Competitive Advantage
Below are some examples
Competitive Advantage Example – 1
Let us look at an example of competitive advantage, Tesla Incorporation. Tesla is a company that produces luxury cars and high-tech technology. Considering all aspects of their business, it can be asserted that Tesla has no direct competitors in its industry and concerning its products and services. This distinctiveness sets Tesla apart and establishes its unique position in the market.
Tesla is known for investing most of its revenue in research and development activities. Their motive is mainly constantly to improve and make high-tech personal transportation. Furthermore, they are trying to reduce the use of oil, considered the primary energy source. Apart from this, they are looking to automate everything. Among other reasons, Tesla's commitment to environmental sustainability positions it as a highly eco-friendly company. These factors distinguish Tesla from its competitors, and this differentiation anticipates to persist in the future.
Tesla has a focused strategy to stay in the luxury market. However, it is not going to be the same in the future. Tesla is looking at producing cars for personal use on a large global scale. They plan to launch more affordable products for the common man, like Model Three. This will help Tesla get a stronger position in the market as competitors start increasing in this space.
Competitive Advantage Example – 2
Apple products are known for having a differentiation advantage over all its competitors. They have the highest quality, the newest technology, a strong brand name, loyal customers, and intuitive and interesting designs. Apple has always made a strong, impactful choice for all its customers and competitors through its innovative design and structure. For this reason, its competitors have started making designs, features, and technology very similar to Apple. Apple can also be considered as a luxury product.
Similar to our previous example of Tesla, Apple also invests a lot of revenue in research and development for developing new products. Another factor differentiating Apple from its competitors is that they don't produce products in volume as their competitors do. They carefully create their products to ensure the highest level of customer satisfaction.
This strategy has given them an edge over its competitors, and it lets them sell their products at a much higher price than the products made by the competitors in the market. They have done this over the years without taking a hit on the profit margins or market share.
All these factors make Apple the luxury brand that it is today
Competitive Advantage Example – 3
Now let's look at a company that caters to the need and gives it its competitive advantage. The era of Facebook, Twitter, and LinkedIn all have emerged years before. However, the focus has now shifted primarily towards messaging and communication. Facebook maintained its position by acquiring two companies with this potential, Instagram and WhatsApp.
Similar to this is a company called Pinterest. It has carved its niche in the market. The company is young and still has a very high valuation ($12 billion). The company has 200 million subscribers and active users; most are from the US, and approximately 80% are women. At the beginning of its business, Pinterest grew its business using the referral model without using expensive customer acquisition methods.
What Pinterest has got is need-based positioning. It provides users who use the network to buy new things. Pinterest initially operated with a photo-based business model and expanded its offerings to share creative arts, interior designs, and fashion ideas. This active shift allowed Pinterest to diversify its platform and cater to a wider range of user interests and needs.
Like other companies, Pinterest could have attempted to venture into various segments. Still, it consciously decided to stay focused on its core competency of deriving value from an image-based design. By actively concentrating on its strengths, Pinterest has maintained its strategic direction and capitalized on its expertise in this area. This has also driven the other market of advertising and branding.
Pinterest made revenue and crossed $100 million in 2015, which grew by $300 million in 2016, a three-fold increase. Pinterest has created a lucrative environment serving a specific need and found opportunities in a similar segment.
Competitive Advantage Example – 4
Now let us look at three similar companies, which, even after being a similar standouts, are Google, Facebook, and LinkedIn.
Google stands out for being an effective search engine for the internet. Google succeeded because of its style, market positioning, innovation, and network effect.
Facebook is the biggest competitor of Facebook. One strong competitive advantage that Facebook has over Google is the network effect. This then leads to innovation, free advertisement business, and giving way for personalized content.
LinkedIn, on the other hand, is not like conventional social media. Its main focus is on business professionals, which is their competitive advantage. LinkedIn is known for being a niche media network.
All these companies are in a similar line, and competitors are still surviving and making good growing revenues.
Conclusion
While looking at a competitive advantage, we must also look at a comparative advantage. Although these concepts are interconnected, it is important to note that they are not identical.
A company possesses a comparative advantage when it can produce goods and provide services at a lower cost than its competitors. In contrast, a company can actively create a competitive advantage as it relies on factors that can be changed rather than being determined by a few unchangeable elements. It allows the company to adapt and innovate, giving it an edge over its competitors.
Comparative advantage can help the company in getting a competitive advantage. However, even having a good comparative advantage does not necessarily mean that it will have a competitive advantage.
Recommended Articles
This has been a guide to the Competitive Advantage Example. Here we discuss the overview and Examples of Competitive Advantage and a detailed explanation. You can also go through our other suggested articles to learn more –