Updated July 28, 2023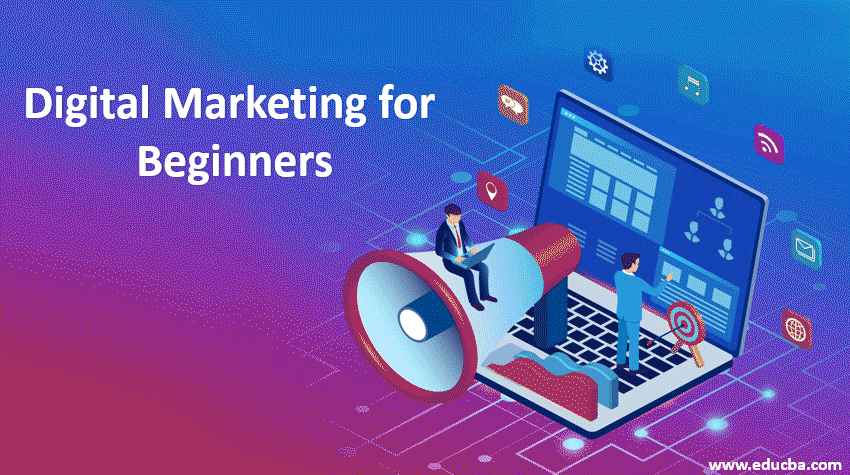 Introduction to Digital Marketing
Digital marketing is a trend bigger than anything else today. In modern times, numerous people, particularly the young generation, are on the lookout for opportunities in the digital marketing field. This is mainly because digital marketing has become the lifeline for every business. It is the best tool to help any business establish itself on the internet and social media world, reach the target audience, increase brand visibility, and foster conversions and revenue.
"As per a survey by McKinley, 90% of all marketing functions and strategies today demand digital marketing expertise in some form or the other.
However, it is worth all the hype. Irrespective of the industry you are working in, or the subjects you are studying, you must have felt the impact of digital marketing around you. And, thus, you feel the need for learning the concepts of digital marketing to boost your career as a beginner.
Fortunately, owing to the demand, there is a lot of opportunity and scope in digital marketing for beginners. However, this aspect of marketing is extremely vast. It spreads from website development to search engine optimization, content marketing, web designing, ad creation, social media and much more. There is something or the other that everyone can excel in. Depending on your interests and requirements, you can choose the digital marketing skills as a beginner.
So, let's dive into the article to understand the various domains available and skills required for digital marketing for beginners.
Different Domains in Digital Marketing for Beginners
Different domains in digital marketing for beginners are as follows:
1. Website Development & Designing
The very first stage of digital marketing for beginners is to know the building blocks of digital presence for any entity. A website is like the physical address of your brand in the internet world. Building a good website that presents your brand in its best form requires programming and optimizing skills. It is a highly demanded skill in the market.
Benefits:
Highly demanded, creative and growing field
Brand establishment
Enhanced user experience
2. Search Engine Optimization (SEO)
The second stage of digital marketing for beginners includes optimizing the website created in order to gain the attention of search engines like Google and Bing. SEO skills range from the on-page optimization including website performance and content creation to the off-page activities like creating backlinks for your website and promoting your content on external platforms like social media. Basically, SEO is all the efforts taken organically to drive and boost traffic to your website to increase brand visibility. It aims to increase the quality and visibility of a website by having it ranked higher on the search engine results page.
Benefits:
Highly demanded skill across industries
Increases visibility among the potential audience
Generates leads
Increases sales
Improves brand image and credibility=
3. Search Engine Marketing (SEM)
It may sound like SEO, however, it differentiates in its foundation. While SEO is the organic way of driving traffic and conversions, Search Engine Marketing (SEM) is the paid way. SEM includes the creation of advertising campaigns through the use of paid marketing tools like Google Ads. This Pay Per Click (PPC) campaign then is used to promote your website and products by using a detailed targeting mechanism. Because it is a paid way of reaching your audience, it cuts on the time SEO requires. Hence, SEM experts are highly paid marketers.
Benefits:
Highly-paid skill
Fast way to rank your website
Speeds up brand awareness process
Increases leads and conversions multi-fold
Provides campaign analysis reports
Bottom of Form
Top of Form
Bottom of Form
4. Social Media Marketing (SMM)
Apart from your website, the alternative address that a brand has is its social media pages. And social media is, undeniably, a more credible source of information for your target audience. The social media platforms like Facebook, Instagram and Twitter are major influencers today that can make your break your brand reputation. Hence, promoting a brand tactically on these platforms and building an engaging community is an extremely vital task today.
Benefits:
High rated skill
Better customer engagement and satisfaction
Higher visibility and awareness
Increased brand credibility with user reviews
Enhanced lead generation and conversion rates
Cheaper than other paid marketing platforms
5. Content Marketing
Everything you sell online lies in the form of content. It would not be wrong to say that content is the main product you promote. So, the importance of content marketing is self-explanatory. It involves the creation and promotion of relevant content on different platforms. Having good communication skills and understanding of the product and the audience is a must formulate good content.
Benefits:
Must have skill for digital marketing
Increases ranking and domain authority
Speaks of brand quality
Enhances customer relationship
Converts potential customers
6. Email Marketing
After your website and social media pages, come email as a method to reach your target audience. Email marketing is a highly useful skill as the report says that email conversions are higher than any other marketing channel. Directly approaching your target customers via emails with a personalized message increases the probability of a person checking out your product offering.
Benefits:
Very useful skill used across industries
Highly detailed customer targeting
Personalized messages increase conversions
Low cost of advertising
7. Video Marketing
Visual content today is way more appreciated by customers than plain texts. This is because visual content is usually more eye-catchy and easy to comprehend and recall. Hence, as a marketer, you should know how to produce audio and video content along with textual ones.
Benefits:
Interesting and demanded skill
Grabs attention faster
Inspires social sharing
Inculcates credibility and connect with the brand
Boosts conversion rates
Adds to SEO efforts
8. Analytics
Finally, after performing all the activities for promoting your brand online, it is equally important to track the impact of those activities and modify the campaign wherever required. For an understanding of tools like Google Analytics is highly recommended. It helps analyze the buying behavior of customers that have interacted with you. This ultimately helps in designing your content and campaign as per your customer needs and increasing conversions.
Benefits:
Highly demanded skill
Helps in knowing your customers better
Segments prospective target audience
Keeps a track of campaign and budget
Boosts ROI
How to Kick-Start Digital Marketing For Beginners?
A highly asked question that digital marketing guide for beginners should answer is how or where to start their journey.
Simply put, one can opt one of the two paths to start digital marketing for beginners. This will depend on your requirements, purpose, and budget. So, let's look at the two paths you can take:
1. Self-Learning
The first way opted by the beginners is to self-study about learn digital marketing concepts. This can be done through various sources. I have also included some recommended resources.
So, if you wish to go with the self-learn approach, here's how you can proceed:
Digital Marketing Blogs (Moz Blog, Search Engine Journal, Quicksprout, HubSpot Marketing)
YouTube Videos
Podcasts on Digital Marketing (Marketing Scoop by SEMrush)
Digital Marketing Slideshows and Infographics
Digital Marketing Books
2. Professional Digital Marketing Course
Following the first approach will mostly teach you the theoretical aspects of digital marketing. However, if you want to acquire digital marketing skills for boosting your career, you must seek practical knowledge of the field. A very good way to go about it is taking a professional course in digital marketing from a reputed institute and become a certified marketer. Getting expert guidance is a tried and tested way of going about it.
Recommended Articles
This is a guide to Digital Marketing for Beginners. Here we discuss the Different domains in digital marketing for beginners which include Website Development & Designing, Content Marketing, and Email Marketing, etc. You can also go through our other suggested articles to learn more –