Updated May 12, 2023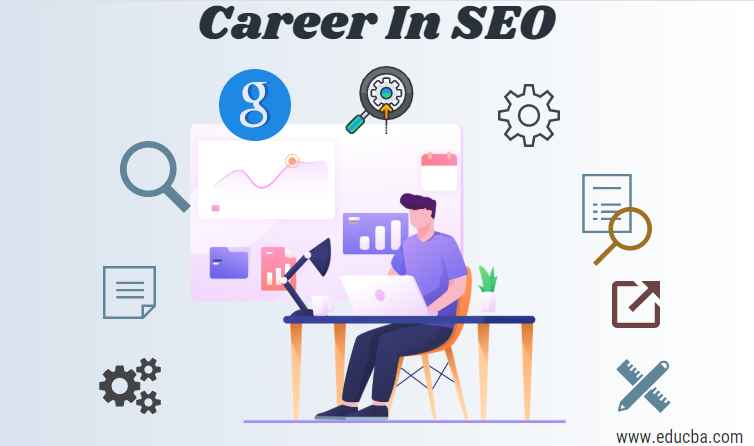 Introduction to Career In SEO
In this Topic, we are going to learn about Career in SEO. SEO full form is Search Engine Optimization. SEO is about getting the top results while searching the Internet, like Google. Google search engine is mainly used for searching the content. SEO is the process by which companies optimize their website to increase visibility and ranking that is natural or organic results in search engines.
SEO mainly targets different kinds of searches like text, video, images, etc. The computer algorithms are developed so that by typing the content, it starts showing results based on the previous search or relative content that the search engine can collect from its database. SEO is becoming more challenging for organizations as Google is developing complex algorithms, making it difficult for a webmaster to show their company results in the search engine in top search results. This is the reason why most organizations require SEO professionals or expertise.
Education Required for a Career In SEO
The education required for a career in SEO should be a bachelor's degree in computer science or information technology. SEO is a significant part of digital marketing. The individual should have good analytical and technical skills to start a career in SEO. SEO specialist mainly focuses on the web marketing strategy to increase the online search result for the company.
The individual having programming skills like PHP or HTML, MySQL database, and other data mining software like google analytics becomes the key skills for getting the opportunity as an SEO Specialist. The individual should have good communication skills to understand the requirement and develop streamlined messages. They should also have the creative skills to design and develop effective messages to generate web traffic for the company website and customer interest in the organization or product.
Career Path In SEO
SEO professionals mainly focus on creating effective ways to promote the product, service, or content. A career in SEO has many options available in the market. The individual can work in the organization, or freelancing jobs are also available. One can join an SEO agency or digital marketing as an SEO engineer to start a career in SEO. The start-ups and other established companies are outstanding in getting the experience.
There are other career options, like providing SEO training online through videos and forums, and you can join any academy to provide classroom training. Launching blogs can provide opportunities to earn income through advertising and marketing efforts. SEO professionals can become online freelancers and take on SEO projects. One can work as an SEO Consultant for one or more companies.
Job Positions or Application Areas For Career
The job positions or application areas are mainly defined for the SEO-specialized skilled person or professional. The individual can start as an SEO trainee or Junior SEO executive at an entry-level position. The experienced SEO person can apply for a mid-level position as an SEO executive and a senior-level role or job position as an SEO manager.
Building expert, SEO consultant, SEO project manager, SEO and SEM specialist, PPC expert, Analytics Expert, Digital marketing manager, SEO trainer, and Freelance SEO professional. These are mainly ordered from entry-level to mid-level to senior-level positions. The individual can become a specialist in content building and publishing, upgrade their skills in analytics, and learn google analytics. Certified Google professionals can also boost their skills and earnings.
Salary
The salary for the SEO specialist is based on skill and knowledge. The SEO specialist is a Search engine marketer, and the average salary for this role is around 45k USD annually. The average salary for an SEO consultant in business marketing is around 60k USD per year; in digital marketing, it is around 50k USD per year. The average salary for the market analyst is about 52k USD per year. The content marketer managing the web content and designing the blogs, videos, and decision-making market plan gets an average salary of around 55k USD per year. The SEO manager is getting around 65k USD to 70k USD per year. The freelancers are earning excellent income and getting good work on this skill.
Career Outlook
SEO is becoming the future of career opportunities, and it has emerged as one of the great professions in the IT industry. The demand for SEO professionals is increasing due to the growth in digital awareness, online competition, and the massive increase in Internet and mobile users. Interested individuals in marketing, websites, blogging, and related areas will find web development an excellent career choice.
SEO will remain an important channel to do marketing and acquire new customers. Organizations are mainly investing in online marketing, which has increased the demand for SEO professionals across the globe. This skill is attracting the inclination of web developers, web designers, and graduates, who are upgrading their expertise to seize promising job opportunities. Undoubtedly, it will provide them with good job positions and salaries in the future. The only tricky part of SEO is its learning process, as it keeps changing, and one has to update knowledge on algorithms, etc.
Conclusion
A career in SEO is gaining popularity globally, and many professionals are working on this skill and upgrading themselves. Many job opportunities have been observed across multiple job portals or sites. SEO is a requirement for everyone in the market, whether a small business or a large organization. SEO is part of digital marketing, and digital marketing has increased a lot because of the availability of the Internet and easy methods of payment through the Internet.
SEO professionals need to learn multiple things and have expertise skills to earn good money, but SEO provides career excitement opportunities and tremendous potential for growth. An SEO professional knows the algorithms behind the results of a search engine that can help their organization to appear in searches. SEO is not just adding keywords and content; it is like building links and understanding algorithms with multiple triple skills to show high-rated results for the organization. It is perfect and has good career options in the future as well.
Recommended Articles
This has been a guide to Career In SEO. Here we have discussed the introduction, education required, career path in SEO, job position, salary, and career outlook. You may also look at the following articles to learn more –