Updated July 28, 2023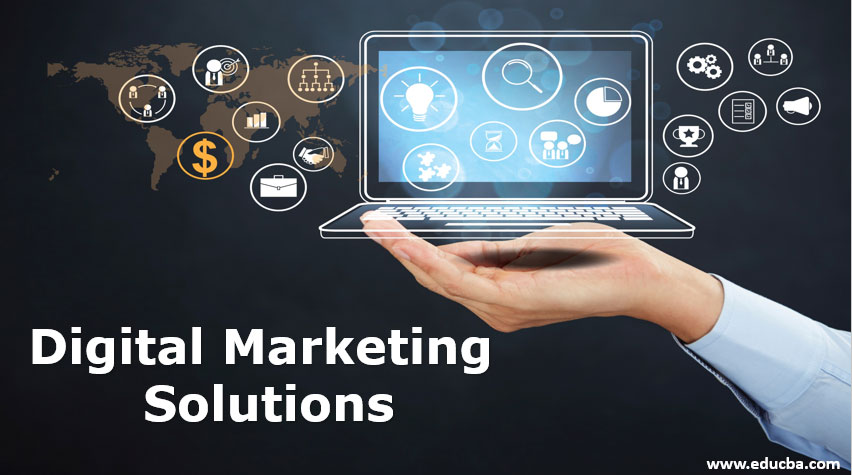 Introduction to Digital Marketing Solutions
No matter what business you're in, we all need to get visible to our target audience to be able to sell. The fierce competition on top of it makes it all the harder to stand out from the crowd. By now, you may have taken a step to understand the concepts of digital marketing. However, mere understanding is not enough today. In order to implement digital marketing solutions in your business operations, you need to learn some practical applications and tools. Needless to say, people with knowledge of the right tools are in high demand.
Digital marketing solutions and tools have made my job easier and have made me more effective and productive. For this reason, I have built a good collection of tools that helps me track all of the digital initiatives, social communities and organic growth. Hence, this article deals with the application of digital marketing solutions and some of the essential tools that can help businesses boost productivity and simplify the whole process.
Different Solutions of Digital Marketing
Given below are the different solutions of digital marketing:
1. Content Marketing
Don't we know that "content is king"? It is unbelievable how true it holds when you plan your digital marketing solutions.
Today, there are tons of content creators in the internet world. If you search for your product category on Google, you will witness the intense competition you are facing against the millions of results that Google search page come up with. Hence, having quality content that is unique to your brand, becomes extremely important for your business to stand out and thrive.
Here are a couple of tools we would suggest for awesome content:
Stockup: Stockup is a great option if you are writing a blog post and need some amazing images. Stockup has high-quality stock images and perfect for using in blog posts or social media posts.
Statista: Statista is a highly efficient tool for writing new blog posts. It provides you with useful data to back up the facts you have provided. You can find specific details about brands like their financial growth numbers or survey details. Another good option for this is Google Trends.
2. SEO
Now, it is important to understand that creating awesome content is not sufficient by itself. Your content is your product. Unless it is visible to your target audience, it is of no use. Hence, one needs to optimise their content as per the search engine. Only then will your content rank high and become visible to your potential customers. You must also use the art of link building for your website.
Here are a few tools to boost your SEO ranking:
Google Keyword Planner: This is a classic keyword research tool by Google that helps you analyse and pick the best keywords that you should use in your content for Google to rank you higher. "As per Hubspot's study, Google is responsible for 94% of total organic traffic. Hence, it is best to plan your content as per Google's top keywords."
SEMRush: SEMRush is another very important tool to gain an understanding of SEO performance and tracking your keywords. It is also useful for performing competitors' analysis.
3. Google Ads / Facebook Ads
Now comes an area where you need to master a few tools to be able to command digital advertising. Yes, we are talking about the paid way of digital marketing. In modern times, where the competition gets fiercer by the hour and organic path takes a lot of time and effort, it becomes crucial to learn paid marketing tools to lead digital marketing solutions.
If you notice, apart from 10 organic results on the Google search page, the first few results are labelled as Ads. And it's no surprise that these paid links because of their top positioning get much higher click rate than the organic results. Simply put, if you can manage your budget, doing brand awareness and lead generation fast is just a tool away! Have a look at the most popular and useful tools you can use to create your custom ads and increase your brand visibility.
Google Ads: The most popular tool for paid campaigns is Google Ads. These are the ads that reflect on the Google search page.
Facebook Ads Manager: Another highly used paid platform is Facebook Ads that lets you place customised ads and posts through your Facebook profile.
Instagram Ads: This is a similar tool as Facebook Ad for Instagram advertising. So, if you master the former, you will sail through the later easily.
4. Analytics
Digital marketing solutions include a lot of data interpretations. You need not be a data scientist, but a basic understanding of the metrics that affect your growth is important. A digital marketing marketer should be aware of the tools to measure the key performance indicators like customer behaviour, issues in the campaign, the impact of the strategies and growth.
These are the two tools you can start with to analyse your website traffic as well as marketing campaign performance.
Google Analytics: Before anything else, Google Analytics is a lot basic and highly efficient tool for analysing the performance of all your marketing channels at one place.
Hotjar: Hotjar is also a great tool to get information on the users' actions or behaviour on your website.
5. Social Media Marketing
Lastly, we land to a very popular way of digital marketing people know of. Every entity in the market today is trying to do social media marketing to establish their business. However, most people think of it as a mere game of posts and likes. This is a signal of a poorly implemented digital marketing solution. The kind of posts, time of posting, attracting the right set of audience, analysing your competition and a lot of other factors are responsible for your online success.
A good way of executing this digital marketing solution is to use a social media monitoring tool.
Check out two handy tools to start with:
Buffer: Most brands rely on Buffer for their social sharing. You can simply link up all of our social channels and share your creation directly from your website. It's a very user-friendly and helpful tool. You can also schedule all your posts, which makes it super easy. Buffer also provides analytics for your social media platform and even syncs it with Google Analytics.
FollowerWonk: FollowerWonk is a powerful tool for tweets. It analyses the best time to tweet according to your audience's behaviour. You can easily link it with Buffer to get the insights.
Conclusion
The above-mentioned tools must have given you some insight into the practical ways of implementing digital marketing solutions in your business operations. The list of digital marketing tools might be endless. However, these classic tools are good enough to start with and give a boost to your digital presence. It may look intimidating at first. But as you get a hang of these skillsets, you will start enjoying the whole process. Moreover, for learning these skills and tools, you can get in touch of a professional digital marketing trainer.
Recommended Articles
This is a guide to Digital Marketing Solutions. Here we discuss the introduction and various solutions of digital marketing to grow your business. You may also look at the following articles to learn more –