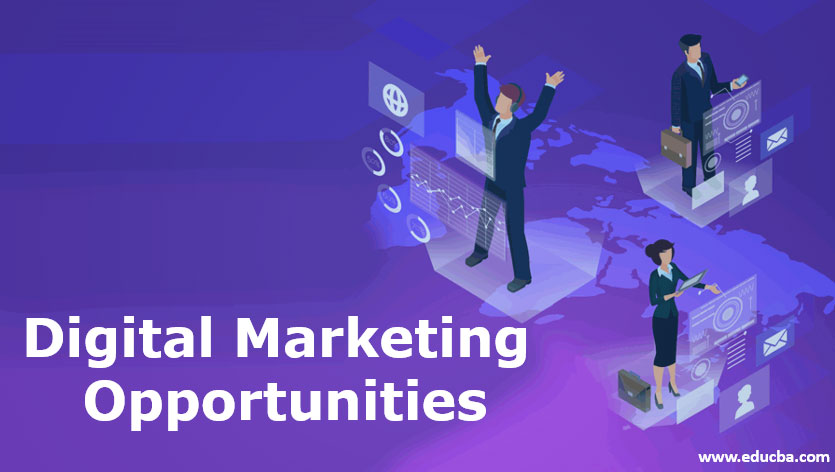 Introduction of Digital Marketing Opportunities
The world today has gone massively digital. As per the prediction, majority of the companies around the globe will have online presence and marketing processes by the year 2020. They have realized digital marketing is so important that it is no more optional to incorporate in their marketing strategy. This realization and acceptance are going to create a flood of digital marketing opportunities.
With technology progressing everyday, there is a lot of scope for new creative job opportunities coming up your way. It will open doors for various career options. Say, if you love writing, you can take up content marketing or copywriting. Likewise, coding lovers can master web designing. One just needs to develop digital marketing skills to get started. So, this article will take you through various digital marketing opportunities available for those interesting in this career.
Various Digital Marketing Opportunities
Various digital marketing opportunities are as follows:
1. Digital Marketing Manager
This is the most obvious name that comes in anybody's mind. This is an opportunity that brings together a lot of digital marketing components like content, web development, social media, search engine optimization, and marketing. These are the people who plan, create and execute an integrated digital marketing campaign. This is a mid-senior role making you responsible for leading a team of digital marketing executives and others.
Because of this, digital marketing experts are in huge demand. If you work in this industry for 4-5 years with projects that prove your mettle as a digital marketing expert, companies will be ready to offer anything to hire you.
This a position that is as creative as it gets and every industry today is hunting for people really good at it. Now, talking about the requirements, it is not necessary to hold an MBA degree to start with this. However, a certification in digital marketing can give you a lot of advantage over others. Going forward, you may think of doing an MBA to get specialized in digital marketing and increase your worth as a specialist.
The role as a digital marketing expert can easily fetch you anything from 15 to 20 Lakhs INR per annum and can go as high as 40 Lakhs too.
2. Content Marketing Manager
Content marketing is another popular domain of digital marketing. This basically includes ideating and creating blogs, articles, email communications, social media content and much more. They are also responsible for designing the content for the landing page of the website, marketing campaigns, PR strategies, e-book publications, video marketing, etc. With so much at hand, content marketing managers can be a one-man army or lead a team of content and copywriters.
Content writing also has a big scope of working from home, also known as freelancing. Again, there is no specific requirement for the educational background. However, people from English literature, media and journalism background may have an edge over others. Also, with the increasing importance of SEO, having digital marketing certification can again help you become an expert in the domain.
Content marketing managers possessing an experience of 3-5 years can earn anywhere between 8-15 lakhs per annum on average.
3. Copywriter
Similar to a content marketing role, a copywriter is responsible mainly for creating ad copy or content for the landing page that can generate more clicks and leads from the target audience.
They mostly prepare ad copy, taglines, captions, etc. which look catchy and appealing to the customers' minds. Hence, a copywriter is expected to have strong communication skills and a similar background.
Many organizations may not have a dedicated copywriter, but a content writer who has copywriting skills too. Some experience in copywriting can earn you 6-10 lacks per annum.
4. Social Media Marketing Manager/Expert
Social media marketing is another popular area of digital marketing that is thriving recently. It can be further divided into two areas. Firstly, one needs to organically promote their content on the social media platform to increase your brand value. This is sometimes also done by the contenting marketing team.
The second method involves a paid mechanism to boost your brand visibility on social media. However, carrying out paid campaigns requires an additional set of skills and knowledge of a few tools for targeting the specific audience of your brand.
For example, advertising on Instagram or Facebook will require knowledge of their own advertising tools. Social media marketing expert or manager will also be responsible for deciding on the overall strategy and budget for the paid campaign.
Experience of 4-5 years can easily earn you 10-20 lakhs per annum.
5. Search Engine Optimizer/Executive
Search engines are the oldest and most valuable platforms for digital marketers. When you search for something on Google or Bing, the results you see on the top of the first page are the outcome of the efforts of an efficient search engine optimizer/executive. There are billions of results that Google can display. But, today nobody has the patience or time to go to the second page. The top results convert maximum customers. That is all SEO.
It is the skill of driving free traffic from Google. The responsibilities of an SEO expert involve keyword research, content optimization, landing page optimization, Google Analytics, etc. Hence, the knowledge of SEO tools is important to master the domain.
SEO experts usually report to the digital marketing manager. It also requires constant interaction with web development and content teams. It is mostly an entry-mid level role and can fetch you 4-8 lakhs per annum.
6. Search Engine Marketer/Specialist
Even before social media gained its popularity, search engines like Google and Bing had established their game. Now search engine marketing is a paid mechanism whereas search engine optimization is an organic way. It is an approach to cut the competition faster by displaying your ad on top of the organic results on the Google search result page. Hence, it requires a different set of expertise and knowledge of tools like Google Ads or Bing Ads.
Even today, search engine marketing is one of the most important facets of digital marketing. And therefore, companies keep hunting for the top talents and offer a very handsome compensation as well. The responsibilities of a search engine marketer/specialist involve ad creation, budget management, keyword research, data analysis of the ad campaigns and much more. This is to drive traffic, generate leads and convert target audiences.
Search engine marketers can report directly to the marketing directors or digital marketing managers. Good experience in the domain can fetch you 8-15 lakhs per annum on an average.
Conclusion
I hope that this gave you a fairly good insight into the digital marketing opportunities on can explore. This field is mostly about gaining creative and analytical skills and working with a lot of passion. So, if you feel interested in any of the above roles, it is time to prepare yourself to become a digital marketing expert. Though it doesn't require any special degree to get into Digital Marketing, a professional Digital Marketing certification can easily help you get an edge over others in the crowd.
Recommended Articles
This is a guide to Digital Marketing Opportunities. Here we discuss the Introduction and Various Digital Marketing Opportunities which include Digital Marketing Manager, Copywriter, Search Engine Marketer, etc. You may also look at the following articles to learn more –