Updated November 20, 2023
What are Digital Marketing Strategies?
Digital marketing strategies are the techniques and approaches businesses use to promote their products, services, or brands through online platforms.
In simpler terms, digital marketing strategies are the tools companies use to advertise themselves in the digital world and draw in customers through websites, search engines, social media, email, and online ads.
Table of Contents
Types of Digital Marketing Strategies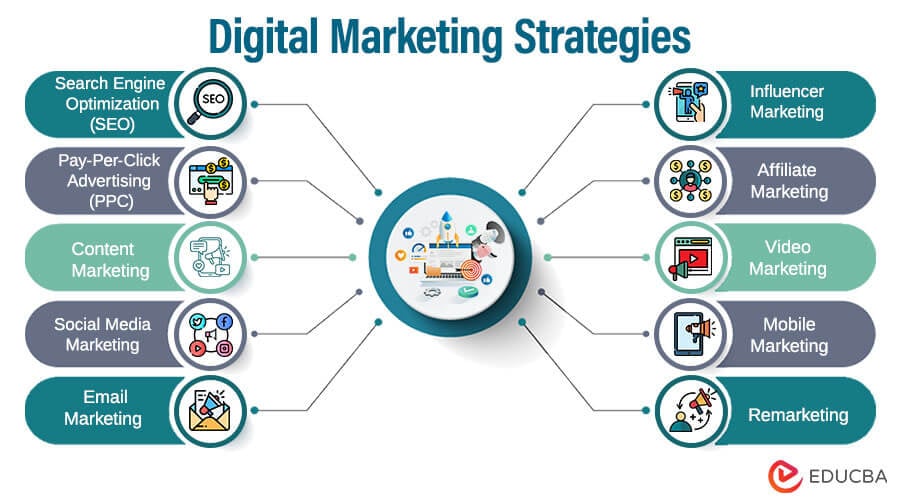 1. Search Engine Optimization (SEO)
Search Engine Optimization involves implementing techniques and strategies to enhance website ranking, visibility, and traffic in search engines.
Example: A finance company may improve its website content using relevant keywords like loans, investment to appear on the first page of a search engine.
2. Pay-Per-Click Advertising (PPC)
Pay-Per-Click, also known as Cost-Per-Click (CPC), is an online advertising model where advertisers pay publishers only when any users click on their ad.
Example: Advertisers may use specific keywords related to their products to target audiences on popular platforms like Google Ads, Facebook Ads, etc.
3. Content Marketing
Content marketing is creating, delivering, and sharing valuable and useful content to attract target audiences to increase brand awareness.
Example: An IT-based company can publish blogs, articles, videos, podcasts, and infographics to provide useful product information.
4. Social Media Marketing
Social Media Marketing refers to using social media platforms to promote business products, increase brand awareness and build relationships with potential audiences.
Example: An e-commerce company may use Facebook, Instagram, or Twitter to reach a wide range of customers, increasing their sales and website traffic.
5. Email Marketing
Email marketing is a digital strategy for building customer loyalty, promoting products, and increasing sales. It involves sending emails and newsletters to target subscribers.
Example: A fashion brand company can send promotional and exclusive discount emails to their subscribers to promote the latest arrivals of their products.
6. Influencer Marketing
Influencer marketing is a collaboration between influencers, like famous social media personalities and brands, to promote brands' products.
Example: Beauty companies can partner with popular Instagram influencers to endorse their beauty products through sponsored posts or product reviews.
7. Affiliate Marketing
Affiliate marketing is a cost-effective online strategy where companies compensate affiliates for promoting their brand, sales and driving website traffic.
Example:  Affiliates can use their blogs, websites, and social media profile to promote the company's products and earn commissions for every sale made through their unique affiliate links.
8. Video Marketing
Video marketing is creating and sharing content to educate, entertain, promote products, and increase brand visibility.
Example: A training company can upload product videos, sponsored videos, tutorials, or customer testimonials on platforms like YouTube.
9. Mobile Marketing
Mobile marketing involves advertising brands using SMS, MMS, mobile applications, mobile websites, in-game advertising, etc.
Example: A jewelry company can send new branch launches or sales discount information via SMS to customers or display ads within popular mobile apps.
10. Remarketing
Remarketing or retargeting is reaching out to previously engaged customers for a brand's product or services.
Example: A sportswear company can send new arrival ads to customers to remind them of the brand so they can purchase their products or can ask for feedback.
Real-World Examples Of Digital Marketing Strategies
#1 Coca-Cola (Launch of an Interactive Campaign)
Strategy Type: Social Media Marketing and Remarketing
Coca-Cola introduced the "Share a Coke" campaign, where they changed their logo with popular names. This encouraged customers to share bottles with their names or the names of their loved ones on social media. The campaign created a buzz and increased customer interest and loyalty.
#2 H&M (Collaboration with Influencers)
Strategy Type:  Influencer Marketing
H&M, a fashion brand, collaborated with popular fashion Instagram influencers to promote their products. The influencers created and shared sponsored posts wearing H&M outfits and encouraged their followers to buy them. This collaboration increased H&M's brand visibility, gained popularity, and drove traffic to its website.
#3 Sephora (Streaming Live Video)
Strategy Type: Video Marketing
Sephora, a cosmetic brand, uses live video streaming on platforms like Instagram and Facebook to interact with its audiences. They host live makeup tutorials, product demonstrations, and Q&A sessions, providing valuable content and also giving a feeling of exclusivity. This live video streaming helps Sephora to quickly connect with customers, build trust, and increase product sales.
#4 Nike (Engagement with Social Media)
Strategy Type: Social Media and Content Marketing
Nike, a popular sportswear brand, uses social media platforms like Instagram and Twitter to engage with their audience. They create interesting content, share inspiring stories, and encourage users to comment with hashtags like #JustDoIt. Nike leverages the power of social media to build a community of loyal customers and promote their brand.
#5 Virtual Reality (VR) and Augmented Reality (AR) Marketing
Tourism companies like Marriott and travel agencies use VR to give customers a virtual tour of different places, allowing them to explore and experience a destination before booking. AR is used in the beauty industry, like Sephora's Virtual Artist app, allowing customers to try makeup virtually through apps.
How to Create a Digital Marketing Strategy?
Here's a step-by-step guide to help you develop an effective digital marketing strategy:

Step 1: Set Clear Objectives
If you know what you want, you can plan effective digital marketing strategies to achieve desired outcomes. You can set specific goals according to your need, like increasing brand awareness, generating leads, increasing website traffic, boosting sales, or improving customer engagement.
Step 2: Understand Your Target Audience
Identify your target audience according to demographics and understand their needs, preferences, and online behavior. This information will guide you to reach and engage with your target audience effectively.
Step 3: Conduct a Competitor Analysis
Examine your competitor's digital presence, like what strategies they apply to be on top.
This analysis will provide valuable insights to identify your area of weakness and what strategies you should focus on. Tools like SEMrush or SimilarWeb are useful for gathering data on website traffic, keywords, and social media engagement.
Step 4: Choose the Right Digital Channels
Select the correct digital channels that align with your company's objective to reach target audiences. You can apply various digital marketing strategies like SEO, PPC, content marketing, social media marketing, email marketing, influencer marketing, etc.
Step 5: Develop Engaging Content
Create high-quality, valuable content tailored to digital channels. Focus on incorporating different formats such as blog posts, videos, infographics, podcasts, and articles to keep your audience engaged.
Step 6: Optimize for Search Engines
Implement SEO techniques to improve website visibility, loading speed, and user experience in search engines. You should identify and incorporate relevant keywords, meta titles, headings, and URLs into your content.
Step 7: Use Social Media Platforms
Choose appropriate social media platforms and create strategies to engage your audience and share your content. Develop a consistent posting schedule, interact with your followers, and use analytics tools to measure the performance of your social media campaigns.
Step 8: Implement Paid Advertising
Use the PPC model for advertising on popular platforms such as Google, Facebook, or LinkedIn to reach a wider audience. Set a proper budget, use relevant keywords, choose appropriate demographics, create compelling ads, and also monitor the performance of your ads.
Step 9: Monitor and Analyze Results
Regularly track and analyze the performance of your digital marketing campaigns. Use analytics tools like Google Analytics, social media insights, and email marketing metrics to measure key performance indicators (KPIs) such as website traffic, conversions, engagement rates, and return on investment (ROI). Make data-driven decisions to optimize your strategy and improve results.
Step 10: Adapt and Evolve
Stay updated with the latest digital marketing trends and technologies as it constantly evolves. Continuously refine your digital marketing strategy based on the insights you gather to adapt to changing market conditions and meet customer needs.
Benefits of Digital Marketing Strategy
1. Increased Reach
Digital marketing enables businesses to connect with global customers through the Internet and social media, expanding their reach.
2. Cost-Effectiveness
Digital marketing offers cost-effective, affordable options like social media, email marketing, and SEO for engaging with target audiences.
3. Targeted Audience
Digital marketing enables you to target a specific demographic audience who are interested in your products or services.
4. Measurable Results
Digital marketing allows tracking, measuring, and monitoring key performance indicators (KPIs) such as website traffic, engagement levels, return on investment (ROI), etc. This data provides valuable insights for optimizing your marketing strategies and making data-driven decisions.
5. Personalization and Customer Engagement
You can deliver personalized content, special offers, and relevant recommendations using feedback data and automation tools to enhance the customer experience and build long-term relationships. It allows you to connect with customers on a personal level.
6. Flexibility
Digital marketing offers more flexibility than traditional methods, which require long planning. You can change your campaigns and targeting based on real-time data analysis and market trends. This flexibility lets you respond faster to changing market conditions and meet customer needs.
7. Brand Building and Reputation Management
You can establish and strengthen your brand identity through digital channels by creating promotional content and engaging with customers to build brand loyalty and trust.
8. Enhanced Customer Insights
Digital marketing provides opportunities to manage and address customer feedback, and reviews, allowing you to manage and monitor your brand reputation actively. You can use this information to redefine your marketing strategies.
Digital Marketing Strategies for Startups & Small Businesses
Now, let's understand which digital marketing strategies startups and small businesses (which are also established) should apply.
| | | |
| --- | --- | --- |
| Aspect | Startups | Small Businesses |
| Budget | A startup company should set a limited or restricted budget with cost-effective options during its initial years. | A small business can set a higher budget and be cost-conscious. |
| Goals | The goals should be to grow rapidly,  build a reputation in the market, and increase brand awareness. | The goals should be steady growth, customer retention, and local visibility. |
| Target Audience | Startups should target a wide range of audiences using online channels like social media platforms. | Small businesses should target to reach local or regional audiences. |
| Brand Building | They should focus on developing brand identity and market presence. | They should strengthen customer loyalty and brand reputation. |
| Experimentation | They can experiment with different marketing strategies and choose the best which aligns with their objectives. | They should work more on proven strategies to minimize risk. |
| Scalability | They should focus on scalable strategies like rapid growth and increasing sales. | They should focus on sustainable strategies to support continuous growth. |
| Customer Acquisition | Startups must emphasize more on lead generation and converting those leads into customers. | Small businesses must focus more on customer acquisition and building relationships with them. |
| Automation and Tools | They should prioritize digitalization and advanced technology to optimize businesses. | They should utilize advanced tools and software to streamline their business operations. |
| Analytics and Metrics | They must track and analyze key metrics to measure their growth. | They must monitor key performance indicators to check for improvement. |
| Partnerships and Networking | Startups must seek specific strategic alliances and collaborations for mutual benefits. | Small businesses must build local connections and improve networking. |
Digital Marketing Strategies Vs. Marketing Campaigns
Let's understand the difference between Marketing Strategies vs Marketing Campaigns.
| | | |
| --- | --- | --- |
| | Marketing Strategies | Marketing Campaigns |
| Definition | It is a long-term plan designed to achieve marketing goals. | It is a short-term goal focused on specific parameters for a particular duration. |
| Examples | A company can use marketing strategies for brand awareness, customer retention, and marketing in regional areas. | A company can use marketing campaigns to launch a specific product or for seasonal promotion. |
| Scope | Broad | Target Specific |
| Timeframe | Continuous | Limited duration |
| Objective | To build brand image in the market | Implement specific tactics to achieve goals |
| Focus | Marketing Strategies focus on future goals. | Focus is on launching and marketing new projects or products. |
| Components | Information from market research, customer feedback, and competitor analysis is useful in marketing strategies. | Advertising in newspapers, banners and organizing social media campaigns is useful in marketing campaigns. |
| Measurement | The success of marketing strategies is measured by market share, customer rating, return on investment (ROI), etc. | The success of marketing campaigns is measured by key performance indicators (KPIs) like website traffic, engagement level, etc. |
| Adaptability | Flexible and adaptable | Tailored to specific objectives |
Frequently Asked Questions (FAQs)
Q1. What are the 5 R's of digital marketing?
Answer: The 5 R's of digital marketing businesses use are:
Reach
Relevance
Resonance
Reaction
Return on Investment (ROI)
Q2. What are some B2B digital marketing strategies?
Answer: Businesses use B2B digital marketing strategies to sell their products and services to other businesses. For instance, a company can collaborate with another gym supplement company to promote its protein supplements. These strategies include content marketing, advertising, direct marketing, and social media marketing.
Q3. What are some digital marketing strategy jobs?
Answer: Some digital marketing strategies jobs are digital marketer, digital marketing executive, social media specialist, graphic designer, copywriter,  SEO specialist,  marketing analyst, content strategist, and many more.
Recommended Articles
We hope that this EDUCBA information on "Digital Marketing Strategies" was beneficial to you. You can view EDUCBA's recommended articles for more information.