Updated July 28, 2023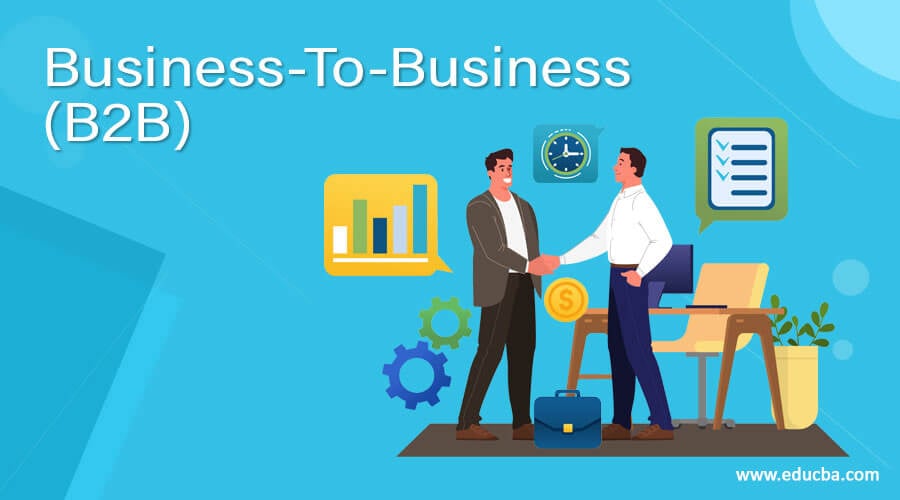 Business-to-Business (B2B) Marketing
Business-to-business (B2B) is now a frequently used term in the industry, although it does not directly impact the common man. When a business develops a product or service that it aims to sell to consumers, it is called Business-to-Consumer (B2C). Companies rely on raw materials and semi-finished goods to produce products before they reach consumers. A small or medium-sized company that sells products solely to other businesses can accomplish this.
B2B businesses have a large market due to the need for standardized components in consumer products. B2B shares some attributes with B2C, such as creating awareness, pitching sales, and making actual sales. However, branding may not be as crucial since the target market is other businesses looking for good deals.
Car and laptop manufacturers source raw materials and shop floor requirements from multiple suppliers, including engines, suspension, radiators, wheels, displays, motherboards, wiring, and ICs.
None of the business buying is for indulgence but to make a value-added product and sell for profit; hence, there is a lot of difference in the mindset of an average consumer and a business buyer. The Business-to-business (B2B) business happens because of derived demand from the company with a buyer for its end product.
Top 10 Key Elements of Business-to-Business (B2B) Marketing Strategy
#1 Business Buying is a Complicated Process
Business buying is a complicated process that may involve a various hierarchy of decision-makers and final approval from the finance department or sometimes even by the board of directors if it's a significant purchase. Moreover, decision-makers keep changing, creating a massive problem for Business-to-business (B2B) marketers. Companies aim to minimize costs and increase margins on product sales, often opting for the lowest quote.
Business purchases classify into low-risk, low-value purchases that involve decision-making at lower levels, low-risk, high-value goods that require the approval of technical and finance groups, low-value high, risk involving specialists and purchases, and high-value high-risk purchases involving senior decision-makers in the company.
B2B sellers must exhibit expertise, product knowledge, and technical competency to gain the trust of critical buyers. After-sales support and assurance throughout the purchase lifecycle are crucial.
#2 Rational Buying
Unlike an average consumer who buys from retail which could be by a variety of factors, including status, impulse buying, conspicuous consumption, and so on, the business house believes based on a rational analysis of cost and benefits to the company.
Consumers are less likely to have complete information about the products or services they buy. Businesses consider multiple parameters to maximize profits and achieve a favorable return on investment (ROI) when making purchases.
With the proliferation of credit cards and more disposable income at the hands of a consumer, spending habits have changed. They could buy without cash and pay in six months or one year equated monthly installments.
B2B marketers face challenges as buying decisions are based on critical analysis of pros and cons. However, the buying basis could also be on the supplier's reputation and his previous track record. No B2B buyer risks investing in an unknown product, even if cost factors favor the company.
#3 Complexity of Products
Consumer products are bought based on brand building and awareness created by the company. Consumers may need to be more bothered about the finer technical details of the product. Still, the company needs to evaluate it in detail and see whether customization or product specifications changes are required.
B2B marketers need technical expertise to reach top decision-makers with factual information, not value-building. Emphasizing technical parameters can reduce investment in brand building and value creation.
Recommended Courses
PMP Integration Management Training Courses
CBAP Primer Training
Software Estimation Certification Training
#4 Less Number of Buyers and Probably More Sellers
B2B market has a limited number of large and medium-scale buyers compared to the consumer market. B2B operates on the Pareto Principle of 80:20, with 80% of suppliers competing for 20% of buyers. However, B2B buyers may purchase in large quantities compared to individual consumers.
The limited number of buyers presents a challenge and an opportunity for sellers as the process involves the following:
Creating awareness.
Working closely with a client to modify the product if required.
Doing the selling process and, after that, providing after-sales service.
Suppliers will be assessed based on product quality, technical advice, efficiency, value generation, and on-site support.
#5 Fewer Segmentation and Needs
A consumer market divides a product into segments based on need, buying power, and features. There could be a set of brands from a company in the premium segment- Timex Watches, Unilever consumer products, or Levis jeans may have different offerings at different price points that cater to entry-level, average, and premium buyers.
The industrial buyer considers products for end consumption and does not view them from a consumer perspective. Market segmentation is much lesser as whims, insecurities, and indulgences do not drive purchasing. Several people are involved in Business-to-business (B2B) decision making and segments are based on price, quality, service, and partnership. B2B marketers must identify key stakeholders and cultivate lasting strategic alliances. However, limited segmentation helps when compared to consumer markets.
The best strategy is to classify the target audience by size, split by geography, and provide all the assistance required for the client. In Business-to-business (B2B) buying, the target audience is often referred to as clients since the product is not fulfilling a need but a kind of support for their end product.
#6 Building Personal Relationships
In consumer selling, the companies depend on the mass media to market their products- it includes newspapers, television, radio, internet, and at the physical level- banners, hoardings, and arches, among others. Here, the several consumers who buy the products are still being determined to the company as wholesale and retail channels sell the products except for some products such as Vaccum Cleaners, mobile phones, water purifiers, and books sold online or directly at customer premises.
Here, brand building is more critical as providing incentives to channel partners, including distributors, C&F agents, wholesalers, and retailers, who would push the product. However, in Business-to-business (B2B) marketing, building a personal relationship with the key decision-makers in the target company is very important. Often the marketing team members are the brand ambassadors. Therefore, the formation of the first impression of a company is during the first visits by salesmen to pitch for the account.
In a Business-to-business (B2B) business, businesses spend a premium on getting the right sales and marketing force, training, and retaining them. Moreover, frequent changes in the marketing team may affect the relationship building with the prospective clients and even entail losing business.
Apart from direct selling, major Business-to-business (B2B) sales leads are generated through participation in trade fairs which is unnecessary in consumer selling because of the higher spend on mass media. American Business-to-business (B2B) marketing relies heavily on trade promotion fairs spending $17.3 bn annually.
#7 Long-term Buying
For an average consumer buying fast-moving consumer goods (FMCG), a purchase could be for a lifetime, at least for 5 to 10 years, as in the case of TV, Refrigerator, microwave oven, and others. The requirement for Groceries, grains, and consumable goods may be continuous.
In the Business-to-business (B2B) industry, it could be a requirement for a component or kit continuously until a particular brand or product may be taken off the market. Or changes in design or product specifications may make the specific device, component, or kit useless or obsolete.
In a Business-to-business (B2B) business, since customers are fewer and the industry is long-term, the sales team needs to build long-term relationships; the company should adequately train the sales force in the latest technologies and ensure they successfully communicate it to the clients.
#8 Business-to-Business (B2B) Marketers Need to Focus on Innovation
Products thrive on the innovative spirit of the companies that develop them. They, in turn, have to depend on other suppliers to fine-tune the devices and components. Since innovations are planned and successfully commercialized in the B2B market, the sellers must work hand-in-hand to benefit from new market opportunities. B2B marketers need to combine detailed market research with upstream information to build a complete market intelligence picture.
Business-to-Consumer (B2C) businesses are likely to be less risk-averse as they need to predict the whims and irrational behavior of consumers rather than the more calculated decision-making of companies.
#9 Looks & Packaging Do Not Matter
Consumer goods depend on suitable packaging and branding for their success—spending massive amounts on the attractive design of cartons and logos. However, in Business-to-business (B2B), marketing packaging has lesser importance as the buying basis is not on looks and design. Buyers primarily evaluate a product based on its intrinsic merits rather than its aesthetic appearance.  Moreover, the decision-makers may not see the packing at all. Technical and production personnel may open and use it on the production floor.
#10 Branding and Sub-branding
In Business-to-Consumer (B2C) markets, branding and sub-branding are already significant. However, Business-to-business (B2B) companies rely on something other than branding, as 5% of the decision-making is based only on brand influences. Some B2B companies have created sub-brands for every aspect of their product range in their urge to use branding strategies. However, the importance of relationship-building over brand-building for Business-to-business (B2B) is well-known. Some Business-to-business (B2B) marketers increasingly rely on the web and social media to reach the potential market.
The major trend in digital marketing and web design is minimalistic design for web and digital marketing. According to Jeremy Durant, business principal of San Diego web design firm Bop Design, flat design will become more popular in the coming year.
Conclusion
B2B marketers recognize the need to develop buyer personas based on decision-making, tastes, and preferences. A survey of 37 North American executives showed that only 29% felt half of their workforce could describe the buyer personas, while only 8% felt three-quarters of their organization knew about them. Success in B2B marketing involves developing personas, validating insights, training teams, and using third-party data for persona creation.
Recommended Articles
Here are some articles that will help you get more details about Business-to-business (B2B) Marketing, so just go through the link.