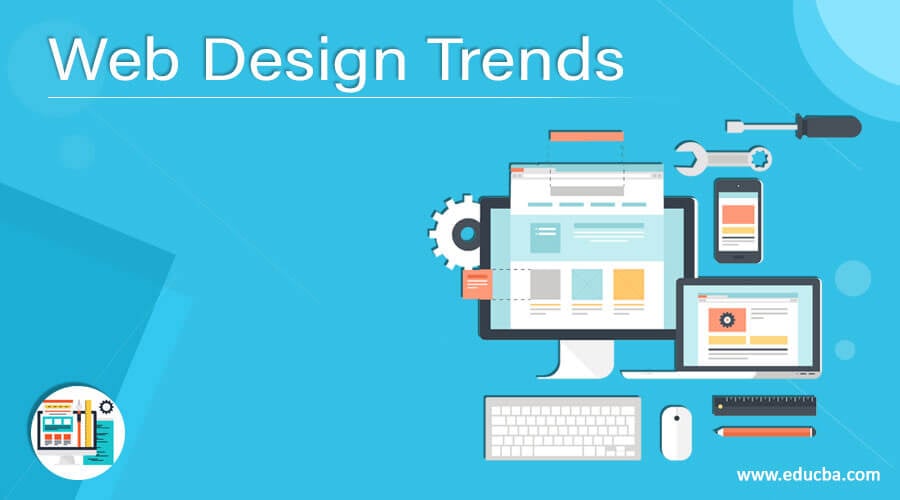 Introduction to Web Design Trends
Web Design Trends can understand as using different elements that make your website up to date, highly functional, elegant look, easy to use and well performing. It is necessary to change elements and features of website time to time due to becoming overdone, tired, out date of them. That is why some time you lose connection of your audience on your website. It is good to see that award winning web design agency keeps the trends of website updated for having highly performing website.
Here in this article I am going to tell you about some of the latest standard, innovative design trend of 2022-2023. So it become easy for you to give your website new look to attract audience. Here I will tell you about top web design trends for giving you more accurate information about it and after going through this article you can use these trends to make your website up to date. The very first thing on which you should focus is Page Speed.
Different Web Design Trends
Given below are the different web design trends:
1. Page Speed
Page speed is one of the top design trends that is, in the top of this list because if the loading speed of page and navigating process is quick then it will definitely going to help your web design. You should keep in mind that never misunderstand page speed when you are going to 'Create new page designs', 'Launching site updates', 'Building of new site design'. If you don't focus on it you may face different issues such as traffic, search results rankings, conversions and so on. In the fast experiencing website trends many search engines like Google evaluate websites on the basis of their page speed. Once you have good page speed for your website you should take next trend into your implementation and it is accessibility.
2. Accessibility
Accessibility provide your users that tools and features through which they can easily use your website and for that it must meet with the standards that are set by ADA (Americans with Disabilities Act), Standards for Accessible Design, and other essential requirements. This is the main reason that most of the companies invest in tools or compliance services of ADA.
For example if you are working with a WordPress website then there must be number of plugins available for it in this concern. You must want to get good standard of your website as soon as possible by choosing a service provider or a tool.
3. Simplicity
The Web Design trend for 2022-2023 should be simple and easy to use because you must have heard about 'keep your design simple' that means users wants to have a website that have easy to navigate menus, tab, less page loading time, no high motion graphics. You can take example of a food website ' McDonald's, if you check out this website you will notice there are few colors and simple graphics used even through it has so beautiful and elegant look. So this type of simplicity are doing good job now a days.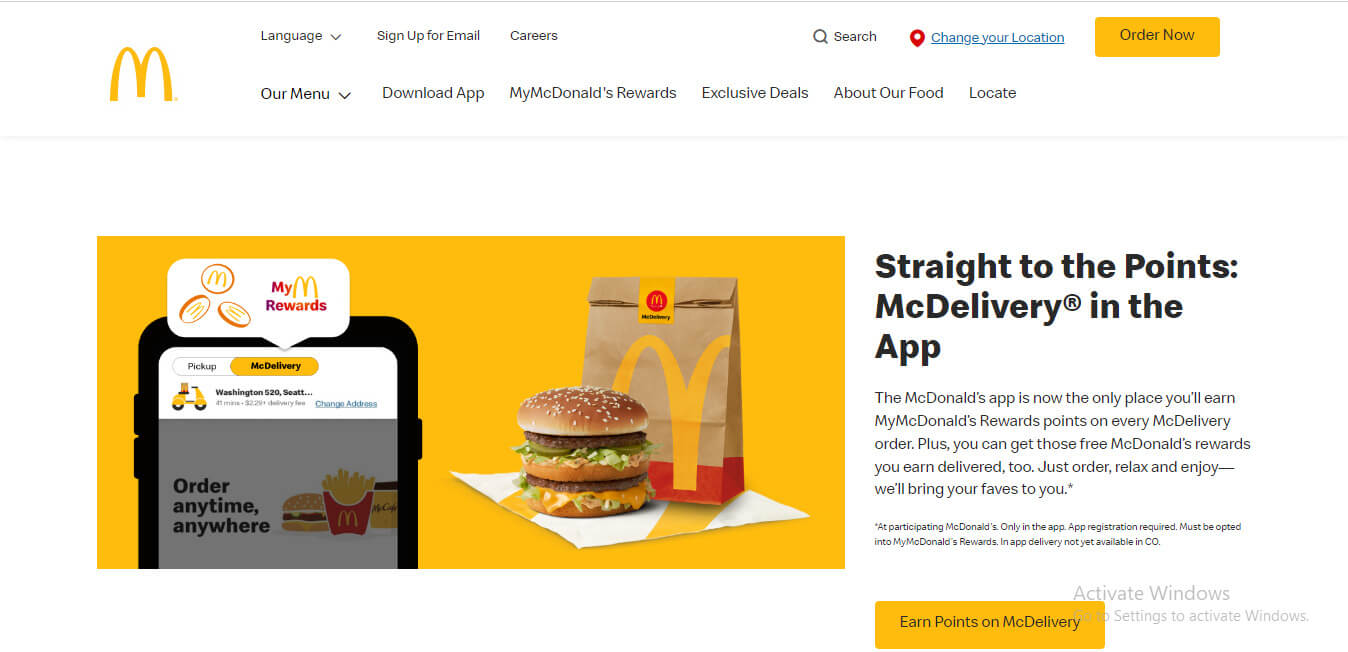 You can try simplicity in your website by focusing on some areas and match up with future web design trends.
They are:
Navigation type used in you website
Graphics used
Design of home page
Color scheme used
After Simplicity, you must focus on using Illustrations on your website page because it is most demanding feature of today's designing trend.
4. Illustrations
No doubt illustrations definitely add new look to your website page because in the new web design trends it become popular among web designer to express real purpose of their content of website. The benefit of using illustrations on your web page is that you can use illustrations in the same color theme of your brand colors, add as much as detailing to give it exact feel that you are thinking about it. www.matterapp.com is a good example of illustration. Here you can see not only 2d illustration but also 3d illustration also.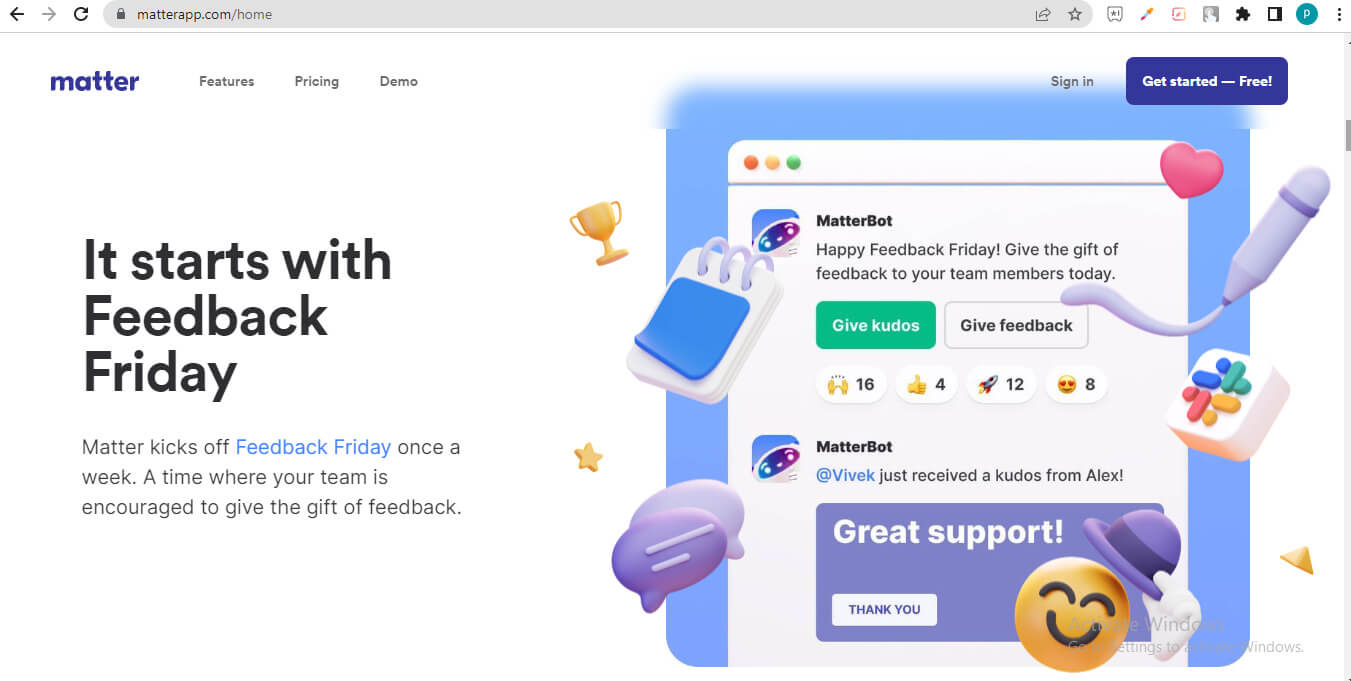 Now after reading this illustration trends part if you want to add illustration to your website then first think check that it fits to your current style of your website, if it doesn't fit with your website design then no need to add pressure here. Adding illustrations to your website can be good idea if you are thinking about to rebranding or want to have modern look for your website. Now you can understand if we are talking about illustrations then there must be place of GIFs in this web design trends.
5. GIFs as Graphics
Most relevant part of web design trend 2022-23 is using GIFs with your content in place of using number of images. GIFs are animated image format that not only gives trendy and design look to your website but also engage your users in attractive way. Here you can see home page of https://www.recruitfirst.co/ where we have some illustration along with animated GIFs and it is giving elegant look to us.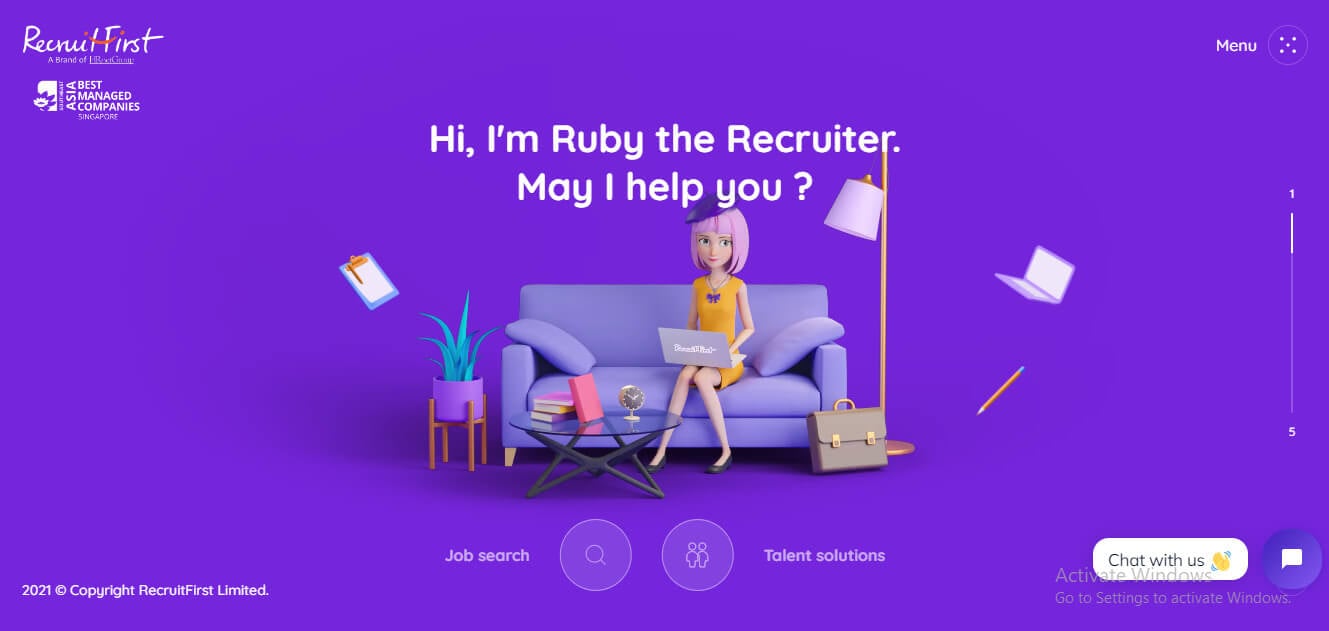 If you want to use GIFs on your website page then you can use gifs creating apps and make sure use small size gifs file for better speed of your website. After having discussion about animate image that is gifs you must think about what if you use animations on your website page then yes it is next web design trend of 2022-2023.
6. Animations
As we use GIFs as design element of our website we can go with animations in the form of object animation, calls to action and so on. These animation can use on the home page of website. These animations are becoming trendy day to day because it grabs attention of website users and make their interest in our website. If you want to use animation in your website page then use animations to your important page such as home page.
7. Flat Design 2.0 
Don't go by the name flat design! It's not here to make you a fool. Flat designs wooed the minds of people in 2020 also but there were issues with that based on usability. 2020 has brought many changes which are going to make it more successful in terms of usability. It will provide a never seen UI with a better user experience for visitors. Signifiers are being used to make designs easy to be used for people.
Flat design is a phenomenon of skeuomorphism, which focuses on strict 2D usage with no drop shadows, textures, gradients, etc. It is one of a kind. It also has minimalist features which basically means that less is more, and bold and vivid colors to generate interest. People using it can also add personal touch otherwise the integrity can be maintained as it is.
The newer version of Flat, version 2.0 deviates from the skeuomorphism phenomenon and incorporates the much-needed 3D design elements which enhance the look of a website. The best example of these changes and advancements in the website of 450 GSM where Flat 2.0 successfully added and intensified the beauty of the homepage using 3D elements like shadows, and highlights to bring the layers into focus.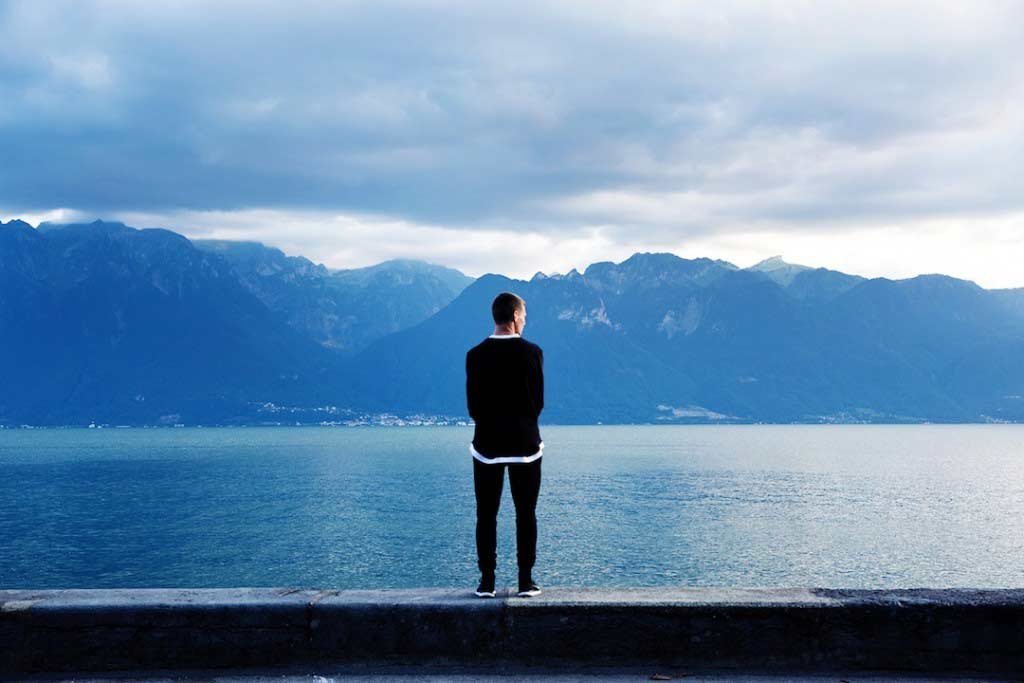 Image source: pixabay.com
8. Color Contrast is the New Black!
Do you think you really are a web designer? Do you have that sense of design, a creative bent of mind? Designing is not merely dragging and dropping a few elements onto a webpage or adding a few texts here and there. The theme of your website and the colors used to bring that theme to life are the little things that make your website unique. The colors on a webpage is what keep the users hooked to it and even direct them toward their destination.
One has to delight the customers pleasantly and give them the experience to remember forever. There is a huge importance of choice. A designer's sense of choosing which color to use at right time in the right context is a major factor behind what a website finally looks like. Every color has its meaning. A designer has to use the right combination of colors so that it is soothing to the eyes. Those who will master it will be benefited in long run. Designing involves color as one of the top most priority.
This design has made sure that the color mix has to be perfect. This design is meant to increase the number of purchases for around 90% and more people. For example, Girls prefer to wear black dresses for party which makes them look thin.
Using the right colours for site designs will decide whether the customer will prefer buying it or not. If opted for, the designs will be cherished forever.
The advantages that the customers will get from this colour coding will be: they will be quick to locate things (where to contact, where to check internal pages), and the colours will let us know different and important parts of websites.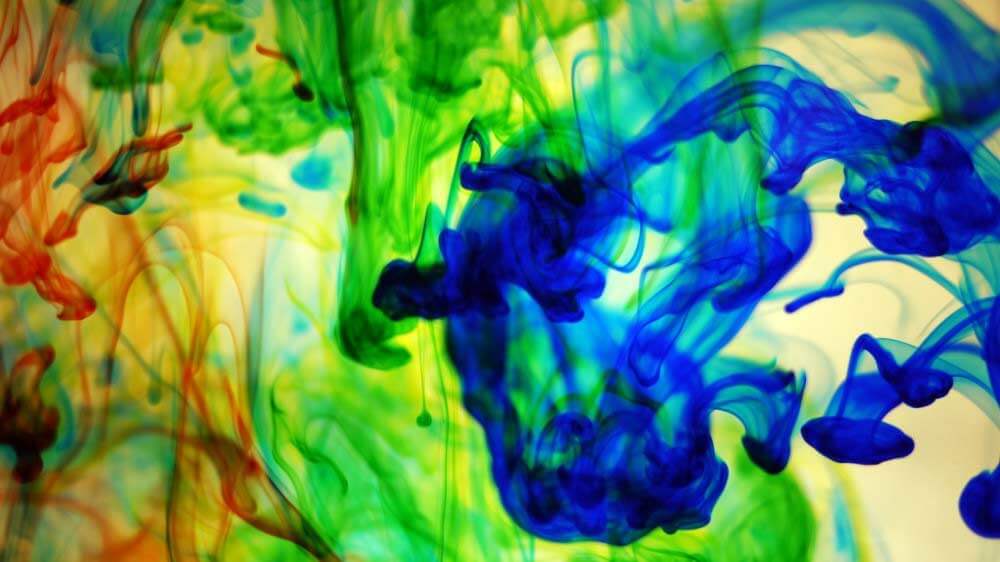 Image source: pixabay.com
9. Tell your Story with a Video
Using the right combination of colours has been attractive enough but the use of the right images has also been a fruitful effort from the designers' side. Mega images help to increase the conversion rate of websites. For images used, there are nowadays features of using videos also. Videos have a 6 times more 'frequency to get viral' factor than pictures/images. People easily connect to videos emotionally and it has been the same throughout. Videos can be used as a storyteller.
Videos are easy to understand and take you deep inside the character. It is a much better way to promote than text. They are said to be more engaging. A video on the homepage which will give a glimpse of what the website is all about is a treat to watch. It does make sense to visitors to watch it and increase the click-through rate. Even in shopping centers, navigation videos prove to be an effective way to guide customers. People are bound to pay attention to videos. This is going to be the Next big thing in town!
10. Flexbox- Your New go-to CSS Layout
Just putting beautiful colors, attractive images, and viral videos will not help you in creating a great-looking site. We have talked about images, colours, and videos, but here we are talking about web design layout trends. Flexbox has been impactful without being aesthetic always. This is now trending and is going to continue as it has solved problems in terms of the design and development of pages. A much-improved interface and experience have been provided to visitors.
Flexbox has solved many issues and has provided solutions in terms of:
No more head banging to find and fit a grid into the required size as it happens by default in the improved Grid systems.
With websites mostly being viewed on mobiles, the mobile-first web design and the most basic of problems with a header, footer, and three columns is solved by Flexbox.
Fluid width and fluid input button pairs are now a cakewalk.
Flexbox even eradicates the overflow and clear fixing problems when it comes to different sizes of Media objects.
Footers can be easily put at the bottom of pages with thin content.
Page elements can be aligned either vertically or horizontally without any hustle.
11. Material Web Design Trends
Material Design! Have you come across this term before? If not then, we would first focus on what it does mean. Material Design is the one with the big G behind it. Google brought Material design into the picture when it used it in its most famous websites- Gmail, YouTube, and Google maps
It has some eye-catching features and capabilities which are listed below:
Minimalist
Grid-based layouts which are very prominent to see
Lighting and shadows
Padding
Vivid colors
Responsive animations and transitions
Just the fact that Google is behind Material Design makes it a revolution. Material Design is a great mix of the new and the old and the blend is so technically mind-blowing that no wonder Google was the one that came up with the idea. Just like Google, Material Design is here for the long run. Materialism involves the usage of classic web design principles with the innovation of tech and science. If any web design trends company can do this, it will definitely get what it deserves i.e. customers.
Material design is related to physical design principles, and not a flat design. It has its bases in paper and ink. One of the best example of Material design is Android Gmail's user interface.
12. Minimalism and Flat Design 2.0
Minimalism is related to three words: Less is more. It has no clutter, it uses white spaces and totally focuses on what is important. Flat design goes very well with this concept. Flat 2.0 which we have already discussed adapts to this design perfectly.
The interaction of users with the website is a major concern. They play shadows, movement, and light which gives a combined visual treat to visitors. These are different from print-based designs like grids, negative spaces, vibrant colors, and images used. Flat designs which started in 2020 had no drop shadow effect or color gradients but the 2.0 version of flat designs has started incorporating them. It will have minimal textures and subtle gradients.
13. Interactive Immersive Experiences
Each experience creates its own story. Yes, it's very true. Experiences can be generated and can be narrated in form of stories easily. Humans willingly tell stories to peers about their experiences. HTML5 canvas, CSS3 conversions and animations, JavaScript APIs like WebGL and Greensock, as well as the influence of hardware acceleration, have made storytelling on the web more immersive and communicative. It has been enhanced like never before.
Now, since m-commerce has evolved a lot, people tend to browse on their phones rather than on laptops or PC. Browsing the web on mobile devices has made users more accustomed to long scrolls. Designers are now capable of providing an interface that tells a story and makes users engaged with the content. Users feel inquisitive and scroll down to complete the story.
14. Vibrant Custom Illustrations and Iconography
Images can do wonders but if the image is pixelated then it spoils the aesthetics of a website. Standard image formats like jpg and png can result in giving a disastrous look to the image. They don't work well on the web i.e. on high-pixel-density monitors. Wider browser support for Scalable Vector Graphics (SVG) and easily implemented icon fonts are answers to this problem.
15. Typography that Makes a Statement
Visitors if landing on the page which they want to get information from, great design, branding, and correct information have to be the basic purpose to serve the customers. Typography looks into this feature. Google fonts and Typekit services have made custom fonts available and to be used on the web. They are not limited and so as the brains of designers. These are also used by flat designs and minimalism. Further, more artistic fonts are going to be used to create websites.
16. HD Visual Assets
HD background images and videos on websites are growing stronger in the coming years. Wide support of HTML 5 video which is able to serve high-resolution graphics to devices has added to the advantages of using this feature. Artistic effects on images that gives a dramatic impression can be created easily with CSS code. Thanks to CSS3 background blending. Cinemagraphs are still images with a little bit of animation. This additional flower has actually drawn the attention of website users. They are basically incorporated into live photos on iPhones. They are supported by HTML5 canvas.
17. Less Rigid Grids
Pinterest has been using the grid-based layout. Minimalism, flat design, and popular frontend frameworks like Bootstrap have all contributed to the success of these structured, grid-based web design layouts. Grids narrate stories and make interaction easy with customers.
CSS3 shapes have helped build the future for such web design layouts. Standard rectangular box shapes are now just an old version. Working with edges and contours has enhanced the elements on the web page.
Future Web Design Trends
The year has set the stage in the web design trends and development world. Designers are actually keeping an eye on what different is going around and how they can inculcate that in their designs. Everything they will do will leave an impact on the customer's minds. Designs are like passing fads only. Every time it keeps on changing. Designers either enhance the versions of previous designs or new things comes up like flexbox.
Browser support is a must for the website layouts to prosper. Creativity has no limit but these things sometimes bound that extra mile that designers want to go.
We need to see what has make the customers visit the website again and again: whether it will be colours, images, videos, layout, animation or any new upcoming feature lined up to surprise us.
Although there may be number of trends that can incorporate with future web design trends:
Gradient shading may be stolen place of abstract background that means there may be animated blending of color from one to another.
3D object may take place of many elements of website such as Cursor, Icons and so on.
Although Full-page headers go to be trendy in the web design concept of 2023 but it will also be part of Future web design trends.
There are many other trends for future web design trends but I just discussed some of the important here.
Conclusion
I think now you have enough information about web design trend of 2022-2023 for making your website up to date and trendy. There are some more trends which you can use along with above discussed trends. Now I will suggest you to start implementing these trends so that you can get good traffic as well as user interaction on your website.
Recommended Articles
This is a guide to Web Design Trends. Here we discuss the introduction and different web design trends respectively. You can also look at the following articles to learn more –