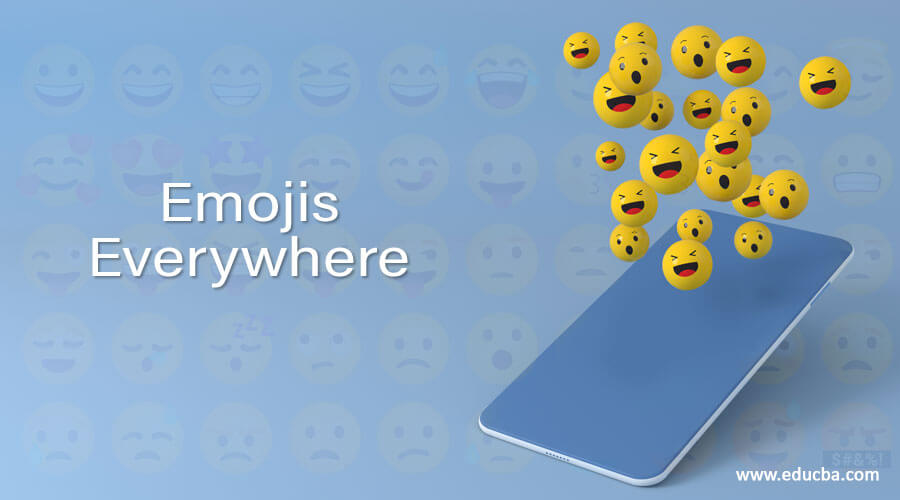 Introduction Emojis Everywhere in Marketing
Emoji is basically a text-sized picture character that carries an emotion joy, sadness, laughter, music, celebration, flight, celebration, clap, victory, love … Emojis are used in person-to-person communication as well as in brand communication by a business. But the type and popularity of emojis used by people and brands have a huge difference. Emoji was created in the 1990s by an employee named Shigetaka Kurita at Japanese communications firm NTT DoCoMo. It is different from an emoticon which is a typographical display of emotion- 😉 quite popular in messaging.
Hence it is important to understand the context and relevance of its use. The use of emojis in marketing communication is witnessing a huge growth, according to Appboy, a provider of marketing solutions on mobile. They said that its use in messages have risen 777% in the past one year while its use in email has risen 7,100%. According to estimates, six billion emojis are being circulated around the world especially in mobile devices. Therefore, it's time to take a serious look at how it can help you in branding communications.
Ways to Use Emojis Everywhere in Your Marketing
Here are some tips for effective use of emojis in marketing communications on mobile, Facebook, Twitter and more.
1. Don't crowd your message with too much emojis
Chevrolet made history when it released a press release on Cruze 2016 launch entirely in emojis.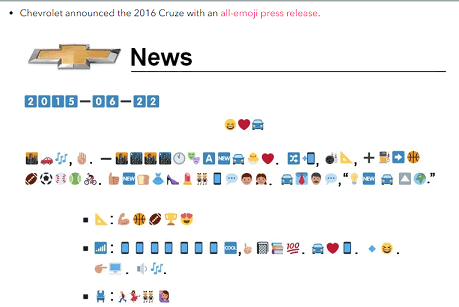 But many analysts said it was overdone as it was difficult to make out what the release press release was all about as it could be interpreted by people differently. The company came up with a decoded version and educative video on YouTube on emoji decryption. However, if emoji itself dominates a message people will as well abandon it. It is true that a picture is worth a thousand words, but emojis aren't a substitute for words or images, they only compliment or lighten a situation. This Mercedes Benz India Emoji is an example of brevity in using the feature. It features a chequered flag and the flag of Bahrain on the victory of Nico Rosberg.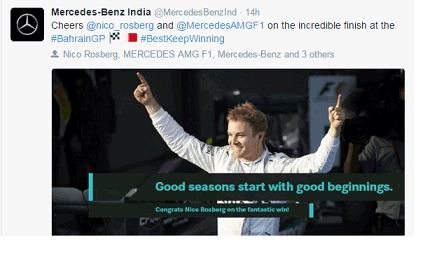 Or the one used by Wordstream to convey the importance of video in sales conversion. It shows the emojis of video, upward graph and Face with Stuck out tongue and winking the eye to suggest a light-hearted treatment to the marketing message.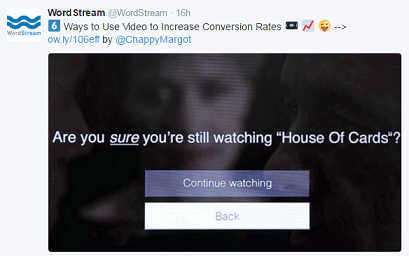 The one below by Goldman Sachs also went overboard with too much emojis that was not quite relevant. According to Neil Patel, it is not wise to bombard a message with emojis just for fun without looking at the functionality. Just because emojis are popular with millennials it doesn't mean they have to be used everywhere.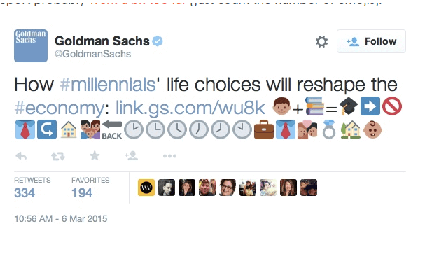 It is better to use emojis for humor and fun rather than serious or academic content. Online visitors are likely to be put off to promote serious content.
It can be informative as in the World Wide Fund for Nature's campaign to save 17 endangered animals from extinction. It put the 17 emojis of threatened animals and each time a user used an emoji, it was worth a voluntary donation of 0.10 Pounds. It received a tremendous response with close to 50,000 re-tweets.
A marketer should avoid emoji fatigue, so one must be careful how frequently it is used in the message. It should be used to spice up your message not dominate it.
2. All emojis may not have a universal appeal
Emojis are created as per Unicode standards but each service provider has innovated with different versions of the same. For eg. Dog Face appears differently on Google, Facebook, Twitter, Apple although all of them are smiling and have their tongue hanging out. But some may have acquired meanings or hidden means and such emojis should be used with caution.
3. It should be relevant to your industry
As far as possible it is better to use emojis that are very relevant to the industry in which you operate. A Baskin Robbins tweet had only one-two emojis- cone ice cream and strawberries with a hashtag #hohoho. You can use any number of emojis available but if it is not relevant it may appear odd and out of context.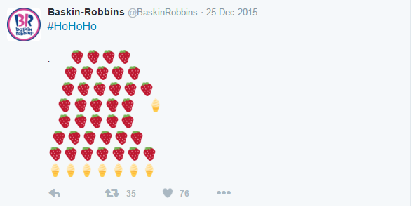 Relevance is important not only in FaceBook or Tweets but also in email subject lines also. It has been found that animated and unanimated emojis in subject lines can boost open rates but they need to be relevant. The following subject lines have emojis which are very relevant to the industry.

Here are the top emojis that appear in email subject lines:

When used appropriately, it can enable marketers to have better open rates for email campaigns. Moreover, they can retarget campaigns for people who have opened or responded to their emails. The emojis at work help in creating a distinct brand identity especially for food and travel companies.
4. Be selective in the use of platforms
Before putting effort into emojis at work, it is better to understand the target audience, evolve a persona and have an idea of which platforms they may be using more. If the target audience is millennial it is likely that they will be more on mobile platforms. Brands need to recognize which are the best platforms to connect and share. It is better to work on mobile-first as penetration is highest in this category, analysts said.
5. Conversion metrics and retargeting
As in any other ad campaign, it is better to do the conversion metrics for emoji marketing as well so that marketers have an idea of its return on investment (ROI). Some apps measure the downloads, retweets, and shares as an indicator of its effectiveness but others use it for retargeting ads. Somebody who has retweeted or shared FB posts will get further follow up ads. Some internet ads have emojis like wow, anger, smiley faces, etc. Those who put the smiley face as the response will be followed up with further messages. This helps in establishing a better connection with the consumers.
6. Use it for effective branding communication and sales
Large companies use it as a part of their branding efforts. Coca-Cola paid Twitter to create a custom emoji when hashtag #ShareaCoke was tweeted. It will result in the formation of a pair of Coke bottle with the signature red label. Domino's used pizza emojis in tweets to help customers order products. When clicking on the pizza emoji, an order is placed by a Domino's customer.
Custom designed emojis are a great way of branding as was done by Burger King.

7. Make emojis interactive
Emojis can increase engagement with the customers if used properly. Tampico, a US beverage brand came up with a social media game that required users to guess a winning combination of 24 options. Users had to just use the Tampico Emoji ball leading to increased user engagement.
8. To tell stories and for information sharing
General Electric's Emoji Science Campaign was a classic example of how the technique can be used for spreading information. The users had to send emojis to get short video lessons. It was designed on the lines of the periodic table, instead of elements, it had emojis.
When users click on the emojis, experts appear on video talking about evolution, spacecraft, rocket science and many other related topics. The Smithsonian Institution enabled users to click on emojis and learn about a particular exhibit in their museum. When users click on the emoji trumpet, they get information on Louis Armstrong's trumpet.
9. Test your campaign before launch
Emojis at work is quite new to marketing and they need to be tested before the actual launch. In some countries, emojis at work are popular while in some others it is not. Instagram posts in Finland have up to 60% emoticons while in Tanzania, emoji content was seen only in 10% of posts.
It may be said at the outset that emojis are not quite suited for academic, research, consultancy firms but more for consumer goods, mobile, gaming, food and beverages and so on. And most often emojis only speak half a word and therefore is a compliment to text material and not a replacement.
In email campaigns, you can try different service providers like MailChimp, Marketo or SendGrid and have emojis in one or two and the other without one. If open rates are higher in emoji subject lines, then there is the option to go big bang with that or else not. Unless the email has good content that is relevant to the target audience, having a good emoji on the subject line will not help. If Content is king, emojis play the role of jokers but ensure that they entertain with impact, according to some analysts.
10. Avoid slang
With the growth and diversity, it has become possible for marketers to avoid slang in informal messages. It is no longer necessary to use Lol as Facebook themselves have come up with six new such as Like, Sad, Angry, Wow, Yay, Haha.
Conclusion
Emojis convey emotion better than plain text and it has been found to increase the share rate by 33%, comment rate by 33%, 57% higher like rate. The most important advice that analysts and experts give to marketers is to not use just for the sake of it. The success of it depends on concept and execution.
There have been exceptional flops as in MacDonalds which used in billboards to suggest that a solution to gridlock was a pitstop for some fries. A graffiti artist made some changes to it causing embarrassment to the brand.
The case studies analyzed so far reveal that they are good for branding, engagement with customers, help in ordering, act as educational aids and creating social awareness as in World Fund for Nature's endangered species campaign. According to some analysts, these are like seeing a happy face in real life online. It adds to the humanness of the message and breaks the monotony of text.
Adweek reported that the much-talked content in Twitter is not a cat viral video or a celebrity tweet but emoji. All major brands such as Coca-Cola, Star Wars, Star Bucks, Domino's Pizza, Toyota have all used emojis with great effect on their marketing campaigns. Hashtagged emojis help consumers to share and get engaged with like people and also the brands. Star War emojis created with the help of Twitter was also a grand success. CNN experimented with a political theme emoji with respect to the Presidential campaign for 2016 in the USA. CNN expects momentum for a particular candidate to help in reviving the network's former glory irrespective of who comes to power in the White House.
Mobile is the platform of choice for most emoji marketers thanks to its reach but there is no denying the utility of the strategy in email campaigns and even on videos on YouTube. Compared to anger or other negative emotions, smileys have outscored in social media especially Instagram.
Facebook itself may be using it to gauge the popularity of News-feeds and which to show on top. In marketing, if a brand receives more angry responses, then it is time for them to reach out to customers and find out their pain points that the product is not addressing.
To an extent advertising is about getting the emotional response from customers and new emojis used by Facebook and marketers could be creatively used to assess consumer behavior and feedback. Strong reactions, mild reactions, and neutral responses are all measurable and it can be used for retargeting.
There are a lot of free apps and predictive keyboards available for using emojis.
Consumers are also hooked to emojis with the latest Muva Moji keyboard available for Android and iPhone already becoming a hit on AppStore and Google Play. Promoted by model Amber Rose, it is set to beat Kimoji of Kim Kardashian. There are already 900 emojis available for easy sending on Muva Moji keyboard. With emojis becoming a part of daily life, marketers too can reap rich dividends with proper effort.

Recommended Articles
This has been a guide to Emojis Everywhere. Here we have discussed the basic concept with top 10 different ways to use emojis everywhere in marketing. You may also look at the following articles to learn more –