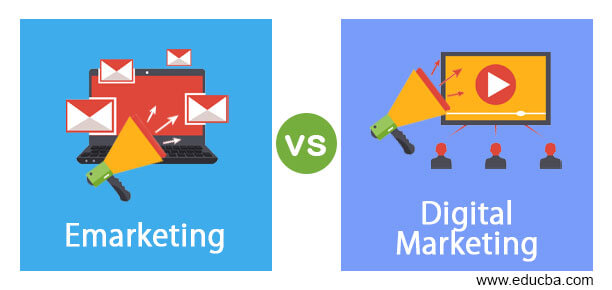 Difference Between Emarketing vs Digital Marketing
With the advances in technology and communications, their varied applications in everyday life, it has become a bit difficult to define certain terms and cannot possibly go by its literal meaning. For example, telemedicine doesn't mean consulting a physician over the telephone but it is more broad-based to include transmission of text, images, videos of a patient live through satellite or broadband to an expert sitting at a different location and diagnosing the disease or ailment.
Likewise, electronic marketing (Emarketing) denotes television and radio channels that transmit/broadcast programs to a large audience but it would not include those viewing a film on CD at home or in a theatre. Although in a technological sense all these applications are based on Emarketing.
Emarketing VS Digital Marketing Infographics
---
Below infographics on Emarketing vs Digital Marketing throws light on major points of differences between the two marketing streams.

In a technological sense, Emarketing denotes the use of integrated circuits, resistors, transformers and relays mounted on printed circuit boards but digital is narrower in the sense that it is related to information technology and assembly level programming involving binary digits zeroes and ones (0 & 1).
Indeed, Emarketing and digital technologies are not watered in tight compartments but overlap another or are inter-connected in many applications.
In marketing parlance, the differences between E-marketing vs digital marketing and digital are getting blurred but from an application and academic point of view, the earlier thought regarding the communication technology used or not used would make us understand the subtle differences of Emarketing vs digital marketing in a new light. Emarketing, mobile technology, digital, internet marketing seems to be used interchangeably by various writers and experts.
Here is an attempt to bring out the subtle differences in these terminologies to gain clarity on its scope, uses and limitations.
Emarketing
Emarketing encompasses a variety of channels to reach to a wide audience and it includes websites, television, radio, mobile, short messaging services (SMS) and social media. Emarketing presupposes a wide audience, a democratic medium accessible to all and mode of transmission could through wired networks, radio waves, satellites for long distance TV and radio transmission and wireless networks (WiFi) for internet and mobile net access.
Emarketing marketing involves an infrastructure for content creation and appropriate communication technology for reaching out to people.
Television and radio require a studio, recording equipment, human resources to develop content, technical personnel to manage recording equipment and transmission apart from outsourced software programs to be aired for entertainment and information.
Due to the democratic nature of the medium, its accessibility and reach, Emarketing media such as television, radio and websites are often most preferred by marketers with medium to large scale budgets.
It is advertising that sustains the operations of many of the Emarketing media as only a small proportion of them are subscription-based. Television and radio offer several options for advertisers to reach a huge audience. It could be through sponsorship of programs or put 30 sec, 65-second commercials in-between popular programs.
In tune with the reach of the medium, charges are also relatively high in Emarketing media and appears most suitable for brand building for home appliances, Emarketing goods, processed food, cooking materials, fashion, automobiles, cosmetics, toiletries among others and less suitable for heavy machinery, equipments, technology industry and Business to Business (B2B) sectors.
A large audience for television and radio is composed of women, children and elderly while the male population may be more tuned to sports, news, and movies. It may be recalled that the sudden spurt in popularity and reach of Emarketing media had eaten into the ad market share of newspapers, magazines and other forms of print media in the 1990's.
If radio and television had eaten into the market share of traditional media, the rapid penetration of internet in the last decade had taken away some of the business from traditional print and Emarketing media. The number of internet users globally now runs into billions and growth of mobile telephony have taken the popularity of browsing and social media to newer heights.
The websites offer display advertisements in top and bottom known as headers and footers and also in ear panels and mostly on the right-hand side of the pages. Display advertising, especially, on homepages are quite costly and marketers need to examine its cost-benefit before committing to a budget.
Some websites also provide text link ads which are inserted in between texts or at the end of an article which is more likely to be clicked compared to a display advertisement. It has been found that visitors to a website are eager for information, data or for pictures and depending on internet speed are more interesting in accessing content rather than clicking on display ads that may contain high-resolution pictures with or without animation or videos.
Google ads are a more reliable and result oriented way of reaching a larger audience as the ads are placed in web pages or search pages with the most relevant content that is related to our product or service and hence more likely to be opened. In the web, the ad rates are either on a cost per click (CPC) or CPM (cost per impression) and the minimum unit would be a thousand impressions. The fact that an ad is displayed on the desktop or mobile phone screen is no guarantee that it would be read and acted upon. Hence, this may be the reason advertisers now prefer CPC ads as compared to CPM or fixed rate display ads. CPC and CPM rates vary on the popularity of the site, the keywords and how competitive it is.
Companies could opt for display ads if the objective is for brand building and not expecting immediate sales conversion or booking.
Mobile devices also offer opportunities to reach a large audience, and the most popular, cost-effective strategy is short messaging services (SMS). It is one of the cheapest strategies to reach a large audience in any geographical area but limited to numbers that are not in do-not-disturb (DND) category. With telecom regulators getting stricter on calls or messages sent to DND numbers, the reach is getting a bit narrower. Moreover, the clever use of words, timing of the message and selection of the right target audience can result in better return on investment (ROI).
Email marketing until recently was considered a good strategy to reach a targeted audience but now with Google differentiating mails into primary, promotion and social, the receiver has the option to avoid promotional emails if they don't wish to see it. Similarly, habitual spammers are destined to end up in the spam box and hence not likely to be read but could end up in the trash.
Digital Marketing
There are two ways of looking at digital marketing. For some experts and analysts, it denotes all forms of Emarketing marketing done through a web, mobile, radio, television, Emarketing signboards but not restricted to use of communicative technologies alone.
The other view is that Emarketing is broader and digital marketing is a subset of it as it is confined to a certain location such as digital banners in malls and traffic junctions on busy roads. Digital marketing can also be done in movie houses as medium used now is not the film but TV or digital cameras. Or the other option is to classify as online digital promotion and offline digital promotion activities.
The rapid development of Light Emitting Diodes (LED) technology has enabled places with large footfalls to put up LED Wall displays for advertising. It could be a mall, a hypermarket, busy junction, railway stations, airports and even in buses and trains.
With municipality and city authorities clamping down on flex boards and banners due to allegations regarding environmental pollution and distraction to motorists, digital banner displays have emerged in the forefront due to its environmental friendliness and lesser distractive influences. The LED technology now lends itself not only to textual messages, images but also animation and video thus appealing to more and more marketers. They are also now being used widely in events, exhibitions and trade fairs where a large number of visitors who are either consumers or businessmen converge.
The availability of strategic positions on roadways, malls, hypermarkets, the rental costs and maintenance costs will be the factors that influence the widespread use of digital displays in the coming years. Marketers who are more focused on ROI would consider digital displays but after balancing other forms of promotional activities in the budget.
The creative part of digital marketing will also have to undergo a sea change – it needs to be innovative and attention catching as the time spent by people in front of digital displays are involuntary either at traffic junctions, malls, cinema theatres, trade fairs and events. Digital displays that are location based with no communicative technologies involved will have the advantage of improved technologies and movement against flex and metal hoardings displays in public places that are distractive.
Conclusion
The use of digital and Emarketing is set to improve in 2016 but will become more targeted, people-based and stricter on return on investment (ROI). When digital marketing is seen as all-encompassing including online and offline, it is predicted that marketers will be under increased pressure to sole challenges such as getting a clear view of the customer across disparate data sources, connecting the past to a customer's intent, and demonstrating attribution and ROI, according to Signal.
The Adblockers in website and mobiles are costing the publishing industry as much as $41 bn. As advertisers seek to target known audiences versus unknown, social media such as Twitter, Facebook are likely to increase its market share. Digital marketers will be looking at the mobile applications space with more intensity as 60% of total time spent on digital media is on mobile devices. It is predicted that mobile ad spending will reach $42 bn or about two-thirds of all digital ad spend. In US markets, digital display ads market is over $27 bn with social media (Facebook, Twitter) and Google accounting for 43% of market share.
There is a wide difference in adoption levels of digital technology across industries, according to a US Survey. In the forefront of digital technology, adoptions are media, professional services, information, and communications technology (ICT) and financial services. However, many labor-intensive industries such as retail and healthcare are expanding digital use but a localized business that is labor intensive are less likely to adopt digital technology. It includes real estate, agriculture, construction industry among others.
The survey pointed out that offline and digital technologies are merging. Therefore, it is important to keep offline marketing relevant by using augmented reality to create interactive print, add measurability to campaigns and drive sales.
The trend drivers for 2016 for digital and marketing would be a great design, great experience, and a holistic experience. Customers now look forward to 'experience-driven' rather than 'claims driven' campaigns, and elegance of design will be the factor that matters most.
Following the Uber design, customers will now be geared to great but minimalistic design features whether it is on websites, mobile apps, digital display boards and even in print. In 2016, customers are expecting the marketers to recognize their needs and make the feeling that they know them. Tailored online shopping experiences, apps that auto-populate content of interest and moreover the desire to be recognized as humans.
The importance of digital marketing can be gauged from the increased merger and acquisition activity in the digital space. Google, Facebook, Apple, Yahoo, Verizon, Twitter were seen active in acquisitions. Digital M&A's are expected to rise 24% in 2016.
The composition and design of digital marketing would now be decided by data have driven decisions. As data mining and analysis of customers are becoming more widespread, the marketing focus is likely to turn customer-centered and related to their needs. The marketers will be more dependent on people with data science skills to understand the customers spending, buying behavior and what motivates them to come up with digital surprises.
In the US, a survey has indicated 82% of marketers will increase the use of data generated from customers to conceptualize campaigns.
Recommended Articles
Here are some articles that will help you to get more detail about the  E-marketing vs digital marketing so just go through the link