Updated June 2, 2023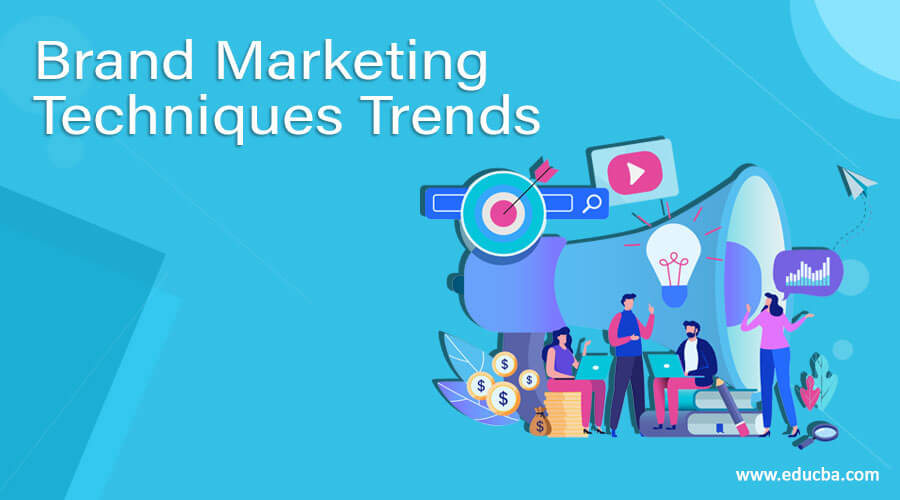 Brand Marketing Techniques Trends

Gone are the days when branding meant getting the company and its products seen across the mass media (with print media dominating) and with physical presence through hoardings. Celebrity endorsements were the guaranteed formula for success in the marketplace. It was followed by the significant inroads made by the electronic media- radio and television captured the people's imagination, and marketers capitalized on it.
However, the marketing landscape of the past decade has witnessed a sea change with the growth of the Internet, social media, influencers, event promotions, inbound marketing, digital marketing, and virtual reality. Suddenly, brand promotion is all about experiencing or feeling the product or experience, not passively through mass media or hoardings alone.
It may be too early to forecast which new trends are hype or which will be making a dent in marketing.
2016 Brand Marketing Techniques Trends
At the beginning of the year, it's natural to forecast what will happen in the next twelve months in the industry, and marketing is no exception. Much of what will happen is partly a continuation of what had or didn't happen in the past year. Hence, not many surprises may be expected this year.
Daniel Newman, a writer on marketing in a column in Forbes, noted that 2016 might be a frustrating year for marketing as being visible is no easy feat. On the other hand, they need to understand the needs and expectations of a diverse and fragmented consumer base.
1. Social media's influential change from strategy to a medium
A few years ago, most companies thought about social media as a strategy to be followed along with online promotion and marketing, not giving much importance. However, social media is now getting prominence as a marketing strategy, and in 2016 it will go one step higher, becoming a medium just as the Internet is. Thanks to the rapid growth in mobile telephony and data services, the Internet is now accessible on various devices and not restricted to desktops and laptops. Hence the social media players Google Plus, Facebook, Twitter, Pinterest, and LinkedIn are all set to increase influence among people and businesses.
The importance of social media can be gauged from Google's efforts to forge professional relationships with social media players such as Facebook and Twitter. The intention is to develop business relationships to bring more traffic and new visitors to the Google search engine platform. Kent Lewis, an avid market watcher, and blogger, predicted that in 2016, search engines would index individual tweets, eliminating the clear distinction between the World Wide Web (WWW) and social media and creating a more socially dynamic experience from an SEO perspective.
Last year brands were expected to integrate their traditional media ad campaigns with social media, which was used in the dialog body of the 30-spot print ad or billboard. Using hashtags, marketers aimed to engage the millennials in the US population aged 18-34, who represent one-third of the US population. This trend is also likely to continue, according to experts.
2. Customer Experience will gain dominance
The defining moment for any consumer is the natural feel of using the product or service, which will have a bearing on brand management strategies adopted by the industry this year. It could be from the simple sampling of products to getting a physical cum digital experience in trade fairs and shows. It could also be a test drive of a car or a free trial of a product such as a dishwasher. Bosch allows households to try their dishwasher for a day before buying. Experience, feel, and purchase strategy could make the consumers more comfortable with a product or service and prefer brands that do it.
3. The Use of Big Data in brand marketing techniques
Organizations have considered the significant bits of structured or unstructured data stored in servers to gain valuable insights into market performance and devise appropriate strategies. With the availability of better big data solutions that mine and analyze data, marketers are working towards it, thereby turning the hype created by big data into a tangible result. Big data comes from social media, the company's customer interaction, and secondary data from research houses and surveys. Together they constitute a vast potential for brand marketing companies to work on and understand the market. Analysts believe that more spending is expected to occur in big data analysis, affecting brand marketing strategies.
4. Mobile telephony to drive customer engagement
Until a few years ago, newspapers, television, and radio held the center stage regarding mass media marketing and branding. The growth of the Internet took away some of the importance given to the traditional media, and thereby Search Engine Optimisation (SEO) and related marketing gained traction. However, in parallel, not many noticed the business potential raised by the social media platforms such as Twitter, Facebook, Linkedin, and Pinterest, so much so that they evolved into a medium of their own. And the most significant enabler of digital marketing trends was the growth in mobile telephony and computing.
Companies need to have mobile sites in addition to websites, and developers have been creating mobile apps to address every possible problem and are continuing to do so. It could be for making a payment, booking a service, registering a complaint, or playing a game for kids. Mobile apps for learning, booking utilities, transport, and entertainment have become acceptable for many millennials. Mobility will remain a key driver of brand marketing techniques innovations in 2016.
5. Content will remain, king,
Blogs, articles, FaceBook posts, Tweets, and guest postings, there are innumerable ways inbound marketing will be driven in the future. Here the content is king, and how informative, helpful, and engaging it will determine its popularity among the consumers or readers. Google has changed its algorithms at a rapid pace to select the original content precisely and employs complex metrics to find out a group of people spending more time on a keyword search result and giving them higher ranks for those searching; Copying, Plagiarised content is being discouraged by the changing dynamics of search engine algorithms. This applies to videos, images, and infographics that supplement the text. Google is marking original visual presentations differently from copied content; hence, more investment may happen in visual space too.
6. Virtual Reality to continue to gain importance
Virtual reality, 3-D will drive brand marketing techniques innovation which will be helpful for various industries, including real estate, airlines, and tourist spots, and they will no longer be a novelty but enter the mainstream. It could also help them experience the features of a new luxury car, a cruise liner. Smart marketers will find many opportunities to create dreams for consumers to aim for. It could be a dream lifestyle in a premium residential flat, an overseas travel, eco-tourism spot; it could also help devise learning solutions for schools and colleges.
7. Location-focused marketing
Location-based marketing technology has emerged that will enable marketers to create an interactive experience. They can be employed in events and conferences. New technologies such as iBeacons, and RFIDs have emerged to help make a new trend. iBeacons are inexpensive transmitters that work with Bluetooth low energy-based technology. These technologies enable the event attendees the sign-up and engage in talks and sessions.
8. Video content to be more influential
Textual content, images, infographics, high-resolution pictures, tables, and charts… will be the most talked about by customers, liked, and shared. But with increased bandwidth, widespread net usage, mobile telephony revolution, tablets and pads, streaming video will become a hot favorite for brand marketers.
Youtube, FaceBook, LinkedIn, and the web could also be a good potential for streaming content that will be a result-oriented brand marketing strategy for any industry, especially the learning and entertainment industry. The video has the advantage of engaging the consumer with a message. With platforms like Periscope and Blab, interactive video will now be accessible on smartphones. Video marketing will come to the forefront shoulder to shoulder with text and image content with possibly some innovative new campaigns.
9. Marketing Communications to emerge stronger
The confluence of marketing, public relations, advertising, and content will accelerate in 2016 as much as the trend was visible in 2015. The marketing communications professional has the challenging task of reducing the sales process time as the right images, textual content, and infographics are delivered to the audience in a coordinated manner. The entire gamut of brand building, from logos to event management, press releases, email titles, and signatures, must be integrated into the marketing communications exercise.
Marketing communications professionals will optimize content creation, search optimization, and social media efforts. Optimizing such marketing communications will provide an overall customer experience of the brand instead of different creative strategies working towards a single goal.
10. Marketing Automation
If automation is a critical driver in manufacturing, accounting, process industries, and even aviation, the concept of automation in marketing may appear relatively new. Companies will use the latest mobile and web-based applications to automate marketing. According to Meaghan Moraes, as more companies need to focus on content to drive marketing and sales, they are looking seriously at the marketing automation market. The market is worth $5.5 bn and still growing.
Software solutions that enable the scheduling of Twitter and Facebook posts, emails, content management, and contact segmentation are helping corporations establish a marketing automation platform that aligns with their brand marketing techniques. It helps to converge and integrate several functions related to marketing, brand promotion, publicity, and advertising. Companies that ignore marketing automation solutions work harder for the same result, falling out on their marketing communications team's efficiency and productivity levels.
Conclusion

The trends predicted in 2015 for brand marketing techniques perhaps did not have the desired impact as expected. Celebrity brand endorsements will continue as long as mass media promotions are there as media planners prefer it to ensure immediate brand recall and attention from the public. According to some analysts, influencer marketing was more hype than reality.
Companies realize that connecting and partnering with the right influencers to connect with the consumers. However, considerable planning and forethought have to go into influencer marketing as a nasty campaign can result in a wrong brand fit and hence on the brand marketing techniques campaign as a whole.
Some applications, such as wearable technology and Apple Watch, are ahead of time. As a result of the hype surrounding the latter, developers created apps related to it in November 204, five months before its market release. Several companies, such as Target and American Airlines, developed apps for the platform, but sales of Apple Watch did not go up. Wearable technology also did not deliver results in a meaningful way to the industry. That is not to undermine the potential of Apple Watch or wearable technology; they still hold tremendous potential, experts opine. Wearable technology could see an adoption rate of 28% as marketers look for more user data to mine. The Internet of Things (IoT) will advance even as its applications may take time to utilize in marketing.
Any new trends predicted by experts and analysts would succeed in the market only when they become acceptable. Just because a technology looks promising, as in big data mining and analysis, is not sufficient for marketers or analysts to start using it. Factors that could drive a new trend are affordability, relevance to the market and the product, and how it can be integrated into comprehensive brand marketing strategies.
Corporations will also look closely at how other competitors adopt new technologies and solutions before adopting them. Enhanced customer experience, recessionary trends, better return on investment, and better sales conversion will be the key factors that will drive industry use of the emerging brand marketing techniques trends.
Recommended Articles
This has been a guide to more spending expected to occur in big data analysis, which will affect brand marketing techniques and strategies. These are the following external link related to brand marketing techniques.