Updated July 28, 2023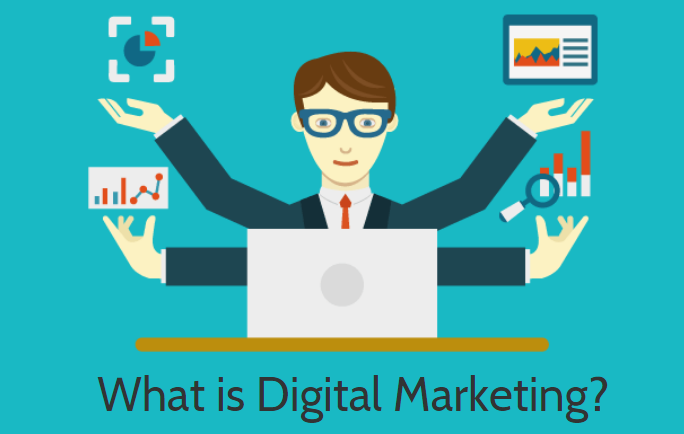 Introduction to Digital Marketing
The Internet has not only made it easy for people to stay in touch with their friends and families, but it has also provided sellers and brands with a new way to reach out to users, communicate with people and sell products online. The industry that focuses on selling things online is called Digital Marketing Industry, and in this post, we will understand what it is, how it works, and how can someone get started with it.
Before we dig deeper, let's take a look at what digital marketing is. First, we can define it as a type of marketing that uses the internet and all its technologies to reach out to potential buyers and sell them a product online. In other words, it's plain simple marketing, just being done on the internet.
As the number of internet users has grown, so has e-commerce and the scope of digital marketing. Today, you can buy almost everything on the internet, and in this situation, not being online is not an option for a company if it wants to survive and succeed.
Components of Digital Marketing
You may be surprised to see that digital marketing is not limited to Search Engines and Web Rankings; instead, it covers almost all parts of the internet, starting from content to Analytics.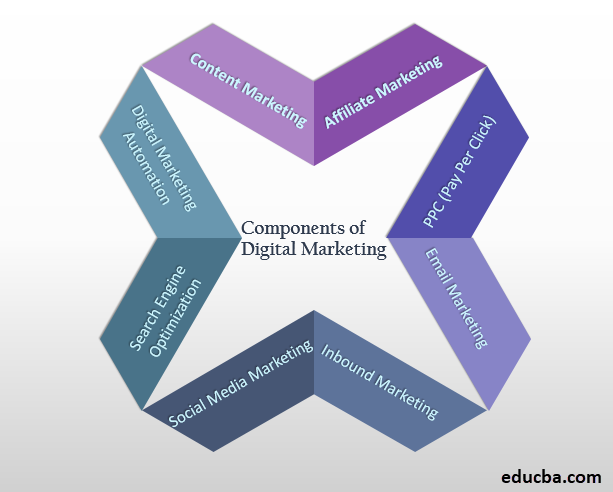 Following are some of the components of digital marketing which you can learn and have a career in:
SEO (Search Engine Optimization)
SMM (Social Media Marketing)
PPC (Pay Per Click)
Content Marketing
Affiliate Marketing
Email Marketing
Inbound Marketing
Digital Marketing Automation etc.
How is Digital Marketing Better than Traditional Marketing?
Traditional marketing will always have an important role in the industry, but as time passes, we have noticed some great advantages that come with the use of digital marketing in the buyer's journey.
It's Bidirectional: Digital Marketing communication is bi-directional. On the internet, a user can often ask questions about the product and its features. He can get help if needed and suggest changes and give feedback about the product.
Reaching More People: Traditional marketing can't hold a candle to reach the internet and digital marketing. We can reach a far bigger audience on the internet for the same amount of money spent.
Measurable: Not being able to measure the impact of a pitch and a campaign will be one of the biggest challenges in traditional marketing. In the digital marketing industry, we can measure every single action with the use of analytics tools.
It's Faster: We can create promotional content rapidly in the digital marketing industry and start campaigns. As soon as you are online, your customers and potential buyers can find you and vice versa.
It has Better Audience Targeting: One of the biggest benefits of investing money and time into digital marketing is its targeting features; with some research, you can target your marketing efforts to the right audience on the internet. For example, you can be targeting to Parents of kids who live in a specific city and are health conscious. With traditional marketing, getting to this specific group of people will be very tough or expensive.
What Can you do in Digital Marketing?
The digital marketing field contains many different roles and departments; some are related to creating content, some are related to search engines, and some are about Social Media.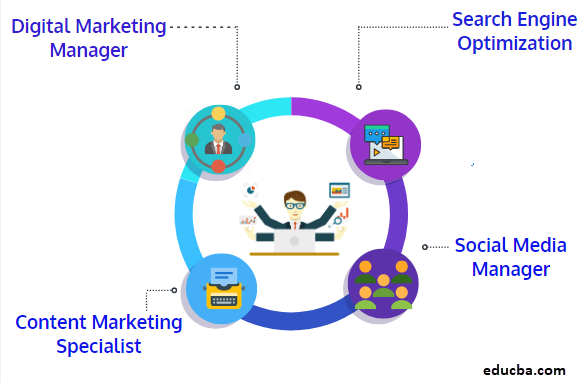 Search Engine Optimization (SEO) Manager: As an SEO Manager, you will be the person responsible for improving and maintaining the SEO rankings of the site. You will do work on-site and off the site as well. SEO Management roles also require you to understand how search engines work and how they rank websites for keywords.
Social Media Manager: A Social Media Manager is responsible for handling a company's all Social Media Channels. Social Media Manager works on Social Networks to get more customers, run ads for brand awareness, engage and communicate with the followers, etc.
Content Marketing Specialist: As a content marketing specialist, you will be responsible for creating content that can be used in digital marketing platforms such as Social Media or blogs. You will create content to engage with users and improve the SEO of the website to bring in more visitors.
Digital Marketing Manager: Digital Marketing Manager of a company is the person responsible for creating plans and strategies for the company to grow its online sales and improve brand recognition. At this position, you will have to be good with all the tasks in digital marketing and communicate and co-operate with other parts of the company.
There are other positions as well, such as SEO executives, analysts, community managers, PPC experts, etc.
Skills you will Need to be Successful in the Field
Digital Marketing is one of the rapidly evolving industries, and if you want to succeed here, having these skills will be greatly helpful.
Flexibility: Adapting and changing is one of the key requirements; you will have to be flexible towards approaches, technologies, and tactics.
Organization Skills: In a marketing agency, you may be asked to manage many different clients at the same time; having good organizational skills will be a big plus.
Branding Abilities: A marketer plays an important role in branding; if you are creative and can create consistent branding across all platforms, it will help your career growth.
Social Media Skills: Social Media was one of the integral parts of marketing strategies in 2019; being Social Media Savvy, understanding trends, and riding them will be a big plus in Digital Marketing. Facebook, Twitter, and many other social media platforms have Advertising Features; you will have to use them to drive engagement and sales.
HTML and CSS: While you don't have to be an HTML and CSS ninja, having familiarity with both will pay off as you will be able to read the code, understand, and make some changes when needed.
Sales Experience: Digital Markets are required to have skills related to sales. You will be expected to have some understanding of the process and the ability to anticipate any changes in the trends of sales.
WordPress and other CMS: As a digital marketer, having knowledge of WordPress and other Content Management Systems will be needed if you want to design and publish content on the web.
Analytics Tools: Tools such as Google Analytics are often used to measure the performances of campaigns, and being able to generate reports and understand them is one of the key parts of a digital marketer's job.
Why Create a Career in Digital Marketing?
Digital Marketing is one of the fastest-growing industries. As brands and organizations realize the potential of internet sales, the value of digital marketers keeps increasing.
Let's discuss a few reasons you may want to create a career in digital marketing:
Demand for Skilled People: At the moment, there is a huge demand for skilled digital marketers. Digital Marketers, especially the ones who can think out of the box and have good content ideas, are in demand.
Evolving Industry: The Internet is one of the places that are constantly changing and evolving. This continuous growth results in the marketing field being a rapidly changing landscape. If you are someone who enjoys learning and evolving, you will love a career in the digital marketing field.
Earnings: You can find very good-paying jobs in digital marketing. If you don't want a full-time job, you can always work on a freelance basis or on part-time jobs. And considering you don't need that much investment, you can launch your own digital marketing firm and serve clients.
Creativity: Marketing is a field that values creativity; the case is the same with digital marketing. As a digital marketer, you will be free to explore creative ideas and experiments. You will find that experimentation pays off more often than other fields, and if you are someone who loves problem-solving, you will find this field right up your alley.
Future of Digital Marketing and Digital Marketers
As long as products exist, they will need to be marketed. Digital Marketing is too big to be ignored, and brands realize this in today's market landscape. Considering how rapidly e-commerce is growing, how consumers are turning to the internet to get suggestions about products and their reviews, you can rest assured that a career in digital marketing will provide you with plenty of growth and opportunities to explore the industry.
According to EMarketer, [ Source: https://www.insiderintelligence.com/content/us-programmatic-ad-spending-forecast-2018 ], almost $46 billion was spent on programmatic advertising in 2018, and this number is only going to grow.
Conclusion
Digital Marketing is one of the promising fields these days, and with some hard work and practice, I have no doubt that you will be able to create a promising future for yourself in the field. If you can be flexible, keep learning, and you are not afraid to adapt to new tech and trends, you will see that digital marketing, as an industry, has a lot to offer.
Recommended Articles
This has been a guide to What is Digital Marketing. Here we discuss the introduction, components, and what can we do from digital marketing. You can also go through our other suggested articles to learn more –