Updated April 15, 2023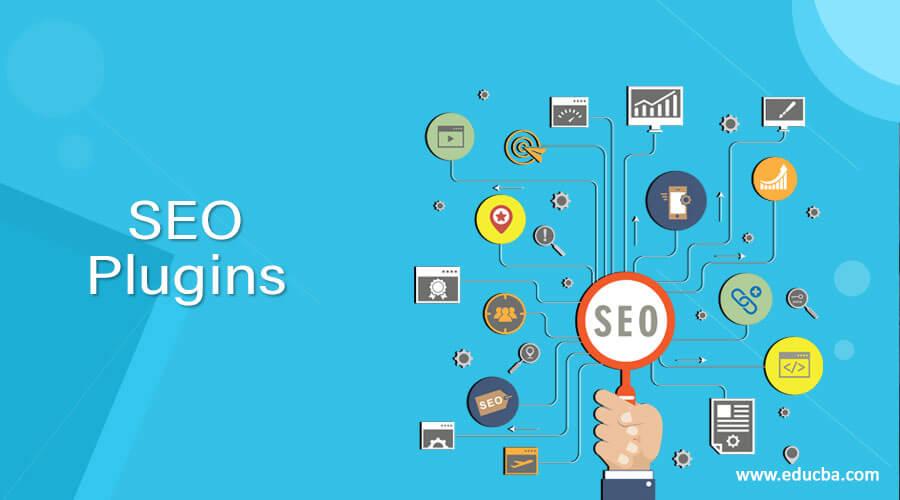 Introduction to SEO Plugins
SEO stands for Search Engine Optimization. It is nothing but a technique to rank your website at the top position on the internet, i.e. on the most popular search engines such as Google, Safari, Yahoo, etc. SEO is used by many organizations to rank their website's content at the top compared with other companies. It is used to increase the number of traffic, i.e. the number of visitors to their sites.
Many organizations used SEO techniques to grow their business on the world wide web. To rank their content at the top through SEO, there are some techniques and plugins that have been used. WordPress is highly being used by many organizations to perform SEO which helps them to rank their site at the top and make them stand in front of competitors. There are many plugins available for SEO. In this article, we are going to see those plugins which are highly used by many organizations.
List of SEO Plugins
Here is the list of SEO plugins that helps you to rank and increase your website traffic.
1. KeywordTool.io
It is a keyword tool that is widely used by many organizations to find the keywords to rank their sites. It gives keywords ideas to the user with their volume. These keywords are generated from the Google automation features, which give some idea about the specific keyword which is searched on Google by the internet users with their search volume. It helps the organization to find the right keyword for its content. It also gives the keyword suggestion Amazon, Bing, Play Store, Instagram, Twitter, and YouTube.
2. WordPress SEO by Yoast
WordPress SEO by Yoast is widely used by many organizations to perform SEO. It allows the user to add the name of the title, meta description, focus keywords, related keywords, synonyms for keywords, etc., for the page of the websites. At the end of the specific page, it gives the summary report like the density of the keyword which is used, the number of interlinking, keyword distribution through the content, etc. The features provided by WordPress SEO by Yoast are too long. That is the reason it is one of the successful plugins used by the organization to perform SEO.
3. Google Keyword Planner
This tool is provided by Google's advertisers. It gives keyword ideas. The main goal of this tool is to show the varieties of the keyword to advertisers which they can use to advertise their site on google. It helps advertisers to choose the right keyword for their content by showing the right keyword with the search volume, level of difficulty, and a number of results. It helps to choose the right keyword, which helps you to rank over other sites.
4. SEMrush
SEMrush is used to gather all the information from the competitors and helps to improve the SEO by analyzing those data. It is a paid software that is used by many organizations to improve SEO on the World Wide Web. It provides worth data. With the SEMrush plugin, you will know the site where you can find your backlinks, ranking strategies, etc.
5. Google Analytics
Google Analytics is a plugin that is used by many organizations to analyze website data. SEO Plugins help the organization to understand how users are interacting with your site and the content available on Google. It works with Google advertisement and product publishers so you can find the right customer. It analyzes data quickly. Google Analytics also gives the report of the number of users visiting your site with the location, current user on the site, number of time he spent on the internet. It gives the report of the ranking site on the internet and daily traffic of your site, which helps the organization to optimize their business and improve their business in an efficient manner.
6. SEO Quake
SEO Quake is a tool available as a browser add-on on various browsers like chrome, firefox, opera, etc. It provides information like ranking of the page, last update, and any other parameters. It shows all the parameters for all the searches. SEO Plugins helps the organization to rank their site at the top of the position and stand in the market with other competitors.
7. RelNoFollow Checkbox
When you give any external link to your site, that means you give authority to that external site. If you do not want to access that link, you can add no follow attribute. But sometimes, you have to add a do-follow attribute to that like it is necessary. RelNoFollow Checkbox is an SEO plugin that gives a checkbox to directly add a no-follow attribute to the link.
8. Open Site Explorer
It is developed by Moz. Open Site Explorer allows a user to check information about any domain, like to what domain they are linking, the anchor text they are using, etc. It also gives information about page ranking, domain linking, number of linking pages to your sites, etc.
9. Broken Link Checker
Broken or dead hyperlinks can create a bad user experience; also, they affect the website's SEO. If you have been running a blog, then a routine check is important to find broken links and fix them.
Broken Link Checker is a free WordPress plugin. It helps to find broken or dead hyperlinks on your WordPress site. It checks the entire website, i.e., it crawls all pages and validates internal as well as External URLs by highlighting HTML tags that contain an invalid URL. You can then fix those hyperlinks without even editing your posts. Because of this, the user will not see Page not found an error on the running website.
10. OutreachPlus
OutreachPlus is an email outreach software to enhance the marketing of a website or blog. It provides features such as smart personalization, automated responses, links clicked, etc. It's easy to use. It has a built-in email client, which makes sure that an email will not go into a spam inbox. It supports adding multiple email accounts. This is one of the best way to increase the traffic of your website by reaching out to more clients.
Conclusion – SEO Plugins
SEO plugins play an important role in gaining and maintaining traffic for websites and blogs. By using these automated tools, you can definitely boost your promotion and sales.
Recommended Articles
This has been a guide to SEO Plugins. Here we discussed the concept and top 10 lists of plugins in SEO which are highly used by many organizations. You can also go through our other suggested articles to learn more –