Updated June 30, 2023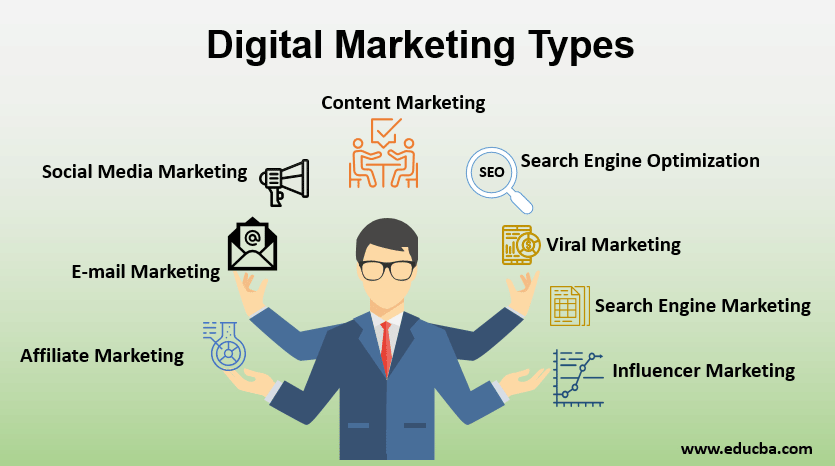 Introduction to Digital Marketing
Digital marketing was an irrelevant perception to consumers and marketers two decades ago. But as the number of users of the internet is increasing rapidly day by day, the popularity of digital marketing is also mounting gradually, and now it has become an effective tool to reach the target customers who expend more time before the screen either on a desktop or laptop or tablet or smartphone. It has become necessary for businesses to sustain and survive in a competitive digital marketplace. Digital marketing is considerably cheaper than the old marketing concept, including print marketing and advertising on TV and radio. To stay up and stand out from the crowd of digital competition races, the marketer must implement various marketing tactics in digital platforms.
What is Digital Marketing?
The concept of digital marketing indicates all types of marketing activities performed through electronic devices or the Internet or digital channels. It is not only restricted to online marketing actions, but it also depends on some traditional marketing doings. Though it is a debatable point about which concept will be more effective in reaching the target customers, the combination of both concepts may ensure a successful campaign of products or services.
Different digital marketing channels are available to stay afloat in the high competition of the market. But it is the sole decision of a marketer or business owner to choose any particular channel or combination of two-three channels rather than navigating all types of processes. Because of the limited budget, small businesses cannot afford to invest more money in different channels for business growth.
Various Types of Digital Marketing Channels
Digital marketing includes numerous kinds of marketing channels to do business. These channels are very effective for promoting products or services and the easiest way to grasp the target customers.
1. Search Engine Optimization (SEO)
Search engine optimization, or SEO, is an important tool that helps enhance online visibility in search engine results. Google, Bing, and Yahoo are popular search engines through which a user can get specific search results based on keywords, the user's location when searching, and browsing history. To appear on the first page of search engine results (SERP) and attract more traffic to the website, it is necessary to optimize the content for specific keywords or mix up inbound and outbound links. The marketer needs to follow the changes in search engine algorithms and make decisions or update strategy accordingly. Nowadays, every business organization improves its content for search engines to survive market competition.
2. Search Engine Marketing (SEM)
Search engine marketing is another way of enhancing traffic, and it gives paid service to provide space to advertise a product or service. The marketer can purchase advertisement space on the user's search engine result page. The popular paid search services are Google AdWords and Bing Ads. These search engines provide a platform to advertise by charging some predetermined amount. SEM is an effective model as it shows an advertisement to the target customers. Because most search engines follow a pay-per-click or PPC advertising method where search engines charge a company based on the number of times, their advertisement is clicked.
3. Social Media Marketing (SMM)
Today people are spending more time on social media platforms to connect with their family members and friends and get current news or follow their interests. But this social media is also a digital marketing channel where marketers get high exposure to connect with consumers and promote their products. Especially B2C companies gain the highest advantages of SMM. There are many social media platforms, such as Facebook, Twitter, Instagram, Snapchat, LinkedIn, etc.
These social media platforms collect data on users' interests, likings, and personal factors like age, location, etc. This information is used to create ads for promoting products or services to appear in selected demographic newsfeeds. Besides that, sharing quality content on social media is an excellent way of involving consumers. Different social media marketing processes include Facebook ads, paid Twitter service, hashtag campaigns, and influencer marketing.
4. Content Marketing
The content marketing concept generally comprises any content regarding products or services available online, tweets, blogs, and YouTube videos. This is an indirect way of digital marketing approach where a business house delivers a quality piece of content to generate sales online. The users may find the content useful and informative while browsing the web. The main purpose of content-making is to provide information on various queries related to the product to the customers who interrelate with the content by reading, sharing, or commenting on it. This ongoing marketing process also builds brand recognition, faith, and equity among customers. The marketer must be aware of the language of content before preparing any content.
5. E-mail Marketing
Though it is an old model, it is a successful model in digital marketing strategy. Here, the marketers update their customers regularly about products, services, and the company's customers' related policies through email. It nurtures a sociable relationship with those email subscribers, which helps to increase brand trust and brand loyalty. They are considered active buyers, and the companies earn those valuable subscribers through their content and products or services.
6. Viral Marketing
Viral marketing means creating a funny or trendy kind of post, newsletter, video, meme, or a short type of content that spreads across the web like a virus in a short period. It can generate havoc impact within a short period. Still, to make it successful, the marketer must spread similar types of newsletters or content or video across multiple channels like Facebook, Twitter, YouTube, blog posts, etc.
7. Affiliate Marketing
This performance-based digital marketing denotes the process of paying for conversions. Bloggers or e-commerce websites use affiliate marketing, where a person partners with a company to generate business traffic and gets a commission for this job.
8. Influencer Marketing
Here the marketers choose social media platforms to promote a company's product or services. In the digital marketing concept, various new types of marketing ways, including mobile phone advertising, pay-per-click advertising, instant messaging marketing, radio advertising, and television advertising, have come up. That is why marketers need to consider their business pattern before implementing any digital marketing option which will produce the best business result.
Recommended Articles
We hope that this EDUCBA information on "Digital Marketing Types" was beneficial to you. You can view EDUCBA's recommended articles for more information.